Home
1957 College Football National Championship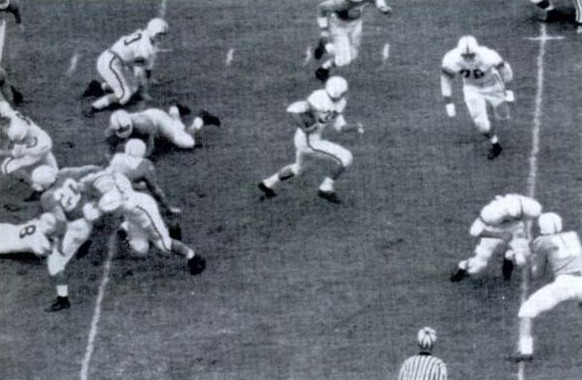 Pictured above is Auburn fullback Billy Atkins carrying the ball against Tennessee. Auburn was unranked when they opened the season at #8 Tennessee, the defending SEC champ who had gone 10-1 the previous year, but they emerged from Knoxville with a 7-0 win and jumped to #7 in the next AP poll. From there they slowly climbed to #1, where they sat at season's end.


Here is how all of the organizations listed in the NCAA Records Book see the 1957 mythical national championship (omitting math/computer ratings, which are not generally accepted as MNCs)

:




10-0 Auburn
:
AP Poll
,
CFB Researchers
,
Helms
,
National Championship Foundation
9-1 Ohio State
:
UPI Poll (coaches),
INS Poll (sportswriters), Football Writers Association of America
As you can see, three organizations went with 9-1 Ohio State that year despite the loss. That loss came 18-14 to 5-4-1 Texas Christian in the opener, but Woody Hayes campaigned for poll votes down the stretch, questioning Auburn's schedule, and though he failed to budge AP poll voters, that campaigning paid off in the other polls. Furthermore, the NCAA had placed Auburn on probation this year for giving money to a pair of high school recruits, and they were banned from appearing in a bowl this season, which may have tainted them in the minds of some voters (they were still eligible for ranking in the UPI coaches poll).

Ohio State's case for an MNC is based on playing a supposedly tougher schedule, highlighted by a big win over 7-1-1 Iowa (#4 in my fixed and expanded AP poll for 1957), definitely a more significant win than any of Auburn's. Ohio State also perhaps performed better, scoring 267 points for the season to Auburn's 207. Auburn had 3 close wins over unrated opponents, Ohio State just 1. So I will be looking at Ohio State's case here. But that brings up another issue

:

8-1 Michigan State.

Other Candidates for 1957
Michigan State took their upset loss 20-13 to 5-4 Purdue (whom OSU beat 20-7), and that gave Ohio State the Big 10 title outright, but logically, aside from the Big 10 title race there was no relevant difference between MSU's loss to 5-4 Purdue (ranked #23 in my fixed AP poll) and OSU's loss to 5-4-1 TCU (ranked #22). And MSU's 34-6 win over Notre Dame (#7) was just as impressive as OSU's 17-13 win over Iowa (#4). These 2 teams look practically the same, so if Ohio State is a contender for the 1957 MNC, Michigan State must be as well. Therefore, I'll also be taking up MSU's case in this article.

And what about 10-1 Oklahoma, the 2-time defending national champion? Coming off 3 straight perfect seasons, Oklahoma saw their NCAA record 47 game winning streak snapped in a 7-0 home loss to Notre Dame in mid-November. 10-1 looks a lot like 9-1, but unlike 9-1 Ohio State and 8-1 Michigan State, 10-1 Oklahoma did not defeat a top 10 team this year, and thus did not defeat anyone as strong as Auburn victims Tennessee and Mississippi State. Also, their loss to Notre Dame came one week after Michigan State demolished the Irish 34-6. So I will not be considering Oklahoma here.


10-0 Arizona State, coached by Hall of Famer Dan Devine, won all their games by more than a touchdown, but their schedule was too "lower division" in nature for serious consideration. They played in the Border conference at this time, and their best opponent, I suppose, was 6-3 UTEP, who took their other losses to Hardin-Simmons and Trinity-Texas.

All rankings in this article, except as noted, come from my 1957 fixed AP poll.
1957 AP Poll
Before I get to summarizing our 3 contenders and assessing their cases for an MNC, let's talk about the 1957 AP poll. Auburn gamed the system in the last week to successfully fortify their position at #1, and that would lead to changes in how the AP poll was done, but this season's AP poll race was interesting beyond that fact.

The preseason AP poll had Oklahoma, who was coming off 3 straight perfect seasons, at #1. Michigan State was #3, Auburn #15, and Ohio State #17. Auburn 's first game, at #8 Tennessee, wasn't until September 28th, and they had fallen out of the AP top 20 by that point. When they beat Tennessee, they jumped up to #7 in the next poll. Oklahoma was still #1, Michigan State was #2, and Ohio State, who had lost to TCU in their opener, was unranked.

On October 12th, #2 Michigan State pulverized #6 Michigan 35-6, and that vaulted MSU over Oklahoma to #1 in the next poll. Auburn had drifted back to #9, and OSU was still unranked. But Purdue upset MSU the next week, and Oklahoma was #1 again. That didn't last long, as Oklahoma struggled to beat unrated Colorado 14-13 the next week, and AP poll voters, apparently suffering from Oklahoma fatigue, moved 6-0 Texas A&M to #1 ahead of 5-0 Oklahoma. At this point, Auburn was #4, Michigan State #6, and Ohio State #8.

That's pretty much how things remained for a couple of weeks, but the November 16th games brought a big shake-up to the top of the poll. That's the week #2 Oklahoma's 47 game winning streak finally came to an end at the hands of Notre Dame, who at that point was not even ranked in the top 20, and on the same day #1 Texas A&M was tripped up 7-6 at #20 Rice, their first loss since 1955. Michigan State's 34-6 win over Notre Dame the previous week hadn't really registered much with AP poll voters, but now that Notre Dame had beaten Oklahoma, it suddenly registered, and that plus Auburn's weak 6-0 win over unrated Georgia this week enabled Michigan State to slip past Auburn to #1 by a slim 9 poll points (though Auburn had 1 more first-place vote). Ohio State was well behind both at #3.

Now here's the part I find interesting. The next week, Michigan State beat 3-6-1 Kansas State 27-9 in their finale, yet they lost 47 first-place votes and fell to #3 behind Ohio State. They had been 9 poll points ahead of Auburn, and now they were 137 points behind, despite a dominating win! No #1 team has ever lost that much ground in the AP poll after a dominating win. So what happened? Well, #3 Ohio State beat #19 Michigan 31-14 in their finale, and though MSU had already beaten Michigan 35-6, the real point was that Ohio State was now the outright Big 10 champion and would be heading to the Rose Bowl, and that is the real reason MSU was knocked down behind them to #3. Needless to say, the whole thing is completely irrational, but we are talking about sportswriters here.

Anyway, with Ohio State and Michigan State done for the season, Auburn now had a comfortable lead at #1, ahead of Ohio State by 20 first-place votes and 81 poll points. The next week, they tore apart archrival Alabama 40-0, and presumably would have finished #1 in the last poll, but with Woody Hayes campaigning for OSU, Auburn did not want to take any chances. At this time, any media outlet with an AP subscription could vote in the AP poll, so Auburn sports information director Bill Beckwith contacted newspapers and radio stations throughout the South, lobbying them to send in a ballot with Auburn at the top.

As a result, the last AP poll saw 135 more ballots than the previous poll, and most of them went for Auburn, giving them a gargantuan lead of nearly 500 poll points over #2 Ohio State in the final rankings. And that is why the AP poll started limiting the number of ballots and apportioning them by region.
Auburn 1957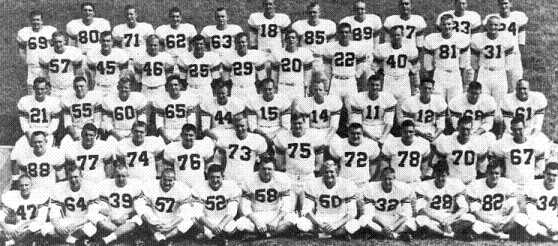 | | | |
| --- | --- | --- |
| at Tennessee (8-3) | 7-0 | #11 |
| Tennessee-Chattanooga (4-5-1) | 40-7 | |
| Kentucky (3-7) | 6-0 | |
| at Georgia Tech (4-4-2) | 3-0 | |
| at Houston (5-4-1) | 48-7 | |
| Florida (6-2-1) | 13-0 | #24 |
| (Birmingham) Mississippi State (6-2-1) | 15-7 | #10 |
| (Columbus) Georgia (3-7) | 6-0 | |
| at Florida State (4-6) | 29-7 | |
| (Birmingham) Alabama (2-7-1) | 40-0 | |
Auburn didn't have much of a football history, from a national point of view, until winning their first MNC this season, but they've been nationally relevant ever since. The coach who put them on the map was Hall of Famer Ralph "Shug" Jordan
(pictured below at left), an Auburn grad who had started coaching the basketball team after he graduated in 1933. He fought in World War 2, earning a Purple Heart and Bronze Star, and took over as head coach of the football team in 1951. They had been 0-10 the previous year, and hadn't had a winning season since 1942, but they went 5-5 in his first year.

Auburn finished ranked in the AP poll 3 straight years 1953-1955, and I have their 7-3 team of 1956 ranked in that fixed poll. This year, however, they made a huge jump up to 10-0, and they would continue the unbeaten streak with a 9-0-1 finish in 1957. Shug Jordan went 175-83-7 over a long 25 year career here 1951-1975, and his teams are ranked in my fixed AP polls for 19 of those seasons. In stark contrast, I have them ranked in the top 25 just 10 times in the 50 years before Jordan's arrival. However, for all that success, this was the one and only SEC title Jordan managed to win at Auburn. It was also Auburn's first-ever SEC title.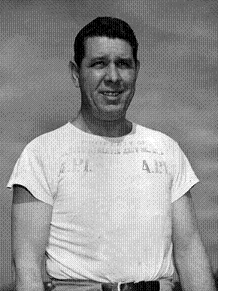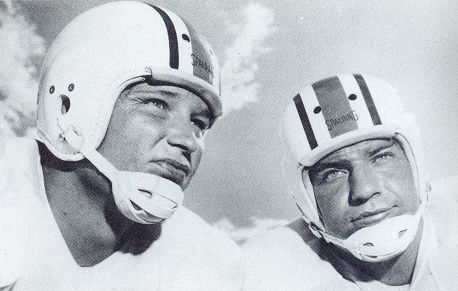 Auburn's one consensus All American this season was end Jimmy "Red" Phillips, who went on to a 10 year career as a wide receiver in the NFL, making 3 Pro Bowls. He led the NFL in receptions in 1961. His main contribution at Auburn came as a terrific defensive end, but he was also the only receiver of note for the offense, catching 15 for 357 yards (23.8 average) and 4 touchdowns. The other end, Jerry Wilson, was all-SEC and was all about defense. He went on to a 5-year pro career as a defensive end.

Auburn in general was all about defense this season, and their defense was phenomenal. At the heart of it were guard Zeke Smith and center/linebacker Jackie Burkett (pictured above, Burkett on left, Smith on right). Smith would be a consensus AA in 1958 and win the Outland Trophy. Like every starter on Auburn's line this year, he had been a fullback in high school. Burkett would be a nonconsensus AA in 1958, and he went on to a 10-year career in the NFL.

Lloyd Nix had been a backup halfback the previous season, but when starting quarterback Jimmy Cooke was kicked off the team for a rules violation (legend says it was for a panty raid on the women's dorm), Shug Jordan moved Nix to quarterback, where he proceeded to go 19-0-1 over 2 seasons. He was All-SEC both years, 2nd in the conference in total offense this season and 1st the next. Nix was most valuable as a field general, but he chipped in 261 rushing yards, and though he only threw the ball 60 times all season, he totaled 542 through the air. He is in the Alabama Sports Hall of Fame.

Auburn's team MVP this season was fullback Billy "Ace" Atkins, a triple threat. He was a great defensive back, and on offense he scored 11 touchdowns (no one else rushed for more than 2). He was also a strong punter, which made a huge difference in the defense-and-field-position style of play that dominated the South, and he handled the placekicking duties as well. With the touchdowns and kicking, he totaled 83 points to lead the SEC and place 3rd in the nation. In 1961 he would lead the NFL with 10 interceptions and in punting with a 44.5 yard average. In 1968 he won an NAIA national championship as head coach at Troy.
Auburn's Season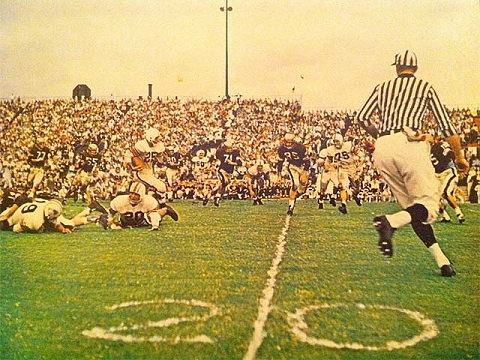 Have I mentioned Auburn's defense yet? They led the nation with 133 yards allowed per game, the lowest such figure any team had posted in the previous 10 years. They shut out 6 opponents and only gave up 28 points all season, and naturally they also led the nation in defensive scoring. They did not give up a rushing touchdown all season. Furthermore, in practice they would hold a scrimmage where the ball was placed on the 2 yard line, and the backups were given 4 downs to try and score on the starters, and the starters gave up a touchdown in that drill just once all season. This line was simply a brick wall. They would also lead the nation in total defense in 1958.

Auburn didn't have much time to warm up this season, because their biggest game was their opener, a trip to #8 Tennessee, who had gone 10-1 and won the SEC the previous year, stomping on Auburn 35-7 along the way. This game was played in the rain, and turnovers abounded. Tennessee stopped Auburn inches short of their goal line in the opening quarter, and after the punt-out they stopped them again at the 7. Later Tennessee blocked a punt to get the ball at the Auburn 17, but Tiger guard Zeke Smith forced a fumble behind the line on the next play, and end Jimmy Phillips recovered for Auburn. In the 2nd quarter, Auburn end Jerry Wilson partially blocked a punt, and the Tigers then started the winning drive at their own 43. It took them 16 plays to march the 57 yards, fullback Billy Atkins plunging over goal from the 1 and kicking the extra point for all the scoring this game would see.

Auburn held Tennessee to an amazing 84 yards of total offense, 24 in the 2nd half, and though the Volunteers were still able to find ways to get the ball to the Auburn 23 and 29 yard lines in the 4th quarter, they never really threatened Auburn's goal line in this game. Tennessee ended up going 8-3, losing to 9-1-1 Mississippi (#8) and 3-7 Kentucky, and defeating 6-2-1 Mississippi State (#10), 6-4 North Carolina (#15), and edging 8-3 Texas A&M (#18) 3-0 in the Gator Bowl. I have them ranked #11 for 1957.

After dispatching Tennessee-Chattanooga 40-7, Auburn survived two more close games they needed shut-outs to win. In the first, Auburn hosted Kentucky (3-7)
, and the teams demonstrated little offense in a scoreless first half. Kentucky did recover a fumble at the Auburn 21, but they were then able to move the ball no further than the 17. The game turned on a pair of mistakes by Kentucky in the 3rd quarter. Auburn fullback Billy Atkins knocked down and recovered a lateral at the Kentucky 36, and Kentucky drew a roughing penalty on the ensuing drive to set up an Atkins touchdown that won the game 6-0.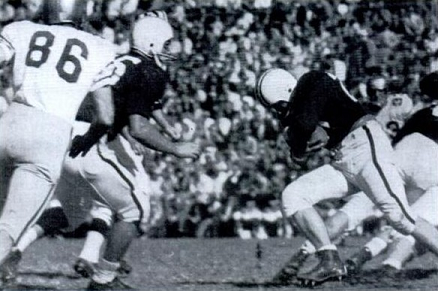 The next game at Georgia Tech (4-4-2) was yet another one-score affair (game pictured above). Tech had gone 10-1 the previous season and beaten Auburn 28-7, though this season GT entered the game with a record of 1-1-1, and for the first time in any game since 1953, they were underdogs. Auburn drove to the Georgia Tech 16 in the 2nd quarter, and Billy Atkins connected on a 31 yard field goal, and that was it for the scoring in this game. Auburn was once again a brick wall defensively, but unlike Tennessee and Kentucky, Georgia Tech was able to mount two real scoring threats thanks to 10 of 14 passing. Late in the 1st half, Tech missed on a 4th down pass from the Auburn 4, and early in the 4th quarter, Georgia Tech advanced to the Auburn 5, but end Jimmy Phillips sacked the quarterback and forced a fumble that Auburn recovered. Georgia Tech was held to 148 yards of offense.

Auburn Gets Rolling
Auburn got on a roll after that, and only one of their remaining 6 games was as close as those early ones. They routed Houston (5-4-1) 48-7 on the road, then beat Florida (6-2-1, #24) 13-0 at home. Auburn's defense was unsolvable against Florida, as usual, and Auburn scored on the typical Billy Atkins touchdown run in the 2nd quarter, but they added something new with a spectacular 63 yard touchdown pass from Lloyd Nix to Jimmy Phillips in the 3rd quarter.

The next week Auburn headed to Birmingham to play Mississippi State, who was having an unusually good year and came into the game 5-1 and ranked #17. MSU was held to just 1 first down in the first half, but they still took a 7-0 lead into halftime thanks to a 57 yard touchdown pass on a bomb to a receiver that was 40 yards downfield. Auburn took the 2nd half kickoff and marched 76 yards in 11 plays, Billy Atkins plunging over goal and kicking the extra point to make it 7-7. In the 4th quarter, Auburn blocked a punt for a safety to lead 9-7. After MSU fumbled the ball away at their own 10, Atkins scored another touchdown to put the game out of reach 15-7. Mississippi State went on to tie 9-1-1 Mississippi (#8) in their finale, finishing them at 6-2-1 and ranked #10.

Auburn next met rival Georgia (3-7) in Columbus, and here they returned to their one-score ways. Just as in the Kentucky game, Auburn's one touchdown was set up by a 15 yard personal foul penalty. This one put the ball on the Georgia 5 yard line, and not long afterward, with less than a minute left in the first half, Lloyd Nix hit Jimmy Phillips for the touchdown pass that won the game 6-0. At one point, Georgia recovered a fumble at the Auburn 10, but they were stopped cold there. Auburn immediately fumbled it back to them again, and Georgia was again stopped cold. The Bulldogs managed only 68 yards of offense in this game, and a total of 3 first downs.

Auburn then went to Florida State (4-6) and throttled them 29-7, holding them to 79 yards of total offense and minus-29 rushing. Auburn moved to #1 in the next AP poll, and remained there after destroying archrival Alabama (2-7-1) 40-0 in Birmingham. Auburn scored touchdowns on interception returns of 79 and 66 yards, led 34-0 at the half, and the starters sat out the entire 2nd half. They couldn't go to a bowl game, but Auburn had secured its first-ever SEC title, and when the AP poll came out 2 days later, they had secured their first-ever mythical national championship. Shug Jordan is pictured hugging the 1957 AP poll trophy below.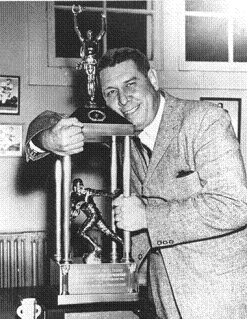 Ohio State 1957
Texas Christian (5-4-1)
14-18
#22
at Washington (3-6-1)
35-7
Illinois (4-5)
21-7
Indiana (1-8)
56-0
at Wisconsin (6-3)
16-13
#12
Northwestern (0-9)
47-6
Purdue (5-4)
20-7
#23

Iowa (7-1-1)
17-13
#4
at Michigan (5-3-1)
31-14
#25


Rose Bowl


Oregon (7-4)

10-7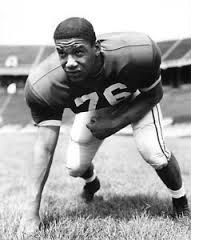 Ohio State had last won a mythical national championship in 1954, and I covered their Hall of Fame coach, Woody Hayes, in the linked article. This year's team didn't really have any star players, but Ohio State fielded more future Hall of Famers than did Auburn and Michigan State combined.

The one first-team All American (nonconsensus) this season was guard Aurealius Thomas. He's in the Hall of Fame. Why, I cannot tell you. I guess because he played for Ohio State? And I guess that's worth more than Auburn guard Zeke Smith, who is not in the Hall of Fame, winning the Outland Trophy and anchoring one of the best statistical defenses in modern football history?


End Jim Houston would be a consensus AA in 1958. He was a great blocker and defender, and he even caught a few passes. He went on to a 13 year pro career, making 4 Pro Bowls, and of course, he is in the Hall of Fame. Fullback Bob White started the season as a backup center, but he delivered huge games at fullback to end the season, and would go on to be a consensus AA in 1958 and finish 4th for the Heisman that year. You will be shocked to know that he is not in the Hall of Fame. Yet.

Halfback Dick LeBeau is in the Hall of Fame, but this time we're talking about the NFL Hall of Fame. He played defensive back for the Lions for 14 years, totaling 62 career interceptions. Then he started an illustrious career as a defensive coach in the NFL that has continued for more than 40 years.

Tackle Jim Marshall (pictured) would be a nonconsensus AA in 1958, and he went on to an amazing pro career as a defensive end

:

21 years, 19 with the Vikings. His 270 consecutive starts set an NFL record (since surpassed), and his 29 career recoveries of opponent fumbles is still an NFL record. I am not being facetious here when I say that I am surprised he is not in the NFL Hall of Fame. I assume he will get there one day.
Ohio State's Season
Ohio State opened their season with a shocking upset loss at home to unranked Texas Christian, who had tied Kansas the week before and was coming into this game a 2 touchdown underdog. TCU did not complete a pass in this game. They took the opening kickoff and drove 58 yards on 15 straight runs to a touchdown and 6-0 lead. Ohio State answered with a 12-play, 77 yard drive that featured a Dick LeBeau run for 38 to TCU's 3 yard line. LeBeau scored from the 1 to give his team a 7-6 lead. TCU came back with the play of the game to start the 2nd quarter, a 90 yard punt return for a touchdown and a 12-7 lead. In the middle of the quarter, OSU drove 68 yards in 12 plays to take a 14-12 halftime lead.

Just after the 3rd quarter started, Ohio State fumbled the ball away at their own 31. TCU popped a 7 yard run on 4th and 3 from the 24, then popped a 17 yard run for the touchdown that made the final score 18-14. OSU recovered a fumble at the TCU 18 in the 3rd quarter, but they could not capitalize, and likewise they were stopped at the TCU 5 yard line late in the game. Ohio State outgained TCU 262 yards to 184, but TCU made up that difference in kick returns and in punting. TCU went on to finish the season 5-4-1, and I have them ranked #22, thanks entirely to this one huge win.

Ohio State cruised past 3 losing teams before their next tight game at Wisconsin. Most of the scoring in this one took place in the opening quarter. Wisconsin erupted for an early 13-0 lead, but Ohio State quickly tied the game on a 71 yard touchdown run, then on a short drive after tackle Jim Marshall recovered a fumble on the ensuing kickoff. Wisconsin drove 73 yards to the Buckeye 8 in the 2nd quarter, but they came up empty. Ohio State did not come up empty when they drove 69 yards to the Badger 4, kicking a field goal to take a 16-13 lead that would hold up as the final score. The Buckeyes returned an interception 41 yards to the Badger 7 late in the 3rd, but halfback Dick LeBeau fumbled the ball away. In the game's final minutes, Wisconsin made their last first down at the OSU 5 yard line, but Bob White forced a fumble on the next play, and Ohio State recovered the ball to stave off the upset bid.

Wisconsin also lost to Michigan State (#3) and Iowa (#4), finishing 6-3, but all of their wins came by more than a touchdown, including 45-13 over 7-2-1 West Virginia (unrated) and 23-14 at 5-4 Purdue (#23), and I have the Badgers ranked #12 for 1957. Ohio State next beat 0-9 Northwestern 47-6 and 5-4 Purdue 20-7, and that brought them to their game of the year, hosting defending Big 10 champ Iowa, who was coming into this game 6-0-1 and ranked #5. OSU was ranked right behind them at #6. To the winner would go the Big 10 title.

Ohio State took the opening kickoff and drove to the Iowa 8, where they kicked a field goal for a 3-0 lead. Iowa answered with a 66 yard touchdown drive to take a 6-3 lead. Iowa later returned a punt to the OSU 35 and drove to the 15, but fumbled the ball away on first down, OSU end Jim Houston recovering at the 21. The Buckeyes drove 79 yards from there, on 16 straight runs, to take back the lead 10-6. Iowa returned the ensuing kickoff 37 yards, then drove to the OSU 5 yard line, but fumbled the ball away again. They fumbled yet again on their next punt return, and OSU took over at the Iowa 21. That opportunity ended in a botched field goal attempt, and it remained 10-6 at half.

In the 3rd quarter, Iowa drove for a touchdown to go back on top 13-10. OSU answered with a 62 yard drive to the Iowa 13, but threw an interception there. Midway through the 4th quarter, after forcing Iowa's first punt of the game (and their first punt since playing Michigan 2 games ago), Ohio State launched the winning drive from their own 32. Fullback Bob White took over here, and he could not be stopped, carrying the ball for 7 of the drive's 8 plays and 65 of its 68 yards. His touchdown made the final score 17-13. Iowa threw an interception at the OSU 33 on their next drive, and soon Buckeye fans were storming the field and tearing down the goalposts. Bob White ended up rushing 22 times for 157 yards, more than Iowa gained rushing as a team (155).

Iowa next won 21-13 at Notre Dame (7-3, #7), finishing them at 7-1-1 and ranked #4. Ohio State next traveled to archrival Michigan (5-3-1, #25), where fullback Bob White put on another show, rushing 30 times for 163 yards, and the team racked up 372 yards rushing. Michigan actually led 14-10 at the half, but OSU buried them in the 3rd quarter and won 31-14. Michigan piled up 372 yards of offense, but turnovers killed too many of their drives.
The Rose Bowl


By this point in time, ever since the Rose Bowl had been locked up as a PCC vs. Big 10 showdown following the 1946 season, the game had largely become a joke, because the PCC was not nearly as strong as the Big 10. The Big 10 was 10-1 in Rose Bowls played since then, and this year the PCC sent their weakest representative to the game yet, a 7-3 Oregon team that was not even ranked in the AP poll's top 20. They had lost 2 of their last 3 games, one of those to 3-6-1 Washington, and early in the season they had lost to 4-6 Pittsburgh. Ohio State was a 19 point favorite, but that was not how the game would play out.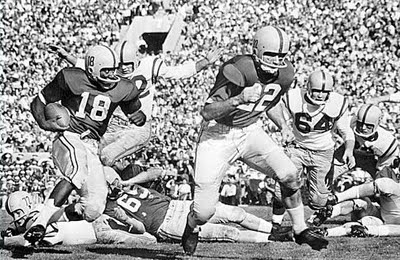 It started out as expected, Ohio State taking the opening kickoff and driving 79 yards for a touchdown, the highlight being a a 37 yard catch by end Jim Houston. But that was OSU's last touchdown, and in the 2nd quarter Oregon drove 80 yards for a touchdown to tie the game at 7-7. Oregon missed a 34 yard field goal try in the 3rd quarter, and Ohio State hit one from the same spot on the field in the 4th quarter, and by that margin OSU won the game 10-7, though not without a little more drama, as Oregon mounted a couple of drives into Ohio State territory before the final gun sounded.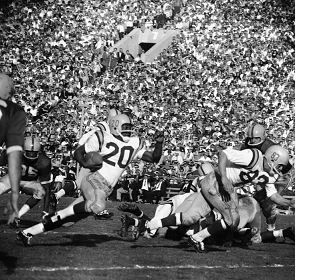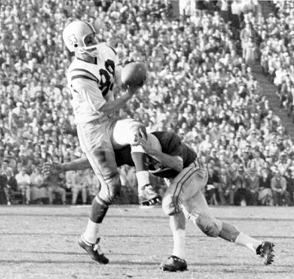 Oregon outgained Ohio State 351 yards to 304, and 21 first downs to 19, and their quarterback was named the game's MVP. The team carried coach Len Casanova off the field on their shoulders, and Oregon fans came down to tear down the goalposts, a sure sign of their severely low expectations for this game. Needless to say, this was easily Ohio State's worst performance since the upset loss to TCU in their opener.
Michigan State 1957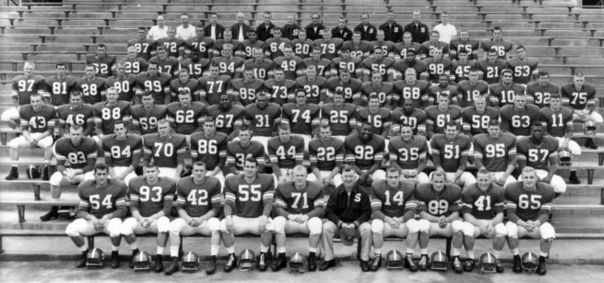 | | | |
| --- | --- | --- |
| Indiana (1-8) | 54-0 | |
| at California (1-9) | 19-0 | |
| at Michigan (5-3-1) | 35-6 | #25 |
| Purdue (5-4) | 13-20 | #23 |
| Illinois (4-5) | 19-14 | |
| at Wisconsin (6-3) | 21-7 | #12 |
| Notre Dame (7-3) | 34-6 | #7 |
| Minnesota (4-5) | 42-13 | |
| Kansas State (3-6-1) | 27-9 | |
Michigan State had previously gone 9-0 in 1951, though they fell short of an MNC that season in my estimation, and they went 9-0 again the next year, sharing an MNC this time with Georgia Tech. The next season they won the Big 10 in their league debut, and then Hall of Famer Biggie Munn retired as coach and became the athletic director (he's pictured below at right).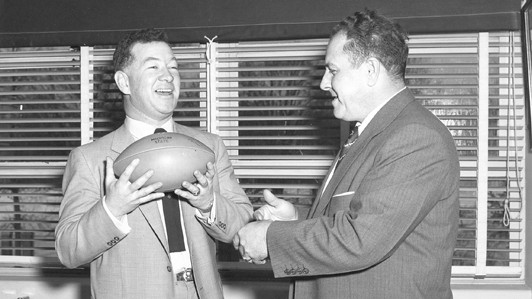 Taking his place as head coach was another Hall of Famer, Duffy Daugherty (pictured above at left). Daugherty had been a guard at Syracuse 1937-1939, and he had been Biggie Munn's assistant at MSU 1947-1953. He went 109-69-5 as head coach 1954-1972, winning 2 Big 10 titles, and according to the school, a laughable 4 MNCs! I guess those are just twice as easy to win as conference titles, eh? I, along with the rest of the rational world, credit him with 2 MNCs, which is still pretty good.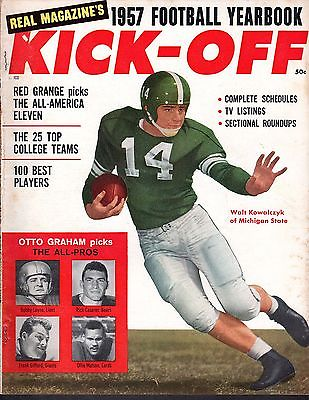 Michigan State fielded 2 consensus All Americans this season, doubling the count of Auburn and Ohio State combined. These were center Dan Currie, who went on to a 9 year pro career, and halfback Walt Kowalczyk (pictured above), who led the team with 545 rushing yards, scored 9 touchdowns, and finished 3rd in the Heisman vote
.

End Sam Williams would be a consensus AA in 1958, and went on to a 9 year NFL career as a defensive end. Backup halfback Dean Look would be a nonconsensus AA in 1959, and he rushed for 231 yards and a touchdown this season.

Guard Ellison Kelly went on to a 13 year career in the CFL, winning 3 titles with Hamilton, and he is in the CFL Hall of Fame.
Michigan State's Season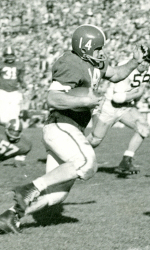 Michigan State ate a couple of cupcakes to start the season, rolling 54-0 over Indiana (1-8) and 19-0 at California (1-9). MSU was rated #2 and Michigan #6 as the Spartans headed to Ann Arbor, but they found little trouble there, scoring 3 touchdowns in the 4th quarter to hammer their archrival 35-6. Michigan did not end up having a good season, but they did manage to tie Iowa (7-1-1, #4), finishing 5-3-1 and ranked #25.

Michigan State rose to #1, but not for long, because their big upset loss happened the next week, hosting 0-3 Purdue. Purdue held MSU inches short of their goal line late in the opening quarter, but it was a brief respite, because MSU halfback Walt Kowalczyk returned the punt-out to the Purdue 10 and soon scored a 2nd quarter touchdown for a 7-0 lead. The lead should have become 14-0 later in the 2nd quarter, but a blown referee call cost MSU dearly. Walt Kowalczyk went over goal on 4th down from the Purdue 2, and MSU guard Ellison Kelly drew a penalty for hitting after the whistle. This should have been a dead ball foul, the touchdown counting, but instead the referee negated the touchdown, moved MSU back to the 17, and they missed a field goal try from there. The Big 10 office apologized for the mistake afterward, but the damage had been done.


The Spartans lost 5 fumbles in this game, and one of those, handed out at the MSU 19, set up a short drive for Purdue's first touchdown, tying the game 7-7. Purdue scored 2 more touchdowns in the 3rd quarter to take a daunting 20-7 lead. MSU quarterback Jim Ninowski hit 3 of 4 passes, the last for a 30 yard touchdown to end Sam Williams early in the 4th quarter, but that was all the Spartans could muster, and they fell 20-13. Purdue finished the season 5-4 and ranked #23, though they wouldn't be ranked at all for 1957 if not for this one big win.

Michigan State had another titanic struggle the next week, hosting Illinois (4-5) for Homecoming. MSU missed a field goal in the opening quarter, but they got another opportunity when they recovered a fumble at the Illinois 28. They drove from there to a touchdown on 4th and goal from the 2. In the 2nd quarter, MSU returned a punt 86 yards for another touchdown and a 13-0 lead that would hold up until halftime, but not before a lot of turnover shenanigans. Illinois recovered a fumble at the MSU 26, drove to the 4, lost yards, then fumbled away the ball on the 10. MSU soon fumbled it back at their 30, and Illinois drove to the 12, then fumbled the ball back to MSU at the 11. Illinois returned a punt to the MSU 29, but were stopped again. Finally MSU got moving, but the drive stalled at the Illinois 11 just before halftime.

Illinois owned the 3rd quarter. They recovered another fumble at the MSU 27, and this time they cashed in the opportunity, scoring a touchdown on 4th and 2 from the 4. They soon added another touchdown, and suddenly they led 14-13. Early in the 4th quarter, MSU moved to the Illinois 36 on a 24 yard run, and on the next play halfback Walt Kowalczyk caught a pass on a slant that went all the way for the game-winning touchdown and 19-14 final score. Illinois outgained MSU 283 yards to 240, and they led in first downs 19-12. Illinois lost 3 fumbles, MSU 4. The big problem for Illinois was woeful 5 of 15 passing.

Michigan State continued to have trouble taking care of the ball the next week at Wisconsin (6-3, #12), losing 6 turnovers, but the defense held the Badgers to 53 yards rushing, and MSU won by a relatively easy 21-7. Things were even easier in a 34-6 rout of Notre Dame the next week. The Irish rebounded with a huge 7-0 upset of unbeaten Oklahoma in their next game, and they finished 7-3 and ranked #7. Michigan State closed their season out with romps over a pair of losing teams.
Auburn vs. Ohio State vs. Michigan State
Here are the significant games for our contenders in 1957. The opponent rankings come from my 1957 fixed AP poll.


Auburn 10-0
Ohio State 9-1
Michigan State 8-1

| | | |
| --- | --- | --- |
| at Tennessee (8-3) | 7-0 | #11 |
| Kentucky (3-7) | 6-0 | Unranked |
| at Georgia Tech (4-4-2) | 3-0 | Unranked |
| Florida (6-2-1) | 13-0 | #24 |
| Mississippi State (6-2-1) | 15-7 | #10 |
| (Columbus) Georgia (3-7) | 6-0 | Unranked |

Texas Christian (5-4-1)
14-18
#22
at Wisconsin (6-3)
16-13
#12
Purdue (5-4)
20-7
#23
Iowa (7-1-1)
17-13
#4
at Michigan (5-3-1)
31-14
#25

Rose Bowl


Oregon (7-4)

10-7

Unranked

| | | |
| --- | --- | --- |
| at Michigan (5-3-1) | 35-6 | #25 |
| Purdue (5-4) | 13-20 | #23 |
| Illinois (4-5) | 19-14 | Unranked |
| at Wisconsin (6-3) | 21-7 | #12 |
| Notre Dame (7-3) | 34-6 | #7 |

Auburn defeated their unranked opponents by an average score of 25-3, Ohio State defeated theirs by an average of 34-5, and Michigan State defeated theirs by an average of 32-7.

Strength of Schedule
One of the arguments for Ohio State was that they played a tougher schedule than Auburn did, but when you looked at the original AP poll, that didn't appear to be true, since Auburn played 3 ranked opponents and Ohio State and Michigan State each played 2. However, as you can see in the table above, in the fixed and expanded AP poll top 25, Auburn still played 3 ranked opponents, but Ohio State played 5 and Michigan State played 4. On the other hand, these added teams that came into the bottom of the fixed top 25 that OSU and MSU played were not very impressive, and 2 of them, TCU and Purdue, would not have been rated at all if they had not upset OSU/MSU.

There was an unquestioned assumption for most sportswriters in those days that the Big 10 was the best, toughest conference, which is why Big 10 teams could sometimes be named "national champions" over teams with better records from other parts of the country. This year we see 9-1 Ohio State winning 3 polls over 10-0 Auburn. In 1958, we'll see the FWAA name 8-1-1 Iowa the MNC over 11-0 LSU. In 1961, the FWAA will go with 8-0-1 Ohio State over 11-0 Alabama. But was the Big 10 really the best conference in 1957? Well, the SEC went 23-9-2 (70.6%) against nonconference opponents in 1957, while the Big 10 went 16-7 (69.6%). Very similar, but the SEC edged them out. And only 4 of the Big 10's nonconference games were against AP-rated opponents (all 4 were games against Notre Dame), which is 17.4% of all their nonconference games, while the SEC played 8 games against rated nonconference opponents in the original poll (23.5% of games) and 12 in the fixed poll (35.3%). So the SEC had the better record while also facing a higher percentage of rated opponents.

Auburn's opponents were 45-47-7 this season, rather unimpressive. But Ohio State's were 43-47-4, and Michigan State's were 39-43-2. So I don't see much of a schedule advantage here for Ohio State and Michigan State, and certainly nowhere near enough to counter the fact that each took a loss and Auburn didn't. Especially Michigan State. Look at the table above

:

MSU played 1 more rated opponent, but only because they lost to that team, putting them in the top 25. Otherwise, they defeated 3 rated opponents, just like Auburn did. Michigan State certainly performed better than Auburn did, but to me, performance takes a back seat here to the fact that MSU lost to the #23 team. Ohio State is a similar story. TCU is only ranked because OSU lost to them, and otherwise they have 4 wins over rated teams to Auburn's 3, but the 4th is ranked #25, and that little schedule difference doesn't make up for OSU losing to a 5-4-1 team at home.

And there is another schedule issue here. Auburn played 3 games at home, 4 on their opponents' home fields, and 3 on neutral fields. Ohio State played 6 home games, 3 on opponents' fields, and 1 at a neutral site, and Michigan State played 6 home games and 3 away. And that's the final nail in the coffin of the "tougher schedule" argument for the Big 10 teams here.

Performance
Another potential argument for these Big 10 teams is based on performance, or score differential

:

OSU and MSU won by more than Auburn did. And Auburn had 3 close wins over unrated opponents, OSU and MSU just 1 each. Now first of all, let me repeat something from the Performance section of my How to Rate CFB Teams guide

:





"

Performance is generally the last factor you should look at when rating teams, primarily using it to break up teams that seem otherwise equal. ... Always remember that assessing performance takes a back seat to assessing relevant records
:
actual wins and losses."

In this case, since OSU and MSU each took an upset loss to a mediocre opponent, while Auburn went unbeaten and untied, OSU and MSU would need a pretty drastic difference in performance to make up for it, and I will get to that in a moment, but first, allow me to repeat something else from the same article

:





"

If Team A is 6-0 and has won by an average of 15, and Team B is 6-0 against the same teams by an average of 30, is team B better? Not necessarily. Even if those averages are 15 and 40, Team B may not be better. One team might be ball control and defense oriented, while the other runs a no-huddle passing offense through all four quarters regardless of score. Similarly, whatever the offensive style of two teams might be, one coach may start running out the clock relatively early in a game he is winning, while another may prefer running up the score."

Auburn 1957 is the perfect example of the above. This was not just another strong defense, but one of the statistically best defenses in college football since World War 2. Their whole strategy was to get a lead, then go into defense-and-kicking mode for the rest of the game. Notice that

all

of their "close" wins were shutouts. In these 4 games, only Georgia Tech had a reasonable chance to score. The other 3 teams, Tennessee, Kentucky, and Georgia, never posed a real threat to score, and they were all held to less than 100 yards of offense. In other words, Auburn really only had one close game, against Georgia Tech, which matches Ohio State's one close win over Oregon and Michigan State's over Illinois. All unrated opponents. But on top of those games, OSU and MSU each, of course, took

losses

to 4-loss teams! And OSU, for their part, had 2 other close wins to boot. Due to the nature of Auburn's approach to the game and unusual defensive strength in 1957, I don't see nearly enough of a performance advantage for OSU and MSU here, and in fact, it is highly questionable, to say the least, that they had any real performance advantage at all.

Auburn only gave up one score all year in a game that was close, the bomb by Mississippi State in a game Auburn still won by more than a touchdown. One mistake, all season. You can see an all-time great offense, such as Oklahoma 1956 and Nebraska 1995, in the high scores they put up. But an all-time great defense can be harder to see, because you can't do any better than zero. So Auburn's 2.8 points per game given up is only a few points different from the more typical strong defense that gives up, say, 4.5 (though only 2 teams have done better than 2.8 per game since). Where you see Auburn's phenomenal defense in 1957 is in looking at how the games played out

:

specifically the nearly complete inability of their opponents to score, or even threaten to score, in contested games.

Big Wins
The last potential argument for the Big 10's MNC candidates in 1957 is the fact that they each posted a better "best win" than Auburn did, Ohio State winning 17-13 over Iowa (7-1-1, #4), and Michigan State stomping on Notre Dame (7-3, #7) 34-6. The problem here is simple

:

neither of those wins is significant enough to make up for the fact that OSU and MSU each took a loss to a mediocre team. I think OSU's big win is the more significant, since it was Iowa's only loss, but Iowa also tied #25 Michigan and barely got by a pair of unrated opponents, so it's not like they were a juggernaut this year. Michigan State's win is mostly impressive because of the big score, but Notre Dame took 3 losses this year, and all 3 were by more than a touchdown, so MSU's big win is just not impressive enough.

The main argument for 11-1 Notre Dame being MNC in 1977 was their huge 38-10 win over previous #1 Texas in the Cotton Bowl, and it pushed Dame past 11-1 Alabama for the title. But you'll notice that Notre Dame and Alabama both had 1 loss! Dame wasn't passing up an unbeaten team. And their big win came over a Texas team that lost only to the Irish, that defeated the #4 and #7 teams, and that stomped on the rest of their schedule by an average of 45-11. That is the sort of big win that you could argue outweighs an upset loss, and it was

far

more significant than the big wins posted by OSU and MSU in 1957.

Let's look at an example where I selected a 1-loss team to share the MNC with an unbeaten major conference team, 8-1 Stanford vs. 8-0 Minnesota for 1935. Like Auburn 1957, Minnesota 1935 played 3 ranked opponents, but they were weaker than Auburn's, #18, #22, and #24. And Stanford gave 2 teams their only loss, 9-1 California (#6) and 12-1 SMU (#3) in the Rose Bowl. SMU, in turn, defeated 2 top 10 opponents and gave 12-1 TCU (#5) their only loss, and Cal defeated 4 top 25 opponents. So Stanford defeated

2

fellow MNC candidates, and

both

wins were substantially more significant than the 1 big win posted by either OSU or MSU in 1957. Furthermore, Stanford's loss came to 8-2 UCLA (#7), a much better team than anyone Minnesota even played in 1935, and that is very different from OSU and MSU losing to far weaker opponents in 1957.

One last example

:

I selected 8-1 Colgate to share an MNC with 8-0 Pittsburgh and 9-0 Army for 1916, largely because Colgate's best win, 28-0 at 8-1 Brown (#4) was far more impressive than any Pitt or Army win. But the biggest point about Colgate that season is that their loss was a close 7-3 decision at 8-1 Yale (#5), a better team than anyone Pitt or Army played. Yale was routed by Brown, who was routed by Colgate, and no one else beat any of those teams. So again, we have 2 big differences between Colgate 1916 and OSU/MSU 1957

:

Colgate's big win was

much

more significant, and their loss was

much

less damaging.

Other Similar Cases
Here are a couple of examples of 1-loss teams being rated higher than teams with perfect records that don't involve a "best win" argument, and again you can see where OSU and MSU 1957 are lacking by comparison.

1943

:

9-1 Notre Dame is the MNC, and 9-0 Purdue doesn't even share it, despite beating the team that beat the Irish. Notre Dame was

6-1

this season against top

10

caliber teams, not just rated! Purdue was 1-0 against the top

25

, and though that one win came over the "same" team that beat Dame, in reality, Purdue played that team (Great Lakes Navy) early in the season, and Notre Dame played them in their finale, facing a different lineup and a better team. As you can see, the difference between these teams' seasons is

incredibly

vast.

1993

:

12-1 Florida State is the consensus choice for national champion, and 11-0 Auburn isn't. Again, the big difference here is FSU's loss, which was close and taken at 11-1 Notre Dame (#2), a far more difficult game than any Auburn played in 1993, and a far "better" loss than those taken by OSU and MSU in 1957. Florida State also had a much bigger and clearer strength of schedule advantage over Auburn in 1993.

1957 MNC Conclusion
I think 9-1 Iowa had a very close argument for sharing an MNC with 10-0 Oklahoma for 1956, and the same goes for 7-1 Michigan and 8-1 Pittsburgh sharing a title with 8-0 Dartmouth and 10-0 Alabama for 1925, but all those 1-loss teams fell short. Unlike those teams, I don't think that 9-1 Ohio State and 8-1 Michigan State even have close arguments for sharing a title with 10-0 Auburn in 1957, but you'll notice I've spent a lot more time on this case than I did on those others. Well, the reason for that is that no one has selected Michigan or Pitt for an MNC in 1925 (aside from one computer system ranking Michigan #1), and only one little-respected organization selects Iowa for 1956, and they made that choice retroactively, decades later. Ohio State 1957, on the other hand, won 3 major polls at the time, so I wanted to be crystal-clear on why I think that choice was bogus.

Also, I think this case brought up some instructive issues for judging the merits of MNC cases.

Auburn is the only legitimate choice for MNC of 1957.
Awards Ceremony
1957 #1:

10-0 Auburn


National Co-champion:

None


Contender:

9-1 Ohio State and 8-1 Michigan State

These are the awards I have been handing out for each season, except seasons when there are no contenders. For this purpose, what I mean by a contender is a team that I think is very close to being worthy of sharing the national championship. A team that you could make an argument for, even if that argument is weak. But the contenders are teams that I myself do not see as national champions.
Grading the Selectors
I have been grading the NCAA Records Book's selectors for each season, and keeping a grade point average, so we can see who is relatively good at selecting national champions and who is not. And although I do not consider computer ratings to be legitimate national championship selectors, I have been including them in this section as well, just for comparison's sake.
I am grading on a scale of 0-5 (5 being the best).


Berryman's system ranked 10-1 Oklahoma #1. Grade

: 0.0



Dunkel's system went with 8-1 Michigan State. Grade

: 1.6



9-1 Ohio State was chosen by the UPI coaches poll and the INS and FWAA writer polls, and they've been ranked #1 by 3 computer systems

:

Boand, DeVold, and Litkenhous. Grade

: 1.6



The other 9 organizations and math systems went with 10-0 Auburn. Grade

: 5.0


It's weird to see so many organizations/systems going with Ohio State over Michigan State, because I think MSU has the better case of the two (and MSU does claim an MNC for this season, but then, MSU claims MNCs at the drop of a hat). These teams had extremely similar seasons, both losing at home to very similar mediocre opponents, and both posting one close win over an unrated opponent (OSU 10-7 over Oregon in the Rose, MSU 19-14 over Illinois). I suppose one could argue that Ohio State's win over 7-1-1 Iowa (#4) was significant enough to push them ahead of MSU, but for me, MSU's 34-6 win over #7 Notre Dame was as impressive an outcome as OSU's 17-13 win over #4 Iowa. That leaves just one relevant difference between the 2 teams

:

OSU beat #12 Wisconsin 16-13, and MSU beat them 21-7, both on the road.

Grade point averages 1936-1957 (the UPI coaches' poll and the Football Writers Association of America will not be added until they have selected at least half as many champions as the others)

:




1) National Championship Foundation
4.84

2) DeVold (math system)




4.78

3) Billingsley (math)

4.77

4)

Poling (math)


4.56

5)

College Football Researchers Association




4.55

6)

Houlgate (math)

4.53

7)

Dunkel (math)

4.45

8) Sagarin-ELO (math)
4.29
9) AP Poll
4.28
10) Sagarin (math)
4.22
11) Litkenhous (math)

4.20

12) Helms Foundation

4.18

13) Boand (math)
4.17
14) Williamson (math)
3.79
15) Berryman (math)
3.29

Grade point averages 1919-1935
:
| | |
| --- | --- |
| 1) Boand (math system) | 4.26 |
| 2) College Football Researchers Association | 4.22 |
| 3) Poling (math) | 4.11 |
| 4) Helms | 4.09 |
| 5) Sagarin-ELO (math) | 4.06 |
| 6) National Championship Foundation | 3.96 |
| 7) Dickinson (math) | 3.49 |
| 8) Houlgate (math) | 3.35 |
| 9) Billingsley (math) | 3.34 |
| 10) Sagarin (math) | 3.28 |
| 11) Parke Davis | 2.77 |

How the systems that selected champions for 1901-1918 did

:



| | |
| --- | --- |
| 1) Houlgate (math system) | 4.5 |
| 2) Helms | 4.3 |
| 3) Parke Davis | 4.2 |
| 4) National Championship Foundation | 3.7 |
| 5) Billingsley (math) | 3.6 |