1) Florida State 12-1
2) Notre Dame 11-1
3) Nebraska 11-1
4) Auburn 11-0
5) Florida 11-2
6) Wisconsin 10-1-1
7) West Virginia 11-1
8) Penn State 10-2
9) Texas A&M 10-2
10) Arizona 10-2
11) Ohio State 10-1-1
12) Tennessee 9-2-1
13) Boston College 9-3
14) Alabama 9-3-1
15) Miami-Florida 9-3
16) Colorado 8-3-1
17) Oklahoma 9-3
18) UCLA 8-4
19) North Carolina 10-3
20) Kansas State 9-2-1
21) Michigan 8-4
22) Virginia Tech 9-3
23) Clemson 9-3
24) Louisville 9-3
25) California 9-4
To the left is the final 1993 AP college football top 25. You can access all of these teams' full schedules at the College Football Data Warehouse (amongst a number of other places). The fixed final AP top 25 follows the article below.


1993 brings us 3 viable candidates for #1

:

12-1 Florida State, whom the AP poll chose, 11-1 Notre Dame, who beat FSU, and 11-0 Auburn, who was on probation and could not play in a bowl.

As you no doubt know by now, I place a great deal more emphasis on head-to-head results than the AP poll does, so my own choice for #1 would have been Notre Dame.

But the AP poll has a case for FSU, because Notre Dame's win over them came at home, and it ended up being close (31-24), with FSU getting a shot at the tying touchdown from the 14 at the end. And FSU played a tougher schedule (6 rated opponents to 3), and performed more strongly against it (2 close games to Notre Dame's 4).

As for Auburn, well, they played a weak schedule, and while AP voters could have ranked them #1 if they had so chosen, placing them #4 behind Nebraska is also a valid option.

So what needs fixed here? Catching my eye first are 3 top ten teams that lost to teams ranked way behind them

:

#8 Penn State lost to #21 Michigan (as well as to #11 Ohio State), #9 Texas A&M lost to #17 Oklahoma, and #10 Arizona lost to #18 UCLA (thus sending UCLA, and not Arizona, to the Rose Bowl). Let's take a closer look at these teams...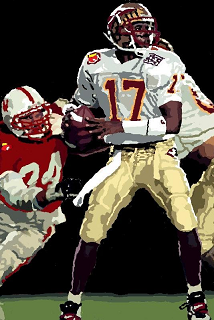 Nebraska's Trev Alberts, playing with a broken arm, bearing down on Florida State's Heisman winning quarterback, Charlie Ward. The game was highly dramatic and back-and-forth, but messy and incredibly poorly officiated, so it is not considered a classic. But Florida State and Bobby Bowden came away with their first national championship 18-16.