Home
1943 College Football National Championship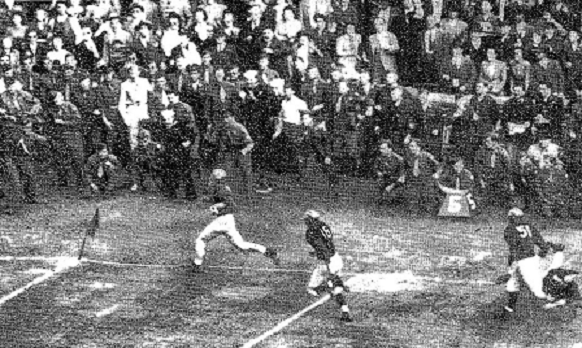 Pictured above is Notre Dame halfback Creighton Miller scoring a 65 yard touchdown against #3 Michigan in a 35-12 win. The Irish also beat #2 Iowa Pre-Flight 14-13, #4 Navy 33-6, #9 Northwestern 26-6, #11 Army 26-0, and #13 Georgia Tech 55-13, but they were upset by #6 Great Lakes Navy 19-14 in their finale
to finish 9-1. That didn't keep them from capturing the #1 slot in the final AP poll, however, and they are the only team that has ever lost their last game and remained #1.

Purdue was the only team with a reason to gripe about it-- they went 9-0, and they beat Great Lakes Navy, who of course beat Notre Dame. This must have produced familiar feelings for Purdue fans, because in 1929, the last time Purdue had managed a perfect record, Notre Dame was also considered the consensus mythical national champion (MNC). But Purdue didn't even come close this time, finishing ranked #5 in the final 1943 AP poll.

Notre Dame is a unanimous choice for #1 in 1943 among both human and math-based systems listed in the NCAA Records Book, the first unanimous selection since Georgia Tech in 1917.


Is that fair to Purdue? Well, Notre Dame played a far, far tougher schedule-- Great Lakes Navy was the only rated team Purdue beat-- and Notre Dame performed much better. So yes, it's fair. But let's take a closer look at both teams.
All rankings in the rest of this article, except as noted, come from my 1943 fixed AP poll.
Notre Dame 1943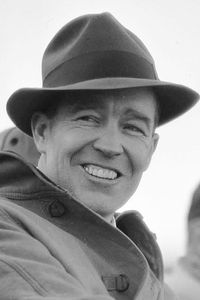 | | | |
| --- | --- | --- |
| at Pittsburgh (3-5) | 41-0 | |
| Georgia Tech (8-3) | 55-13 | #7 |
| at Michigan (8-1) | 35-12 | #2 |
| at Wisconsin (1-9) | 50-0 | |
| Illinois (3-7) | 47-0 | |
| (Cleveland) Navy (8-1) | 33-6 | #3 |
| (Bronx) Army (7-2-1) | 26-0 | #8 |
| at Northwestern (6-2) | 25-6 | #6 |
| Iowa Pre-Flight (9-1) | 14-13 | (#2) |
| at Great Lakes Navy (10-2) | 14-19 | (#6) |
Hall of Fame coach Knute Rockne had built Notre Dame into the nation's premier college football program in the 1920s, going 105-12-5 1918-1930 and winning MNCs in 1924, 1929, and 1930. He has the best winning percentage (88.1%) in major/FBS college football history. Unfortunately, he died in a plane crash following the 1930 season, and with his loss Notre Dame took a step back over the next decade.

The school turned to one of Rockne's former players to replace him, Hall of Fame guard Heartley "Hunk" Anderson, despite a mediocre 7-8-1 record as head coach of St. Louis 1928-1929. Anderson went 6-2-1, 7-2, and 3-5-2 in his 3 year stint at Notre Dame, and that last season did him in. The school then brought home another of Rockne's former players, Elmer Layden, who was the Hall of Fame fullback of 1924's famous "Four Horsemen" backfield. Layden had been very successful as head coach at Duquesne, going 48-16-6 there 1927-1933 and building them into a football power. He did similar work at Notre Dame, going 47-13-3 1934-1940. But while Notre Dame remained the most popular team in college football, and they were generally a top 10 team under Layden, they were unable to win an MNC, and in 1940, they were not ranked in the final AP poll.

Layden left after the 1940 season to become the commissioner of the NFL, and Notre Dame hired yet another former Rockne player to replace him, Frank Leahy (pictured above). Leahy had been the line coach for Fordham's famous "Seven Blocks of Granite" line 1933-1938, and I consider Fordham's 1937 team to be an MNC. He then went 20-2 as head coach at Boston College 1939-1940, including 11-0 with a Sugar Bowl win in 1940. I consider that Boston College team to be an MNC as well.

Leahy then came home and delivered Notre Dame her second era of greatness, going 87-11-9 1941-1943 and 1946-1953, including an amazing 5 MNCs in his 11 seasons there. Overall he was 107-13-9 for his career, second in all-time major/FBS coaching history, behind only his own coach, Knute Rockne. I credit him with 6 MNCs for his career, the most of any coach in major/FBS college football history (by my count-- but some schools count more MNCs for themselves than I do). Needless to say, he is in the Hall of Fame. As are a large number of this season's players...
The Players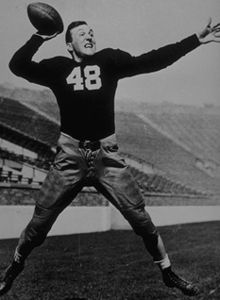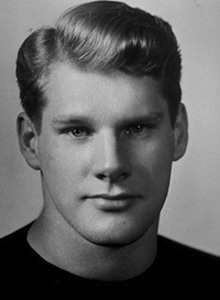 Notre Dame returned just 2 starters from the previous season, but boy did they reload! Their depth was greatly aided by the presence of a V-12 Naval Training Program on campus, as the rules allowed teams with such programs to use trainees as players even though they were not attending the school. Notre Dame supplied 5 of the 11 consensus All Americans for 1943, and 4 of their players are now in the Hall of Fame (Purdue fielded 1 consensus AA and 2 Hall of Famers). An obscene 24 players from Notre Dame's roster would be drafted by NFL teams over the next 2 years (Purdue 7). Notre Dame's Hall of Famers were quarterback Angelo Bertelli, halfback Creighton Miller, quarterback John Lujack, and tackle Ziggy Czarobski.

Angelo Bertelli (pictured above at left) was the star and won the Heisman Trophy this season, despite being called to boot camp by the Marines after only 6 games. In 1941, Bertelli had been a passing specialist tailback in the single wing, leading the nation in passing accuracy at 56.9%. Leahy switched to the T formation in 1942, and Bertelli blossomed as a quarterback. He threw for 1039 yards and 10 touchdowns, including 4 in a game against Stanford, and this season he completed 69% of his passes and tossed another 10 touchdowns. For his career he totaled 2470 passing yards and 29 touchdowns.

Halfback Creighton Miller (pictured above at right) finished 4th in the Heisman voting, scoring 13 touchdowns and leading the nation with 911 yards rushing. He was the 7th member of the Miller family to attend Notre Dame. His father Harry had been a halfback and captain of the 1908 team, and his uncle Don was one of the Four Horsemen in 1924. Creighton was named after the university where his father had been coaching when he was born. He rushed for 151 yards in a 27-20 win over Notre Dame in 1942, which remained a school record until 1974.

John Lujack started the last 4 games at quarterback in place of Angelo Bertelli, but the Irish were just exchanging one Heisman player for another, as Lujack would come back from the war and win the Heisman in 1947. As of this writing, he is the oldest living Heisman Trophy winner. Lujack threw for 525 yards and 4 touchdowns this season, and he added another 191 yards rushing.

Ziggy Czarobski played the same years Lujack did, 1942-1943-1946-1947, the duo winning 3 MNCs together. Ziggy was never a consensus AA, but he did make some first team AA lists as a senior in 1947.

The other consensus AA players this season, joining Bertelli and Miller, were guard and team captain Pat Filley, tackle Jim White, and end John Yonakor.

Notre Dame's Season
Notre Dame had scored 184 points in 11 games in 1942 (finishing 7-2-2), but this season they exploded for 340 points in 10 games. And the schedule was much more rigorous this season, ridiculously so in fact. They faced an incredible 7 top 10 caliber teams this season, and they only played 3 games at home. Yet against this schedule they were the top offense in the nation at 418 yards per game
.

Notre Dame opened the season with a 41-0 win at Pittsburgh (3-5) and a 55-13 rout of Georgia Tech (8-3). Bertelli threw 4 touchdown passes and kicked 6 extra points against Tech, and fullback Jim Mello added another 3 touchdowns. Georgia Tech also lost to 8-1 Navy and 8-1 Duke, but they defeated 6-3 North Carolina (#13), 5-1 Georgia Pre-Flight, 6-3 LSU (#24), 3-3 Tulane (#23), 6-4 Georgia, and they edged 6-1-1 Tulsa (#9) 20-18 in the Sugar Bowl to finish #7 in the fixed AP poll for 1943.
The first 1943 AP poll was published following the Georgia Tech game, and Notre Dame was #1 and Michigan #2. So Notre Dame's trip to Ann Arbor the next week was expected to be the biggest game of the college football season.

Michigan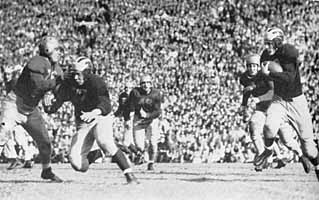 Notre Dame and Michigan had an odd relationship, as they were bitter long time rivals that rarely played each other. The issue dated back to a Notre Dame upset of Michigan in 1909, Michigan's only loss that season. Notre Dame was coached by Shorty Longman, a former player of Michigan's legendary coach Fielding Yost. Shorty still lived in Ann Arbor, so he spent the whole off-season lording it over his former mentor. Yost became so embittered that he canceled the next year's game with Notre Dame at the last minute, and refused to play them ever again. Moreover, he worked tirelessly to keep Notre Dame out of the Big 10, and to convince other Big 10 teams not to play them. He wanted to strangle them in the crib.

But Notre Dame grew from babe to giant anyway, and one by one, the other Big 10 schools scheduled and played them. Interest in a Notre Dame vs. Michigan bout was keen even among Michigan fans, but Fielding Yost held firm throughout his 40 year career at Michigan, first as coach, then as athletic director. Finally, he relented to the keening, putting Notre Dame on the schedule for 1942 and 1943, then retiring in 1940. The 1942 game in South Bend was the first game between the two elites of college football in 33 years, and Michigan won 32-20.

This season, Michigan looked to be every bit the juggernaut Notre Dame was. Like Notre Dame (and Purdue), Michigan had a V-12 program on campus that lent them players who had starred on other teams in previous years. Michigan's star and one consensus AA, big fullback Bill Daley, had been drafted away from Minnesota. Halfback Elroy "Crazy Legs" Hirsch (pictured above carrying the ball in this game) had been drafted away from Wisconsin. Both are in the Hall of Fame, as is their tackle Mervin Pregulman and coach Fritz Crisler.

Michigan was favored, and 86,000 fans came to watch their Wolverines sweep the 2 game series. But that was not to be. Creighton Miller put the Irish on the board first with a 65 yard touchdown run in the opening quarter (pictured at the top of this page). He also had a 68 yard touchdown run negated by penalty in the 2nd quarter. Michigan drove to the Notre Dame 9 in the first, but they were stopped there. Bill Daley had a great game for Michigan, rushing for 135 of Michigan's 188 yards on the ground, and he also snagged an interception, returned kicks, and chipped in 24 yards passing. He led Michigan to a touchdown in the 2nd quarter, but they missed the extra point, so they still trailed 7-6. That's when the floodgates opened on them.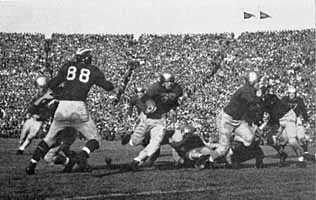 Notre Dame had one 2nd quarter drive to the Michigan 1 that came up empty, but Angelo Bertelli hit reserve halfback Fred Earley for a 69 yard touchdown pass, and his arm also set up a touchdown plunge for fullback Jim Mello (Mello is pictured above carrying the ball in this game), giving Notre Dame a 21-6 halftime lead. Early in the 3rd quarter, Notre Dame halfback Julius Rykovich (a V-12 trainee who had played for Illinois in 1942) returned a punt 38 yards to the Michigan 31, and the Irish scored a touchdown 4 runs later. The capper was a 16 yard touchdown pass from Bertelli to Creighton Miller (Miller is pictured below carrying the ball in this game). Michigan was stopped on a drive to the Notre Dame 23, and in the 4th quarter, they were stopped just 6 inches from the Notre Dame goal line. However, Bill Daley returned the punt-out to the Notre Dame 22, and Michigan hit a 4th down touchdown pass to save a little face and make the final score 35-12.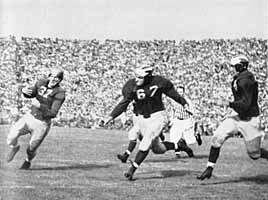 Notre Dame outgained Michigan 420 yards to 299, and they turned the ball over just once, Michigan 3 times. It was a surprising rout, and served notice that this Notre Dame team was special. Michigan romped on all the rest of their opponents, finishing 8-1 and ranked #2. Their big win came 21-7 at 6-2 Northwestern (#6, only other loss came to Notre Dame 25-6). But Michigan's crushing home defeat to Notre Dame this season sent them into an even bigger pout than the loss to the Irish in 1909 did, and these 2 teams would not play each other again until 1978, 35 years later.

Navy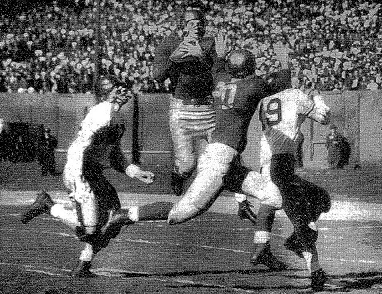 Notre Dame cruised in their next 2 games, 50-0 over Wisconsin (1-9) and 47-0 over Illinois (3-7), and then it was off to Cleveland for their next big game, against unbeaten Navy (coming in ranked #3 in the AP poll). 82,000 filled the neutral-site stadium to watch Notre Dame pull away in the 2nd half for a rout. This was Angelo Bertelli's last game before heading off to boot camp, and he threw 3 touchdown passes. Navy was held to negative 7 rushing yards.

Bertelli hit halfback Julius Rykovich for a 49 yard touchdown to open the scoring in the first quarter, and he hit his other halfback, Creighton Miller, for 52 yards for another touchdown in the 2nd. Navy came back with a drive resting on 3 big passes, the last for a 29 yard touchdown, to cut the lead to 13-6 at half. That was the only time they advanced the ball inside Notre Dame's 25 until the game's final minutes.

Notre Dame opened the 3rd quarter with another touchdown drive, fullback Jim Mello getting loose for 37 yards and Creighton Miller for 24. Later in the quarter, Mello returned an interception 47 yards to the Navy 7 to set up yet another touchdown. The substitutes came in for the 4th, and Vic Kubitski (a military trainee who had played for Minnesota) took a run 72 yards to the Navy 7. They pushed it to the 1, then Angelo Bertelli was sent in to score on a quarterback sneak. His farewell to college football.

That made the final score 33-6. Notre Dame outgained Navy 455 yards to 181. Both teams turned the ball over a lot-- Notre Dame 5 times and Navy 6 (Creighton Miller is pictured above intercepting a Navy pass near his own goal line). This was Navy's only loss on the season. They defeated 8-1 Duke (#5), 8-3 Georgia Tech (#7), 6-2-1 Penn (#14), and 7-2-1 Army (#8), finishing them at 8-1 and #3 in the final fixed AP poll for 1943.

The Navy game was just the start of 5 consecutive games against top 10 caliber opponents for Notre Dame. They next went to the Bronx to dispatch Army 26-0, then got a big 2nd half to win 25-6 at Northwestern. Army finished 7-2-1, tying 6-2-1 Penn (#14) and losing to Navy in their finale. They are rated #8 for 1943. Northwestern finished 6-2, losing to Michigan and beating 10-2 Great Lakes Navy 13-0. GLN would be the team to upset Notre Dame in their finale, and they finished rated #6 in the original AP poll. Northwestern is #6 in the fixed poll.

Game of the Year: Iowa Pre-Flight
All of the hoopla surrounding the Notre Dame-Michigan game had been forgotten by the time Notre Dame's next game rolled around, a home bout against the 8-0 Iowa Pre-Flight Seahawks. This was the game of the year, and since the AP poll rated military training teams, the winner would be taking home a national championship. And after Notre Dame had pummeled every opponent, here, finally, was a game where she met her match. It was a great and dramatic game, and Notre Dame won by the skin of her teeth. Great Lakes Navy would win an equally great and dramatic game over Notre Dame the following week, but GLN had 2 losses, so that game was ultimately irrelevant. Notre Dame would finish #1 anyway, Iowa Pre-Flight #2 (though I dropped military teams from the fixed poll).

The Seahawks were a collection of former college and even pro all-stars, and they were helmed by Hall of Fame coach Don Faurot, fresh off 3 Big 6 titles in 4 years at Missouri. Iowa Pre-Flight controlled the first half, drawing first blood in the opening quarter on an 8 yard run by quarterback Art Guepe. Guepe had been a star for a pair of top 25 Marquette teams in the 1930s, leading them to a Cotton Bowl berth in 1936. He had been coaching since then. Guepe and fullback Dick Todd were getting off good gains on the ground, and Todd's punting kept Notre Dame pinned back all half. Todd had been a star for Texas A&M, then a pro player for the Redskins for 4 years. He would leave this game with a broken jaw in the 4th quarter. Pre-Flight led 7-0 at the half.

Notre Dame drove 65 yards to tie the game early in the 3rd quarter, but later quarterback John Lujack fumbled the ball away at his own 13 yard line. Dick Todd threw a touchdown pass to put Iowa Pre-Flight back in front, but the crucial extra point attempt hit an upright, leaving the score 13-7. And by the margin of that missed point, Notre Dame would win the game and the national championship. After the kickoff, Notre Dame launched a long, slow march to a Creighton Miller touchdown and 14-13 lead that would stand up as the final score. Creighton Miller later fumbled the ball to the Seahawks on his own 38, but Pre-Flight was unable to convert the opportunity, throwing 4 straight incomplete passes. Notre Dame outgained Iowa Pre-Flight 284 yards to 255, the difference there being John Lujack's passing.

Upset Loss to Great Lakes Navy
After the season, Creighton Miller would attribute Notre Dame's loss to Great Lakes Navy to fatigue after the tough contest against Iowa Pre-Flight. And that theory makes sense. Iowa Pre-Flight was known as a particularly rough team, accumulating many penalties over the season for it, and GL Navy was the 5th straight top 10 caliber team Notre Dame faced, 4 of those on the road. And GL Navy was, like Iowa Pre-Flight, a military training camp team composed of former college and pro all-stars. However, this game played out very similarly to the way the Iowa Pre-Flight game did. There was but one relevant difference-- Iowa Pre-Flight threw 4 straight incompletions from the Notre Dame 38 late in the game to lose 14-13, while Great Lakes Navy hit a touchdown bomb from the Notre Dame 46 with 33 seconds left to win 19-14. Was that one fluke play really the result of fatigue? Maybe. The receiver on the play was wide open.

Of course, there's also the fact that Notre Dame played Iowa Pre-Flight at home, and they played Great Lakes Navy at their base in Chicago. Only military personnel and the media could attend, so just 22,000 spectated. Notre Dame took the opening kickoff and marched 17 plays to a Lujack touchdown dive and a 7-0 lead. Aided by Great Lakes Navy fumbles, they retained that lead at the half. GL Navy took the opening kickoff of the second half and marched their way to their first score, a 24 yard run by Emil Sitko. Sitko was unusual in that he had played neither college nor pro football. Frank Leahy took note of that fact, and after the war, he recruited Sitko to come play for Notre Dame 1946-1949. Sitko led Dame in rushing all 4 years, and he is in the Hall of Fame.

Great Lakes Navy took the lead on a 51 yard touchdown run by Dewey Proctor, who had played for Furman and would play pro ball for 4 years after the war. But Great Lakes Navy had missed both extra points, so their lead was but 12-7, opening the door for Notre Dame to win the same way they had the previous week. And much like the previous week, the Irish launched a long, slow drive in the 4th quarter to take the lead on a Creighton Miller touchdown. 80 yards, 20 plays, 8 minutes. It was 14-12 with just over a minute left, and in those days, 99% of the time, that was game over. But this was the other 1%.

In the end, the hero of this game was Steve Lach, formerly a great halfback for Duke (Hall of Fame), then a member of the Chicago Cardinals in 1942. Lach had joined Great Lakes Navy the week after their loss to Purdue, immediately becoming their star player. He was severely slowed due to injuries by the time the Notre Dame game arrived, but his arm was fine, and his arm would win the game. After a short kickoff, GL Navy started on their own 33. Lach hit a pass for 21 yards, then he hit a wide open receiver for the 46 yard bomb that stole the game away.

Great Lakes Navy thus finished 10-2, their losses to Purdue (9-0, #4) and Northwestern (6-2, #6). They were ranked #6 in the final AP poll, but I don't rate non-college teams in the fixed polls. Notre Dame remained #1 in the final AP poll, the only team that has ever remained #1 after losing their last game. And it will surely never happen again, though I do think that it should have happened in 1965.

Purdue 1943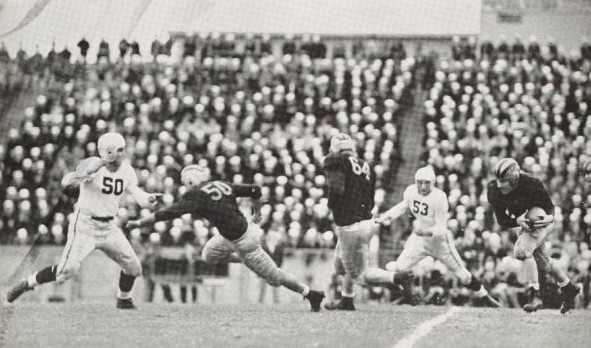 | | | |
| --- | --- | --- |
| at Great Lakes Navy (10-2) | 23-13 | (#6) |
| at Marquette (3-4-1) | 21-0 | |
| Illinois (3-7) | 40-21 | |
| Camp Grant (2-6-2) | 19-0 | |
| (Cleveland) Ohio State (3-6) | 30-7 | |
| Iowa (1-6-1) | 28-7 | |
| at Wisconsin (1-9) | 32-0 | |
| at Minnesota (5-4) | 14-7 | |
| at Indiana (4-4-2) | 7-0 | |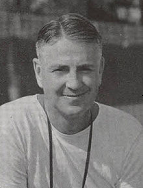 Purdue last contended for an MNC with an 8-0 campaign in 1929, the start of a terrific 5 year run for the program. They went 36-4-2 and won 3 Big 10 titles 1929-1933, but after that they sank back into the swamp of mediocrity from which they had arisen. After going 2-6 and 2-5-1 in 1940 and 1941, Purdue moved Elmer Burnham (pictured at left) from coach of the freshman team to coach of the varsity. Burnham had been a successful coach at South Bend Central High School 1919-1934, going 118-30-8, and he had been coaching the Purdue freshmen since then. His initial campaign as head coach of the varsity resulted in Purdue hitting bottom, a 1-8 finish in 1942. But 1943 would be an entirely different story, and obviously one of the great one-year turnarounds in college football history.

Only 1 starter returned from the 1942 squad, which is just as well considering how poor they were. But Purdue was one of the schools that hosted a V-12 training program this season, and no school's football team benefited from V-12 trainees more than Purdue did in 1943. 33 trainees were available that had played for other
schools the previous season, including 8 players from Illinois and 7 from Missouri's 1942 Big 6 champions. Elmer Burnham built a new team from this new material, and they went 9-0 for Purdue's 4th Big 10 title (shared this season with Michigan).

But Elmer Burnham found that the pressures, personalities, and excesses involved with big-time football did not suit him, and after this season he packed up and departed for small-time football at the University of Rochester. No scholarships, no recruiting. Actual student athletes. He spent the rest of his career there, going 82-48-6 1944-1960.

The Players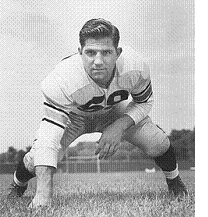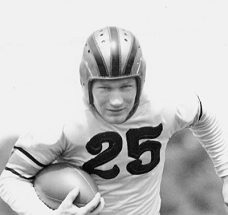 Two of the best players from this team had played for Illinois the previous season. Guard Alex Agase (pictured above at left) was Purdue's one consensus All American, and he is in the Hall of Fame. Fullback Tony Butkovich (pictured above at right, and also carrying the ball in the picture at the top of this Purdue section) was a nonconsensus AA. He led the team with 833 yards rushing, and his 16 touchdowns this season are still the school record. He was killed in action in Okinawa. Surprisingly, he is not in the Hall of Fame, but he likely would be if he had played for Notre Dame.

Backup fullback Chalmers "Bump" Elliott is in the Hall of Fame, but that's because he played at halfback for Michigan's unbeaten 1947 team when he came back from the war, and was the Big 10 MVP that season. He later became head coach at Michigan 1959-1968, going 51-42-2 with 1 Big 10 title. Bump Elliott became the starter for Purdue this season after Butkovich was called to boot camp.

Halfback Boris "Babe" Dimancheff had previously played for Butler. He didn't make AA lists, and is not in the Hall of Fame, but he was the team captain and MVP, and went on to a 7 year pro career. Guard Dick Barwegan was similarly unheralded, but he went on to a terrific, if short, pro career, making 4 pro bowls.
Purdue's Season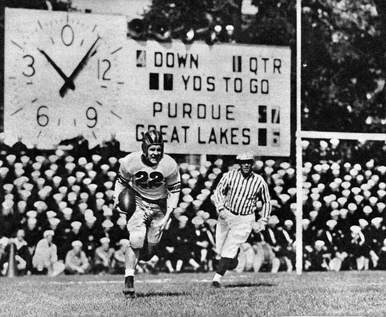 Purdue's schedule was the polar opposite of Notre Dame's, and it was essentially just a one game schedule. That one game was their opener at Great Lakes Navy (pictured above), the team that beat Notre Dame in their finale. Only military personnel and the media could attend, so 22,000 sailors watched this one. GL Navy was composed of former college and pro all-stars, and had won the "service national championship" the previous season, but this year they had an all-new cast of all-stars. Much like Purdue.

Purdue fumbled the ball away on the second play of the game's opening possession, and Great Lakes Navy threw a touchdown pass for a quick 6-0 lead. On their next possession, Great Lakes returned the favor by fumbling the ball to Purdue at their own 42, and Purdue marched to a Butkovich touchdown to take a 7-6 lead. In the second quarter, Purdue drove 75 yards to make the halftime lead 13-6. A field goal bumped that lead to 16-6 going into the 4th quarter. Great Lakes came back with a short touchdown drive to close the gap to 16-13, but that's as close as they got. Later in the final quarter, Purdue returned a punt 33 yards to the GL Navy 12, and soon afterward they scored to make the final 23-13.

Great Lakes Navy also lost to Northwestern (6-2, #6), but they upset #1 Notre Dame in their finale to finish 10-2 and ranked #6 in the final AP poll (though I don't rank military teams in the fixed poll). This was the only rated team Purdue played this season, and in fact, the only other

winning

team Purdue played was 5-4 Minnesota.

Purdue rolled easily over mediocre opponents after that, but when some of their players were called up to boot camp November 1st (known nationally as "Blue Monday," as a lot teams lost key players then), including stars Alex Agase and Tony Butkovich, things changed dramatically. Purdue had 2 games left on the schedule, road trips to 5-4 Minnesota and 4-4-2 Indiana (both unrated), and both games ended up being very tough battles for Purdue.

Limping to the Finish Line
Minnesota hosted Purdue for their homecoming game, and 43,000 fans and snow greeted the Boilermakers. Purdue drove 60 yards for an early lead, quarterback Sam Vacanti (who had played for Iowa the previous season) twice keeping the drive alive with scrambles on passing plays. Minnesota tied the game up just before half, and it remained 7-7 until the waning moments of the game. Minnesota drove to the Purdue 7 in the 4th quarter, but Babe Dimancheff intercepted a pass in the end zone to snuff the threat. Late in the game, Minnesota fumbled the ball away at their own 18 yard line, and Vacanti threw a touchdown pass to Dimancheff with 40 seconds left to escape with a 14-7 win.

Then it was off to their rivalry game at Indiana. Sam Vacanti's arm made the difference again, but this time he won it in the 1st quarter, on a 38 yard touchdown pass. That was all the scoring there would be, giving Purdue a 7-0 win. But it wasn't easy. Indiana snagged an interception on the last play of the first half, and the returner had an open field in front of him, but Vacanti caught him at the 10. In the 4th quarter, Indiana drove inside the Purdue 5 yard line 3 times, and on the last drive of the game, they snapped the ball 3 times just one foot short of Purdue's goal line, but they could not punch it in. The last try died with 7 seconds left on the clock.
Notre Dame vs. Purdue
Here are the significant games for Notre Dame and Purdue in 1943. The opponent rankings
come from my fixed AP poll for 1943
. I don't include military teams in the fixed poll, so for the military opponents, I give their original AP poll ranking in parentheses.


Notre Dame 9-1
Purdue 9-0

| | | |
| --- | --- | --- |
| Georgia Tech (8-3) | 55-13 | #7 |
| at Michigan (8-1) | 35-12 | #2 |
| (Cleveland) Navy (8-1) | 33-6 | #3 |
| (Bronx) Army (7-2-1) | 26-0 | #8 |
| at Northwestern (6-2) | 25-6 | #6 |
| Iowa Pre-Flight (9-1) | 14-13 | (#2) |
| at Great Lakes Navy (10-2) | 14-19 | (#6) |

| | | |
| --- | --- | --- |
| at Great Lakes Navy (10-2) | 23-13 | (#6) |
| at Minnesota (5-4) | 14-7 | Unrated |
| at Indiana (4-4-2) | 7-0 | Unrated |

Notre Dame defeated the rest of their opponents by an average of 46-0, and Purdue beat their unrated opponents by an average of 24-5.

As you can see, there really isn't any reasonable debate to be had here, which is why Notre Dame is a unanimous MNC choice for 1943. Their schedule and performance blow Purdue's accomplishments away. Notre Dame's opponents were 63-33-1, and Purdue's were 32-48-6, yet Notre Dame outscored their opponents by 271 points, while Purdue outscored theirs by 159. Notre Dame played 7 top 10 caliber opponents, and that is just amazing. It is an interesting fact that Purdue had the better record and beat the team that beat Notre Dame, but in the wake of all the other games, that interesting fact is little more than interesting trivia
.

Both teams lost stars to boot camp down the stretch, but Notre Dame still beat the presumed 2nd best team in the nation, Iowa Pre-Flight, before losing to Great Lakes Navy on a last-minute miracle pass. Those results are far better performances than Purdue's struggles to get by a pair of mediocre unrated teams in their final 2 games. Co-Big 10 (really a 9 team league at this time) champion Michigan was rated higher than Purdue in the final AP poll for a reason. They easily handled Minnesota and Indiana, the teams that almost beat Purdue. No one came close to Michigan but Notre Dame.


The Great Lakes Navy team Purdue played in their opener wasn't the same one Notre Dame played at season's end. GL Navy's star wasn't even on the team when Purdue played them, and GL Navy jelled and caught fire down the stretch, crushing 5 straight opponents before they beat Notre Dame. That included a 21-7 win at Indiana the week before Purdue only beat them 7-0.
Frankly, I have trouble even seeing Purdue as a

contender

for the mythical national crown. They did go 9-0, but their 1929 team has a much stronger case for an MNC, and that team fell short. This team falls very short.
The Bigger Picture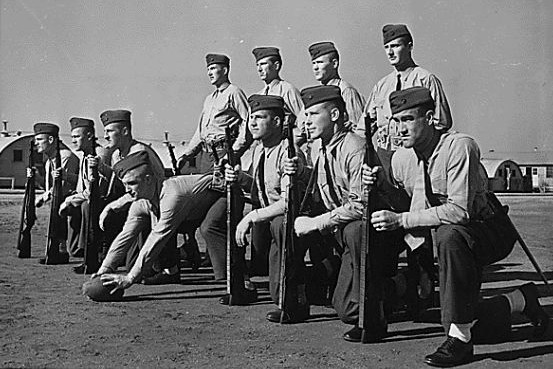 Pictured above are 11 former college football players, now Marines at boot camp in Parris Island. Standing furthest to the left in the back row is Notre Dame quarterback Angelo Bertelli. Purdue guard Alex Agase is kneeling 3rd from the right in the front row, and Purdue fullback Tony Butkovich is standing 2nd from the right in the back row. It's a reminder that there was something vastly more important than college football going on in the world at this time, and in that battle, these guys were all on the same team.
Awards Ceremony
1943 #1:

9-1 Notre Dame


National Co-champion:

None


Contender:

9-0 Purdue

These are the awards I have been handing out for each season, except seasons when there are no contenders. For this purpose, what I mean by a contender is a team that I think is very close to being worthy of sharing the national championship. A team that you could make an argument for, even if that argument is weak. But the contenders are teams that I myself do not see as national champions.

As previously stated, Purdue barely qualifies as a "contender" this season.
Grading the Selectors
I have been grading the NCAA Records Book's selectors for each season, and keeping a grade point average, so we can see who is relatively good at selecting national champions and who is not. And although I do not consider computer ratings to be legitimate national championship selectors, I have been including them in this section as well, just for comparison's sake.
I am grading on a scale of 0-5 (5 being the best).


Everyone selected Notre Dame
. Grade

: 5.0



Grade point averages 1936-1943

:




1) Boand (math system)




College Football Researchers Association




5.0

3) AP Poll
National Championship Foundation
Poling (math)


Billingsley (math)

4.9

7) DeVold (math)
4.8
8) Litkenhous (math)
4.5

9)

Sagarin-ELO (math)


Houlgate (math)

4.3

11)

Dunkel (math)

3.9

12) Sagarin (math)
3.84

13) Helms Foundation

3.80

14) Berryman (math)
3.6
15) Dickinson (math)
3.0

16)

Williamson (math)

2.9

Grade point averages 1919-1935
:
| | |
| --- | --- |
| 1) Boand (math system) | 4.26 |
| 2) College Football Researchers Association | 4.22 |
| 3) Poling (math) | 4.11 |
| 4) Helms | 4.09 |
| 5) Sagarin-ELO (math) | 4.06 |
| 6) National Championship Foundation | 3.96 |
| 7) Dickinson (math) | 3.49 |
| 8) Houlgate (math) | 3.35 |
| 9) Billingsley (math) | 3.34 |
| 10) Sagarin (math) | 3.28 |
| 11) Parke Davis | 2.77 |

How the systems that selected champions for 1901-1918 did

:



| | |
| --- | --- |
| 1) Houlgate (math system) | 4.5 |
| 2) Helms | 4.3 |
| 3) Parke Davis | 4.2 |
| 4) National Championship Foundation | 3.7 |
| 5) Billingsley (math) | 3.6 |