Home
1940 College Football National Championship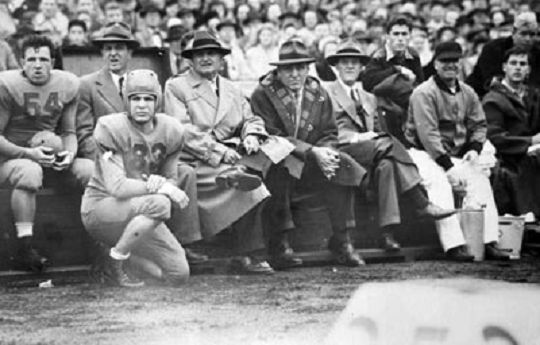 Pictured above is Minnesota, who finished 8-0 and ranked #1 in the 1940 AP poll
. 10-0 Stanford finished #2, receiving 21 fewer first place votes than did Minnesota, but it's possible, if unlikely, that Stanford would have passed Minnesota up in a post-bowl poll. Stanford defeated 8-2 Nebraska 21-13 in the Rose Bowl, and Minnesota did not play in a bowl game. Stanford defeated Nebraska more easily than Minnesota had earlier in the season, and that goes on top of Stanford beating 7-2 Washington more easily than Minnesota did.

Here is how organizations listed in the NCAA Records Book, all except the AP poll selecting retroactively, see the 1940 mythical national championship (omitting math/computer ratings, which are not generally accepted as MNCs)

:




Minnesota
:
AP Poll
,

National Championship Foundation,
CFB Researchers
Stanford

:
Helms

But Minnesota and Stanford are not the only contenders for the 1940 MNC. 11-0 Boston College, ranked #5 in the final AP poll, may not have been selected as an MNC by anyone, but that hasn't stopped the school from proudly displaying a "national championship" banner for 1940. I will be summarizing Minnesota, Stanford, and BC in the following article.

Other teams with perfect records in 1940 included 9-0 Hardin-Simmons (#17 AP poll), 9-0 Lafayette (#19), and 8-0 Eastern Kentucky. But these teams were the equivalent of FCS or below, and as such they are not MNC contenders. All rankings in the following article, except as noted, come from my 1940 fixed AP poll.
Minnesota 1940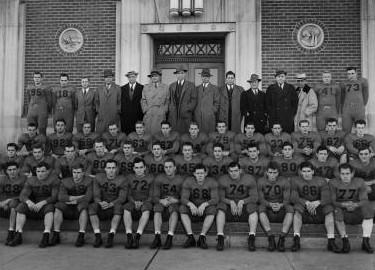 | | | |
| --- | --- | --- |
| Washington (7-2) | 19-14 | #10 |
| Nebraska (8-2) | 13-7 | #9 |
| at Ohio State (4-4) | 13-7 | #25 |
| Iowa (4-4) | 34-6 | |
| at Northwestern (6-2) | 13-12 | #6 |
| Michigan (7-1) | 7-6 | #3 |
| Purdue (2-6) | 33-6 | |
| at Wisconsin (4-4) | 22-13 | |
Minnesota had won 3 consecutive MNCs 1934-1936, so this season gave them their 4th in 7 years, and they would win yet another in 1941 to make it 5 in 8 years. Truly a glorious time to be a Gopher fan. I covered their Hall of Fame coach, Bernie Bierman (pictured at left), in my 1934 national championship article.


The star of this team was halfback George "Sonny" Franck (pictured below), a consensus All American and Hall of Famer. He could run, pass, and catch, and he called the signals. He was also captain of the track team, and could run 100 yards in 9.6 seconds and 220 in 21.1. He finished 3rd in the Heisman vote, and was the MVP of the college all-star game after the season.

But the best known player today is the other halfback, Bruce Smith. He would be a consensus AA in 1941 and win the Heisman Trophy, and he is also in the Hall of Fame
.

Fullback Bill Daley, a substitute for much of this season, would be a consensus AA in 1942, then consensus AA with Michigan at halfback in 1943. So Minnesota had a loaded backfield this season.

Tackle Dick Wildung is the 3rd Hall of Famer on this team. He was named consensus AA in 1941 and 1942, and went on to play for the Packers until 1953. Tackle Urban Odson was a nonconsensus AA this season, and later joined Wildung with the Packers. He is in the South Dakota Sports Hall of Fame. Guard Helge Pulkema was also a nonconsensus AA this season.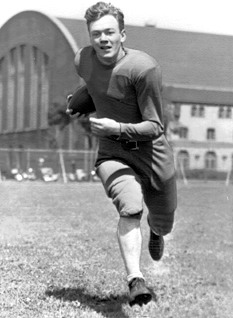 Minnesota's Season
Minnesota opened the season with 3 consecutive tough games, hosting Washington and Nebraska before traveling to Ohio State. All 3 games were close
.

46,000 fans were on hand for the opener against Washington. Minnesota scored first, Sonny Franck going over goal to cap a short drive that followed a Washington fumble at their own 21 in the first quarter. Washington responded with an 80 yard drive on the ensuing possession, hitting a 29 yard pass to set up a 2 yard touchdown plunge, and it was 7-7 after the first period of play. In the 2nd quarter, Minnesota drove to the Washington 9, then lost yards and settled for a field goal and a 10-7 lead. Washington responded again, hitting a 40 yard pass to the Minnesota 13, then another pass for the touchdown and a 14-10 lead. But Minnesota recaptured the lead in a hurry, Sonny Franck returning the kickoff 98 yards for a touchdown and a 17-14 halftime advantage.

That was a lot of fireworks in the first half, but neither offense scored in the next half. In the 3rd quarter, Washington fended off a Minnesota threat by intercepting a pass at their own 3 yard line, but on their punt-out, the snap went over the punter's head, handing Minnesota a safety to increase their lead to 19-14. Washington had a threat of their own in the final quarter, hitting a pass to the Minnesota 5, but they were unable to get the ball over goal, so 19-14 held up as the final score.
Washington outgained Minnesota 263 yards to 219, but Minnesota outgained Washington in kick returns by 61 yards, and Washington turned the ball over 6 times, twice as often as Minnesota. Sonny Franck starred with his running, defense, and most of all, the 98 yard kickoff return that won the game. Washington also lost to 10-0 Stanford this season, but they won the rest to finish 7-2. They didn't actually defeat any good teams, but the AP poll ranked them #10, and that's where they remain in the fixed AP poll as well.

Nebraska
Next up was annual interconference rival Nebraska. Minnesota came into the contest 15-4-2 against the Cornhuskers all-time, but Nebraska always gave them a tough game. 41,000 attended.

Minnesota thoroughly dominated the game statistically, outgaining Nebraska 399 yards to 171, and outgaining them in the kicking game as well, but Minnesota couldn't finish drives, and they needed to hit a long touchdown pass in the 4th quarter to win 13-7. Nebraska keyed on halfbacks Sonny Franck and Bruce Smith, and they did a good job of stopping them, but that allowed substitute fullback Bill Daley and end William Johnson to have big games against them-- the duo totaled nearly 300 yards of offense.

Daley popped a 48 yard run to get to the Nebraska 5 in the 2nd quarter, then scored the touchdown in 2 tries from there, giving Minnesota a 7-0 halftime lead. In the 3rd quarter, Nebraska tossed a 48 yard pass, then a 7 yard touchdown pass to tie the game 7-7. In the 4th quarter, Bruce Smith lofted a 41 yard touchdown pass to William Johnson to win the game 13-7. The score could have been more impressive

:

Minnesota's game-opening drive carried to the Nebraska 15, where they missed a field goal, they were twice stopped at the Nebraska 5, and their last drive went to the Nebraska 7 before time was called.

Nebraska won the rest of their regular season games, taking the Big 6 as usual, and then they were beaten 21-13 by 10-0 Stanford in the Rose Bowl. That finished Nebraska at 8-2, and they are ranked #9 in the fixed AP poll.

Ohio State
It's quite difficult to play 3 big games in a row, especially when the 3rd is on the road, and Minnesota's trip to Columbus was their worst game of the season. Ohio State outgained them 385 yards to 231, the kicking game was even, and Minnesota even had 3 turnovers to none for OSU, yet somehow Minnesota prevailed 13-7. Though the teams were in the same conference, they had only played each other 4 times prior to this season-- Minnesota had played Nebraska 21 times. The series stood 2-2. 63,000 attended on a rainy day.

Bruce Smith was the hero, rushing 16 times for 139 yards and scoring both of Minnesota's touchdowns. He ran it in from 10 yards out on a fake pass in the opening quarter, but he missed the extra point, leaving the score 6-0. Ohio State's answering drive featured a 57 yard run, and they pushed the ball all the way to the Minnesota 1 yard line, but they were stopped there. Not long after that, Minnesota fumbled at their own 20, and Ohio State cashed that opportunity in with a 4th down lateral and touchdown pass to take a 7-6 lead. In the 2nd quarter, Smith got loose for a pair of 23 yard runs to key a 69 yard drive that ended with his touchdown plunge. That provided the 13-7 final score.

Ohio State came very close to taking the win late in the game. They drove 64 yards, aided by a conversion on 4th and 5, advancing to first and goal at the Minnesota 1, but again they were denied there. Ohio State finished the season 4-4, but all of their losses came to rated teams (Minnesota, 7-1 Michigan, 6-2 Northwestern, and 6-2 Cornell), and the Buckeyes are rated #25 in the fixed AP poll.

Northwestern
After routing 4-4 Iowa 34-6, Minnesota hit the road again for another big game at 4-0 Northwestern. This was a very evenly played game that saw 2 touchdowns for each team, but Minnesota won 13-12 because they hit an extra point, while Northwestern missed both of their tries. You can watch the game here.

Northwestern took another loss 20-13 at 7-1 Michigan, but they beat 4-4 Ohio State 6-3 and 7-2 Notre Dame 20-0 in their finale, finishing 6-2 and #6 in the fixed AP poll.

Michigan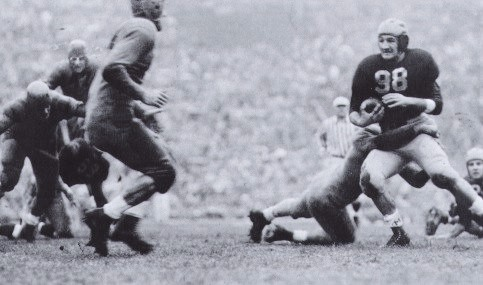 The next week Minnesota faced yet another big game, this one the biggest of their season, hosting 5-0 Michigan for the Little Brown Jug, the Big 10 championship, and the MNC. Michigan had outscored their opponents 130-14, much more impressive than Minnesota, who had been squeaking by in game after game, and Michigan had 2 weeks to prepare, so they were favorites to win. But Minnesota had not lost to Michigan since 1932. 63,000 fans showed up to watch that streak continue.

This game was played in rain and mud, hampering both offenses. Michigan slightly outgained Minnesota 210 yards to 199, and they attained 15 first downs to 5 for Minnesota, but Minnesota won on one big play and, for the second week in a row, on one extra point.

Michigan was led by halfback Tom Harmon (pictured above carrying the ball), who won the Heisman Trophy this season. Minnesota held him to just 58 yards on 29 carries, but he had a good day passing. In the opening quarter, Harmon hit a couple of passes in a drive that went to the Minnesota 1 yard line, but Michigan was stopped there. After an exchange of punts, Minnesota fumbled the ball away at their own 4, giving Michigan another shot at it. A couple more runs went nowhere, so Harmon went to the air again and bagged Michigan's first touchdown. However, Harmon's extra point try was wide, leaving the score 6-0, and that would be the difference in this game.

In the 2nd quarter, Michigan blocked a punt and recovered the ball at the Minnesota 3, but this time, after a couple of runs were stuffed, Harmon was intercepted in the end zone. The next play is often considered by Minnesota fans to be the greatest play in Minnesota football history, though for my money it's the touchdown that beat Pittsburgh in 1934. Minnesota's Bruce Smith launched an 80 yard touchdown run that, with a made extra point, would give Minnesota the game 7-6, and it also gave Smith a Heisman Trophy, albeit one year later.

Late in the 3rd quarter, Michigan put together a strong threat. Two runs carried for 21 yards, Harmon hit a 22 yard pass to the Minnesota 36, and then Michigan ran the ball down Minnesota's throat to first and goal at the 4. However, Michigan fumbled the wet ball twice thereafter, losing it to Minnesota the 2nd time, and that was that.

This was Michigan's only loss. They beat 6-1-1 Penn 14-0, 6-2 Northwestern 20-13, and 4-4 Ohio State 40-0, finishing 7-1 and #3 in the AP poll.

Closing Out
Minnesota finished their season with a 33-6 win over 2-6 Purdue and a 22-13 win over 4-4 Wisconsin. Interestingly, 8-0 Minnesota outscored their opponents 154-71, which isn't that different from the previous season, when 3-4-1 Minnesota outscored their opponents 154-82. But when you look at all of Minnesota's close wins this season, you can see how easily they could have gone 3-4-1 again. It just goes to show how much luck is involved in winning an MNC, and how thin the line can be between going unbeaten and having a losing record, especially when a team's schedule is as tough as Minnesota's was this season.

You can watch highlights of Minnesota's 1940 season here.
Stanford 1940
at San Francisco (1-6-1)
27-0
Oregon (4-4-1)
13-0
Santa Clara (6-1-1)
7-6
#11
at Washington State (4-4-2)
26-14
Southern Cal (3-4-2)
21-7
at UCLA (1-9)
20-14
Washington (7-2)
20-10
#10
Oregon State (5-3-1)
28-14
at California (4-6)
13-7

Rose Bowl


Nebraska (8-2)

21-13

#9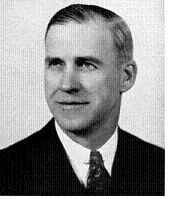 Stanford claims an MNC for 1926, when they were coached by Hall of Famer Pop Warner. I don't recognize that one, but I did select Stanford as co-MNC of 1935. That team was known as the "Vow Boys" because of a vow its seniors had made as freshmen never to lose to Southern Cal, and they kept that vow. The Vow Boys had won the PCC and appeared in the Rose Bowl 3 straight seasons 1933-1935, and as a rhyming nod to them, this year's 10-0 Rose Bowl team was called the "Wow Boys."

Stanford had fallen apart after the Vow Boys graduated, going 10-21-5 over the next 4 seasons, including 1-7-1 in 1939. When Hall of Fame coach Clark Shaughnessy (pictured) was hired this season, the choice was met with derision in local newspapers, because he had gone just 17-34-4 in 7 years at Chicago. However, to be fair, Chicago had heavily de-emphasized football, and their academic rules made it nearly impossible to field a winning football team, especially in the powerful Big 10. Chicago ended their football program entirely after the 1939 season.

Prior to coaching at Chicago, Shaughnessy, a Minnesota graduate, had been a very successful program builder. He turned Tulane into a Southern power, going 59-28-7 and winning a pair of conference titles, and he went
38-16-6 at Loyola-New Orleans 1927-1932.

Clark Shaughnessy, and this 1940 Stanford team, are most famous now for reintroducing the ancient T formation to college football. The single wing formation dominated college football at this time, and Shaughnessy's announcement that his team would utilize the T formation was met with as much derision as his hiring had been. However, the T formation, in which the quarterback takes a direct snap from center, handling the ball on nearly every offensive play, would rapidly take over football at both the college and pro levels, and it is still the basis for the football we know and watch today.

Shaughnessy was only at Stanford for 2 seasons, going 10-0 this year and 6-3 the next. Overall he was 151-114-18 at 7 schools.
The Players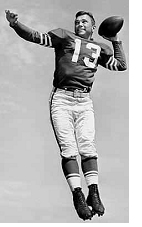 The star of the Wow Boys was quarterback Frankie Albert (pictured), a consensus All American this year and the next, and a Hall of Famer. He had been a mediocre tailback in Stanford's single wing in 1939. Single wing offenses varied from coach to coach, but generally a single wing quarterback was a blocking back, and Albert wasn't much of a blocker, and he was little more than a competent runner. However, he was a very adept ball handler and passer, and that made him ideal for a T formation quarterback. He flourished in his new position and formation, and he was the kicker too. In the Rose Bowl this season, he threw a 41 yard touchdown pass, kicked 3 extra points, and boomed an 85 yard punt. Albert played for the San Francisco 49ers 1946-1952, and was a four time all-pro. He was essentially the first modern quarterback.

Halfback Hugh Gallarneau was a nonconsensus AA, and he is also in the Hall of Fame. He scored 2 touchdowns in the Rose Bowl, and he went on to play for the Chicago Bears. Fullback Norm Standlee was never AA, but he was an outstanding back who played for the Bears with Gallarneau, then for the 49ers 1946-1952 alongside Frankie Albert.

Guard Chuck Taylor became a consensus AA in 1942, and he is Stanford's 3rd Hall of Famer. He later became Stanford's head coach, going 40-29-2 1951-1957 and taking them to the Rose Bowl following the 1952 season. He was athletic director 1963-1971, overseeing a couple more trips to the Rose Bowl following the 1970 and 1971 seasons.

Center Vic Lindskog did not make a first team AA list, but he played for the Eagles 1944-1951 and was an all-pro in his final season.

Stanford's Season
Stanford opened with a 27-0 win at 1-6-1 San Francisco and a 13-0 win over 4-4 Oregon, and then they hosted Santa Clara for their first big game. Santa Clara was a strong program at this time, having won 2 Sugar Bowls following the 1936 and 1937 seasons, and they had beaten Stanford 4 straight years. 55,000 fans showed up on a hot day to watch Stanford's toughest game of the season.

Santa Clara recovered an early fumble at Stanford's 22 yard line, but they lost yards from there. They recovered another fumble at the Stanford 33, and drove to the 11, but a 15 yard penalty ended that threat. In the 2nd quarter, Stanford drove for a touchdown, scoring on 4th and 1. The extra point was good, and that ended up being the difference in the game. In the 3rd quarter, Stanford's 4th fumble set up a Santa Clara touchdown, but they missed the fatal extra point, leaving Stanford ahead 7-6. Stanford drove to the Santa Clara 7 and fumbled the ball away again, then they drove to the Santa Clara 10 and threw an interception. The 4th quarter saw no real threats by either team, and so the final score remained 7-6.

There was little offense in this game. Santa Clara outgained Stanford 155 yards to 115, but both teams' threats sprang from turnovers and the kicking game. Santa Clara took an upset tie at 3-4-1 Michigan State, but they defeated 7-2 Utah, 5-3 St. Mary's, and 6-3 Oklahoma to finish 6-1-1. They are ranked #11 in the fixed AP poll.

Stanford next won 26-14 at 4-4-2 Washington State, 21-7 over 3-4-2 Southern Cal, and 20-14 at 1-9 UCLA. The last game was not as close as the score indicates. Stanford led 14-0 at the half, and UCLA closed the gap to 14-7 in the 3rd quarter against Stanford's backups. The starters returned in the final quarter and extended the lead to 20-7. It was game over then, but UCLA scored a touchdown in the last minute to make for a kinder scoreboard. Stanford outrushed UCLA 372 yards to 102, fullback Norm Standlee having a big game. The Southern Cal game, on the other hand, was a bit closer than the score shows

:

the teams were tied 7-7 with a minute and a half left before Stanford scored twice for the 21-7 final.

Washington
Stanford's next game saw Washington visit, the PCC title and a Rose Bowl bid on the line. In the opening quarter, Stanford drove to the Washington 7 and missed a field goal. In the 2nd quarter, another Stanford drive was halted at the Washington 23. Washington popped a 55 yard run to set up a touchdown pass and a 7-0 lead. Stanford drove to the Washington 22 and threw an interception. Washington fumbled the ball away on the next play, giving Stanford the ball at the 12, but Stanford lost yards and again came up empty, leaving them behind 7-0 at the half.

In the 3rd quarter, a bad punt snap gave Washington the ball at the Stanford 19, and they drove to a field goal and a 10-0 lead. Later Washington drove to the Stanford 30 with a yard to go for a 1st down, and things looked dim for the Cardinal-- er, the Indians, as they were known then. But this is the point when everything turned around for Stanford. They stuffed 3 straight Washington runs, took over the ball, and soon Frankie Albert hit halfback Pete Kmetovic for a 57 yard touchdown pass. Washington threw an interception on their next possession, and in the 4th quarter, Stanford converted a couple of 4th downs in a drive to a Hugh Gallarneau touchdown and a 14-10 lead. Kmetovic returned another interception 40 yards for a touchdown, and that made the final score 20-10.

Stanford outgained Washington 297 yards to 188. This game was the first point of direct comparison between Minnesota and Stanford, and Washington coach Jimmy Phelan remarked, "The Indians beat us today. Minnesota was lucky to beat us." Minnesota was the only other team Washington lost to, and although the Huskies did not beat a good team, Washington finished 7-2 and ranked #10 in the fixed AP poll.

Stanford finished the season with a 28-14 win over 5-3-1 Oregon State and a 13-7 win in the "Big Game" at 4-6 California. As in the UCLA game, the Cal score was made close by a late touchdown. 80,000 were on hand. Cal came into the game 4-4, and as was typical, they watered down the field beforehand to slow Stanford down. This was a rough, hard-hitting game with numerous injuries. Stanford scored 2 touchdowns in the 2nd quarter to lead 13-0 at the half. Late in the 3rd quarter, Cal returned an interception to the Stanford 1, but they were stopped there. They drove to the Stanford 22 and again failed to score. Finally, with 16 seconds left in the game, Cal put the ball over the goal line, making the final score 13-7.

The Rose Bowl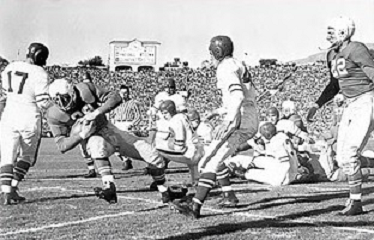 Stanford's Rose Bowl opponent was Big 6 champion Nebraska, who had lost 13-7 to Minnesota and was 8-1, ranked #7 in the AP poll. 91,000 attended.

Nebraska's star fullback, Vike Francis, returned the opening kickoff to his 47 yard line, and he led the drive to his own touchdown for a 7-0 lead (pictured above). Stanford halfback Pete Kmetovic led a Stanford drive that tied the game up, Hugh Gallarneau scoring the touchdown. In the 2nd quarter, Nebraska recovered a fumble at the Stanford 33, then threw a touchdown pass on the next play for a 13-7 lead. Stanford answered with a 41 yard touchdown pass from Frankie Albert to Gallarneau, and Albert's extra point gave Stanford a 14-13 halftime lead.

In the 3rd quarter, Stanford drove 76 yards to the Nebraska 1 yard line, but Nebraska stopped 4 straight runs short of the goal line. Their respite was short-lived, however, as Pete Kmetovic returned the punt-out 39 yards for a touchdown, making the final score 21-13. Stanford dominated this game, outgaining Nebraska 375 yards to 128. Nebraska finished 8-2 and ranked #9 in the fixed AP poll.
Boston College 1940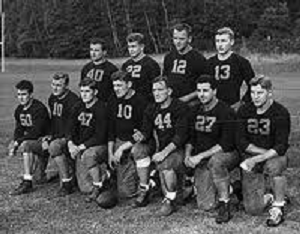 Centre (3-6)
40-0
at Tulane (5-5)
27-7
Temple (4-4-1)
33-20
Idaho (1-7-1)
60-0
St. Anselm (5-4)
55-0
Manhattan (3-6)
25-0


Boston
21-0
Georgetown (8-2)
19-18
#13
Auburn (6-4-1)
33-7
(#26-30)
Holy Cross (4-5-1)
7-0



Sugar Bowl


Tennessee (10-1)

19-13

#5

Boston College is 1940's forgotten team. Minnesota and Stanford are remembered as that season's national champions, while no one outside the school itself seems to know that BC was 11-0 and a potential MNC team as well. However, BC actually had the best and most famous head coach of the 3 teams, they had the most players who made first team All American lists during their careers (8

;

Minnesota had 6 and Stanford 3), and Boston College also had the most Hall of Fame players on their team (5

;

Minnesota and Stanford each had 3).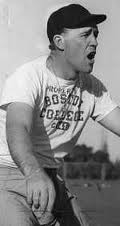 Boston College had emerged as a winning minor team in 1916, and they went 119-45-8 from then through 1935. Hall of Fame coach Gil Dobie took over in 1936, and he oversaw a big schedule upgrade from 1-3 major (or mid-major) opponents per year to 6-7 major opponents per year, which in turn moved Boston College up from a minor program to a major program
. Dobie went 16-6-5 1936-1938.

He was replaced by another Hall of Famer, Frank Leahy (pictured at left). Leahy had played for Knute Rockne at Notre Dame, winning MNCs in 1929 and 1930. He was a line coach at Fordham 1933-1938, mentoring the famous Seven Blocks of Granite line. I selected Fordham as a co-MNC for 1937. Leahy was hired as head coach at Boston College in 1939, going 9-2 in his first season and taking his team to the Cotton Bowl, where they lost to Clemson. This season he went 11-0, and then it was off to Notre Dame and even greater fame, including 5 MNCs there. He was 20-2 in his 2 years at BC, and 107-13-9 for his career. That puts him at #2 in all-time FBS coaching win percentage, behind only Knute Rockne.

As stated, this team sported 5 Hall of Fame players. Through 1940, Notre Dame's 1924 team is the only squad that has had more. End Gene Goodreault was Boston College's one consensus AA this season, and he is a Hall of Famer. Guard George Kerr was not AA, but he is also in the Hall of Fame. He was the team captain, and he was the only starter that did not go on to play pro ball, electing to pursue a career in the priesthood instead. Center Chet Gladchuck, a nonconsensus AA this season, was BC's 3rd Hall of Famer on the line.

Two members of the backfield are also in the Hall of Fame, halfback Charlie O'Rourke and fullback Mike Holovak. O'Rourke was a nonconsensus AA this season. He was a good passer and also served as the kicker. Holovak was just a sophomore, but he led the team in rushing, and would go on to be named a consensus AA in 1942. He later coached Boston College to a 49-29-3 record 1951-1959, and he was the head coach of the New England Patriots 1961-1968.

Quarterback Henry Toczylowski was a nonconsensus AA, substitute end Don Currivan would be named a nonconsensus AA in 1942, and 2 other backups on the line that were used less often this season would also be nonconsensus AA in 1942.
Boston College's Season
Boston College opened with a 40-0 warm-up win over Centre, and then they took a daunting road trip to Tulane, who had gone 8-1-1 the previous season, losing the national championship by 1 point to Texas A&M in the Sugar Bowl. But Tulane was not the team they'd been in 1939, and 41,000 fans were dismayed to see Boston College score 3 touchdowns in the first half and run away with the game 27-7. Charlie O'Rourke had a good day passing, and tossed one of the scores. Tulane finished 5-5, but they were better than their record-- 9 of their 10 opponents had winning records this season, and Tulane defeated 7-3 Rice, 6-4 North Carolina, 6-2-1 Clemson, and 5-4-1 Georgia. No one beat Tulane as easily as BC did.

O'Rourke fired 3 touchdown passes in a 33-20 win over 4-4-1 Temple, then BC rolled over a string of 4 patsies by a combined score of 161-0, this part of the schedule a leftover from their still-recent years as a minor team.

Georgetown
Next up was the big showdown between 7-0 Boston College and 7-0 Georgetown, who was riding a 23 game unbeaten streak, their last loss coming in 1937. Neither Boston College nor Georgetown had even been threatened yet this season, so there was a lot of hype for this game in the East. 40,000 fans filled Fenway Park for one of the best games played in 1940.

Georgetown jumped out to an early lead, driving to a 25 yard field goal, and on Boston College's next possession, Georgetown blocked an attempted quick-kick, taking over at the BC 10 yard line. They pushed the ball forward from there and over the goal line, and it was 10-0 just a few minutes into the game. BC answered on their next possession, driving 72 yards, capped by a 21 yard lateral and touchdown pass. They missed the extra point, but had cut the lead to 10-6. In the 2nd quarter, BC drove 90 yards for a touchdown to take the lead 13-10. The key play was a pass interference penalty that put the ball on the Georgetown 1. Georgetown partisans did not agree with the call, but the home team always got the benefit of the penalty doubt in those days.

Georgetown took the opening drive of the 2nd half 65 yards to the end zone, retaking the lead 16-13, but BC blocked the extra point try. Boston College answered back soon enough, Charlie O'Rourke throwing a 43 yard touchdown pass to put BC back on top 19-16 going into the final quarter. Late in the game, Georgetown drove to the BC 24 before being halted. Boston College lost yardage from there, and in the closing minutes, they had to punt from their own end zone, and took an intentional safety. That edged Georgetown closer, 19-18, but the final gun sounded not long after the free kick.

O'Rourke finished with 187 yards through the air, and as a team BC threw for over 200, which was vital because they managed only 79 yards rushing. Famed writer Grantland Rice thought it was the greatest game he'd ever seen, but then, he said the same thing at least 2-3 times a year. Georgetown went on to the Orange Bowl, where they lost 14-7 to 10-0-1 Mississippi State, finishing them out at 8-2, #13 in the fixed AP poll.

Holy Cross
Boston College next stomped 6-4-1 Auburn 33-7, impressive because Auburn was close to top 25 caliber. That brought BC to their annual finale against crosstown rival Holy Cross, who only finished 4-5-1, but was always a huge problem for BC, and this year would be no exception. BC was only 3-6-1 against Holy Cross in the preceding 10 years, and they would fare only a little better in the 1940s, going 4-5 against their rivals in that decade.

Boston College produced very little offense in this game, and they were outrushed by Holy Cross 158 yards to 77. Holy Cross had 4 advances deep into BC territory, their best chance coming after a fumble recovery at the BC 13 in the 2nd quarter, but they threw an interception there, and never could get on the scoreboard. BC didn't get to work until the 4th quarter, when they had a long touchdown negated by a penalty and missed a desperate 45 yard field goal attempt. Late in the game, Holy Cross vaulted a quick kick to the BC 25, but the play was negated by a penalty, and on the next play HC faked a quick kick, handing off to a back instead. He was hit hard and fumbled, and BC substitute end Don Currivan recovered at the 5. BC scored soon afterward, escaping their worst effort of the season with a 7-0 win.

The regular season over and Boston College standing at 10-0 and #5 in the AP poll, the Sugar Bowl came calling, and BC headed to New Orleans to play their second game this season at Tulane Stadium.

The Sugar Bowl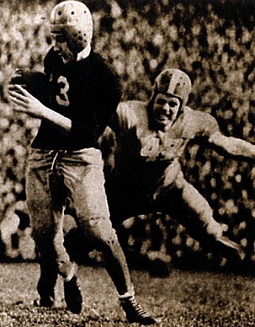 Boston College's Sugar Bowl opponent was SEC champion Tennessee (AP #4), who had gone 10-0 in the regular season for the 3rd straight year. They had shared an MNC with Texas Christian in 1938, but were upset by Southern Cal in the Rose Bowl following the 1939 season. This year the Volunteers had crushed every opponent by more than a touchdown, including 7-2 Duke and 7-2 Alabama. They had scored 318 points on the season. The only major team that had scored more was Boston College, with 320. Tennessee was favored, but Grantland Rice pointed out that BC was bigger and faster than the USC team that had drubbed Tennessee in the previous year's Rose Bowl. 73,000 attended this Sugar Bowl.

Tennessee drove early to the Boston College 16 yard line before they were halted, and after the punt-out, they drove all the way to the end zone for a 7-0 lead. Late in the opening quarter, BC drove 59 yards to the Tennessee 21 before throwing an interception. The score remained 7-0 to the half.

Boston College blocked a punt early in the 3rd quarter, then scored in 2 plays from the Tennessee 17 to tie the game up 7-7. It was the first time Tennessee had had a kick blocked in 7 years. Tennessee later drove 55 yards to a touchdown that recaptured the lead 13-7. BC answered on their next drive, marching 69 yards to a touchdown that knotted the game up 13-13.

In the 4th quarter, Tennessee drove to the BC 18 before losing the ball on a fumble. Their next threat went to the BC 8, where a field goal try went wide. BC started the ensuing drive at their 20. After 3 runs netted 10 yards, Charlie O'Rourke hit 3 passes that put the ball on the Tennessee 24. On the next play, he dropped back as though to toss another pass, then darted downfield between the tackle and end, weaving his way all the way to paydirt and giving Boston College a 19-13 victory (the play pictured above).

This play became known as the "run that launched Leahy," for Leahy's next game would be as coach of Notre Dame. But it was actually a Tennessee play. Prior to the bowl game, BC had been practicing against the scout team running Tennessee's offense, and this play fooled them every time, so Leahy installed it into BC's own gameplan. When O'Rourke hit 3 straight passes, it was the perfect time to spring the play.

This game was statistically even, 248 yards for BC and 245 for Tennessee.
Minnesota vs. Stanford vs. Boston College
Here are the significant games for our contenders in 1940. The opponent rankings come from my 1940 fixed AP poll.


Minnesota 8-0
Stanford 10-0
Boston College 11-0

| | | |
| --- | --- | --- |
| Washington (7-2) | 19-14 | #10 |
| Nebraska (8-2) | 13-7 | #9 |
| at Ohio State (4-4) | 13-7 | #25 |
| at Northwestern (6-2) | 13-12 | #6 |
| Michigan (7-1) | 7-6 | #3 |

Santa Clara (6-1-1)
7-6
#11
at UCLA (1-9)
20-14
Unranked
Washington (7-2)
20-10
#10
at California (4-6)
13-7
Unranked

Rose Bowl


Nebraska (8-2)

21-13

#9

Georgetown (8-2)
19-18
#13
Auburn (6-4-1)
33-7
(#26-30)
Holy Cross (4-5-1)
7-0
Unranked

Sugar Bowl


Tennessee (10-1)

19-13

#5

Against opponents not ranked in the fixed AP poll, Minnesota defeated 3 teams by an average score of 30-8, Stanford defeated 7 by an average of 21-8, and Boston College defeated 9 by an average of 33-4. However, BC played 3 minor teams, and Minnesota and Stanford played none.

Just looking over the tables above, Minnesota appears to be a slam dunk for #1. They played as many rated opponents as Stanford and Boston College did combined, they played 4 top 10 teams, and although all of their games against rated opponents were close, none of their games against unrated opponents were. Stanford had 2 close wins over unrated opponents and BC had 1. However, the closer you look at this race, the tighter it gets, especially when you compare Minnesota to Stanford. And since the 2 teams shared a pair of common top 10 opponents, let's go ahead and start by comparing them.

Minnesota vs. Stanford
Stanford's main counterargument for #1 is the fact that they defeated both #10 Washington and #9 Nebraska more easily than Minnesota did. Because there was no 2-point conversion at the time, their 21-13 win over Nebraska represented a 2-score margin. Still, Minnesota and Stanford dominated Nebraska to a rather similar degree. Washington is the real difference here, because the Huskies played fairly evenly with Minnesota, while Stanford outplayed Washington in every regard.

As for Stanford's "close" wins over unrated opponents, as noted in their season summary above, the scores of Stanford's UCLA and California games were rendered close by late touchdowns scored by the losing teams. Stanford was in no real danger in either game. Stanford thus played just one truly tight game, their 7-6 win over #11 Santa Clara early in the season. Minnesota, on the other hand, had 5 close wins, one of them over 4-4 Ohio State, ranked just #25. And OSU outplayed Minnesota in every area except the scoreboard. This was a much worse game than any Stanford played.

So Stanford had a substantial performance advantage over Minnesota that went beyond just the 2-game comparative scores. On that basis, and because they played a credible schedule, I think Stanford would be a viable choice for #1 over Minnesota.

On the other hand, Minnesota played the stronger schedule, and their win over Michigan is the real key here. It was Michigan's only loss, and had the Wolverines won, they would be national champions. That win was worth more than any of Stanford's, because Nebraska, Washington, and Santa Clara did not defeat any top 25 teams, while Michigan beat 6-2 Northwestern, 6-1-1 Penn, and 4-4 Ohio State. So Minnesota would also be a viable choice for #1 over Stanford.

Obviously, they're both national champions for this season. Time to turn our attention to Boston College and see if they are worthy of squeezing onto the throne with the other two...

The Case for Boston College
Boston College defeated just 2 ranked teams, and they had one very close game over an unrated opponent, 7-0 over Holy Cross. That puts them significantly behind Minnesota, but they compare well to Stanford, who played just 1 more rated opponent than BC did. Moreover, BC's Sugar Bowl win over Tennessee is in the same ballpark as Minnesota's win over Michigan-- and I would say even more impressive. It's certainly more impressive than any of Stanford's wins.

Like Michigan, Tennessee would be sharing the MNC had they won. But Michigan had 1 close win over an unrated opponent, 21-14 over 3-4-1 Michigan State, while no one came close to Tennessee, and Minnesota beat Michigan at home by an extra point made/missed, while BC beat Tennessee by a touchdown on a neutral field. Therefore, despite where the AP poll rated the teams, BC's win over Tennessee was more impressive-- the best win by any team this season.

Because of that win, I do think that BC should share the MNC this season. And it wasn't their only impressive win-- they also beat #13 Georgetown (8-2), and they stomped on a pair of mid-level SEC teams. We have a 3-way title, the first since 1922.

However, I don't think BC is a viable choice for #1 because they have no argument for being rated higher than or equal to Minnesota. Their schedule was too far behind, and they didn't have the performance advantage Stanford did. They can be viably rated higher than Stanford, though, thanks to their win over Tennessee, which means that there are a lot of viable options for rating these teams
:
#1 Minnesota and Stanford in a tie, #3 Boston College
#1 Stanford, #2 Minnesota, #3 Boston College
#1 Minnesota, #2 Stanford, #3 Boston College
#1 Minnesota, #2 Stanford and Boston College in a tie
#1 Minnesota, #2 Boston College, #3 Stanford
Or you could even rate them the way the AP poll did, with Boston College placed behind 7-1 Michigan. I wouldn't rate them that way myself, but it's logically viable. Regardless of where you rank them, BC should be considered a co-MNC. And when you look at their coach and players, you have to think that BC would have had at least as much chance as Minnesota or Stanford to win a playoff in 1940.
Awards Ceremony
1940 #1:

8-0 Minnesota, 10-0 Stanford, or Minnesota and Stanford in a tie


National Co-champion:

11-0 Boston College, and Stanford/Minnesota if not rated #1


Contender:

None

These are the awards I have been handing out for each season, except seasons when there are no contenders. For this purpose, what I mean by a contender is a team that I think is very close to being worthy of sharing the national championship. A team that you could make an argument for, even if that argument is weak. But the contenders are teams that I myself do not see as national champions.
Boston College is ranked behind 7-1 Michigan in the fixed AP poll, which is awkward, but I can't help the way the AP poll ranks teams.
Grading the Selectors
I have been grading the NCAA Records Book's selectors for each season, and keeping a grade point average, so we can see who is relatively good at selecting national champions and who is not. And although I do not consider computer ratings to be legitimate national championship selectors, I have been including them in this section as well, just for comparison's sake.
I am grading on a scale of 0-5 (5 being the best).


The Williamson and Dunkel formulas went with 10-1 Tennessee at #1.

Grade: 0.0


The Helms Foundation and the Billingsley and Poling systems crowned Stanford. Grade

: 5.0



Everyone else selected Minnesota.

Grade: 5.0



1940 was the debut season for the Berryman math system, and it had Minnesota #1 along with the majority.

This was also the last year for the Dickinson system, which was driven to extinction by the AP poll. I've updated my article that reviews the Dickinson system, adding a "grade point average" comparison of Dickinson with every other selector of the same time period (1924-1940).

Grade point averages 1936-1940 (DeVold and Berryman will be added when the systems have selected at least half as many champions as the others)

:




1) Boand (math system)




College Football Researchers Association




Poling (math)




Houlgate (math)




Billingsley (math)

5.0

6) AP Poll


National Championship Foundation

4.8

8) Litkenhous (math)
4.3

9) Helms Foundation

4.1

10)

Sagarin-ELO (math)

4.0

11) Sagarin (math)
3.3

12)

Dunkel (math)

3.2

13) Dickinson (math)
3.0

14)

Williamson (math)

2.8

Grade point averages 1919-1935
:
| | |
| --- | --- |
| 1) Boand (math system) | 4.26 |
| 2) College Football Researchers Association | 4.22 |
| 3) Poling (math) | 4.11 |
| 4) Helms | 4.09 |
| 5) Sagarin-ELO (math) | 4.06 |
| 6) National Championship Foundation | 3.96 |
| 7) Dickinson (math) | 3.49 |
| 8) Houlgate (math) | 3.35 |
| 9) Billingsley (math) | 3.34 |
| 10) Sagarin (math) | 3.28 |
| 11) Parke Davis | 2.77 |

How the systems that selected champions for 1901-1918 did

:



| | |
| --- | --- |
| 1) Houlgate (math system) | 4.5 |
| 2) Helms | 4.3 |
| 3) Parke Davis | 4.2 |
| 4) National Championship Foundation | 3.7 |
| 5) Billingsley (math) | 3.6 |