Home
1935 College Football National Championship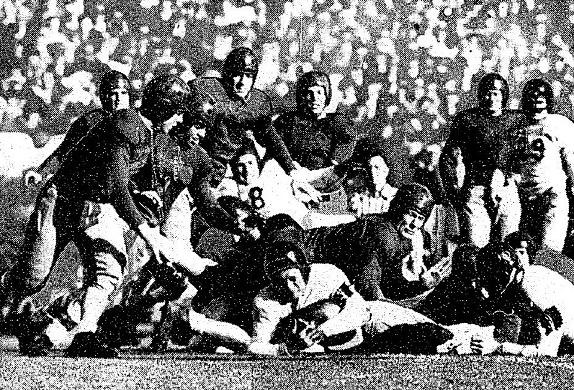 Defending their 1934 consensus national championship, Minnesota went 8-0 again this season, and they are again the unanimous choice for mythical national champion (MNC) among selectors listed
in the NCAA Records Book (omitting math/computer ratings). However, the picture above does not depict Minnesota, but rather Southern Methodist vs. Stanford in the Rose Bowl. There are 2 reasons for that.
The first reason is Southern Methodist. They were the best team at the end of the regular season, 12-0 including wins over 8-3 Rice, 8-2 UCLA, 8-3 Baylor, and 12-1 Texas Christian. Their only close game had been 20-14 at TCU on November 30th in what Grantland Rice called the "Game of the Century" (the Notre Dame-Ohio State game had been billed as such just a month beforehand, the earliest usage of the term I've seen). SMU had beaten a legitimate top 5 team in TCU, whereas Minnesota did not play a top 15 team, and they did not perform as well as SMU either, winning 3 of their games by 5, 7, and 8 points.

The AP poll was still a year away from its debut, but the UPI (United Press International) conducted a poll of sportswriters from 112 newspapers, and they voted Minnesota #1 and SMU #2 at the end of the regular season. I think that if there had been an AP poll as it was run when it debuted in 1936, with most of its voters coming from the Great Lakes and Eastern regions, Minnesota would have been voted #1 there too, but an AP poll like today's, with the voters apportioned fairly by region, might have ranked SMU #1. In any case, SMU definitely

should

have been rated #1.

SMU did win the Knute Rockne trophy as "national champion" according to the Dickinson system, and on that basis the school claims an MNC for 1935. But that brings us to my second reason for launching this article with a picture from the Rose Bowl

:

Stanford. They shocked SMU 7-0 in that game (the winning touchdown is pictured above). That left Stanford 8-1, a game worse than Minnesota's 8-0, but Stanford's loss had come to 8-2 UCLA, a better team than anyone Minnesota had played, and Stanford defeated 9-1 California and 12-1 SMU, MNC caliber teams, while Minnesota, again, did not defeat any team that even belongs in a top 15 for 1935.

It's possible that Stanford would have passed up Minnesota for #1 in a post-bowl poll after their huge Rose Bowl win, but Minnesota would likely have held them off for the top spot.

Stanford and Minnesota are 2 of the candidates I'll be looking at for the 1935 MNC, and 9-0 Princeton is a 3rd. Princeton's schedule and performance were both weak, but Minnesota's schedule and performance were nothing to write home about either. The UPI poll rated Minnesota #1, SMU #2, Princeton #3, and Stanford #6, but of course Stanford would have powered upward in a post-bowl poll. I have repaired the logical errors in the 1935 UPI poll, taking bowl results into account, and Stanford is ranked #2 in that fixed poll. All rankings in the rest of this article, except as noted, come from the fixed UPI poll.

Other than 12-1 SMU (#3), who blew a certain MNC in the Rose Bowl, here are this season's other top also-rans

:



12-1 Texas Christian (#5)

:

Lost to SMU in a huge late-season game, beat 9-2 LSU in the Sugar Bowl.
7-1 Ohio State

(#8)

:

Shared the Big 10 title with Minnesota, but lost to 7-1-1 Notre Dame in a famous 4th quarter rally.
9-1 California

(#6)

:

Lost their finale at Stanford.
8-2 UCLA (#7)

:

Beat Stanford, then lost to SMU and California.
7-1-1 Notre Dame (#9)

:

Beat 7-1-2 Pittsburgh and 7-1 Ohio State, but lost to 4-3-1 Northwestern and tied 6-2-1 Army down the stretch.
8-1 North Carolina

(#16)

:

Lost to 8-2 Duke.
9-0-1 Holy Cross (#17)

:

Tied by 5-3-1 Manhattan.
8-0 Ohio (#25)

:

Beat 3-5 Illinois 6-0, but performed poorly against a weak schedule (they were equivalent to an unbeaten lower division team today).
7-1 Marquette (#25)

:

Beat 9-3 Mississippi 33-7 and 6-2 Michigan State 13-7, but they were routed 26-6 by 7-3 Temple.
7-1 New York

(#26 in original UPI poll)

:

Lost to 6-1-2 Fordham.
8-1 Catholic (Unrated)

:

Beat 9-3 Mississippi 20-19 in the Orange Bowl, but they were upset by 5-2-1 DePaul.
Minnesota 1935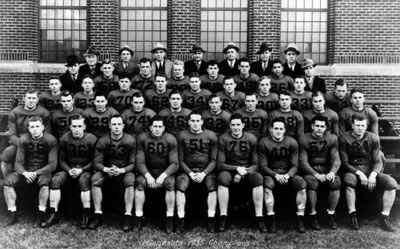 | | | |
| --- | --- | --- |
| North Dakota State (7-1-1) | 26-6 | |
| at Nebraska (6-2-1) | 12-7 | #24 |
| Tulane (6-4) | 20-0 | |
| Northwestern (4-3-1) | 21-13 | #18 |
| Purdue (4-4) | 29-7 | |
| at Iowa (4-2-2) | 13-6 | #22 |
| at Michigan (4-4) | 40-0 | |
| Wisconsin (1-7) | 33-7 | |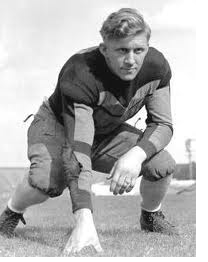 This was Minnesota's 2nd straight 8-0 finish and consensus MNC. I covered their Hall of Fame coach, Bernie Bierman, in my 1934 national championship article
. The 1934 team had been considered one of the best of all time, and Michigan coach Harry Kipke had opined that their back-ups would beat almost any team in the country. This season, they proved his assertion, because nearly all their best players from 1934 were gone in 1935, and they still went 8-0.

Gone were all 3 of their consensus All Americans from 1934, 2 of 3 nonconsensus AA, a 3-time all-conference tackle, and 3 productive substitute backs
. The first string declined this season, and there was a dramatic drop in the quality of back-ups, so Minnesota rotated players much less heavily than they had in 1934. They went from a 29.0 average scoring margin in 1934 to an 18.5 average margin in 1935. Luckily, there was no top ranked opponent on the schedule this season, so Minnesota was able to keep their winning streak going with little challenge.

The top returning player was tackle Ed Widseth (pictured at left), a nonconsensus AA in 1934, consensus AA this season, and unanimous AA in 1936. He was the only consensus AA on the team this season, and the only Hall of Famer. Other returnees I covered in the 1934 article were tackle Dick Smith and fullback Sheldon Beise, both nonconsensus AA this season (Smith made first team on 7 lists). Beise led the team in scoring with 9 touchdowns.

The new players were not nearly as productive as those that were lost, but new starting guard Charles "Bud" Wilkinson went on to a Hall of Fame career as Oklahoma's head coach. He went 145-29-4 at Oklahoma 1947-1963, winning 3 MNCs and 14 conference championships. His teams forged a record 47 game winning streak in the mid-1950s, and he ranks highly on the list for all-time FBS coaching win percentage.

Sophomore end Ray King worked his way into the starting line-up by mid-season, and would be a nonconsensus AA in 1937. Sophomore Andy Uram was a substitute back this season, chipping in 237 yards rushing, and he would play an expanded role in 1936 (419 rushing, 338 in returns, and 216 passing), but he was at his best with the Green Bay Packers 1938-1943, and is in the Packers Hall of Fame. In 1936 he took a lateral from Bud Wilkinson and scored on a 76 yard punt return with a minute left in the game to beat Nebraska 7-0.
Minnesota's Season
After warming up with a 26-6 win over North Dakota State, Minnesota went to Nebraska for their toughest nonconference game. 36,000 attended. Big Minnesota halfback George Roscoe was the star of this game. He returned the opening kickoff 74 yards to the Nebraska 26
, then carried the ball 5 straight times until he had gone over for the touchdown. The extra point try was blocked, leaving it 6-0. Minnesota was later stopped at the Nebraska 16 and 4 yard lines before the Cornhuskers could get control late in the opening quarter. They completed a 41 yard drive early in the 2nd quarter with a 31 yard touchdown on a double lateral, then kicked the extra point for a 7-6 lead.

Later in the 1st half, a disastrous Nebraska punt gave Minnesota the ball at Nebraska's 15, and the Gophers drove to another Roscoe touchdown. The extra point try was again blocked, so the lead was 12-7 at the half. Minnesota failed to convert on several threats in the 2nd half, and Nebraska got a huge break in the final quarter when Roscoe fumbled away a 73 yard punt at his own 2 yard line. But 4 smashes into the line left Nebraska inches short of a touchdown. The field position gained gave them another short field after Minnesota's punt, but they could only push as far as the Minnesota 8, stopped inches short of a first down there, and Minnesota held on for the 12-7 win. Minnesota outgained Nebraska 271 yards to 192 and 15 first downs to 8, but they nearly threw the game away with 6 turnovers to Nebraska's 1.

Nebraska went on to lose 6-0 at 7-1-2 Pittsburgh, and they were tied by 2-4-3 Kansas State, finishing 6-2-1. They won the Big 6 title, and are ranked #24 in the fixed UPI poll.

Minnesota next beat 6-4 Tulane 20-0. Tulane had refused to play the game unless Minnesota held end Dwight Reed, who was black, out of the game, and Minnesota agreed. This was a low point not for Tulane, for whom many decades constituted their "low point" in this regard, but for Minnesota, who should not have obliged the racists. Minnesota did take Southern teams off of their future schedules. Dwight Reed went on to become a successful football and track coach at Lincoln University in Missouri, going 135-75-6 as a football coach. He is in the University of Minnesota and Drake Relays Halls of Fame.

The conference schedule then began, and Minnesota beat 4-3-1 Northwestern 21-13 and 4-4 Purdue 29-7. Northwestern came into the game with Minnesota at 1-2, having lost 7-0 to Purdue (4-4) and 28-7 at Ohio State (7-1). But after losing to Minnesota, Northwestern finished 3-0-1, including a huge 14-7 upset win at Notre Dame (7-1-1), and that got them a #18 ranking in the fixed UPI poll.

Next up for Minnesota was their biggest conference game, at Iowa, who was then 4-0-1. This was the first game played for Floyd of Rosedale.
Floyd of Rosedale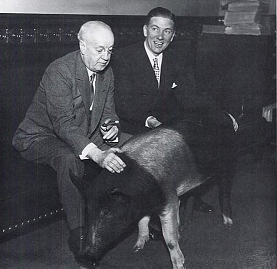 In Minnesota's 48-12 mauling of Iowa in 1934, Iowa felt that Minnesota had targeted their star player, Ozzie Simmons, who was black, roughing him up with late hits and such. Heading into the 1935 game at Iowa City, Iowa fans flooded Minnesota's athletic office with threatening letters, and Iowa governor Clyde Herring didn't help matters when he said the day before the game, "If the officials stand for any rough tactics like Minnesota used last year, I'm sure the crowd won't." Fearing a riot, Minnesota considered canceling the game and breaking off athletic relations with Iowa, but police protection was offered, and the game went on.

To lighten the mood, Minnesota governor Floyd Olson sent Herring the following telegram

:

"Minnesota folks are excited about your statement about the Iowa crowd lynching the Minnesota football team. I have assured them that you are a law abiding gentleman only trying to get our goat... I will bet you a Minnesota prize hog against an Iowa prize hog that Minnesota wins."

This was Iowa's homecoming game, and 50,000 showed up despite a cold drizzle that fell for most of the game. Iowa struck first in the opening quarter. Ozzie Simmons returned a punt 25 yards to his own 35, and another 15 yards was tacked on because Minnesota piled on him after the whistle. Simmons completed passes for 27 and 12 yards, and then Iowa ran it into the end zone in 4 plays. Simmons missed the extra point, so it was 6-0. Minnesota controlled the rest of the game, but they were stopped at the Iowa 17 and 19 yard lines in the 2nd quarter.

In the 3rd quarter, Minnesota drove 44 yards for a touchdown, but they missed the extra point, leaving the teams tied 6-6. In the final quarter, Minnesota drove 77 yards for a touchdown and a 13-6 win. They outrushed Iowa 209 yards to 103 for the game. Iowa governor Clyde Herring retrieved a hog donated by Rosedale Farms, named Floyd after the Minnesota governor, and personally delivered it to Floyd Olson's office. Governor Olson had a bronze pig crafted in Floyd of Rosedale's image, and the two schools have played for that trophy every year since.


Iowa, who had tied 4-3-1 Indiana the week before the Minnesota game, lost to 4-4 Purdue the week after, and they tied 4-3-1 Northwestern in their finale, finishing them at 4-2-2, 0-2-2 in the 2nd half of the season. They are rated #22 in the fixed UPI poll, though I wouldn't rank them at all myself.

Minnesota finished their season with a couple of routs, 40-0 at 4-4 Michigan and 33-7 over 1-7 Wisconsin.

Princeton 1935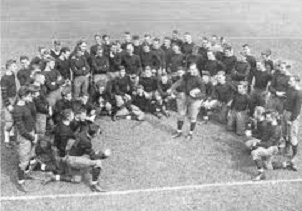 | | | |
| --- | --- | --- |
| Penn (4-4) | 7-6 | |
| Williams (7-1) | 14-7 | (#26-32) |
| Rutgers (4-5) | 29-6 | |
| at Cornell (0-6-1) | 54-0 | |
| Navy (5-4) | 26-0 | |
| Harvard (3-5) | 35-0 | |
| Lehigh (5-4) | 27-0 | |
| Dartmouth (8-2) | 26-6 | (#26-32) |
| at Yale (6-3) | 38-7 | |
Princeton had previously gone 9-0 and won an MNC in 1933, and I covered their Hall of Fame coach, Fritz Crisler (pictured above in the center of his circled 1935 players), in that article.
A 7-0 upset loss at home to Yale in 1934 is all that kept them from going 26-0 1933-1935. Princeton came into this season with 13 seniors dominating the roster, so it was practically a foregone conclusion that they would go unbeaten, and indeed, though they struggled in each of their first 2 games, they routed the rest of their schedule to go 9-0 again (28-4 average score).

The 3 sophomores I listed in the 1933 article were seniors now

:

guard Jac Weller, end Gilbert Lea, and halfback Garrett LeVan. Weller was the team's 1 consensus All American this season, and he is also the team's 1 Hall of Famer. Lea was the only other player this season to make a first team AA list.

Fullback and captain William "Pepper" Constable did not make any AA list, even 2nd or 3rd team, and I don't see his significance evidenced in game summaries for this season, but he finished 4th in the Heisman voting, I guess because he was the captain of a 9-0 Eastern team. This was the first year the Heisman Trophy was awarded, though it would not actually be called the "Heisman" until the next season.

Princeton was relatively lacking in nationally honored players, but they were incredibly deep, and rotated players constantly throughout games.

This was the season Michigan's now-iconic "winged helmet" debuted-- at Princeton. "Winged" helmets (named for the "wing" design at the front of the helmets) were in use all over college football at this time, but different teams used different stripe designs behind the wings. Princeton wasn't even the first to use a 3-stripe design, but this particular 3-stripe design was crafted by Fritz Crisler for Princeton. He brought the design with him to Ann Arbor when Michigan hired him away in 1938, but of course the wings and stripes were yellow there rather than orange. All the other FBS teams using winged helmets eventually shifted to new fashions, but Michigan stuck with theirs, thereby becoming unique via attrition rather than originality-- the same story as Alabama's "unique" helmet.
Princeton's Season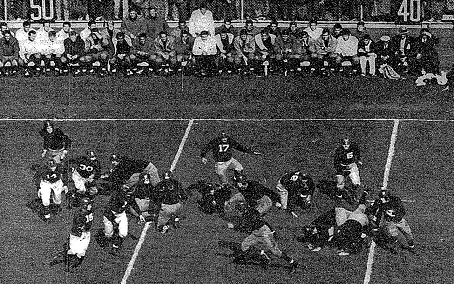 Rather than the usual cupcake, Princeton opened with old rival Penn, whom they had not played in over 4 decades, despite a mere 50 miles separating the campuses. Penn had won the last game between them 12-0 in 1894, en route to a 12-0 season and an MNC, and a brawl had erupted involving 5000 fans following the game. That ended football relations between the schools for the next 41 years, but 49,000 spectators filled Princeton's Palmer Stadium to see the teams finally face off again (game pictured above).

Penn returned the opening kickoff 59 yards, but Princeton broke up a pass at the goal line to halt the drive. After a punt, Penn started at their own 44, and a pass interference penalty put it at the Princeton 34. Penn drove for a touchdown from there. A kicking specialist was sent in to try the extra point, but Princeton guard Jac Weller blocked it, which would turn out to be the play of the game. Princeton threatened once in the 2nd quarter, but a pass was broken up in the end zone to end the drive. Neither team threatened in the 3rd, so Penn carried their 6-0 lead into the game's final chapter.

Sophomore halfback Jack White came into the game for Garry LeVan, and he helped turn the game around for Princeton. He had been the star of the 1934 freshman team and the talk of 1935 September practices. Princeton proceeded to drive 72 yards for a touchdown, primarily thanks to runs and catches by White. He made a leaping catch on 4th down at the Penn 3, then scored the touchdown on the next play. He held the ball for quarterback Kenneth Sandbach, who booted through the extra point that won the game 7-6. Princeton drove again for 35 yards to the Penn 26 by game's end. Princeton outgained Penn 203 yards to 102 and 17 first downs to 5, but it was their passing game (11 of 19 for 100 yards) that enabled the win down the stretch.

Penn wasn't bad, but they weren't good either. They ended up 4-4, including a 16-6 loss at 4-4 Michigan, where 8-0 Minnesota won 40-0.

Princeton's next game, against minor team Williams, was another struggle, though only 25,000 showed up to be dismayed. Princeton drove to the Williams 8 yard line early, but a penalty killed the drive. Williams opened the scoring in the 2nd quarter. They recovered a fumble at the Princeton 37, drove to the 8, and threw an interception. Luckily, Princeton fumbled the ball back to them, right back at the 8, on the interception return. After Williams lost yards back to the 10, their fullback caught a touchdown pass, leaping high over 2 Princeton defensive backs. Late in the half, Princeton end Gil Lea blocked a punt, and Princeton recovered at the Williams 37. Princeton moved quickly and easily from there to a Garry LeVan touchdown, knotting the game up 7-7 at halftime.

In the 3rd quarter, Princeton drives were halted at the Williams 17 and 14 yard lines. Then Williams hit a 45 yard bomb, and the receiver almost got away for the score, but Princeton end Bill Roper Jr., son of their former Hall of Fame coach, tackled the man from behind at the Princeton 20. Williams threw an interception soon after, ending their only threat of the 2nd half. Later, following a punt return to their own 44, Princeton took the lead on 1 big play. Garry LeVan faked a pass, then handed off to substitute back Homer Spofford on a reverse, and he took it all the way home for the 14-7 win.

Princeton outgained Williams 328 yards (290 rushing) to 139 and 16 first downs to 8, but this game was close because Princeton turned the ball over 7 times, Williams 3. Williams was a minor team that mostly played minor teams, so we'll never know how good they really were in 1935, but they won all of the rest of their games by more than a touchdown (average score 30-2 in their wins), finishing 7-1. They were not ranked in the UPI poll, but their power level could have been anywhere between #10 and #50
. Since no one else beat Williams, or even came within a touchdown of them, Princeton's 14-7 win over Williams can't fairly be deemed a weak performance (unlike the Penn result the week before).
Dartmouth
Princeton crushed everyone else on their schedule, including 26-0 over 5-4 Navy and 38-7 at 6-3 Yale in their finale, but their biggest win of the year was a 26-6 spanking of Dartmouth, who came into that game 8-0, all 8 wins by more than a touchdown. The game was played in falling snow, but 56,000 fans filled the stadium and temporary stands.

Dartmouth blocked a punt in the opening quarter to get the ball at the Princeton 12, but they were sacked for losses of 18 and 9 yards, and ended up punting. After exchanging punts, Dartmouth started at the Princeton 32 and ran the ball 3 times for 8 yards. On 4th down, they gained 24 on a Statue of Liberty play, then pushed the ball over goal from the 1. They missed the extra point, so the lead was 6-0. Princeton took the kickoff back to the Dartmouth 42 and quickly drove to a touchdown from there, taking the lead 7-6. They drove to another touchdown in the 2nd quarter and led 13-6 at half.

In the 3rd quarter, Dartmouth drove to the Princeton 21, then lost yards again. When Princeton punted back, Dartmouth fumbled, and Garry LeVan recovered the ball at the Dartmouth 40. LeVan did most of the work on the ensuing drive and scored the touchdown to cap it. Sophomore Jack White, who started this game over LeVan, led a 4th quarter drive and scored the final touchdown on 4th and 2. On that play, a drunken Dartmouth fan came out of the stands and joined the Dartmouth line, yelling, "Kill the Princeton bastards!" White scored anyway, and this game became known as the "Twelfth Man Game."

The slippery field and wet ball made this a running game. Princeton only threw 1 pass. They held Dartmouth to a net total of just 3 rushing yards. After this game, the Eastern press was fawning over Princeton, convinced that they were the equal of 8-0 Minnesota, if not better, and Princeton's 38-7 demolition at 6-3 Yale the next week only corroborated that notion.

However, Dartmouth lost 13-7 at 4-4-1 Columbia (who had lost to 4-4 Michigan) the next week, and though that failed to register with Eastern writers in regards to Princeton, it left Princeton without a top-notch opponent. Dartmouth, though 8-2, did not defeat a good team other than 6-3 Yale. Dartmouth was ranked #26 in the original UPI poll, so they were not quite a top 25 team.

6-3 Yale was worse, maybe a #40 team. Eastern teams fared poorly, as they had throughout the 1930s, against major intersectional teams. Michigan was 2-4 in their own region, and lost to Minnesota 40-0, but they beat 4-4 Penn and 4-4-1 Columbia, and both by more than a touchdown.

Stanford 1935

San Jose State (5-5-1)
35-0
at San Francisco (5-3)
10-0
UCLA (8-2)
6-7
#7
at Washington (5-3)
6-0
#23
Santa Clara (3-6)
9-6
at Southern Cal (5-7)
3-0
Montana (1-5-2)
32-0
California (9-1)
13-0
#6

Rose Bowl


Southern Methodist (12-1)

7-0

#3
Hall of Fame head coach Pop Warner had turned Stanford into a powerhouse in the 1920s, and the school claims an MNC for 1926, though I did not select them for that season
. However, Southern Cal then surpassed them as best team on the West Coast, and Warner went 0-5-1 against USC in his last 6 years at Stanford. They fell to 6-4-1 in 1932, and then Warner went back East to coach at Temple. Claude "Tiny" Thornhill took over as head coach, and Stanford then went on a run of 3 straight PCC titles and 3 straight Rose Bowl appearances. Thornhill had been a nonconsensus All American tackle on Pittsburgh's 1916 MNC team under Pop Warner. After 4 years of pro football, he became a line coach for Warner at Pitt and then at Stanford. As Stanford's head coach, he started 25-4-2 with those 3 PCC titles, then fell to 10-21-5 over his next 4 years, finishing 35-25-7.

That's compelling evidence that Stanford's success 1933-1935 had less to do with Tiny Thornhill's coaching than it did with the players-- Stanford's famous "Vow Boys." The Vow Boys were the core players for Stanford's unbeaten 1932 freshman team, Pop Warner's last recruiting class. In 1932, they beat Southern Cal's freshman team, but later that day Southern Cal's varsity team defeated Stanford for the 5th straight year. That evening, or so the story goes, the freshmen vowed that they would never lose to Southern Cal during their 3 years on the varsity team. And they didn't (helped greatly by the fact that USC declined sharply to 4-6-1 and 5-7 in 1934 and 1935).

The Vow Boys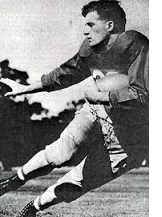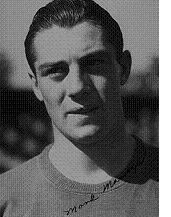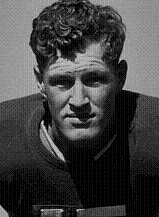 The Vow Boys included 4 Hall of Famers and a 5th player who was co-MVP of this season's Rose Bowl, and they formed the entirety of Stanford's nationally honored players this season. Stanford had twice as many Hall of Fame players as Minnesota and Princeton combined to field this season, so you have to think that Stanford's 25-4-2 record 1933-1935 was actually an underachievement, and wonder what might have been had they been headed by a top-notch coach like Bernie Bierman or Fritz Crisler.

The Hall of Famers were fullback Bobby Grayson, end Jim "Monk" Moscrip, tackle Bob "The Horse" Reynolds, and halfback Bob "Bones" Hamilton.

Bobby Grayson (pictured above at left) had been a consensus All American in 1934, and he was a unanimous AA this season. He was a sprinter in high school, his best time in the 100 yard dash 9.8 seconds, but in college he became a tough, bruising fullback who could plunge into the line or use his speed to get around the corner. In his first appearance with the varsity team, he scored a touchdown to beat Southern Cal 13-7 in 1933. He rushed for 152 yards in a 7-0 loss to Columbia in the 1934 Rose Bowl. In a 24-0 win over 6-1-1 Washington in 1934, he snagged 4 interceptions and returned 2 for touchdowns. For his career he totaled 1547 rushing yards and 18 touchdowns. Grayson was the backbone of Stanford's meager offense this season (playing most of the season with a leg injury, he totaled 551 rushing and 280 passing), and he was their best defensive back as well.

Monk Moscrip (pictured above in the center) had been a nonconsensus AA in 1934, and he was a consensus AA this season. Southern Methodist was the only other team with 2 consensus AA. Moscrip was the fastest player on the team, a great defensive back and end, and he was vital as a placekicker. His field goals made the winning margin in 3 games this year, though he also missed an extra point and 2 field goals in their one loss, 7-6 to UCLA. He was co-MVP of this season's Rose Bowl.

Bob Reynolds (pictured above at right), a nonconsensus AA, played all 60 minutes in 3 straight Rose Bowls. He was later the co-owner of the California Angels (1961-1975) and the Los Angeles Rams (1963-1972).

Bones Hamilton was injured for half this season, and did not make a first team AA list, but he is the 4th Hall of Fame "Vow Boy." He was a blocking back and another strong defensive back. His 23 yard pass set up the touchdown that gave Stanford a 7-0 Rose Bowl win over 12-1 Southern Methodist.

End Keith Topping was never a first team AA, and he is not in the Hall of Fame, but he was quite possibly the best defensive end of 1935. He was unblockable as a pass rusher and forced miserable games from throwers for 9-1 California and 12-1 Southern Methodist. He and fellow end Monk Moscrip were co-MVP of the Rose Bowl.
Stanford's Season
The Vow Boys had gone 8-2-1 in 1933, winning 13-7 at 10-1-1 Southern Cal to take the PCC title from them, but losing 7-0 to 7-1 Columbia in a big Rose Bowl upset. In 1934 they went 9-1-1, losing 29-13 to 10-0 Alabama in the Rose Bowl. This season, the Vow Boys were seniors, and fans expected a national championship run.

Stanford opened the 1935 season with a 35-0 win over San Jose State and a 10-0 win at 5-3 San Francisco, a good minor program whom they had only beaten 3-0 the previous season. Then came the big upset loss to UCLA at home. So little was expected of this game that only 25,000 showed up to watch it.

Oddly enough, UCLA was the only major opponent Stanford was fully healthy for this season, yet it was their only loss. Stanford dominated UCLA 253 yards to 75 and 16 first downs to 2, but they couldn't finish drives, and Monk Moscrip uncharacteristically missed an extra point and 2 field goal tries, so they came up 1 point short in the statistic that mattered most. Stanford struck first, setting up shop at the UCLA 20 yard line in the opening quarter thanks to a 25 yard interception return by quarterback Frank Alustiza. Bobby Grayson scored a touchdown in just 2 runs, but Monk Moscrip was wide on the extra point try, so it was but a 6-0 lead. UCLA answered in the same quarter. They recovered a fumble at the Stanford 40, and a 28 yard run was featured in their drive to the end zone. Fullback Ted Key scored the touchdown and kicked the extra point, and UCLA led 7-6, which would hold up as the final score as well.

Late in the first quarter, Stanford drove to the UCLA 8, but early in the 2nd quarter Moscrip was wide on a field goal try to finish the drive. Later in the half, Stanford drove to the UCLA 12, but they were pushed back to the 26 before throwing an incompletion on 4th down. In the final quarter, Stanford substitute halfback Jim Coffis returned a punt 38 yards to the UCLA 32. Bobby Grayson ran the ball 5 times for 15 yards, then Moscrip lined up for one last field goal try for the win, but the kick was short, which was odd because it was well within his range. Just not his day.

UCLA's Ted Key, who scored all of their points, was feted nationally in newspapers, which led to his undoing. A former school teacher of his back in Texas saw his picture in the paper and recognized him as Clois Francis "Shorty" Key, who had already played 4 years at 2 colleges in Texas. She called UCLA dean Earl Miller. There had already been rumors at UCLA that Ted Key was playing under an assumed name, and that he had previously exhausted his college football eligibility, but now the dean could no longer look the other way. Just 5 minutes before UCLA's big game against 6-0 California, with the PCC title and a Rose Bowl slot on the line, "Ted" Key was suspended from the team pending a full investigation.

That investigation eventually revealed that Ted Key was indeed Shorty Key, that he had played 4 years back in Texas, and that he had also played for one year at Urban Military Academy in Los Angeles under the name "Tex Maness." He had then borrowed his cousin Ted's name and high school transcripts to enroll at UCLA and play for their varsity team in 1934 and part of 1935, when he was found out. This was thus his 7th season playing college football.

Shorty Key was, as his name promised, a key player for UCLA's offense, defense, and their kicking game, and in his absence they lost 14-2 to California (9-1) and 21-0 to Southern Methodist (12-1) in back-to-back games. Stanford gave both teams their only loss. But UCLA hadn't quite been a one man team-- the rest of their backfield was fairly talented, and they recovered to win their last 4 games, including a big 13-7 win in their finale at St. Mary's (5-2-2, #12). UCLA finished 8-2 and is #7 in the fixed UPI poll. They shared the PCC title with Stanford and California, UCLA's first.

Washington
Stanford came out of the UCLA game with a badly hobbled offense, and their next 3 games were all titanic struggles won on the back of a great defense and kicking game. Stanford's Native American quarterback, Frank Alustiza, was lost for the entire season, including the Rose Bowl. He was the signal caller, a sizable portion of the offense, and a good defensive back. He had been the original Vow Boy, the one who first proposed the vow never to lose to Southern Cal to his fellow freshmen back in 1932. Another Vow Boy, Hall of Fame halfback Bones Hamilton, was also injured, and though he was tried for a few plays the next week at Washington, he was unable to play effectively, and was then held out until the season finale against California.

The offense for this 3 game stretch thus rested largely on fullback Bobby Grayson's legs and arm, and on end Monk Moscrip's kicking toe, which made the difference in all 3 wins. But to make matters worse, Bobby Grayson was playing injured himself, and could not go his usual 60 minutes due to a nerve problem that occasionally left one leg paralyzed.

The first of these games was the trip to Washington, played in front of 35,000 fans. Washington was 3-0, and they had gone 6-1-1 the previous season, losing only to PCC champion Stanford, so considering Stanford's injuries this year, the Huskies were favored to win. But focusing on defense and kicking, Stanford prevailed 6-0 on a pair of Moscrip field goals, both knocked through in the opening quarter.

The 1st scoring drive went from Stanford's 33 yard line to the Washington 22, with Bobby Grayson picking up 34 of the drive's 45 yards. Moscrip finished it by blasting through a 40 yard field goal. The next scoring drive went from the Stanford 47 to the Washington 14, Bobby Grayson accounting for 25 of the 39 yards (including a 7 yard pass this time). Moscrip nailed a 33 yard field goal to finish the game's scoring. Stanford had no other offensive threats in the game. Grayson had to come out of the game early in the 2nd half, and after that Stanford did not even get another 1st down. He returned in the 4th quarter, but only to play defensive back. Stanford had given up trying to move the ball on offense by that point.

Washington's best scoring threat came in the 1st quarter, right after Stanford's 2nd field goal. They drove to the Stanford 16 yard line, got pushed back to the 20, and Moscrip broke up a pass on 4th down. Stanford ended up with 205 yards and 10 first downs, mostly gained in the 1st half, and Washington had 238 yards and 12 first downs. Bobby Grayson had 31 carries for 99 yards in a little more than a half of offensive play.

Washington lost to 9-1 California and 6-3 Oregon, then won 6-2 at 5-7 Southern Cal to finish 5-3. They are ranked #23 in the fixed UPI poll.

Santa Clara
Santa Clara was generally a good mid-major team, beating Stanford in 1927 and 1929 and tying them in 1934 (the only blemish on Stanford's regular season record that year). This season, however, they were not very good, finishing a mere 3-6, though all their losses came to winning teams, they beat 5-3 San Francisco 20-7, and they only lost to 12-1 Texas Christian by the slim score of 10-6. Stanford survived them by a similar score in front of 15,000 fans.

Santa Clara scored first, picking off a Bobby Grayson pass and returning it 85 yards for a touchdown in the 2nd quarter. They missed the extra point, leaving the score 6-0. Grayson's leg problem took him out of the game soon afterward, but late in the half, Stanford's backfield, composed mostly of former backups by this point, rose up and scored a touchdown to tie the game.

Sophomore quarterback Bill Paulman, Frank Alustiza's replacement for the rest of the season after the UCLA game, did bring one thing to the table that Alustiza did not-- a big punting leg. Ends Monk Moscrip and Keith Topping were incomparable in kick coverage, letting Paulman's 50 yard punts stand with little or no return yardage. As such, Stanford gained field position in punt exchanges until a weak Santa Clara punt from their goal line gave Stanford the ball at the Santa Clara 24. Substitute fullback Ray Todd, in for Grayson, threw a 21 yard pass to sophomore halfback Jim Coffis (Bones Hamilton's replacement), and Paulman capped the short drive with a plunge for a touchdown. Monk Moscrip missed the extra point, making it 6-6 at halftime.

Stanford was gifted with another short field following a poor Santa Clara punt in the 3rd quarter, this time taking over at the Santa Clara 17, but they could not move the ball much, and Moscrip missed a 31 yard field goal, bringing to mind his kicking woes that cost them the UCLA game. Late in the 3rd quarter, Santa Clara drove to the Stanford 18 yard line before they gave up the ball on downs. Stanford then drove 77 yards from there to set up the game winning field goal. Grayson, back in at fullback, supplied the offense, running 10 times for 35 yards and throwing 3 passes for another 42. Monk Moscrip then hit a 23 yard field goal from a difficult angle to win the game 9-6.

Southern Cal
The next week the Vow Boys traveled to Southern Cal to finish fulfilling their vow. Like Santa Clara, Southern Cal was down this season, finishing 5-7, but they were tougher than their record indicated, losing by 7 points at Notre Dame and by 5 to Pittsburgh, both ranked in the top 10 of the UPI poll. Stanford was favored to win by at least 10 points, but it took all they had to kick a field goal in the final seconds of the game and escape Los Angeles with a 3-0 win. Former president Herbert Hoover, a Stanford graduate, was among the 40,000 who attended the game.

Southern Cal had the advantage in the first half, but they were stopped at the Stanford 11 and 3 yard lines on their 2 serious threats. Stanford was stopped at the USC 1 yard line in the 3rd quarter, and they launched their game winning drive late in the 4th quarter. They completed their first pass of the game in that drive, Bobby Grayson hitting end Keith Topping for 11 yards. Grayson also rushed for 16 yards on a fake pass, taking the ball to the USC 9 yard line. Two more runs pushed the ball a bit closer and put it in the center of the field for Monk Moscrip to hit an easy kick with 40 seconds left for the 3-0 win.

Stanford finally had a breather the following week, beating 1-5-2 Montana 32-0, and that brought them to the Big Game, which really was a Big Game this year, as California was coming in at 9-0 and was a prohibitive favorite to win and march on to the Rose Bowl.

California
90,000 to 94,000 fans jammed Stanford Stadium for this Big Game, still a Stanford attendance record (that original stadium has since been demolished, and the current stadium only holds 50,000). Bones Hamilton was back at halfback for Stanford, bolstering both their offense and their defense, and Stanford stormed to a 13-0 opening quarter lead that held up as the final score.

Early in the game, Stanford fumbled away a punt at midfield, setting up a Cal drive to the Stanford 6 yard line, but a field goal try was wide of the goalposts. Stanford responded with an 80 yard touchdown drive, Bobby Grayson starting things off with a 25 yard run on his first carry of the game. He hit a couple of passes, one for 12 yards to Bones Hamilton, ran into the middle 5 more times for 12 yards, and handed off to halfback Jim Coffis on an 11 yard reverse that worked because Cal's defense was crashing down on Grayson. He scored the touchdown on 4th and goal from the 1, and Monk Moscrip hit the extra point to make it 7-0.

Cal fumbled the ball on the first play of the ensuing drive, and Stanford center Wes Muller (another Vow Boy) recovered at the Cal 29. Grayson hit quarterback Bill Paulman with a 17 yard pass, ran a couple of times, and on the last play of the 1st quarter, he handed the ball to Jim Coffis for another reverse, resulting in an easy 8 yard touchdown. Moscrip missed the extra point, leaving the score 13-0, but with Stanford's defense, particularly against the pass, that was more than enough.

Stanford was stopped at the Cal 30 in the 2nd quarter. Late in the half, Cal intercepted Stanford just past midfield and advanced the ball to the Stanford 7 yard line on a pass interference penalty, but they were stopped there just before the half.

Cal moved to the Stanford 28 in the 3rd quarter, but a sack killed the drive. Stanford's Wes Muller later recovered another fumble at the Cal 30, but Stanford fumbled the ball right back on their next play. In the 4th quarter, Cal drove from their own 20 to the Stanford 15, but they were sacked and fumbled the ball away at the 29. Cal then forced a punt and blocked it, taking over at the Stanford 20. They drove to the 9, and then Stanford end Keith Topping sacked their passer on a reportedly vicious hit, causing a fumble that Jim Coffis recovered at the 18. Finally, with less than a minute left, Cal threw a bomb from their own 44 that Bones Hamilton intercepted, sealing the upset shutout win.

California outgained Stanford 200 yards to 170 and 9 first downs to 7, but of course Stanford was playing a defense and kicking game following their early 13 point lead (Bill Paulman repeatedly hitting 50 yard punts), and Cal had 6 turnovers to Stanford's 3. Stanford's pass defense was particularly a problem for Cal, holding them to 5 of 18 with 2 interceptions and a number of sacks, 2 of them resulting in fumbles.

That finished Cal at 9-1, and they are ranked #6 in the fixed UPI poll. This season's PCC title was shared by 7-1 Stanford, 9-1 Cal, and 8-2 UCLA, and after their big win in the Big Game, Stanford won a PCC vote the following Monday to represent the conference in the Rose Bowl for the 3rd straight year.

The Rose Bowl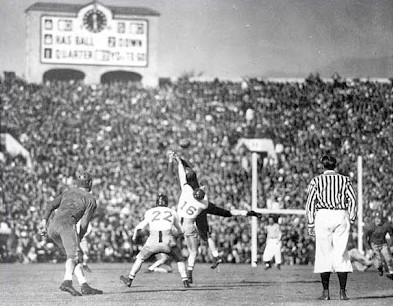 Stanford had lost the previous 2 Rose Bowls, 7-0 in a big upset to Columbia and 29-13 to Alabama's great 1934 MNC team, and they were in no mood to lose again, but their opponent in this game was 12-0 Southern Methodist, who looked to be every bit the juggernaut Alabama had been the previous season. Like Stanford, SMU featured 2 consensus All Americans, and they had won 10-0 over 8-3 Rice, 21-0 at 8-2 UCLA (who of course was the team that beat Stanford), 10-0 over 8-3 Baylor, and 20-14 at 12-1 Texas Christian in 1935's biggest game. TCU had been the only team to come within a touchdown of them. SMU came into the Rose Bowl ranked #2 in the UPI poll, Stanford #6.

SMU had a long-standing reputation as a pass-happy team, and they had thrown the ball around 29 times for 183 yards in their 21-0 win at UCLA, so this game was billed as a match-up of the modern style of football (SMU) against the ancient (Stanford's emphasis on power rushing, defense, and kicking). This was the toughest ticket to this point in the Rose Bowl's history. SMU was the first Texas team invited to the Rose Bowl, and an estimated 20,000 Texans made the trip. 85,000 spectators attended, and 200,000 more requested tickets. The governors of Texas and California were present, as were dozens of Hollywood celebrities, and Herbert Hoover once again came to watch his alma mater play.

SMU's AA halfback Bobby Wilson, who gained more yards on punt returns than from scrimmage this season, broke free for a 32 yard punt return to the Stanford 27 in the opening quarter, but Stanford halfback Jim Coffis intercepted a pass at his own 12 on the next play. That pick was brought about by an overwhelming pass rush, which would be the story of the game. Stanford's response to the punt return, which had almost been broken for a touchdown, was to go into a shell. They were already aware that SMU scored and set up a lot of their touchdowns this season via punt and interception returns, so Stanford's answer was to throw very few passes and punt on early downs, when Bobby Wilson wasn't back to return.

This strategy led to the game's key play later in the 1st quarter. Stanford had the ball 1st and 10 at their own 28, and quarterback Bill Paulman quick-kicked it all the way to the SMU 10, a 62 yard punt. When SMU punted the ball back, Jim Coffis returned it 15 yards to the SMU 42 yard line, and Stanford was in business. Fullback Bobby Grayson went into the line for no gain

:

SMU's defense was pointed at stopping him, and they were largely successful at doing so in this game. On the next play, Grayson stepped back as though to pass, then handed the ball to halfback Bones Hamilton for an apparent reverse, but Hamilton pulled up and threw a pass to Jim Coffis for a 23 yard gain. Grayson carried for 6, Hamilton 1, and Grayson for 11 on a reverse. Two plays later, Bill Paulman bulled into the line for the only touchdown of the game (as shown in the picture at the top of this article). End Monk Moscrip added the extra point.

SMU's only serious threat came in the 2nd quarter. From Stanford's 41 yard line, they completed a short pass, then the receiver lateraled to another player, who lateraled to fullback Bob Finley. Finley raced to the Stanford 5, where Jim Coffis barely got him to save the touchdown. Unfortunately for SMU, Bobby Wilson was separated from the ball on the next play, and Stanford end Keith Topping recovered it. Stanford advanced to the SMU 6 later in the quarter, but a clipping penalty killed the drive. In the 3rd quarter, Bill Paulman uncorked another 62 yard quick kick, and Stanford tackle Bob Reynolds returned an interception to the SMU 18 on the next play. That opportunity came up empty when Monk Moscrip was wide on a 34 yard field goal try. In the game's waning moments, Stanford returned an interception to the SMU 12, and 2 plays later the game was over.

This game was statistically similar to the Stanford-Cal game. SMU outgained Stanford 199 yards to 156 and 9 first downs to 6, but SMU had 7 turnovers, and their vaunted passing game was particularly smothered

:

11 of 31 with 6 interceptions. The picture above represents the game well-- SMU throwing to a well-covered receiver. It was a far cry from the previous year's Rose Bowl, when Alabama threw for 216 yards on Stanford.

Stanford threw only 5 passes in the game, completing 2 for 43 yards, one of which set up the touchdown that gave them the 7-0 win. Ends Keith Topping and Monk Moscrip shared MVP honors, mostly for their pass defense.

Minnesota vs. Princeton vs. Stanford
Here are the significant games for our contenders in 1935. The opponent rankings come from the 1935 fixed UPI poll.


Minnesota 8-0
Princeton 9-0
Stanford 8-1

| | | |
| --- | --- | --- |
| at Nebraska (6-2-1) | 12-7 | #24 |
| Northwestern (4-3-1) | 21-13 | #18 |
| at Iowa (4-2-2) | 13-6 | #22 |

| | | |
| --- | --- | --- |
| Penn (4-4) | 7-6 | Unranked |
| Williams (7-1) | 14-7 | (#26-32) |
| Dartmouth (8-2) | 26-6 | (#26-32) |

UCLA (8-2)

6-7

#7
at Washington (5-3)
6-0
#23
Santa Clara (3-6)
9-6
Unranked
at Southern Cal (5-7)
3-0
Unranked
California (9-1)
13-0
#6

Rose Bowl


Southern Methodist (12-1)

7-0

#3

Against opponents not ranked in the fixed UPI poll, Minnesota defeated 5 teams by an average score of 30-4, Princeton defeated 9 by an average of 28-4, and Stanford defeated 5 by an average of 18-1.

Princeton sticks out here because they did not quite play a top 25 team, and I do not therefore see them as even competing for a national title this season. After close wins in their first 2 games, they were very impressive, and I do believe that they could have competed well with Minnesota and Stanford, but they never had to prove it, so we'll never know. They played 7 home games, and they only played Eastern opponents, and the East was, as usual, weak this season (14-18-3 in significant intersectional games). The only intersectional teams Princeton's opponents defeated were 4-4 Marietta (Ohio), 3-4-3 William & Mary, 4-5 Mercer (Georgia), and 1-5-4 Virginia. Princeton beat 4-4 Penn by a mere extra point, Penn lost to 4-4 Michigan 16-6, and Michigan lost to Minnesota 40-0.

Princeton is very close here, because Minnesota's schedule doesn't look a

lot

tougher, and the two teams were similar in overall performance. But the Great Lakes region was 22-8-1 in significant intersectional games and 10-5-1 against the East. The Big 10 was 9-3 and 4-1 against the East. In the end, I'd put Princeton in the same category as teams like Centre 1919, Centenary 1927, and Colgate 1932. All these teams were very close to meriting a share of an MNC, but played schedules that were just too weak. Princeton needed a bowl game to prove their worth, but they refused to play bowl games. Princeton's general withdrawal from the "excesses" of major college football may have been admirable, depending on one's point of view, but their gall in proclaiming themselves "national champions" of 1935 anyway is anything but.

Minnesota vs. Stanford
Here we again have the classic tough case of a team with a better record and weaker schedule against a team with a worse record and stronger schedule. But in this case, the team Stanford lost to, 8-2 UCLA, was better than any team Minnesota played. And UCLA was an even tougher opponent than their overall record showed, because Stanford played them when fullback "Ted" Key was still on the team. Even after 9-1 Cal and 12-1 SMU beat UCLA, UCLA won their last 4 games by an average score of only 15-6, whereas they won their first 4 games-- with Mr. Key-- by an average of 25-5. And that included a 7-6 win at Stanford, a much tougher opponent than anyone they played in their final 4 games.

Stanford defeated both the teams that beat UCLA, and gave both teams their only loss. Those opponents were fellow MNC contenders. Minnesota, however, did not play another MNC contender, nor any team worthy of even the top 15. Stanford's Rose Bowl opponent, 12-1 Southern Methodist, also defeated an MNC caliber team, 12-1 Texas Christian, and they clearly performed better than Minnesota did against comparable opponents. For that reason, you could viably rank Stanford #1, SMU #2, and Minnesota #3. In fact, that is the way I would rank the teams myself.

By playing and defeating 2 other MNC contenders, Stanford truly earned a national championship this season. Minnesota, however, just beat 3 good-but-not-great opponents, and all in close games. Those were the performances of a #10-15 team, and for all we know, that's as strong as Minnesota was this season. Similar to Princeton, Minnesota simply did not have to prove themselves to the degree that Stanford did.

I could see giving Minnesota the benefit of the doubt if they were the same team that had mauled most of their opponents in 1934 and defeated fellow MNC candidate Pittsburgh on the road. But almost all of the best players from that team were gone in 1935.

There is, however, a case to be made for the "Giants of the North." While Minnesota played a much easier schedule than Stanford did, and while Minnesota did not compare well to Stanford victim SMU in terms of schedule or performance, they did compare well to Stanford performance-wise. Stanford barely beat a pair of losing teams (Santa Clara and Southern Cal), much worse performances than any of Minnesota's. 3 other UPI top 10 teams also struggled against those opponents (12-1 TCU against Santa Clara

;

7-1-1 Notre Dame and 7-1-2 Pitt against USC), but not everyone did. For example, 3-5 Illinois beat 5-7 Southern Cal 19-0, Iowa beat Illinois 19-0, and Minnesota beat Iowa 13-6.

I view performance as a secondary concern, which is why I would rate Stanford #1, but Stanford's poor performances, combined with the fact that they did take an upset loss, and at home no less, while Minnesota was 8-0, gives just enough reason, I think, for someone to rate Minnesota #1. So in conclusion, Stanford and Minnesota are the co-mythical national champions of 1935, and either could be rated #1.
Awards Ceremony
1935 #1:

8-0 Minnesota and/or 8-1 Stanford


National Co-champion:

Minnesota or Stanford if the other one is alone at #1


Contender:

9-0 Princeton

These are the awards I have been handing out for each season, except seasons when there are no contenders. For this purpose, what I mean by a contender is a team that I think is very close to being worthy of sharing the national championship. A team that you could make an argument for, even if that argument is weak. But the contenders are teams that I myself do not see as national champions.
Stanford was not named an MNC by any organization listed in the NCAA Records Book, human or computer. Humans will always pick an 8-0 major team over an 8-1 major team, so that's no surprise, and it's equally unsurprising that math-based rating formulas didn't rate Stanford #1, since their strength was a great defense. Formulas that measure performance almost always favor a strong offense over a strong defense. Minnesota gave up 5.75 points per game, Stanford 1.44, and that's not as much a difference as Minnesota's 28.25 points per game offense compared to Stanford's 13.44. But another way to look at those numbers is that Stanford scored 9.33 times as many points per game as their opponents did, compared to Minnesota's 4.91.

And Stanford's defense wasn't just strong this season, but extraordinarily strong. Despite an offense that was rendered inept for 3 games due to backfield injuries, Stanford only gave up 1 offensive touchdown all season (another came on an interception return), and they shut out 9-1 California and 12-1 Southern Methodist to end the season. No other team held SMU below 10 points. Minnesota only shut out 2 of their 8 opponents.
Grading the Selectors
I have been grading the NCAA Records Book's selectors for each season, and keeping a grade point average, so we can see who is relatively good at selecting national champions and who is not. And although I do not consider computer ratings to be legitimate national championship selectors, I have been including them in this section as well, just for comparison's sake.
I am grading on a scale of 0-5 (5 being the best).


4 math systems selected 12-1 Southern Methodist #1

:

Dickinson, Houlgate, Sagarin's original formula, and Sagarin's BCS formula (ELO-Chess).

Grade: 0.1


Williamson's math system selected 12-1 Texas Christian and 9-2 Louisiana State in a tie for #1.

Grade: 0.0



Dunkel's system went with Princeton.

Grade: 1.5



Everyone else selected Minnesota.

Grade: 5.0



As previously noted, a 1935 UPI poll of sportswriters voted Minnesota #1 as well, but it is not listed in the NCAA Records Book.

Williamson's tie between TCU and LSU was egregiously bad, not only because 12-1 SMU beat 12-1 TCU late in the regular season, but because 12-1 TCU beat 9-2 LSU in the Sugar Bowl. This selection alone tells me that his system was worthless. The 4 systems that selected SMU did a far better job with their pick, though the grade I gave them shows little difference. But that is because I am grading these systems as national championship selectors and not on how well they rate teams. Still, I can understand why a math system would rate SMU higher than Stanford, because SMU outperformed them by a good margin over the course of the season. As an example, SMU won 21-0 at UCLA, who beat Stanford. But there's just no getting around the fact that Stanford beat SMU in a bowl game.

And nothing in the Rose Bowl game summaries tells me that outcome was a fluke. SMU had just 1 serious scoring threat all game, whereas Stanford had the ball inside the SMU 20 yard line 4 times. Stanford's defense and punting unit played like that all year.

As for Dunkel's selection of Princeton, while Princeton was very close to meriting a share of the 1935 MNC, there is simply

nothing

to indicate that they had a better season than Minnesota did, and it therefore makes little sense to name them the season's

sole

MNC.

Grade point averages 1919-1935 (Dunkel, Williamson, and Litkenhous do not have enough selections to be fairly included)
:
| | |
| --- | --- |
| 1) Boand (math system) | 4.26 |
| 2) College Football Researchers Association | 4.22 |
| 3) Poling (math) | 4.11 |
| 4) Helms | 4.09 |
| 5) Sagarin-ELO (math) | 4.06 |
| 6) National Championship Foundation | 3.96 |
| 7) Dickinson (math) | 3.49 |
| 8) Houlgate (math) | 3.35 |
| 9) Billingsley (math) | 3.34 |
| 10) Sagarin (math) | 3.28 |
| 11) Parke Davis | 2.77 |

How the systems that selected champions for 1901-1918 did

:



| | |
| --- | --- |
| 1) Houlgate (math system) | 4.5 |
| 2) Helms | 4.3 |
| 3) Parke Davis | 4.2 |
| 4) National Championship Foundation | 3.7 |
| 5) Billingsley (math) | 3.6 |