Top 25 Rankings 1901-1935
1935 National Championship
Home
Fixing the Final 1935 UPI College Football Poll
1) Minnesota 8-0




2) Southern Methodist 12-1




3) Princeton 9-0




4) Texas Christian 12-1




5) Ohio State 7-1




6) Stanford 8-1




7)

Louisiana State 9-2




8)

Notre Dame 7-1-1




9) California 9-1




10) Pittsburgh 7-1-2




11) Fordham 6-1-2




12) North Carolina 8-1




13) Duke 8-2




14) Holy Cross 9-0-1




15) Auburn 8-2




16) Northwestern 4-3-1




17) Alabama 6-2-1




18) Army 6-2-1


Iowa 4-2-2
UCLA 8-2
21) Nebraska 6-2-1
Ohio 8-0
Marquette 7-2
Washington 5-3
St. Mary's (California) 5-2-2
26) Temple 7-3
Dartmouth 8-2
New York 7-1

To the left is the final 1935 UPI college football poll's rankings. You can access all of these teams' full schedules here

:

College Football Data Warehouse (amongst a number of other places). The fixed final UPI poll, shortened to a top 25, follows the article below.

For the rest of the top 25 rankings 1901-1934, I am going to logically repair a hypothetical AP poll's top 25. In other words, for each season I am going to start with where an AP poll would have approximately rated teams, based on my research of writers from the time, then fix any ratings that would be illogical in the same way that I fixed all the actual AP polls.

However, this season I am going to do something a little different, because while there wasn't yet an Associated Press college football poll to fix, there was still a poll of college football writers this season, conducted by United Press International. An AP poll's pool of writers may not have come to the exact same ratings as the UPI poll's writers did, but I assume that they wouldn't have been that different. I mean, sportswriters are sportswriters, right?

As such, for this season's top 25 I will merely fix the UPI poll's rankings the same way I would fix an AP poll. I go into more detail on the top teams in this fixed poll, particularly Minnesota, Stanford, and Princeton, in my article on the 1935 national championship.



Minnesota's 1935 football team. This was the 2nd of 3 straight national championships for Minnesota, the last time any team has "threepeated." Of course, it is much harder to do today than it was back then. Minnesota did not have to play in bowl games in the 1930s, so they played 1 top 25 caliber team in 1934, 3 this year (but none in the top 10), and 3 in 1936 (losing one of those). If they had had to play the toughest remaining challenger in a BCS type game each season, it is unlikely that they would have won out all 3 years

.
Stanford, Southern Methodist, and Princeton
Like the AP poll in ensuing years, the UPI poll ended before the bowl games. The Rose Bowl, where #6 Stanford (8-1) beat #2 Southern Methodist (12-1) 7-0, has the biggest impact on a post-bowl top 25. Obviously, Stanford needs to be moved ahead of SMU, and normally, they would both be placed behind #3 Princeton (9-0), but Princeton was overrated. They did not defeat a team that was ranked in the UPI poll's top 25, so they are lucky to have been rated as high as #3 in the first place. Stanford may have taken an upset loss, but it came to a team that was ranked higher than anyone Princeton even played, and Stanford beat 9-1 California (#9) in addition to SMU.

SMU's loss, obviously, also came to a better team than anyone Princeton played, and they defeated 12-1 Texas Christian (#4) and 8-2 UCLA (#18). They also performed better than Princeton, as all of their wins other than against TCU came by more than a touchdown, while Princeton struggled to beat a pair of unrated teams at home, 7-6 over 4-4 Pennsylvania and 14-7 over 7-1 Williams
. So both Stanford and SMU should be rated ahead of Princeton.

I would rate Princeton about #10 myself, but they can remain ahead of TCU, since TCU had 3 close wins over unrated opponents. And I would rate Stanford #1 myself, but Minnesota is a viable choice for #1 as well (details on this issue can be found in my article on the 1935 national championship). Therefore, the fixed UPI top 5 is

:

1) Minnesota, 2) Stanford, 3) Southern Methodist, 4) Princeton, and 5) Texas Christian.

Southern Methodist vs. Texas Christian: A Game of the Century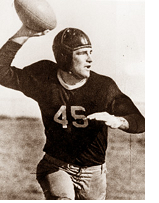 When 10-0 Southern Methodist (pictured above) met 10-0 Texas Christian on November 30th, Fort Worth was the center of the college football universe, with the nation's top writers coming to town to cover it. At stake was the SWC title and a slot in the Rose Bowl, as well as a shot at a share of the mythical national championship (MNC). SMU featured a pair of consensus All Americans, halfback Bobby Wilson and guard J. C. Wetsel, as well as nonconsensus AA tackle Truman Spain. TCU countered with consensus AA center Darrell Lester and nonconsensus AA quarterback Slingin' Sammy Baugh, a college and pro Hall of Famer (Baugh pictured at left). Writer Grantland Rice called this clash the "Game of the Century," a term that had first been used just a few weeks earlier for the Ohio State-Notre Dame game. 37,000 attended.

SMU drove 73 yards to a touchdown in the opening quarter, then hit a 33 yard pass to set up a 9 yard Bobby Wilson touchdown run in the 2nd quarter, jumping out to a 14-0 lead. TCU closed the gap to 14-7 before half, getting the ball to the SMU 1 yard line on a pass interference penalty, then pushing it over goal. Sammy Baugh hit a touchdown pass early in the 4th quarter, tying the score at 14-14. In the answering drive, SMU faked a punt on 4th and 7 from the TCU 34 yard line, and though TCU was not fooled, Bobby Wilson got behind 2 defenders for the touchdown catch that gave SMU a 20-14 win. These teams combined for 677 yards of offense and 42 first downs, startling numbers for writers from other regions. Sammy Baugh threw 43 passes, though he only completed 17 because his receivers dropped potential receptions all game long.

You can watch highlights of the game here. SMU finished the regular season 12-0, and though they lost to Stanford in the Rose Bowl, they finished #1 in the Dickinson ratings, which did not count bowl games, and SMU claims a 1935 MNC based on Dickinson. Hall of Fame coach Matty Bell was in his first season at the helm, and he would end up 79-40-8 at SMU 1935-1941 and 1945-1949, winning 3 SWC titles. He was then the SMU athletic director 1950-1964. Overall he was 143-87-16 at 5 schools.

California, UCLA, and Ohio State
#9 California (9-1) lost only to now-#2 Stanford, and #18 UCLA (8-2) lost only to California and to now-#3 Southern Methodist, and they defeated Stanford. Both were underrated, UCLA severely so. Let's compare both teams to 7-1 Ohio State, who was originally rated #5.

Ohio State was upset 18-13 at home by a lower-rated team, #8 Notre Dame (7-1-1). They beat 1 ranked opponent, crushing #16 Northwestern 28-7. But Northwestern was just 4-3-1, so it's not an impressive "big win." OSU had a pair of weak performances in November, edging 4-4 Chicago 20-13 and 3-5 Illinois 6-0. California also had 2 weak performances against unrated opponents, but both came in the first half of the season, and they defeated 3 teams the UPI poll rated, UCLA, #21 St. Mary's (5-2-2), and #21 Washington (5-3). They also defeated 6-3 Oregon, who defeated Washington and will therefore be ranked in the fixed UPI poll (as covered later in this article). That's 4 wins over top 25 teams to OSU's 1, and of course, Cal's loss came to a higher-ranked team than did OSU's loss
.

UCLA, as detailed in the Stanford section of my 1935 national championship article, was sort of a tale of 2 teams. The first one starred fullback Ted Key, and they upset Stanford 6-0 and defeated a trio of winning teams 39-0, 20-9, and 33-6. "Ted Key" turned out to be Shorty Key, playing under his cousin Ted's name because he had already exhausted his college football eligibility and then some (he was in his 7th season of college football when he was found out). Key was dismissed from the team when the story came to light, and UCLA was not as strong without their Key player, getting drubbed by 9-1 California and 12-1 SMU in their first 2 games without him. But they rebounded to win their remaining 4 games, capped by a 13-7 win at #21 St. Mary's in their finale.

Regardless of what happened and why, 8-2 UCLA accomplished more on the season as a whole than did 7-1 Ohio State. UCLA's losses came to now-#3 SMU, whom the UPI poll rated higher than Ohio State, and to 9-1 California, whom I've just established should have been rated higher than Ohio State. OSU, on the other hand, took an upset loss to a lower-rated team. UCLA defeated now-#2 Stanford and #21 St. Mary's, and they also stomped on 6-3 Oregon, whom I've established will be rated in the fixed poll, while OSU had just the one win over 4-3-1 Northwestern. Finally, UCLA had just 1 close win over an unrated opponent to OSU's 2.

So move California up to #6, UCLA to #7, and drop Ohio State to #8. Stanford, Cal, and UCLA defeated each other in a circle, sharing the PCC title, so it didn't really make sense for the UPI to rank them all so far apart in the first place.

Ohio State vs. Notre Dame: The Original Game of the Century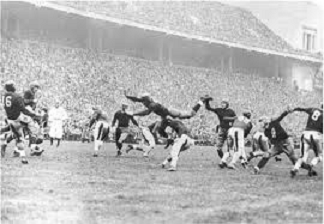 The 1900s saw a lot of "Games of the Century," but the first game we know of that the press labeled as such was 5-0 Notre Dame's trip to 4-0 Ohio State on November 2nd, 1935. 81,000 attended the game, and tickets were going for $50 each (adjusted for inflation, that's $842 today). You can see an excellent video with clips from the game here. Ohio State carried a 13-0 lead into the 4th quarter, but Notre Dame used an aerial assault to come all the way back for an 18-13 win, the last touchdown a pass from Bill Shakespeare to consensus AA end Wayne Millner with 30 seconds left in the game. The SMU-TCU showdown 4 weeks later ended up being a much more important game, but the 1935 Ohio State-Notre Dame tilt is remembered as one of the greatest games of the 1930s because of its late dramatics.

Notre Dame and Louisiana State
7-1-1 Notre Dame was rated right behind 9-2 Louisiana State, but I think it should be the other way around. LSU took an upset loss (to unrated 8-3 Rice), while Notre Dame took an upset loss (to now-#17 Northwestern, 4-3-1) and a tie (to now-#19 Army, 6-2-1), but Notre Dame made up for their loss with an upset win over 7-1 Ohio State, who was rated higher than either team. That gave Notre Dame a relevant record that was effectively half a game better than LSU's.

Notre Dame would have passed LSU up in a post-bowl poll anyway, since LSU lost 3-2 to now-#5 Texas Christian in the Sugar Bowl (the winning field goal is pictured below).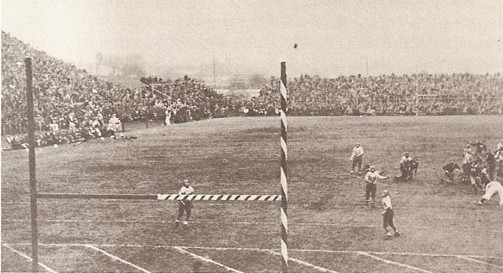 Notre Dame and Louisiana State switch places, Dame #9 and LSU #10. That puts Notre Dame right behind Ohio State, whom they beat, but Our Lady's upset loss and tie leave Ohio State effectively half a game better on the season.
Pittsburgh, Fordham, and St. Mary's (California)
Next in the UPI list we find 7-1-2 Pittsburgh and 6-1-2 Fordham, who tied each other 0-0 at the Polo Grounds in New York in the game shown below. This season was the first meeting between Pittsburgh and Fordham, who would go 2-2-3 against each other 1935-1941, and who battled to a 0-0 tie 3 straight seasons 1935-1937. After the 1937 tie, Pitt would end up 9-0-1, Fordham 7-0-1.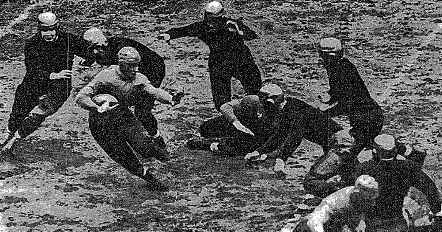 The real issue here is 5-2-2 St. Mary's, originally ranked #21 in a tie with 4 other teams. Their 2 losses came to a pair of teams now ranked in the top 10 (California and UCLA). They were tied 7-7 by unrated 5-3-1 Washington State, but they made up for that with another 7-7 tie at now-#12 Fordham. They defeated 6-3 Oregon, set to be ranked in the fixed poll, 18-0.

St. Mary's had a relevant record that was better than those of quite a few teams ranked ahead of them. They could be ranked as high as #10, ahead of LSU, but we needn't go that far. Pittsburgh had the same relevant record as St. Mary's did, tying Fordham and an unrated team, but the latter was 2-5-1 Carnegie for Pittsburgh, a much worse team than 5-3-1 WSU, who tied St. Mary's. But Pitt beat a couple of rated teams, 6-2-1 Army (originally rated #18) and 6-2-1 Nebraska (#21), so we can let the UPI poll have Pitt.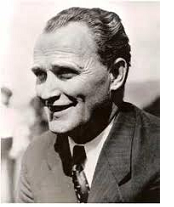 Fordham, on the other hand, doesn't have a good reason to be rated ahead of St. Mary's. Fordham lost 20-0 at home to unrated 4-4 Purdue, a simply terrible result. They had 2 close wins over unrated opponents, a 14-7 decision over Franklin & Marshall being the worst, while St. Mary's brought home all 5 of their wins by more than a touchdown, and all in shutouts. Fordham was also the home team in all of their games but one, a neutral site bout with NYU, while St. Mary's played 4 road games, including the big tie at Fordham. So we'll move St. Mary's all the way up ahead of Fordham.

St. Mary's first made the long trip to New York City to play Fordham in 1930, winning 20-12. They then made that trip every year 1932-1942, and through this season they were 3-1-1 against Fordham. After that, the worm turned, and Fordham went 6-1 in the series 1936-1942. The teams met one last time in 1946, St. Mary's romping 33-2.

St. Mary's was coached by Hall of Famer Ed "Slip" Madigan (pictured), who had played for Knute Rockne at Notre Dame. He went 117-45-12 at St. Mary's 1921-1939, including a truckload of victories over major teams

:

27 wins came over California, Southern Cal, Stanford, UCLA, Oregon, Fordham, Washington State, Temple, Texas Tech, and SMU. The Texas Tech win occurred in the Cotton Bowl following the 1938 season, and Tech came into that game 10-0 and rated #11 in the AP poll. St. Mary's first started finishing with nice records in 1924, going 9-1, 8-2, 9-0-1, and 7-2-1 through 1927, and they might have made an AP poll's top 25 once or twice during that time. But with a big schedule upgrade and multiple wins every year over major teams, St. Mary's was at their height 1929-1935, and would have been a nearly annual fixture in a top 25 during that time (48-12-5).

So our 2nd 10 begins like this

:

11) Pittsburgh, 12) St. Mary's, 13) Fordham. St. Mary's also compares well against teams that had been ranked behind Fordham

:

North Carolina and Holy Cross beat no ranked teams, Duke lost to 5-6 Georgia Tech, and Auburn lost to 4-5 Tennessee.
Auburn, Duke, and North Carolina
UPI poll voters weren't any better than AP poll voters when it came to keeping track of who beat whom. This season, 8-2 Auburn (originally rated #15) won 7-0 at 8-2 Duke (#13), who defeated 8-1 North Carolina (#12) 25-0. The order of those teams obviously needs to be reversed. Auburn and Duke each took an upset loss to a losing team, but North Carolina did not defeat a rated team, or even a nearly-rated one, and they were rolled badly at home by Duke in the only game they played against real competition.

Pencil Auburn in at #14, Duke at #15, and North Carolina at #16.
Holy Cross, Northwestern, and Alabama
Next we have 9-0-1 Holy Cross, 4-3-1 Northwestern, and 6-2-1 Alabama. Holy Cross did not play a rated team, and they were tied by unrated 5-3-1 Manhattan. Northwestern took an upset loss to unrated 4-4 Purdue and a tie to 4-2-2 Iowa, originally rated behind them at #21, but they won 14-7 at now-#7 Notre Dame in one of the season's biggest upsets. Both teams are unexciting, but fine where they are. The problem is Alabama.

Alabama did not defeat a rated team, and they took 2 losses and a tie to unrated opponents, which is just too many. The losses came 20-7 at home to 8-3 Mississippi State and 14-6 at 7-3 Vanderbilt, but the tie was the worst, as it came to minor team Samford (7-1-2). Alabama should not have been ranked ahead of Vanderbilt or Mississippi State to begin with.

Holy Cross is #17, Northwestern #18, and Alabama is out the door.
Army and Iowa
6-2-1 Army and 4-2-2 Iowa had originally been ranked #18 in a 3-way tie with 8-2 UCLA, who has since been moved up into the top 10. Like Alabama, Army took a loss to unrated 8-3 Mississippi State, but unlike Alabama, that was their only upset blemish, and they actually accomplished something

:

tying now-#7 Notre Dame. Iowa too tied a higher-rated team, Northwestern (now #18), but the Hawkeyes were also tied by unrated 4-3-1 Indiana and they lost to unrated 4-4 Purdue, so they had a worse relevant record than Army did.

Therefore, we'll move Army ahead of them

:

Army #19, Iowa #20.
Oregon and Washington
Finally we come to a group of teams the UPI poll had ranked in a big tie for #21-25

:

6-2-1 Nebraska, 8-0 Ohio, 7-1 Marquette, and 5-3 Washington (5-2-2 St. Mary's was also in this group, but they have already been moved up to #12). Washington has a problem here, because they lost 7-6 at home to 6-3 Oregon, and should be ranked behind them. But that doesn't necessarily mean that Washington should be dropped behind this group. Oregon's 3 losses came to California, UCLA, and St. Mary's, all now ranked in the top 12. They did not take an upset. Nebraska took an upset tie, Marquette took an upset loss, and Ohio was a minor team playing a minor schedule except for one 6-0 win over 3-5 Illinois. Unlike Oregon, none of those teams beat a rated opponent.

Similarly, Washington's 3 losses came to now-#2 Stanford (by just 6-0), now-#6 California, and to Oregon. They also didn't take an upset loss or tie, and they therefore had a better relevant record than did Nebraska and Marquette (and Washington played a major schedule while Ohio did not). So we'll move both Oregon and Washington ahead of this group.

But that's not all. 4-2-2 Iowa, now ranked #20, had a worse relevant record than Oregon did, thanks to a rough finish (they started 4-0, finished 0-2-2) that included an upset loss and a tie against unranked teams. In addition, Oregon beat a ranked team, and Iowa did not. So we'll move Oregon ahead of Iowa. Oregon also had a better relevant record than now-#19 Army did, but by only half a game, and Oregon performed poorly enough that the UPI poll can keep Army ranked higher.

Washington also had a better relevant record than Iowa did, but Washington did not beat a ranked team, and in fact one could argue that they did not defeat a team as strong as either of the unranked teams that upset Iowa, 4-3-1 Indiana and 4-4 Purdue. And while Iowa did not beat a rated team, they did tie now-#18 Northwestern in their finale, which is more than Washington accomplished. Therefore, the UPI poll can keep Iowa rated ahead of Washington.

Oregon comes in at #20, Iowa drops to #21, and Washington moves to #22.
Rice
8-3 Rice was left unrated in the UPI poll, but they shouldn't have been. They did take an 8-0 upset loss to unrated 8-3 Baylor in their finale, but they made up for that with a 10-7 upset win at now-#10 Louisiana State in their opener. Nebraska and Marquette did not beat a rated opponent to make up for their upsets, and Ohio, of course, played a schedule well below Rice's. More importantly, Rice had a better relevant record than now-#21 Iowa did, and their win at LSU was far better than any Iowa result.

So we're down to 8-3 Rice vs. 6-3 Oregon for #20. These 2 teams had the same relevant record, and either has arguments for being rated higher than the other, but since the UPI poll did not originally rank either team, I don't know which one sportswriters of the time would have preferred. Therefore, I'll just place them in a tie with one another.

Bring Rice in at #20 in a tie with Oregon. Iowa drops to #22 and Washington to #23
.
Nebraska, Marquette, and Ohio
We are down to 3 teams for the last 2 slots. Big 6 champion Nebraska took an upset tie, and Marquette took an upset loss, so Nebraska moves to the top of this triad. Ohio, again, played nobody.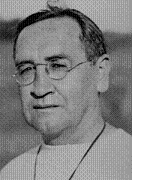 Marquette was a mid-major team that played 5 major opponents and 1 fellow mid-major, so they too played a schedule well beyond that played by Ohio (1 major opponent, 7 minor). However, Ohio did go 8-0, and since this is slot #25 we're talking about, I'm going to wimp out and let the UPI poll have its token minor team, albeit in a tie with Marquette for #25.

Marquette, of course, no longer has a football team. Their first claim to fame came in 1909, when they tied "Western" champion Notre Dame (7-0-1) in their finale. But the school's football program was at its height under Hall of Fame coach Frank Murray (pictured) 1922-1936. A Tufts graduate who had never played football, Murray went 8-0-1 in his first season at Marquette and 8-0 in his 2nd. In his last 2 seasons, he landed his team a spot in the UPI poll (1935) and the AP poll (1936), Marquette's only AP poll finish. They played TCU in the Cotton Bowl in Murray's last game there, losing 16-6. Murray was 90-32-6 during this stint. He later went 41-34-5 at Virginia 1937-1945, then 14-23 back at Marquette 1946-1949, for a total of 145-89-11.

This team had some talent. Raymond "Buzz" Buivid was 3rd team All American on 3 lists, and would finish 3rd in the Heisman vote in 1936. He threw 13 touchdown passes this season. Ward Cuff was a blocking back, strong defensive back, and the kicker. He played 11 years in the NFL. Art Guepe would score the first touchdown in Cotton Bowl history on a 60 yard punt return, and later served as Virginia's head coach, going 47-17-2 1946-1952 (he succeeded his former coach, Frank Murray). He then went 39-54-7 at Vanderbilt 1953-1962, and was the Ohio Valley Conference commissioner 1963-1975.

Nebraska is #24, and Marquette and Ohio are tied for #25.
Others Receiving Votes
Here are the teams that were closest to being included in the fixed top 25. I might have rated some of these teams in my own top 25, but this list was about bowing to the majority wishes of 1935 within logical reason.

Vanderbilt 7-3
Vanderbilt lost by only 6 points at now-#13 Fordham, and by 5 points at now-#10 Louisiana State. They took one upset loss, 6-3 at 7-3 Temple. Temple was rated #26 in the UPI poll, but they took

3

losses to unrated teams, which is why they should not have been rated #26, and they also did not quite make this list of "Others Receiving Votes." Temple did have 2 big wins though, edging Vanderbilt and crushing #25 Marquette 26-6.

Obviously Vanderbilt performed much better at Temple than Marquette did, and it was therefore tempting to move Vanderbilt ahead of Marquette. But Marquette also beat 9-3 Mississippi 33-7 (Mississippi beat 8-3 Mississippi State, whom Vanderbilt only beat 14-9), and they won 13-7 at 6-2 Michigan State (MSU was very close to making this afterpoll list, and they did beat Temple). So the UPI poll had reason to rate Marquette higher.
New York 7-1
Rated #26 in the UPI poll, NYU lost 21-0 to now-#13 Fordham in their finale. They didn't accomplish much, but they also didn't take an upset loss or tie. Their one win of value was 14-0 over 6-3 Bucknell. Bucknell was quite bad, losing 25-0 at 7-2 Villanova and 53-0 at 6-3 Detroit, but they did upset 7-3 Temple in their finale.
Catholic 8-1
This was a huge year for Catholic University, the closest they have ever come to the top 25. They took an ugly upset loss to 5-2-1 DePaul, whom I would classify as a minor team, but they defeated 6-4 North Carolina State, 6-3 Detroit, and 6-3 Duquesne, and then they edged 9-3 Mississippi 20-19 in the Orange Bowl. It's possible that they would have been ranked in a post-bowl poll, but Mississippi wasn't ranked at 9-2 before the bowl, so maybe not. There is no good reason to move Catholic into the top 25 ahead of Marquette, who beat Mississippi 33-7, so alas, Catholic is denied their only shot at a top 25 finish.

This wasn't Catholic's only bowl appearance

:

they also tied Temple in the Sun Bowl following the 1939 season. The author of these successes was head coach Arthur "Dutch" Bergman, who had played for-- who else?-- Knute Rockne at Notre Dame. He went 59-31-4 at Catholic 1930-1941. He is the school's all-time winningest coach
.
Dartmouth 8-2
Dartmouth, ranked #26 by the UPI poll, barely qualifies for this afterpoll list. They started out great this season, 6-0 by an average score of 36-3, though their schedule was rather unimpressive. Then they were whipped 26-6 by now-#4 Princeton and upset 13-7 by 4-4-1 Columbia in their last 2 games. Their only win of value was 14-6 over 6-3 Yale.
Baylor 8-3
Baylor won 8-0 at now-#20 Rice in their finale, but they also got crunched 25-6 by 4-6 Texas, and their performances were ill
:
6-0 over Texas A&M Kingsville, 13-6 over 5-5 Arkansas, 2-0 at Oklahoma City, and 14-6 over 3-7 Texas A&M.
Williams 7-1
Williams was a minor team that lost just 14-7 at now-#4 Princeton. In my mind, that right there should place them ahead of 8-0 Ohio. Williams won the rest of their games by more than a touchdown each, but their schedule was so lowly, worse even than Ohio's, I would venture to say, that the UPI poll may be forgiven for not rating them. But it's too bad we'll never know how Williams would have fared against the likes of Iowa, Washington, Nebraska, Marquette, or Ohio.
Fixed UPI Top 25
#17 Alabama (6-2-1) fell out of the fixed UPI poll, and they didn't even make the "Others Receiving Votes" list. They took 2 losses and a tie against unrated teams, and they did not beat a rated opponent. The 2 teams that come into the fixed UPI poll, 6-3 Oregon and 8-3 Rice, combined for 2 wins over UPI-rated teams and 1 loss to an unrated team.
1) Minnesota 8-0
--

2) Stanford 8-1
+4
3) Southern Methodist 12-1

-1

4) Princeton 9-0

-1

5) Texas Christian 12-1

-1

6) California 9-1
+3
7) UCLA 8-2
+12
8) Ohio State 7-1

-3

9) Notre Dame 7-1-1

-1

10) Louisiana State 9-2

-3

11) Pittsburgh 7-1-2

-1

12) St. Mary's (California) 5-2-2
+11
13) Fordham 6-1-2

-2

14) Auburn 8-2
+1
15) Duke 8-2

-2

16) North Carolina 8-1

-4

17) Holy Cross 9-0-1

-3

18) Northwestern 4-3-1

-2

19) Army 6-2-1
--
20) Oregon 6-3
Rice 8-3
IN
IN
22) Iowa 4-2-2

-3

23) Washington 5-3
--
24) Nebraska 6-2-1

-1

25) Marquette 7-1
Ohio 8-0
-2
-2
Others Receiving Votes
:
Vanderbilt 7-3
New York 7-1
Catholic 8-1
Dartmouth 8-2
Baylor 8-3
Williams 7-1
OUT
:
#17 Alabama 6-2-1