Home
1933 College Football National Championship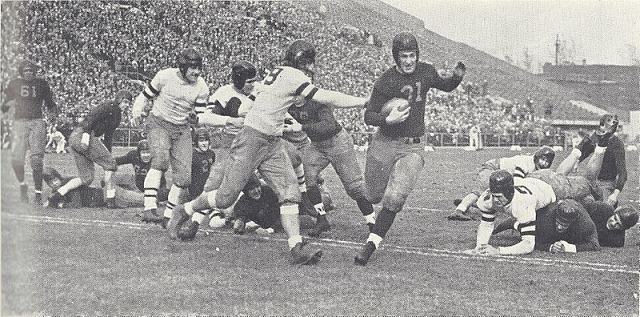 Pictured above is Michigan halfback Herman Everhardus, the Big 10's leading scorer, adding to his total at Chicago. Michigan was tied late in the season by 4-0-4 Minnesota, but they stretched their unbeaten streak to 18 games with a 7-0-1 finish, and they were and are the consensus choice for mythical national champion (MNC) of 1933. They had gone 8-0 and shared an MNC with 10-0 Southern Cal in 1932, and they had contended for a great many MNCs going back to 1901, but 1933 was the first season in history when Michigan would have been likely to finish #1 in an AP poll had there been one.

However, for the 3rd year in a row, and the 7th time in the last 10 years (1924-1933), Parke Davis keeps this from being a unanimous national championship. Here is how the "major selectors" listed in the NCAA Records Book, all selecting retroactively, see the 1933 college football national championship (omitting math/computer ratings, which neither I nor anyone else recognize as constituting titles)

:



7-0-1 Michigan

:

Helms,

National Championship Foundation, CFB Researchers,

Parke Davis

(tie)


9-0 Princeton

:

Parke Davis

(tie)



Parke Davis has been the worst selector of the post-WWI era, even compared to all 9 of the computer rankings not listed above, but his split of the 1933 MNC between Michigan and Princeton is actually not a bad choice, and I will be summarizing both teams in this article. They are indeed the only contenders this season.

10-1-1 Southern Cal, defending 2-time national champion, may have been the best team of 1933, and was ranked #1 in one computer system listed in the NCAA Records Book and in a couple of systems not listed. They took a loss to 8-2-1 Stanford (PCC champion and Rose Bowl representative) and a tie with 6-2-2 Oregon State, but the West Coast appears to have been the strongest region this year, and USC bested 7 winning teams, the highlight being a 26-0 rout of 9-1 Oregon.

8-1 Pittsburgh once again had a strong season, beating 10-1 Duquesne and 8-1 Nebraska, but they were upset 7-3 at 4-0-4 Minnesota, the team that tied Michigan. 9-1 Army almost rode a weak schedule to an unbeaten season, but they were tripped up 13-12 by 3-5-1 Notre Dame in their finale. 7-1 Ohio State lost only to Michigan, but their schedule, outside of that one game, was even weaker than Army's. 8-1 Columbia lost only to Princeton, and though their regular season schedule was also very weak, they pulled off a huge upset of Stanford in the Rose Bowl. That result is Princeton's main argument for sharing the 1933 MNC with Michigan.

Wallace Wade, who had coached Alabama to MNC contention 3 times 1925-1930, led Duke to 9-1 this season, including a 10-2 win over 7-3 Tennessee, but the rest of Duke's schedule was worthless, and they struggled repeatedly before losing their finale 6-0 at 5-5 Georgia Tech.

All rankings in this article, except as noted, come from my 1933 top 25, which is based on a hypothetical post-bowl AP poll (within logical reason of course).

Michigan 1933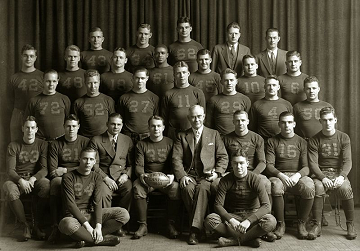 | | | |
| --- | --- | --- |
| Michigan State (4-2-2) | 20-6 | |
| Cornell (4-3) | 40-0 | |
| Ohio State (7-1) | 13-0 | #11 |
| at Chicago (3-3-2) | 28-0 | |
| at Illinois (5-3) | 7-6 | (#26-30) |
| Iowa (5-3) | 10-6 | #9 |
| Minnesota (4-0-4) | 0-0 | #7 |
| at Northwestern (1-5-2) | 13-0 | |
Michigan had gone 8-0 and shared the MNC for 1932, and they had previously contended for mythical national championships in 1901, 1902, 1903, 1904, 1918, 1922, 1923, and 1925, though I only selected them as national co-champions for 1902 and 1918
. I covered their coach, Harry Kipke, in the 1932 article.

The big loss heading into this season was Hall of Fame quarterback Harry Newman, 1932's player of the year. End Ivy Williamson had also graduated, but the rest of the players I covered in the 1932 article returned. Tackle Frank Wistert (Hall of Fame) and center Chuck Bernard were consensus All Americans
this season, and end/fullback Ted Petoskey was nonconsensus AA. Southern Cal was the only other team that had 2 consensus AA. Halfback and kicker Herman Everhardus was All Big 10 and led the conference in scoring with 64 points.

End Willis Ward had been a part-time starter in 1932, but he started all 8 games this season. He was Michigan's first black player in more than 40 years. Other African Americans had tried out over the years, but long-time Michigan coach Fielding Yost didn't much care to have black players on his team, while current coach Harry Kipke was willing to literally fight anyone who questioned Ward's place on his team. Ward was a 3-time All American as a track and field star. On the football field, he blocked the extra point that gave Michigan a 7-6 win over Illinois this season.
Michigan's Season
Michigan opened with a 20-6 win over 4-2-2 Michigan State and a 40-0 win over 4-3 Cornell. Halfback Herman Everhardus scored touchdowns on a 52 yard run and an 85 yard kickoff return against Cornell.

Next up was Ohio State, who was starting to emerge as Michigan's most passionate rival. Within 2 years, they would become Michigan's new finale game, establishing the tradition we know today. A Michigan (and Big 10) record 93,000 attended this year's game. Substitute quarterback Bill Renner scored a touchdown late in the first half, and Everhardus added an insurance touchdown in the 4th quarter, and Michigan won 13-0. Ohio State won out to finish 7-1, but they did not defeat a team that would have been ranked in a final AP poll's top 25 had there been one in 1933. I have them ranked #11 for the season.

Michigan then rolled to a 28-0 win at 3-3-2 Chicago, and at this point they were 4-0 by a total score of 101-6, but over their next 4 games they only outscored their opponents by a total of just 30-12. The same thing had happened in 1932, but there were a couple of differences between Michigan's finishes in 1932 and 1933. This time they were playing a far tougher slate of opponents down the stretch, and this time they did not go unbeaten.

Michigan's 14 game winning streak barely survived their trip to Illinois the next week. Illinois hit some passes to set up an early touchdown, but Michigan end Willis Ward blocked the ultimately critical extra point try, keeping the score at 6-0. In the 2nd quarter, Michigan converted a poor Illinois punt into a 28 yard touchdown drive, Everhardus going over goal and kicking the extra point for a 7-6 lead. But the game's real drama came at the end. With 15 seconds remaining, Michigan punted from their own end zone, and Illinois took a fair catch at the 31 yard line. According to the rules of the time, Illinois could opt to try a field goal from that spot with no interference from Michigan. This rule had been on the books from nearly the beginning, but by this point in time it was rarely remembered or put to use. Illinois sent in their kicking specialist, but he barely missed the 41 yard free kick, and Michigan was off the hook.

Illinois outgained Michigan 142 yards to 105 and 6 first downs to 5. They finished the season 5-3, losing by 6 points to 9-1 Army and by 1 point to 7-1 Ohio State, but they did not beat any good teams, and barely got by 6-3-1 Drake, 1-5-2 Northwestern, and 3-3-2 Chicago. They would not have been ranked in a 1933 AP poll, but were probably at least #26-30, judging by their close losses.

Iowa came to Ann Arbor the next week. Bill Renner threw a touchdown pass, and Herman Everhardus kicked the extra point and a field goal for a 10-0 lead. Iowa was held to just 9 yards rushing in 28 carries, but they surprised Michigan with 118 yards through the air, hitting one pass for a touchdown in the 3rd quarter to close within 10-6, the game's final score. Like Illinois, Iowa finished the season 5-3. They had lost early to 4-0-4 Minnesota, but caught fire after that. Following this 4 point loss to Michigan, they won 14-6 at 6-1-1 Purdue, then lost by just 1 point at 8-1 Nebraska in their finale. Iowa ranks #9 for 1933.
Minnesota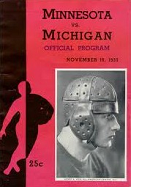 Minnesota was a strange beast. They'd tied a pair of 1-5-2 teams, Northwestern and Indiana, but they'd also tied 6-1-1 Purdue, and they'd given 8-1 Pittsburgh their only loss. Erratic, but clearly dangerous. This game attracted a crowd of 65,000 in Ann Arbor, 28,000 fewer than had attended the Ohio State game. What they saw was dismaying, as Minnesota thoroughly dominated, and Michigan produced almost no offense at all. Still, the Wolverines held on for a 0-0 tie, and given how hapless their offense was, I'd call that a happy ending.

Most of the game was played on Michigan's side of the field, and they never got inside the Minnesota 30. Minnesota back Pug Lund gained more yards than Michigan did as a team. He turned in a 42 yard run in the 3rd quarter, but a 15 yard penalty killed that drive. In the 4th quarter, Minnesota intercepted Michigan at midfield, and soon after, Lund ran for a first down on a fake punt. They drove to the 16, but Bill Bevan missed a 25 yard field goal, and Michigan was off the hook again.

Minnesota outrushed Michigan 132 yards to 58, and neither team completed a pass. Minnesota finished 4-0-4, making them difficult to rate. An AP poll would have ranked them about #9, and fixing that poll moves them up to #7. Good things lay ahead for the Gophers, as they would win their next 21 games, along with 3 straight MNCs 1934-1936.

Michigan finished their season with a 13-0 win at 1-5-2 Northwestern. Obviously Northwestern was not good, but they did tie 8-2-1 Stanford and 4-0-4 Minnesota, so they had their moments.

After the season, the "Four Horsemen of Notre Dame" presented Michigan with the Rockne Trophy, given annually to the winner of Frank Dickinson's rating system. Dickinson to the Associated Press

:

"I do not claim that Michigan is national champion. My rating merely means that the Wolverines have overcome stronger opposition than any other team in the nation."

Princeton 1933
| | | |
| --- | --- | --- |
| Amherst | 40-0 | |
| Williams | 45-0 | |
| Columbia (8-1) | 20-0 | #5 |
| Washington & Lee (4-4-2) | 6-0 | |
| at Brown (3-5) | 33-0 | |
| Dartmouth (4-4-1) | 7-0 | |
| Navy (5-4) | 13-0 | (#33-50) |
| Rutgers (6-3-1) | 26-6 | |
| at Yale (4-4) | 27-2 | |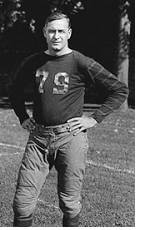 Princeton has been retroactively selected as the mythical national champion of 20 seasons in the 1800s, edging out Yale for the most, and the school claims them all. In the 20th century, Princeton won national championships in 1903, 1906, and 1922, and the school claims another two for 1911 and 1920, though I disagree with both of those claims.
Their coach for this year's run was Hall of Famer Fritz Crisler (pictured at left), the first head coach at Princeton who did not graduate from the school.

Crisler had graduated from Chicago and been an assistant coach there 1922-1929, then head coach at Minnesota 1930-1931. He went 35-9-5 at Princeton 1932-1937, including a terrific 3 year stretch in which he was 9-0 this season, 7-1 in 1934, and 9-0 again in 1935. Michigan hired him away in 1938, and he went 71-16-3 there through 1947, and continued as athletic director until 1968. Michigan claims an MNC for his 10-0 1947 team, and Princeton claims 2 for 1933 and 1935. Overall he was 116-32-9 at 3 schools, placing him on the list for top all-time FBS coaching win percentage.

Princeton's 1932 freshman team had gone unbeaten, and those players had a big impact on the varsity team as sophomores, be it as starters or just providing quality depth. That class went 25-1 over the next 3 seasons, and included guard John "Jac" Weller, halfback Garrett LeVan, and end Gilbert Lea. Weller worked his way up to starter by mid-season, but then he was lost to injury for the rest of the year. He would be named a consensus All American in 1935, and is in the Hall of Fame. Garry LeVan was a super-sub, coming into games in the 2nd quarter until late in the season, but he was this season's key player in the backfield. Gilbert Lea was the son of legendary Princeton tackle Langdon Lea, a 3 time consensus AA in the 1890s and a Hall of Famer. Langdon Lea had coached Michigan to a 7-2-1 finish in 1900, the year before Fielding Yost took over. His son would be a nonconsensus AA in 1935.

The top non-sophomore this season was tackle Charles Ceppi, a nonconsensus AA-- the only Princeton player who made a first team AA list this season.
Princeton's Season



Princeton was very similar to Colgate in 1932

:

they played a weak schedule, gave one top 10 caliber team their only loss, played one other good (non-top 25) team, and nearly shut out every opponent. They gave up just 8 points this season, 6 and 2 in routs in their last 2 games. They outscored their opponents 217-8 (average score 24-1).

Their toughest opponent, Columbia, came to town early, after Princeton had warmed up 40-0 over Amherst and 45-0 over Williams. 40,000 attended and were pleased to see Princeton jump out to a quick lead not long after Columbia fumbled away the opening kickoff. Princeton scored 3 touchdowns in the first half and won by that margin, 20-0. Garry LeVan tallied twice, once on a punt return.

Columbia won out against a weak schedule to finish 8-1, the big one a 7-0 Rose Bowl upset of 8-2-1 Stanford. That cemented Columbia as a top 10 team, and it opened up the possibility that Princeton, whose opponents had done little of note prior to that, might actually be a valid #1 for 1933. I have Columbia at #5 for 1933.

As is often the case, Princeton followed their best result with their worst. 4-4-2 Washington & Lee was supposed to be a cupcake, and only 10,000 showed up to watch the game, but W&L outplayed Princeton and would have won had they not had 2 touchdowns called back. Princeton did all their work in the opening quarter, taking a 6-0 lead that held as the final score. A big pass and lateral carried the ball to the W&L 15, but Princeton halfback Chick Kaufman fumbled the ball away at the end of the play. After a punt back to the 43, Princeton drove to their touchdown, Kaufman redeeming himself by scoring from 13 yards out.

Washington & Lee controlled the rest of the game, though Princeton halfback Garry LeVan played a big part in holding them off with his running, punting, and defense (3 interceptions). In the 2nd quarter, Washington & Lee caught a Chick Kaufman fumble in mid-air and returned it for a touchdown, but the referees brought it back, ruling that Kaufman's forward progress had been stopped. Later, W&L drove to the Princeton 7 before they were stopped. LeVan then got Princeton out of the hole by running a fake punt-out for 12 yards, then running for 36 more. In the 4th quarter, W&L recovered a fumble at the Princeton 23, threw a pass for a first down at the 8, and seemed to get around end for a touchdown on the next play, but the ball was ruled dead, and W&L was subsequently stopped at the 2 yard line.

Washington & Lee outgained Princeton 225 yards to 165 and 11 first downs to 10
.
Dartmouth
After a 33-0 win at 3-5 Brown, Princeton had another struggle with another mediocre team, 4-4-1 Dartmouth. This was the first game between these 2 teams since 1916, and 35,000 were on hand. In the opening quarter, Princeton fumbled the ball away deep in their own territory, but Dartmouth couldn't move it any further. Princeton then drove 60 yards before they were stopped. In the 2nd quarter, Princeton fumbled again, at their 30, but Dartmouth again could not move the ball. Late in the half, Dartmouth drove to the Princeton 15 with the aid of a 20 yard penalty, but they just missed a field goal try.

Princeton opened up their passing game in the 3rd quarter. Garry LeVan returned a punt to his own 42, carried for 6 yards, and then quarterback John Kadlic hit end Gil Lea for 15 yards. Kadlic next connected with LeVan, and after a penalty put the ball on the Dartmouth 20, Kadlic threw a 20 yard underhanded touchdown pass to end Ken Fairman for a 7-0 lead. Princeton had used the same play to tie Yale in their 1932 season finale. Princeton recovered a 4th quarter fumble at Dartmouth's 15, but they were stopped at the 7. Dartmouth hit a 40 yard pass from their own end zone, but that drive ended in an interception. Neither team threatened again, so Princeton held on for the 7-0 win.

Both teams had 8 first downs, but Princeton outgained Dartmouth 208 yards to 118. Both teams were hampered by frequent penalties.

Princeton struggled again the next week against 5-4 Navy, a #33-50 type team, but this time they pulled away to win by more than a touchdown, 13-0. They dominated the game, outgaining Navy 256 yards to 120 and 9 first downs to 5, but they again had to go to the air to score, and ended up with more passing yards (134) than rushing (122). Navy was just 8 of 28 passing. The game was scoreless until the 4th quarter. A 33 yard Garry LeVan catch set up the first touchdown for a 6-0 lead. LeVan intercepted Navy at their 37 on the answering drive, then caught a 17 yard pass to set up John Kadlic's touchdown.

After that, Princeton put their struggles behind them, smashing Rutgers 26-6 and Yale 27-2 to finish the season. Those were the only points they gave up all season, and Yale even scored first in the finale, so that 2-0 deficit was the only time Princeton trailed all year. It was 14-2 by halftime.

Princeton was invited to play Stanford in the Rose Bowl, but they declined as usual, so the bid fell to Columbia, who did Princeton's dirty work for them.

Michigan vs. Princeton
Here are the significant games for Michigan and Princeton in 1933.
The opponent rankings
come from my 1933 top 25, which is based on a hypothetical post-bowl AP poll (within logical reason of course)
.


Michigan 7-0-1
Princeton 9-0

| | | |
| --- | --- | --- |
| Ohio State (7-1) | 13-0 | #11 |
| at Illinois (5-3) | 7-6 | (#26-30) |
| Iowa (5-3) | 10-6 | #9 |
| Minnesota (4-0-4) | 0-0 | #7 |

| | | |
| --- | --- | --- |
| Columbia (8-1) | 20-0 | #5 |
| Washington & Lee (4-4-2) | 6-0 | (Unranked) |
| Dartmouth (4-4-1) | 7-0 | (Unranked) |
| Navy (5-4) | 13-0 | (#33-50) |

Michigan beat their non-top 50 opponents by an average of 25-2, and Princeton beat theirs by an average of 26-1.

Michigan clearly played a much tougher schedule than did Princeton. Tough enough to forgive the fact that Michigan took a tie and Princeton did not? That's the difficult question, and a classic conundrum when rating teams. I'd say it should be Michigan if not for Columbia's Rose Bowl win.

Earlier I compared Princeton to Colgate 1932, who did not quite merit a share of the MNC that season. Princeton did not perform as well as Colgate, who performed perfectly. But there is plenty of luck to winning a mythical national championship, and Princeton's case in 1933 benefits from 2 pieces of good fortune that they had no impact on themselves. The first is that the team they were up against for the MNC, Michigan, took an upset tie, while Colgate was up against 2 teams with perfect records in 1932. The second is that Princeton's 1 big win was over a team that went on to beat what would have been a highly-rated Stanford team in the Rose Bowl. Colgate 1932's 1 big win was over a team that did not have such an impact win, and could have been anywhere between #5 and #20 in ability for all we know.


The Rose Bowl win was huge for Columbia, and by extension huge for Princeton. It would have shot Columbia into the top 5 of a post-bowl AP poll, higher-ranked than any team Michigan played. But even if you consider that to be an overrating, we can certainly say that Columbia was at the very least in the same general range as Michigan's top opponents, Ohio State, Minnesota, and Iowa. Teams Michigan went 2-0-1 against. And Michigan did not defeat any of them as handily as Princeton defeated Columbia.

On the other hand, Princeton had 2 weak performances against non-top 50 opponents, both at home, and Michigan had no game quite like that, though they did win at #26-30 Illinois by a mere blocked extra point.

I would rate Michigan #1 myself, primarily due to their tougher schedule, but I think either of these teams is a valid choice for #1, and they should share the MNC.
Awards Ceremony
1933 #1:

7-0-1 Michigan and/or 9-0 Princeton


National Co-champion:

Michigan or Princeton if the other one is alone at #1


Contender:

None

These are the awards I have been handing out for each season, except seasons when there are no contenders. For this purpose, what I mean by a contender is a team that I think is very close to being worthy of sharing the national championship. A team that you could make an argument for, even if that argument is weak. But the contenders are teams that I myself do not see as national champions.
Parke Davis' split title was the best choice this season-- he's the only one who selected Princeton. I've been picking on him and his selections quite a bit over the course of these articles, but it's nice to see him go out on a high note. Davis made his national championship selections this year, published them in early 1934, and died soon afterward. So I won't have his selections to kick around anymore.
Grading the Selectors
I have been grading the NCAA Records Book's selectors for each season, and keeping a grade point average, so we can see who is relatively good at selecting national champions and who is not. And although I do not consider computer ratings to be legitimate national championship selectors, I have been including them in this section as well, just for comparison's sake.
I am grading on a scale of 0-5 (5 being the best).


Parke Davis selected Michigan and Princeton to share the title.

Grade: 5.0




Williamson's system selected Southern Cal.

Grade: 0.0


Dunkel's system selected Ohio State.

Grade 0.0



Everyone else selected Michigan.

Grade: 5.0



Dunkel's Ohio State selection was easily the worst of these, and probably deserves a negative number for a grade. 7-1 Ohio State lost 13-0 to 7-0-1 Michigan, OSU defeated 2 winning teams to Michigan's 6, and OSU did not defeat a top 25 caliber team, though 5-3 Illinois was close. OSU beat them 7-6 at home.

As noted above, this is Parke Davis' last MNC selection. I have rewritten my Parke Davis page to include a grade point average comparison between his selections and those of each selector from his time listed in the NCAA Records Book, using only seasons for which he and the compared selector chose champions. That makes it more precise a comparison than the table below, but as you can see from that table, Parke Davis was a very poor selector. He only beat out one other selector 1901-1933, and you can probably guess which one that was.

Grade point averages 1919-1933 (Dunkel and Williamson do not have enough selections to be fairly included)
:
| | |
| --- | --- |
| 1) Sagarin-ELO (math system) | 4.27 |
| 2) Boand (math) | 4.16 |
| 3) College Football Researchers Association | 4.11 |
| 4) Poling (math) | 4.01 |
| 5) Helms | 3.97 |
| 6) National Championship Foundation | 3.83 |
| 7) Dickinson (math) | 3.68 |
| 8) Houlgate (math) | 3.51 |
| 9) Sagarin (math) | 3.37 |
| 10) Billingsley (math) | 3.11 |
| 11) Parke Davis | 2.77 |

How the systems that selected champions for 1901-1918 did

:



| | |
| --- | --- |
| 1) Houlgate (math system) | 4.5 |
| 2) Helms | 4.3 |
| 3) Parke Davis | 4.2 |
| 4) National Championship Foundation | 3.7 |
| 5) Billingsley (math) | 3.6 |