Top 25 Rankings 1901-1935
1933 National Championship
Home
1933 College Football Top 25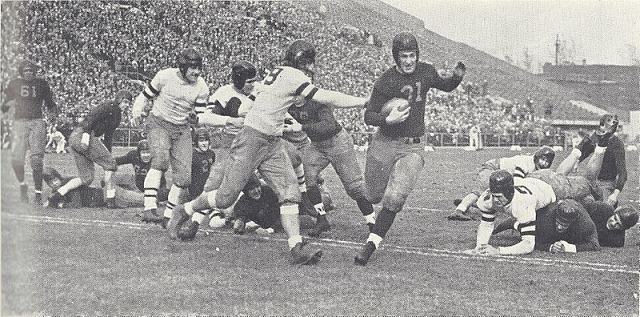 Pictured above is Michigan's star halfback, Herman Everhardus, scoring a touchdown at Chicago. Michigan was the most consistently powerful football program 1901-1933, but they were always the bridesmaid and never the bride, so this is the first Michigan team that would have been likely to finish #1 in an AP poll had the poll existed 1901-1935. Michigan finished 7-0-1, and Princeton was 9-0, so it's possible that Princeton would have been voted #1, leaving Michigan the bridesmaid yet again, but I think that's unlikely. A full comparison of the 2 teams can be found in my national championship article for 1933. These 2 teams share the 1933 mythical national championship (MNC), regardless of who is #1.

Since I believe an AP poll would have gone with Michigan #1 and Princeton #2 in 1933, that's where we'll rank them here.

The full hypothetical post-bowl AP poll top 25 for 1933, fixed to make logical sense of course, follows the article below.
#3: Pittsburgh
Pittsburgh would have been a virtual lock for #3, and that works fine. They were upset 7-3 at 4-0-4 Minnesota (the team that tied #1 Michigan), but they beat 8-1 Nebraska 6-0 and 10-1 Duquesne 7-0, and no one else came close to them.

#4: Columbia vs. Nebraska
8-1 Columbia took their loss to #2 Princeton (9-0), and the rest of their regular season schedule was nearly worthless, but they pulled off a 7-0 shocker over 8-2-1 Stanford in the Rose Bowl, and that would have sent them soaring up as high as #4 in a post-bowl AP poll for the 1933 season
.

8-1 Nebraska would have been rated more like #6 or 7, behind 9-1 Army and/or 7-1 Ohio State. Nebraska's loss came at #3 Pittsburgh, and they defeated 5-3 Iowa 7-6 and 6-2-2 Oregon State 22-0-- both top 25 teams, as covered below. No one else came close to Nebraska. 7-1 Ohio State took their loss to #1 Michigan, but they did not defeat a top 25 team, and had 2 close wins. 9-1 Army took an upset loss to unrated 3-5-1 Notre Dame, and like OSU, they did not defeat a top 25 opponent and had 2 close wins. So Nebraska should be rated ahead of both teams.

With no wins over rated opponents and weak performances, Army and Ohio State were both less impressive than their straight records would seem to indicate, and both would have been highly overrated in a 1933 AP poll. As such, I'm going to put off discussing them for top 10 spots herewith, and bring them in later, rating them as highly as logically feasible.

That brings us to Nebraska vs. Columbia. Columbia had 2 close wins over unrated opponents, Nebraska none. Columbia also defeated just 1 rated opponent, compared to 2 for Nebraska. So we'll bring Nebraska in at #4, Columbia at #5.

Columbia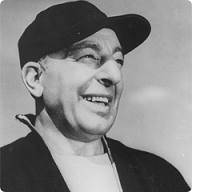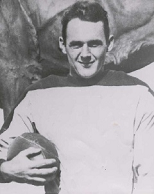 Although Columbia eventually joined other old guard Eastern powers in the Ivy League, at this time they were not considered to be one of the old Eastern powers. The school had dropped football entirely 1906-1914, and Columbia and Brown are the only Ivy League teams that have never won an MNC in football. Schools like Harvard, Princeton, and Yale would not play in bowl games, but Columbia had no such restrictions in 1933, and that is why they played Stanford in the Rose Bowl rather than 9-0 Princeton.

This was Columbia's greatest season, and it came in their strongest era, under Hall of Fame coach Lou Little (pictured above at left). Lou Little was a Penn grad who coached here 1930-1956. Adding in 6 years coaching Georgetown, he was 151-128-13. Columbia was top 25 material for 4 straight years 1931-1934, going 29-4-2 in that time. They were also top 25 (fixed polls) for 3 straight years under Little 1945-1947.

This 1933 team featured a nonconsensus All American at end in Tony Matal, and a Hall of Fame quarterback in Clifford Montgomery (pictured above at right).

Southern Cal and Minnesota
The next highest rated teams would have been 10-1-1 Southern Cal and 4-0-4 Minnesota, both of whom were erratic and therefore difficult to rate, especially Minnesota.

Southern Cal was the 2-time defending national champion, but their 25 game winning streak came to an end with a 0-0 tie against 6-2-2 Oregon State in Portland. Two weeks later they lost the PCC title to 8-2-1 Stanford 13-7 at home. But USC played an impressive schedule, beating 5-3-1 Washington State 33-0, 6-3-1 St. Mary's (California) 14-7, 6-3-2 California 6-3, 9-1 Oregon (co-champion of the PCC with Stanford) 26-0, 8-2 Georgia 31-0, and 5-4 Washington 13-7. PCC champions Oregon and Stanford were not nearly so impressive. 9-1 Oregon's schedule was much easier than was USC's, and Stanford was tied by 1-5-2 Northwestern and beaten by 5-4 Washington.

Minnesota's 4-0-4 record was not as strong as USC's 10-1-1, but actually Minnesota had a better relevant record than USC did, thanks to a tie with #1 Michigan and a victory over #3 Pittsburgh. But Minnesota was tied by a pair of 1-5-2 teams, Indiana and Northwestern, which is pretty ugly, and they were also tied by 6-1-1 Purdue, so those results, plus USC's tough schedule, give reason to rate USC higher. An AP poll almost certainly would have done so, and therefore we'll bring USC in at #6 and Minnesota at #7.

At their best, Minnesota was an MNC caliber team, as their tie with #1 Michigan and victory over #3 Pittsburgh show. They also beat 5-3 Iowa 19-7, and Iowa will make the top 10 (as discussed below). But their worst efforts were awful. On top of tying a pair of 1-5-2 teams, they barely edged 2-5-1 Wisconsin 6-3 in their finale. But great things lay ahead for Minnesota

:

they would go on to win an MNC in each of the next 3 seasons for a rare "threepeat."

#8: Oregon
9-1 Oregon did not get much attention this season considering that they were co-champion of the PCC with 8-2-1 Stanford. And the PCC showed them little respect when they voted for Stanford to go to the Rose Bowl to represent the conference (primarily because Stanford beat USC, who stomped on Oregon). Still, Oregon's only loss came to #6 Southern Cal, and their schedule wasn't poor (except in comparison to USC's). They defeated 6-2-2 Oregon State 13-3 in Portland and they won 13-7 at 6-3-1 St. Mary's (California) in their finale, and both opponents will make this top 25.

So we'll bring Oregon in at #8. Other candidates took upsets or did not defeat as strong a lineup of opponents. PCC co-champion Stanford defeated Southern Cal, who beat Oregon, but Oregon defeated Washington, who beat Stanford, which makes them even, and Stanford also took an upset tie at 1-5-2 Northwestern. That should have put Oregon in the Rose Bowl when it came to a vote.

Finishing the Top 10: Ohio State, Purdue, and Iowa
In a post-bowl 1933 AP poll, I think 7-1 Ohio State would have been ranked about #6, 6-1-1 Purdue #10, and 5-3 Iowa #19, primarily because of their simple straight records, but these teams played very different schedule strengths, and that is the opposite of the order these 3 teams should be ranked. Iowa's 3 losses came to #1 Michigan, #4 Nebraska, and #7 Minnesota, all on the road, and 2 of those were very close games. They defeated Purdue head-to-head 14-6, also on the road. Purdue tied Minnesota, who beat Iowa, but that is outweighed by the head-to-head result.

Ohio State lost only to #1 Michigan, but they did not play another top 25 team, so Iowa's win over Purdue is more than OSU accomplished, and Purdue's tie with #7 Minnesota is also more than OSU can claim. Furthermore, OSU had 2 close wins over unrated opponents, while Iowa and Purdue each had just 1 such result
.

So we'll bring in Iowa all the way up to #9, followed by Purdue at #10 and Ohio State at #11.
Stanford
PCC co-champion Stanford would have been ranked about #12 in a post-bowl AP poll anyway, so #12 it is. They had the big 13-7 win at #6 Southern Cal, and they edged some good teams in 6-4-1 UCLA, 6-2-1 Santa Clara, and 6-3-2 California, but they were upset by a pair of unrated teams, losing to 5-4 Washington and tying 1-5-2 Northwestern, and then they were upset by Columbia in the Rose Bowl. Columbia ends up #5 because of that, but it was Columbia's only significant win.
Oregon State
Next up is 6-2-2 Oregon State. I do think that 9-1 Duke and 7-1-1 Alabama might have been ranked higher in a 1933 AP poll, but despite their nice-looking straight records, neither was very impressive this season, and both will end up ranked well below Oregon State here. Duke took an upset loss to unranked 5-5 Georgia Tech in their finale, and Alabama was tied by 6-3-2 Mississippi and they lost to 6-2 Fordham. As such, Alabama should be ranked behind Fordham-- and Oregon State defeated Fordham.

Oregon State was upset as well, and in ugly fashion, tying 2-6-1 Gonzaga, but they also tied #6 Southern Cal (10-1-1). Their losses came to #4 Nebraska (8-1) and #8 Oregon (9-1). In addition to beating Fordham, they also defeated nearly-rated 5-3-1 Washington State.

Oregon State got a lot of national attention this season, for a variety of reasons. First of all, they made national news when they ended Southern Cal's 25 game winning streak with a 0-0 tie in Portland. Oregon State became known as the "Iron Men" because they played that game with no substitutions, though it was the only time they did that all season. Then there was the "Pyramid Play"...

The Pyramid Play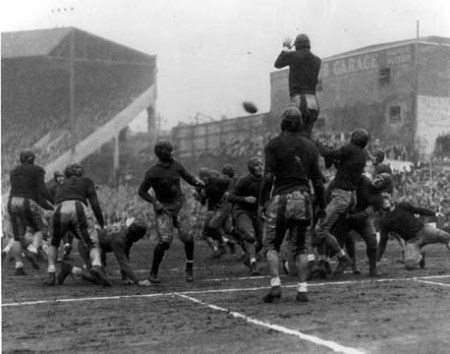 The Pyramid Play was used to defend placement kicks, OSU's 6' 5" center standing on the shoulders of 2 teammates and holding his arms up. It was first used, unsuccessfully and without much fanfare, in a 2-0 win over Washington State the week after their tie with Southern Cal. But the play made national news the following week, when they used it to block an extra point in a 13-3 loss to Oregon in Portland, as pictured above. That photo ran in the

Saturday Evening Post

, and after that sportswriters across the nation debated the fairness of the play.

OSU used the play again the next week in a 9-6 win over Fordham in New York City, as pictured below, but that kick went wide. The play was banned following this season. But OSU's trip to New York City brings up another reason OSU garnered so much national attention this season...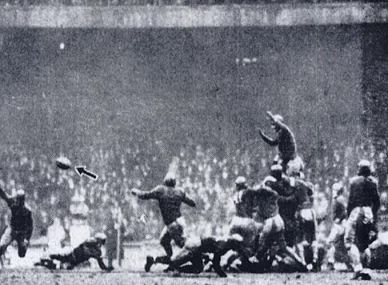 Intersectional Games



Playing in New York City always gave teams a publicity boost, which is why so many teams traveled there to play Fordham during this time period. Oregon State had a couple of players make first team All American lists, while 9-1 Oregon, who beat OSU and won the PCC, had just 1 player make an AA list. But Oregon never left the West Coast this season, while Oregon State finished the season with the trip to New York (pictured above is OSU running off tackle against Fordham), and then a trip to play powerhouse Nebraska in Lincoln on Thanksgiving Day.

Oregon State had been playing a wide variety of intersectional games for years, which had significantly raised their national profile even before this season. During a time period when cross-country travel was much more difficult and time-consuming, they took a trip to Nebraska in 1924, and in the ensuing years they played games against Marquette, Carnegie, NYU (1928-- this was the first time a West Coast team ever played on the East Coast), Detroit twice (ending Detroit's 22 game unbeaten streak with a 14-7 win in 1929), West Virginia (played in Chicago), Fordham twice, and then another trip to Nebraska to finish out this 1933 season. And they went a respectable 5-4-1 in those games.
Oregon State's Golden Age
Oregon State has a losing all-time record, but they have had 3 periods of sustained success. The "Modern Age" success is ongoing, as they are 104-70 since 1999 as I write this (April 2013), thanks mostly to head coach Mike Riley. Their "Silver Age" period ran from 1955 to 1970, when they went 101-59-3, mostly under the guidance of Hall of Fame coach Tommy Prothro. Then there was their longest period of success, their "Golden Age," when they went 126-77-19 over a 25 year span 1925-1949.

The coach who laid the groundwork for this success was Paul Schissler, who went 48-30-2 1924-1932. He's the one who established OSU as an intersectional player. When he moved on to coach pro football, assistant coach Lon Stiner (pictured) took over, and he went 74-49-17 1933-1942 and 1945-1948. That was the record for most wins at OSU until Mike Riley recently broke it, but Riley still has a couple of years to catch Stiner as the coach with the longest tenure in OSU history. Stiner was a Nebraska grad, and like OSU's previous head coach, Paul Schissler, he hailed from the town of Hastings, Nebraska. Stiner took Oregon State to their first Rose Bowl following the 1941 season, a 20-16 upset win at Duke (the only time the Rose Bowl has ever been played outside California). He is enshrined in Halls of Fame for Oregon sports, Oregon State University, and the Nebraska chapter of the NFF.

The 1933 Oregon State team featured a pair of nonconsensus All Americans, tackle Adolphe Schwammel, who provided one of the shoulders for the Pyramid Play, and halfback Norman "Red" Franklin, who picked off 3 passes inside his own 20 in the momentous tie with Southern Cal. Oregon State comes into this top 25 at #13.
Fordham and St. Mary's (California)
As mentioned, 6-2 Fordham should be rated ahead of 7-1-1 Alabama thanks to their slim 2-0 victory over the Tide, so we'll bring them in next. Fordham lost 13-6 to 6-3-1 St. Mary's (California), but St. Mary's took an upset loss (to 6-3-2 California) and a tie (6-2-1 Santa Clara), leaving them with a relevant record that was half a game behind that of Fordham.

St. Mary's and Alabama have the same relevant record. Alabama took an upset tie, while St. Mary's took an upset loss and a tie, but St. Mary's made up for the loss by winning at Fordham (who of course defeated Alabama). The difference between these teams is that St. Mary's took their upset tie to a team that will be rated in this top 25, while Alabama was tied by an unrated opponent (6-3-2 Mississippi). The West Coast in general had a strong season this year, going 8-2-1 in significant intersectional games. Furthermore, in addition to beating Fordham, St. Mary's also defeated nearly-rated 6-4-1 UCLA, while Alabama beat just 1 good team (7-3 Tennessee).

Fordham #14, St. Mary's #15.

Duquesne
Duquesne, a Catholic school in Pittsburgh, did not get much attention in the press for a 10-1 team, probably because of their mid-major schedule and lack of success in previous years, but people paid attention to them going forward. They would be ranked in the AP poll in 1936, 1939, and 1941, and they're in my fixed AP poll top 25 for 1940.

I suspect that Duquesne would have been rated about #20 in a 1933 AP poll, behind St. Mary's and Alabama. St. Mary's is excusable, because their schedule was very impressive, but Alabama has no real case for being rated ahead of Duquesne, as they played a weak schedule and they were tied by an unrated team. Duquesne's only loss came to #3 Pittsburgh, and it was close, 7-0. They gave 7-1 Detroit their only loss 14-0, and they also beat unrated 7-2 Bucknell 6-0. No one else came close to them, while Alabama struggled to get by 5-5 Georgia Tech and 4-3-3 Vanderbilt in their last 2 games.

Like a lot of Catholic schools during this time period, Duquesne turned to Knute Rockne's former Notre Dame players for coaches. The coach who first lifted Duquesne up into being a mid-major power was Elmer Layden (pictured), Hall of Fame fullback and famed member of Notre Dame's 1924 "Four Horsemen" backfield. He went 48-16-6 at Duquesne 1927-1933, and then after this season Notre Dame called him home, and he went 47-13-3 there 1934-1940, for an impressive overall record of 103-34-11.

Duquesne hired a string of former Notre Dame players to keep things going after Layden left. Joe Bach went 8-2 in 1934, Christy Flanagan was 6-3 in 1935, and Clipper Smith was 18-12 1936-1938. Finally, Duquesne hired one of their own grads, Aldo Donelli, and he had the most success, going 29-4-1 1939-1942, including top 25 teams for 3 straight years to start. After that, the window of big time football success closed forever for Duquesne.

This year's team comes in at #16.
Detroit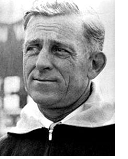 7-1 Detroit, who lost only to Duquesne, should also be ranked ahead of 7-1-1 Alabama, as they took no upsets, while Alabama, again, was tied by an unrated team. Detroit's performance was also very impressive, as all their wins came by more than a touchdown, including 24-0 over 7-2 Holy Cross and 14-0 over 4-2-2 Michigan State.

Detroit gives us a 4th straight Catholic school in this top 25-- this was the Golden Age for Catholic football programs as well as for Oregon State. Like the others, Detroit was helmed by a Notre Dame grad, Gus Dorais (pictured), quarterback and triggerman for Notre Dame's famed 1913 passing attack. He went 113-48-7 at Detroit 1925-1942, and 150-70-12 overall. He is in the Hall of Fame as a coach. Detroit had actually had some success prior to Dorais' arrival, going 8-1 in 1917, 8-1 in 1919, and 8-1 in 1921, but Dorais raised their profile during his tenure, the highlight being a perfect 9-0 in 1928. Parke Davis later selected Detroit as an MNC for that season, though no one agrees with that view, and the school doesn't claim the "title."

The star player this season was halfback Doug Nott, who made 2nd and 3rd team All American lists.

Detroit at #17.
Alabama, Army, and Duke
Now we can bring 7-1-1 Alabama in. And though they likely would have been top 10 in an actual 1933 AP poll, we'll slot 9-1 Army in behind Alabama. Why? Mostly because Alabama took an upset tie against an unrated team in their first game, while Army took an upset loss to an unrated team in their finale.

And let's bring 9-1 Duke in behind Army. Like Army, they lost to an unrated team in their finale, and their performance was rather weak (3 close wins over unrated opponents).

Alabama #18, Army #19, Duke #20.
Tennessee, Louisiana State, and Boston College
Vying for slot #21 we have 7-3 Tennessee, 7-0-3 Louisiana State, and 8-1 Boston College. We'll start by comparing Tennessee and LSU. LSU beat Tennessee head-to-head 7-0, and they had the better straight record, so you might think that they should be rated higher. However, LSU took 3 ties to unrated teams, 8-0-4 Centenary, 4-3-3 Vanderbilt
(Tennessee beat Vanderbilt 33-6)
, and 6-3-1 Tulane. Tennessee's other 2 losses came to higher-rated opponents, 7-1-1 Alabama and 9-1 Duke, so Tennessee was actually effectively half a game better than LSU on the season. Therefore, we'll bring Tennessee in ahead of LSU.

As for Boston College, their schedule was so weak that it is hard to take them seriously. They weren't so much mid-major as they were the equivalent of an FCS team. They were stomped by #14 Fordham 32-6, and no major team was handled like that by Fordham. BC did beat 7-2 Holy Cross 13-9, but Holy Cross themselves didn't beat anyone, and they lost to Detroit 24-0, so that score doesn't do BC any favors. All of LSU's upset ties came against winning, major teams the likes of which BC did not even play, so BC will have to settle for coming in behind LSU, and frankly they're lucky to be rated at all.

Tennessee #21, Louisiana State #22, and Boston College #23.
Louisiana State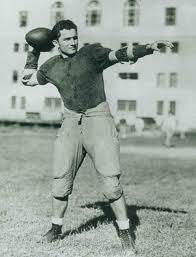 Louisiana State's rise to power can be primarily attributed not to a coach or any players, but to a governor. Huey Long, Governor of Louisiana 1928-1932, made it his mission to improve Louisiana State as a school and as a football power. He diverted millions of dollars in state funds to the school, and in 8 years after he took office, LSU went from 1800 students to 6000, and the football team went from mediocrity to the Sugar Bowl, where they appeared following 3 straight seasons 1935-1937. Long helped recruit players for the team, and he was their biggest and most visible booster, even to the point of intrusive "advice" for the coaches.

The coach this season was Hall of Famer Biff Jones, who went 20-5-6 at LSU 1932-1934. Hall of Famer Bernie Moore continued the success for 13 years after that, moving up from assistant coach when Oklahoma hired Biff Jones away.

The star player this year was Hall of Fame halfback Abe Mickal (pictured), a great passer who was particularly adept with the long ball. He tied Vanderbilt this season with a 27 yard touchdown pass. Things really clicked for Mickal with the arrival of speedy Hall of Fame end Gaynell Tinsley in 1934, as the pass-catch duo ravaged the SEC the next 2 seasons.
Santa Clara and California
We have 2 slots left to fill, and those will go to a pair of schools from Northern California. As previously noted, the West Coast was rather strong this season, 8-2-1 in significant intersectional games, and 3 more West Coast teams will find themselves just outside this top 25.

6-2-1 Santa Clara is #24, giving us our

6th

Catholic school in this top 25! They lost 7-0 to #12 Stanford and 14-7 to a military team, the San Diego Marines. They tied #15 St. Mary's, their archrival, and they won 7-0 at 6-3-2 California. Santa Clara was a program on the rise, and they would be LSU's opponent in the Sugar Bowl following the 1936 and 1937 seasons. I covered their history in more detail in my 1937 National Championship article.

6-3-2 California gets the last spot. Their losses came to #6 Southern Cal, #12 Stanford, and #24 Santa Clara by a total of 15 points. They were tied by 5-3-1 Washington State and 6-4-1 UCLA, both of whom sit just outside this top 25, but they beat 5-4 Washington 33-0, and they notched a big 14-13 win over #15 St. Mary's.
Others Receiving Votes
Here are the teams closest to making this top 25.

Washington 5-4
Washington beat #12 Stanford 6-0 and 6-4-1 UCLA 10-0, and they lost to #6 Southern Cal and #8 Oregon by just 6 points each, but they were routed 33-0 by #25 California and beaten 17-6 by 5-3-1 Washington State.
UCLA 6-4-1
UCLA lost close games to #8 Oregon and #12 Stanford, but then they lost by 10 to 5-4 Washington and by 8 to #15 St. Mary's near season's end. They tied #25 California, edged the San Diego Marines (who beat #24 Santa Clara), and in their finale they won 7-0 over 5-3-1 Washington State, knocking WSU out of a potential top 25 slot.
Washington State 5-3-1
WSU started out poorly, getting stomped 33-0 by #6 Southern Cal, but then they tied #25 California and lost at #13 Oregon State by just 2 points. They reached their height with a 17-6 win over 5-4 Washington, then fell to their low the next week with a 7-0 loss at 6-4-1 UCLA
.
Illinois 5-3
Illinois lost to #1 Michigan by 1 point, #11 Ohio State by 1 point, and #19 Army by 6, all strong results, but good showings in losses are all they have to show for themselves this season. The only winning team they beat was 6-3-1 Drake, and that was an ugly 13-6 result. They beat a pair of losing teams by 3-0 and 7-0 scores.
Holy Cross 7-2
Holy Cross lost to #17 Detroit 24-0 and to #23 Boston College 13-9. They did not record a significant win, unless you count a 10-7 decision over 5-2-1 Harvard. But Harvard was stomped by #19 Army, tied 4-4-1 Dartmouth, and they did not beat a winning major team
.
1933 Top 25
1) Michigan 7-0-1
2) Princeton 9-0
3) Pittsburgh 8-1
4) Nebraska 8-1
5) Columbia 8-1
6) Southern Cal 10-1-1
7) Minnesota 4-0-4
8) Oregon 9-1
9) Iowa 5-3
10) Purdue 6-1-1
11) Ohio State 7-1
12) Stanford 8-2-1
13) Oregon State 6-2-2
14) Fordham 6-2
15) St. Mary's (California) 6-3-1
16) Duquesne 10-1
17) Detroit 7-1
18) Alabama 7-1-1
19) Army 9-1
20) Duke 9-1
21) Tennessee 7-3
22) Louisiana State 7-0-3
23) Boston College 8-1
24) Santa Clara 6-2-1
25) California 6-3-2
Others Receiving Votes
:
Washington 5-4
UCLA 6-4-1
Washington State 5-3-1
Illinois 5-3
Holy Cross 7-2