Home
1938 College Football National Championship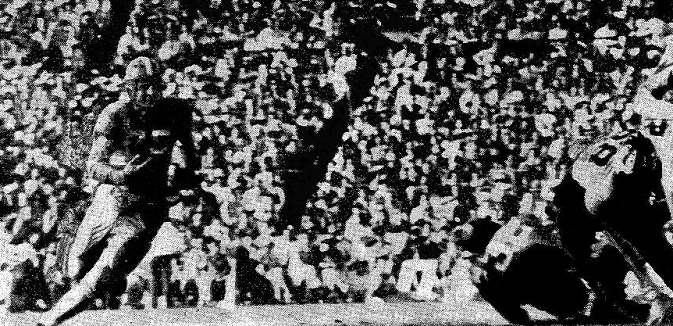 Pictured above is one of many big gains by 11-0 Tennessee in their 17-0 Orange Bowl victory over 10-1 Oklahoma. By any measurable criteria, Tennessee was the best team of 1938, but they wound up #2 in the AP poll. 11-0 Texas Christian, led by national sensation and Heisman Trophy recipient Davey O'Brien
, was #1.

Here's how organizations listed in the NCAA Records Book, all except the AP poll selecting retroactively, see the 1938 mythical national championship (omitting math/computer ratings, which are not generally accepted as MNCs)

:




Texas Christian
:
AP Poll
,

National Championship Foundation,
Helms
Tennessee

:
CFB Researchers

When I fixed the 1938 AP poll, I moved Tennessee into a tie with Texas Christian for #1. Details are in the linked article, but basically Tennessee played a tougher schedule and performed better against it. Tennessee's opponents were 62-42-3, and Tennessee outscored them 293-16. TCU's opponents were 46-55-4, and they outscored them 269-60. Even using rankings from the original AP poll, Tennessee won 13-0 at #13 Alabama in the regular season, then beat #4 Oklahoma 17-0 in the Orange Bowl, while TCU played no ranked opponent until they beat #6 Carnegie 15-7 in the Sugar Bowl. Using the rankings of the fixed poll, Tennessee defeated #3, #9, and #21, while TCU still just beat #6.

Frankly, I don't personally think TCU should even be tied with Tennessee for #1, but I let the AP poll have that much because TCU really performed about the same as Tennessee. Yes, Tennessee scored more points and gave up fewer, but what matters is that both teams had just 1 close win, so Tennessee's performance advantage amounted to style points. And one team isn't necessarily better than another just because they played a tougher schedule. TCU showed they could beat a top 10 team, and by more than a touchdown, in the Sugar Bowl. If you had to pick one team to be #1, that team has to be Tennessee, but a tie is acceptable, if just barely. And needless to say, Tennessee and Texas Christian should both be considered mythical national champions (MNC) of 1938.

The only other major team (or in this case mid-major team at best) with a perfect record was 8-0 Georgetown. They were unranked in the original AP top 20, but they made #25 in the fixed AP poll. All rankings in the following article, except as noted, come from the fixed poll.
Texas Christian 1938

Centenary (7-4)
13-0
Arkansas (2-7-1)
21-14
at Temple (3-6-1)
28-6
at Texas A&M (4-4-1)
34-6


at Marquette (1-7)
21-0


Baylor (7-2-1)
39-7
at Tulsa (4-5-1)
21-0


Texas (1-8)
28-6
at Rice (4-6)
29-7
at Southern Methodist (6-4)
20-7

Sugar Bowl


Carnegie (7-2)

15-7

#6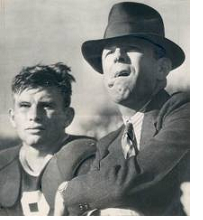 This season marked the end of Texas Christian's greatest era, 1929-1938, when they went 89-15-9 and won 3 SWC titles and an MNC.
TCU was helmed by their 3rd consecutive Hall of Fame coach this season. The first had been Matty Bell, who debuted the same year TCU joined the SWC, and he went 33-17-5 1923-1928. Francis Schmidt took the baton next, and he turned TCU into a nationally known power, going 9-0-1 and winning TCU's first SWC title in his initial season. He added another SWC title and unbeaten season (10-0-1) in 1932 on the way to a tremendous 45-6-5 record 1929-1933
. Dutch Meyer (pictured at left with quarterback Davey O'Brien) then took over in 1934, and behind superstar quarterbacks Sammy Baugh and Davey O'Brien, he kept things going his first 5 years, posting a 44-11-5 record 1934-1938, culminating in this 11-0 season, TCU's only MNC.


Unfortunately, things fell off quite a bit for Meyer after that, and he went 65-68-9 over the next 14 years, with just one team finishing ranked in the original AP polls (though
4 more of his teams made the fixed AP polls of the 1940s).
Meyer was a TCU grad who had coached one year of high school football before returning to his alma mater as freshman football coach in 1923, the same year TCU joined the SWC and Matty Bell started coaching the varsity. Dutch Meyer spent the rest of his career at TCU, ascending to head coach 1934-1952 and athletic director 1953-1963. Overall he was 109-79-13 as coach with 4 SWC titles.

TCU continued to be competitive under head coach Abe Martin for about a decade after Meyer retired as coach, finishing ranked in the original AP polls 4 times 1954-1959 (and they made the top 25 in the fixed polls in all 6 of those seasons), but after 1959 the program slipped into a deep, very long coma, and they did not finish ranked in an original AP poll again until 2000 (though they made one fixed poll in 1962). The 21st century, of course, has seen a big TCU resurgence, and in fact 2000-2011 has been comparable to the 1929-1938 era, but I would rate it a step behind.
The Players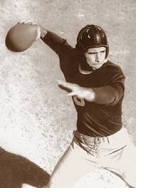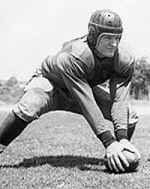 Texas Christian's 1938 season was all about their Hall of Fame quarterback, Davey O'Brien (pictured above at left). A nationally celebrated player, O'Brien was a consensus All American and won the Heisman, Maxwell, and Camp trophies. A national award for quarterbacks bears his name today. For the season, he completed 93 of 166 passes (56%) for 1457 yards, with 19 touchdowns and only 4 interceptions-- mind-boggling numbers for that time. He led the nation in passing and in total offense. And all this from a quarterback who stood just 5' 7".

Center Ki Aldrich (pictured above at right) was TCU's other consensus AA, and he is also in the Hall of Fame. Tackle Insall Hale was a nonconsensus AA, and is in the Texas Sports Hall of Fame.

Texas Christian's Season
TCU did not play a top 25 team in the regular season, their biggest win being a 39-7 mauling of 7-2-1 Baylor. Baylor lost to 6-4 SMU, tied 4-4-1 Texas A&M, and the only winning team they beat was 7-4 Centenary. TCU had just one weak performance this season, a 21-14 win over Arkansas (2-7-1) at home in their 2nd game
. That game featured a lot of passing, with each team hitting a pair of touchdowns through the air. O'Brien starred with his passing and defensive work in the line, and he also hit all 3 extra point tries. TCU's 1938 season boils down to the one game they played against a top 25 team, against Carnegie in the Sugar Bowl.
The Sugar Bowl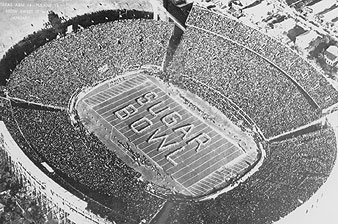 Carnegie came into the game at 7-1 and ranked #6 in the AP poll. They had beaten 8-1 Holy Cross (#10 fixed AP poll) 7-6 and 8-2 Pittsburgh (#8) 20-10, and they had lost at 8-1 Notre Dame (#5) 7-0. 44,000 attended the Sugar Bowl.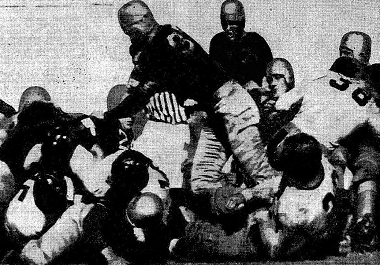 TCU drove 76 yards to a touchdown dive in the 2nd quarter (pictured above), but Davey O'Brien uncharacteristically missed the extra point (he had hit 28 of them in the regular season), so the lead was but 6-0. Carnegie came storming back, clicking on a 4th down play from their own side of the field, then hitting a 37 yard touchdown pass for a 7-6 halftime lead.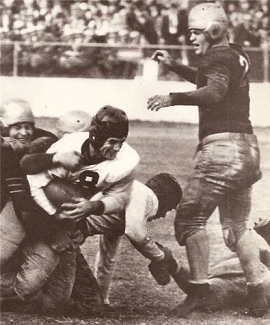 TCU took the lead back early in the 3rd quarter, O'Brien tossing a 44 yard touchdown pass to cap an 80 yard drive, but he again missed the extra point, leaving Carnegie down just 12-7. TCU put the game away in the 4th, driving to the 1 yard line for an easy O'Brien field goal that provided the 15-7 final score. The teams rushed for about the same amount of yardage, but the difference came in the passing game

:

TCU threw for 225 yards (O'Brien 17 of 28), Carnegie for 59. O'Brien delivered the expected fireworks (he is pictured above carrying the ball), but the real star of this game was Ki Aldrich, who amassed 19 tackles.
Tennessee 1938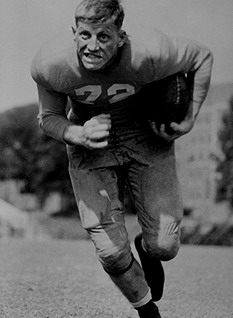 Sewanee (1-8)
26-3
Clemson (7-1-1)
20-7
#21
Auburn (4-5-1)
7-0
at Alabama (7-1-1)
13-0
#3

Citadel (6-5)
44-0


Louisiana State (6-4)
14-6
Tennessee-Chattanooga (4-5)
45-0


at Vanderbilt (6-3)
14-0
Kentucky (2-7)
46-0
(Memphis) Mississippi (9-2)
47-0

Orange Bowl


Oklahoma (10-1)

17-0

#9
Tennessee was generaled by an eventual general, Hall of Fame coach Bob Neyland
(a brigadier general to be precise). I covered him in detail in the Tennessee section of my 1931 national championship article. He is #9 in all-time FBS coaching win percentage.

Amongst the players were another

4

Hall of Famers, and end Bowden Wyatt was inducted twice-- as a player and as a coach. He was a consensus All American this season, and as a coach he went 99-56-5 at Wyoming, Arkansas, and Tennessee. That doesn't look like Hall of Fame coaching to me, so I'm guessing he was charming as hell at banquets and such.

The star of this team was quarterback George Cafego (pictured above), a nonconsensus AA this season (relegated to 2nd team on most lists thanks to Davey O'Brien) and a consensus AA in 1939. He was the team's top runner, passer, punter, and returner, and totaled 2139 yards of offense for his career. This season he rushed for 645 yards (6.3 per carry) and passed for another 141 yards.

The other Hall of Famers on this team were the guards. Ed Molinski would be a consensus AA in 1939, and Bob Suffridge was a nonconsensus AA this season and the next, and consensus AA in 1940. End Ed Cifers did not make an AA list, let alone the Hall of Fame, but he went on to an 8-year career in the pros.
Tennessee's Season
Tennessee's schedule was quite a bit tougher than TCU's, not just because they played a rated team in the regular season, but because they played a bunch of strong winning opponents. After dispatching patsy Sewanee (1-8) 26-7, they rolled over Clemson (7-1-1) 20-7. Clemson tied 6-1-4 Virginia Military Institute the next week, but they won 13-10 at Tulane (7-2-1, #22), and Clemson is ranked #21 in the fixed AP poll.

Similar to TCU, Tennessee's toughest game came against a losing opponent, a 7-0 home win over 4-5-1 Auburn in game 3. This was the week before the Alabama game, and Bob Neyland was determined not to show Alabama scouts anything. An Auburn fumble set up the touchdown late in the game, scored by 3rd string back Buist Warren. He also did most of the legwork in the short drive to the goal line.

The next week was the third Saturday of October, reserved for the annual game with archrival Alabama. 26,000 attended this game in Birmingham. Alabama was 3-0 and already considered a mythical national championship (MNC) contender thanks to a 19-7 win at Southern Cal (9-2) in their opener. Tennessee won 13-0 on a pair of George Cafego touchdowns. When scouting Alabama, Neyland had noticed that their defensive line came in very low on short yardage plays, so he had Cafego practice leaping over the pile all week, and that's how both touchdowns were scored. Cafego was generally unstoppable regardless of how he hit the line though, totaling 145 yards on 19 carries.

Tennessee proceeded to beat 6-4 LSU 14-6, 6-3 Vanderbilt 14-0, and 9-2 Mississippi 47-0 to cap the regular season.

The Orange Bowl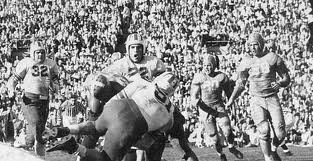 This was the year the Orange Bowl, held in a stadium that had only been dedicated a year prior, became a major event. 10-0 Oklahoma, champion of the Big 6 and ranked #4 in the AP poll, reportedly fielded more lucrative offers from the Rose, Sugar, and Cotton bowls, but Orange Bowl committee member Earnie Seiler went all out to woo the Sooners to Miami. He went to Norman and covered the campus with posters of beaches and pretty girls, then gave a speech to the players, after which they voted to go to Miami. Seiler then asked Oklahoma coach Tom Stidham to call close friend Bob Neyland to set up a game between the two, and thusly the Orange Bowl found itself with #2 Tennessee facing #4 Oklahoma, the best matchup of the bowl season.

Oklahoma's schedule was as weak as TCU's schedule was, and they hadn't played any top 25 opponents, but their defense was stellar, as they only gave up 12 points all season. Tennessee had only given up 16, albeit against a far tougher schedule, so this was looking like a defensive battle. Tennessee's chief concern was that Oklahoma outweighed them by quite a bit, and the Sooners played a rough, "dirty" style typical of their conference at that time. Outside observers wondered if Tennessee could stand up to 4 quarters of punishment. But stand up they did, and in fact they gave out better than they got.

The teams tussled quite a bit, combining for 25 penalties and 220 yards, and one player from each team was ejected for slugging. Surprisingly, Tennessee ended up being the worst transgressor, 16 penalties for 130 yards. The actual game was all Tennessee, as they outgained the Sooners 260 yards to 94 and tallied 15 first downs to 6, and they shut Oklahoma out 17-0.

In the opening quarter, an Oklahoma penalty and a strong George Cafego punt return gave Tennessee the ball at the Sooner 27. They drove for a touchdown from there, Bowden Wyatt hitting the extra point for a 7-0 lead. An Oklahoma fumble in the 2nd quarter gave the Volunteers the ball at the Sooner 27 again, and from there they drove to a Wyatt field goal and 10-0 halftime lead. In the final period Tennessee quickly moved 73 yards for another touchdown against a worn-down Oklahoma defense, finishing the scoring. George Cafego rushed for 114 yards and had 260 in total offense.
Awards Ceremony
1938 #1:

11-0 Tennessee, or Tennessee in a tie with 11-0 Texas Christian


National Co-champion:

Texas Christian if Tennessee is alone at #1


Contender:

None

These are the awards I have been handing out for each season, except seasons when there are no contenders. For this purpose, what I mean by a contender is a team that I think is very close to being worthy of sharing the national championship. A team that you could make an argument for, even if that argument is weak. But the contenders are teams that I myself do not see as national champions.
As I previously noted, a more detailed comparison of Tennessee and Texas Christian can be found in my article on fixing the 1938 AP Poll.
Grading the Selectors
I have been grading the NCAA Records Book's selectors for each season, and keeping a grade point average, so we can see who is relatively good at selecting national champions and who is not. And although I do not consider computer ratings to be legitimate national championship selectors, I have been including them in this section as well, just for comparison's sake.
I am grading on a scale of 0-5 (5 being the best).


Dickinson's math system gave its MNC trophy to 8-1 Notre Dame (more on that below).

Grade: 0.0


The AP Poll, Helms, the National Championship Foundation, and the Williamson math system all went with Texas Christian. Grade

: 4.2



Everyone else selected Tennessee.

Grade: 5.0



Dickinson's selection of Notre Dame was exceedingly poor, and hastened the system's demise a couple of years later. Notre Dame does not claim this "championship." They finished 8-1, #5 in the fixed AP Poll. They took their loss 13-0 at 9-2 Southern Cal in their finale. USC lost 19-7 to 7-1-1 Alabama, who lost 13-0 to 11-0 Tennessee, and that, boys and girls, is why we shouldn't pay attention to Dickinson's "champions."

Three of four human selectors went with TCU, while 8 of 10 math-based ratings went with Tennessee (1 had TCU, 1 had Notre Dame), so sadly, this season represents yet another triumph for machine over man. Still, the only

bad

selection came from a math system.

Grade point averages 1936-1938

:




1) Boand (math system)




College Football Researchers Association




Poling (math)




Houlgate (math)




Billingsley (math)




Litkenhous (math)

5.0

7) AP Poll


National Championship Foundation

4.7

9)

Dunkel (math)

3.7

10) Helms Foundation

3.5

11) Dickinson (math)


Sagarin (math)




Sagarin-ELO (math)

3.3

14)

Williamson (math)

3.1

Grade point averages 1919-1935
:
| | |
| --- | --- |
| 1) Boand (math system) | 4.26 |
| 2) College Football Researchers Association | 4.22 |
| 3) Poling (math) | 4.11 |
| 4) Helms | 4.09 |
| 5) Sagarin-ELO (math) | 4.06 |
| 6) National Championship Foundation | 3.96 |
| 7) Dickinson (math) | 3.49 |
| 8) Houlgate (math) | 3.35 |
| 9) Billingsley (math) | 3.34 |
| 10) Sagarin (math) | 3.28 |
| 11) Parke Davis | 2.77 |

How the systems that selected champions for 1901-1918 did

:



| | |
| --- | --- |
| 1) Houlgate (math system) | 4.5 |
| 2) Helms | 4.3 |
| 3) Parke Davis | 4.2 |
| 4) National Championship Foundation | 3.7 |
| 5) Billingsley (math) | 3.6 |