Home
1952 College Football National Championship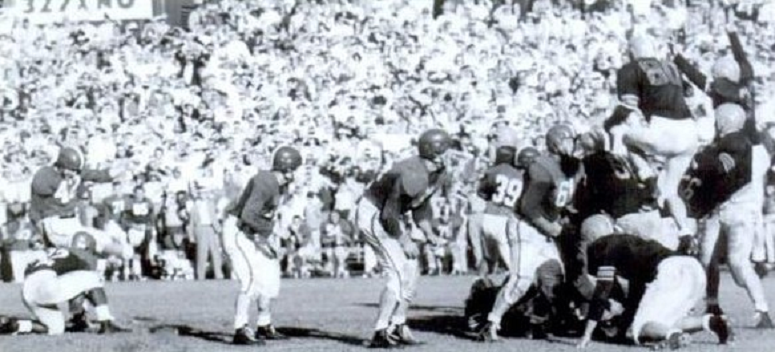 Pictured above is the Michigan State field goal that beat 2-7 Oregon State 17-14 in Portland on the last play of the game. It was the closest call for Michigan State on the way to its 2nd straight 9-0 season and first-ever finish atop the AP poll. They also topped the UPI coaches' poll, leaving 12-0 Georgia Tech #2 in both major polls. However, Georgia Tech finished #1 in the International News Service poll of sportswriters, and they claim their own mythical national championship (MNC) for this season based on that. This was the debut season for the INS poll. It was only around for 6 seasons, as the INS merged with the UPI in 1958
.


Here is how all of the organizations listed in the NCAA Records Book see the 1952 mythical national championship (omitting math/computer ratings, which are not generally accepted as MNCs)

:




9-0 Michigan State
:
AP Poll
,
UPI Poll (coaches),
CFB Researchers
,
Helms
,
National Championship Foundation
12-0 Georgia Tech
:
INS Poll (sportswriters)

As you can see, Michigan State is an almost unanimous choice, which is odd, because Georgia Tech defeated more rated opponents (in the AP and coaches' polls), and MSU had the aforementioned razor-close win over Oregon State, while no unrated team came within a touchdown of Georgia Tech.

Southern Cal started 9-0, but they lost 9-0 at 7-2-1 Notre Dame (#3) in their regular season finale. They rebounded to beat 6-3-1 Wisconsin 7-0 in the Rose Bowl, snapping a streak of 7 straight Rose Bowl losses by the West Coast. It was a brief respite, however, as the Westerners went on to lose their next 6 Rose Bowls. 8-1 UCLA took their only loss 14-12 to Southern Cal at home in their finale. And Princeton, who had gone 9-0 the previous 2 seasons, came a game away from the hat trick this season, falling 13-7 to 4-3-2 Penn at home and finishing 8-1.


All rankings in the following article, except as noted, come from my 1952 fixed AP poll.
Michigan State 1952

| | | |
| --- | --- | --- |
| at Michigan (5-4) | 27-13 | |
| at Oregon State (2-7) | 17-14 | |
| Texas A&M (3-6-1) | 48-6 | |
| Syracuse (7-3) | 48-7 | #14 |
| Penn State (7-2-1) | 34-7 | #16 |
| at Purdue (4-3-2) | 14-7 | #20 |
| at Indiana (2-7) | 41-14 | |
| Notre Dame (7-2-1) | 21-3 | #3 |
| Marquette (3-5-1) | 62-13 | |
This was Michigan State's 2nd straight 9-0 season, and the school claims an MNC for both, but I did not select them as an MNC for 1951. I covered their Hall of Fame coach, Biggie Munn, and all of this year's notable players, in my linked 1951 national championship article
.

It's pretty impressive that MSU repeated their 9-0 finish this year, because they had graduated 3 of their best players from the 1951 team

:

tackle Don Coleman, end Bob Carey, and quarterback Al Dorow. That's both of their consensus All Americans from 1951, plus one of their 2 nonconsensus AA.
Michigan State's Season
In 1951, Michigan State had outscored their opponents 270-114, and this season they improved that on both ends, 312-84 against a tougher schedule. They had the top rushing defense in the country this season, 83.9 yards per game.

They found themselves down 13-0 in their opener at rival Michigan (5-4, unranked), but Tom Yewcic was sent in at quarterback and he rallied the team to a 27-13 win, hitting 7 of 14 passes for 171 yards. Yewcic remained at quarterback for the rest of the season, and broke the school record with 941 yards passing, albeit with a weak 43.2% completion rate. He was a better punter, and that would get him a 6 year career in the pros.

Michigan State took the top slot in the next AP poll, and then they hit the road again for game 2, playing Oregon State (2-7) in Portland in front of 22,000 fans. OSU had upset them in 1949, given them a tough game in 1951 (6-0), and this year the pesky Beavers fought MSU to their closest game of the year. In the opening quarter, Yewcic hit a 50 yard pass to halfback Billy Wells that put the ball on the OSU 11, and then Yewcic threw an 8 yard touchdown pass to end Paul Dekker. Yewcic threw another touchdown pass in the next quarter to make it 14-0, but OSU came out of halftime fighting. They fumbled away 3 scoring chances, then finally connected on a 39 yard pass to set up a 1 yard touchdown plunge late in the 3rd quarter. In the final quarter, Michigan State halfback Don McAuliffe fumbled the ball away at his own 44, and OSU drove to a 20 yard touchdown pass to tie the game up at 14-14.

Michigan State woke up and drove 72 yards, but fullback Evan Slonac, who had kicked both extra points, missed a field goal. Michigan State next got the ball on their own 33 with 3 minutes left, and drove to the Oregon State 8 yard line on the strength of 3 big pass completions. With 7 seconds left, senior fullback Gene Lekenta was given a shot at a 22 yard field goal. He missed, but OSU was offside, and Lekenta hit the game winner from 17 yards out on the game's last play. It was his first college field goal, and he had only kicked one in high school. You can see highlights of the game here.

The close game knocked Michigan State out of the top spot in the next AP poll, taken over by Wisconsin, but Wisconsin lost their next game 23-14 at Ohio State, while Michigan State pummeled Texas A&M (3-6-1) 48-6. Yewcic threw for 202 yards. That put the Spartans back at #1, where they remained for the rest of the season. Michigan State was even more impressive over their next 2 games, stomping 7-3 Syracuse 48-7 and 7-2-1 Penn State 34-7. I have Syracuse ranked #14 for 1951, Penn State #16.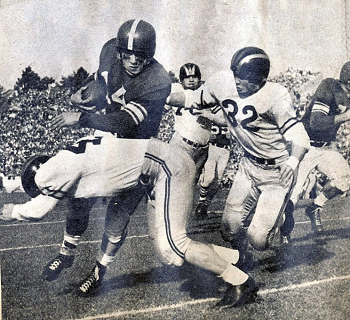 Michigan State's only other close game of the season came the next week at Purdue (4-3-2, #20) in front of 49,000 fans (the game pictured above). It started well enough

:

a bad Purdue punt gave MSU the ball at the Purdue 28, and they drove to a touchdown in 5 plays, halfback Don McAuliffe plunging over from the 2. Late in the quarter, MSU recovered a Purdue fumble, and drove to a 7 yard Yewcic touchdown in 9 plays, and it was 14-0. But Purdue battled back in the 2nd half. They blocked an MSU punt and hit a 34 yard pass to set up a touchdown, closing the gap to 14-7. In the final quarter, Michigan State drove to the Purdue 20, but they missed a field goal. Purdue took over and drove to the Michigan State 9 through the air, but an interception ended the threat and kept MSU perfect for the season.

Michigan State totaled 273 yards of offense, 197 on the ground, and Purdue had 224, 193 through the air. Michigan State next visited Indiana (2-7) and cruised 41-14, bringing them to their biggest game of the year, hosting Notre Dame.
Notre Dame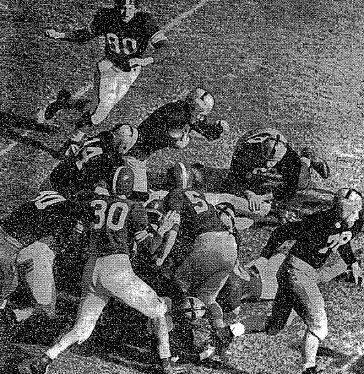 Notre Dame had struggled early in the season, tying at Penn (4-3-2, #19) in their opener and losing 22-19 to Pittsburgh (6-3, #17) at home in game 3. But between those games, they won 14-3 at Texas (9-2, #7), and after the Pitt loss, they won 26-14 over Purdue (4-3-2, #20), 17-6 over Navy (6-2-1, #15), and 27-21 over Oklahoma (8-1-1, #4). That's 6 rated teams in 7 games, and now they were headed to East Lansing to take on #1 Michigan State the week after upsetting previously unbeaten Oklahoma. 52,000 attended.

Michigan State came into this game averaging 475 yards of offense per game, but they were held to just 169 this day, and Notre Dame substantially outgained them with 297. However, Notre Dame fumbled 7 times and lost all 7, and tossed an interception as well, and the Spartans drubbed them 21-3. Representative of the game, in the picture above you can see Notre Dame quarterback Tom Carey powering through a nice hole in the middle

;

but he fumbled the ball at the end of the run, and Michigan State recovered.

It was 0-0 at the half, and Notre Dame scored first with a field goal, set up by Michigan State's only fumble of the game at their own 11 early in the 3rd quarter. Later in the quarter, Michigan State linebacker Dick Tamburo recovered a fumble at the Notre Dame 13, a holding penalty put it at the 1, and halfback Don McAuliffe scored the easy touchdown for a 7-3 lead. Two plays after the ensuing kickoff, MSU safety Jim Ellis recovered a fumble at the Irish 16, but the Spartans were held. Notre Dame gave it right back on their next play, Dick Tamburo recovering at the Irish 21 (he recovered 3 fumbles on the day). A holding penalty put the ball at the Irish 1 again, and McAuliffe scored another easy touchdown, bumping the lead to 14-3.

Notre Dame halfback Johnny Lattner, who won the Maxwell Award this season and the Heisman in 1953, got loose for a 37 yard run to the MSU 33 early in the 4th quarter. He threw a pass to the 11, but Notre Dame was stopped a foot short of a first down at the MSU 2 yard line. Michigan State's last touchdown came late, a 24 yard run by fullback Evan Slonac on the first play after Jim Ellis intercepted an Irish pass. You can see a few highlights from the game here.

Notre Dame finished the season 7-2-1, their incredibly difficult schedule concluding with a huge 9-0 win over 10-1 Southern Cal (#5). The Irish were ranked #3 in the final AP poll.

Michigan State's finale was much less exciting, a 62-13 rout of 3-5-1 Marquette.
Georgia Tech 1952

Citadel (3-5-1)
54-6
Florida (8-3)
17-14
#12
at Southern Methodist (4-5-1)
20-7
Tulane (5-5)
14-0


Auburn (2-8)
33-0


Vanderbilt (3-5-2)
30-0


at Duke (8-2)
28-7
#13
Army (4-4-1)
45-6
Alabama (10-2)
7-3
#8
Florida State (1-8-1)
30-0
at Georgia (7-4)
23-9
#18

Sugar Bowl


Mississippi (8-1-2)

24-7

#10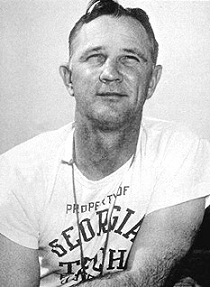 Georgia Tech had long been a power team in the South. Hall of Fame coach John Heisman went 102-29-7 here 1904-1919, winning the South's first MNC in 1917. That team is among the greatest of all time, outscoring opponents 491-17. Hall of Fame coach William Alexander took the reins next and went 134-95-5 at Tech 1920-1944, winning 8 conference titles and another MNC in 1928. Alexander was followed by another Hall of Famer, Bobby Dodd (pictured at left).

Dodd is actually one of only 3 men who have been enshrined in the Hall of Fame as both a player and a coach. He was a quarterback at Tennessee 1928-1930, going 27-1-2 as a starter, and before he had even graduated, he accepted a position as assistant coach to Bill Alexander at Georgia Tech. He went 165-64-8 as head coach 1945-1966, and he was the athletic director 1950-1976. The highlights were an 11-0-1 finish in 1951 and 12-0 this season, and those are the only 2 SEC titles he won. More importantly, this year he became Georgia Tech's 3rd straight coach to win an MNC. Those 3 coaches presided over 63 years of Georgia Tech football, remarkable stability. It hasn't been like that at all for Tech since Dodd retired
.

Bobby Dodd had quite the staff working for him this season, and 2 of his assistants went on to become Hall of Fame head coaches. Offensive coordinator Frank Broyles later went 144-58-5 at Arkansas 1958-1976 and won 7 SWC titles and the 1964 MNC. Line coach Ray Graves gave Florida its first period of success 1960-1969, going 70-31-4, and 4-1 in bowl games. He coached Heisman winner Steve Spurrier, who will no doubt become the 4th man enshrined in the Hall of Fame as both a player and a coach.

Georgia Tech fielded 4 players who made first-team All American lists this season, and 16 players who were drafted by the NFL over the next 2 seasons (Michigan State just 9). Tackle Hal Miller was the one consensus All American, and the 3 nonconsensus AA were center Pete Brown, running back Leon Hardeman, and defensive back Bobby Moorehead. However, none of those players is in the Hall of Fame, while 2nd-team AA linebacker George Morris is. He was the captain, and he recorded 114 solo tackles this season. His fumble recovery led to the touchdown that beat 10-2 Alabama 7-3.

Fullback/linebacker Larry Morris would be a consensus AA in 1953, and he is also in the Hall of Fame. He was a 4-year starter 1951-1954. In a 7-3 win over Georgia in 1954, he played all 60 minutes and collected an amazing 24 tackles. He went on to an 11 year pro career. Quarterback Frank "Pepper" Rodgers became better known as a head coach at Kansas, UCLA, and Georgia Tech 1967-1979, going 73-65-3 and winning a Big 8 title at Kansas in 1968.
Georgia Tech's Season
Georgia Tech opened the season with a 54-6 rout of cupcake 3-5-1 Citadel, and then, much like Michigan State, they had to kick a late field goal to win their 2nd game 17-14. Georgia Tech was ranked #2 and was a 20 point favorite, hosting a Florida team that had gone 5-5 the previous season. 32,000 fans attended. Florida scored a touchdown in the opening quarter, Tech tied it in the 2nd, Florida scored another touchdown in the 3rd, and Georgia Tech tied it again in the 4th quarter. Pepper Rodgers kicked the field goal that won the game. Florida ended up being stronger than expected this season, finishing 8-3, and I have them ranked #12 for 1952.

Georgia Tech then cruised through their next 6 games, the only notable win coming 28-7 at 8-2 Duke (#13). Their 9th bout was Georgia Tech's game of the year, hosting Alabama (the game pictured below). Georgia Tech was ranked #2, Alabama #12, and the game was nationally televised. Alabama was the last team that had beaten Georgia Tech, back in 1950. 40,000 attended.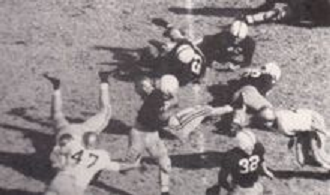 Alabama kicked a 35 yard field goal in the opening quarter for a 3-0 lead. They recovered a fumble at the GT 21, and drove to the Tech 1 yard line, but they were held on downs there in the game's biggest moment. Georgia Tech scored a touchdown on a 9 yard run in the 2nd quarter to take the lead, and ultimately the game, 7-3. The 4th quarter saw plenty of offense but no points. Georgia Tech drove to the Alabama 23, where they fumbled the ball away. Alabama then drove 64 yards to the GT 13, where they were stopped on downs. Georgia Tech then drove to the Alabama 30, where the game ended.

Georgia Tech outgained Alabama 270 yards to 168, neither team completing more than 2 passes. Alabama finished 10-2, crushing Maryland (7-2, #11) 27-7 the next week, then dismembering Syracuse (7-3, #14) 61-6 in the Orange Bowl, and I have the Tide ranked #8 for 1952.

Tech finished the regular season with a 30-0 win over Florida State (1-8-1) and a 23-9 win at rival Georgia (7-4, #18).

The Sugar Bowl
Bowls were competing heavily with each other to secure the best teams at this time, and that pushed team selection earlier and earlier every year. This season, Georgia Tech committed to the Sugar Bowl over the Orange Bowl on November 4th, almost 2 weeks before their season-defining game against Alabama was even played. The Sugar waited on selecting their opponent, presumed to be defending national champion Maryland, who was 7-0 and carrying a 22 game unbeaten streak into a game at 7-0-2 Mississippi on the same day that Georgia Tech played Alabama. But Mississippi upset Maryland 21-14, and thereby secured the Sugar Bowl slot for themselves. So it was an all-SEC Sugar Bowl, Georgia Tech 11-0 and ranked #2, Mississippi 8-0-2 and #7. 80,000 attended, and the game was nationally televised for the first time.

Ole Miss scored a touchdown on the game's opening possession for a 7-0 lead, and Georgia Tech fumbled the ball away at their own 19 soon afterward to put the Rebels in business again. Mississippi moved to the goal line, but a 4th down plunge into the pile was ruled an inch short of paydirt. Mississippi coach John Vaught said after the game, "That ball was over, but they pushed it back two inches!" Ole Miss and their fans did a lot of squawking about the officiating after this game, and Mississippi governor Hugh White sent a letter of complaint to the SEC. 3 of the 4 game officials were from Georgia, 2 from Atlanta.

A Mississippi fumble early in the 2nd quarter set up a Georgia Tech touchdown to tie the game at 7-7. Mississippi responded with another drive to Georgia Tech's goal line, getting a first down at the 3, but 4 plays netted just one more yard, so they were denied again. Georgia Tech eventually got their offense moving and drove to the Ole Miss 5, where they settled for a Pepper Rodgers field goal and a 10-7 halftime lead.

In the 3rd quarter, another Mississippi fumble at their own 18 set up a Georgia Tech touchdown run (Ole Miss protested that the runner's knee was down before the touchdown), and Tech led 17-7. Pepper Rodgers threw a 24 yard touchdown pass in the 4th quarter for the 24-7 final score. You can watch the entire game on YouTube

:

the first quarter is here. Tech slightly outgained Ole Miss, 295 yards to 287, but the real difference was Mississippi's 6 turnovers to Tech's 3. That finished Mississippi at 8-1-2, and I have them ranked #10 for 1952.
Michigan State vs. Georgia Tech
Here are the significant games for Michigan State and Georgia Tech in 1952. The opponent rankings
come from my fixed AP poll for 1952
.


Michigan State 9-0
Georgia Tech 12-0

| | | |
| --- | --- | --- |
| [Portland] Oregon State (2-7) | 17-14 | Unranked |
| Syracuse (7-3) | 48-7 | #14 |
| Penn State (7-2-1) | 34-7 | #16 |
| at Purdue (4-3-2) | 14-7 | #20 |
| Notre Dame (7-2-1) | 21-3 | #3 |

Florida (8-3)
17-14
#12
at Duke (8-2)
28-7
#13
Alabama (10-2)
7-3
#8
at Georgia (7-4)
23-9
#18

Sugar Bowl


Mississippi (8-1-2)
24-7
#10

Michigan State defeated their unranked opponents by an average of 39-12, and Georgia Tech defeated theirs by an average of 32-3.

What we have here is a split title, and I think you could rank either team at #1. I would go with Georgia Tech at #1 myself, because they played more ranked teams, and Michigan State had the awful performance at 2-7 Oregon State, while no unranked team came within a touchdown of Tech. MSU's 14-7 win at 4-3-2 Purdue was also worse than any Georgia Tech performance. On the other hand, Michigan State's 21-3 win over #3 Notre Dame outshines all of Georgia Tech's results enough that MSU at #1 is logically viable.

MSU's 48-7 win over #14 Syracuse and 34-7 rout of #16 Penn State were also very impressive, but Georgia Tech beat #8 Alabama, Alabama beat Syracuse 61-6 in the Orange Bowl, and Syracuse beat PSU 25-7, so I don't see those MSU routs giving them an advantage over Georgia Tech
.
Awards Ceremony
1952 #1:

9-0 Michigan State and/or 12-0 Georgia Tech


National Co-champion:

Michigan State or Georgia Tech if the other one is alone at #1


Contender:

None

These are the awards I have been handing out for each season, except seasons when there are no contenders. For this purpose, what I mean by a contender is a team that I think is very close to being worthy of sharing the national championship. A team that you could make an argument for, even if that argument is weak. But the contenders are teams that I myself do not see as national champions.
Grading the Selectors
I have been grading the NCAA Records Book's selectors for each season, and keeping a grade point average, so we can see who is relatively good at selecting national champions and who is not. And although I do not consider computer ratings to be legitimate national championship selectors, I have been including them in this section as well, just for comparison's sake.
I am grading on a scale of 0-5 (5 being the best).


The INS sportswriter poll had Georgia Tech #1, along with 4 math-based systems

:

Berryman, Billingsley, Poling, and Sagarin's ELO-Chess system. Grade

:

5.0



Everyone else went with Michigan State (including 6 math-based systems). Grade

: 5.0


It's a good thing the International News Service poll debuted this season, or Georgia Tech likely wouldn't be claiming an MNC at all for 1952. And they deserve a shared title for 1952.

Grade point averages 1936-1952 (the UPI coaches' poll will not be added until they have selected at least half as many champions as the others)

:




1) DeVold (math system)




4.94

2)

College Football Researchers Association




4.91

3) National Championship Foundation
4.78

4) Billingsley (math)

4.70

5)

Houlgate (math)

4.53

6)

Dunkel (math)

4.48

7)

Poling (math)


4.46

8) Boand (math)
4.42
9) Sagarin-ELO (math)
4.37
10) AP Poll
4.36
11) Litkenhous (math)
Sagarin (math)
4.16

13) Helms Foundation

3.94

14) Berryman (math)
3.78
15) Williamson (math)
3.44

Grade point averages 1919-1935
:
| | |
| --- | --- |
| 1) Boand (math system) | 4.26 |
| 2) College Football Researchers Association | 4.22 |
| 3) Poling (math) | 4.11 |
| 4) Helms | 4.09 |
| 5) Sagarin-ELO (math) | 4.06 |
| 6) National Championship Foundation | 3.96 |
| 7) Dickinson (math) | 3.49 |
| 8) Houlgate (math) | 3.35 |
| 9) Billingsley (math) | 3.34 |
| 10) Sagarin (math) | 3.28 |
| 11) Parke Davis | 2.77 |

How the systems that selected champions for 1901-1918 did

:



| | |
| --- | --- |
| 1) Houlgate (math system) | 4.5 |
| 2) Helms | 4.3 |
| 3) Parke Davis | 4.2 |
| 4) National Championship Foundation | 3.7 |
| 5) Billingsley (math) | 3.6 |