1) Michigan State 9-0
2) Georgia Tech 12-0
3) Notre Dame 7-2-1
4) Oklahoma 8-1-1
5) Southern Cal 10-1
6) UCLA 8-1
7) Mississippi 8-1-2
8) Tennessee 8-2-1
9) Alabama 10-2
10) Texas 9-2
11) Wisconsin 6-3-1
12) Tulsa 8-2-1
13) Maryland 7-2
14) Syracuse 7-3
15) Florida 8-3
16) Duke 8-2
17) Ohio State 6-3
18) Purdue 4-3-2
19) Princeton 8-1
20) Kentucky 5-4-2
To the left is the final 1952 AP college football top 20. The fixed final AP poll, expanded to 25 teams, follows the article below.


The AP and coaches' polls had 9-0 Michigan State #1, while the International News Service poll had Georgia Tech #1. I'd go with Georgia Tech myself, as they played a deeper schedule and performed better, but Michigan State's 21-3 win over #3 Notre Dame was much better than any GT win, so you could go with either team at #1.


Our first fix to this poll is therefore further down the list-- #10 Texas. They defeated #8 Tennessee 16-0 in the Cotton Bowl, and obviously need to be moved up ahead of the Volunteers. But why stop there?

9-2 Texas lost only to #3 Notre Dame and #4 Oklahoma, while 8-1-2 Mississippi (#7) took upset ties to 5-4-2 Kentucky (#20) and 3-5-2 Vanderbilt. Ole Miss lost their bowl game 24-7 to Georgia Tech, and obviously would have dropped back behind Texas in a post-bowl poll anyway.

So move Texas up to #7, dropping Mississippi, Tennessee, and Alabama 1 spot each.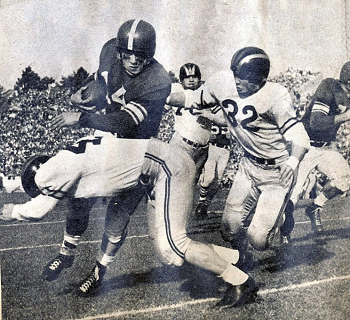 Michigan State halfback Billy Wells carries for Michigan State in a 14-7 win at Purdue
.