Home
1951 College Football National Championship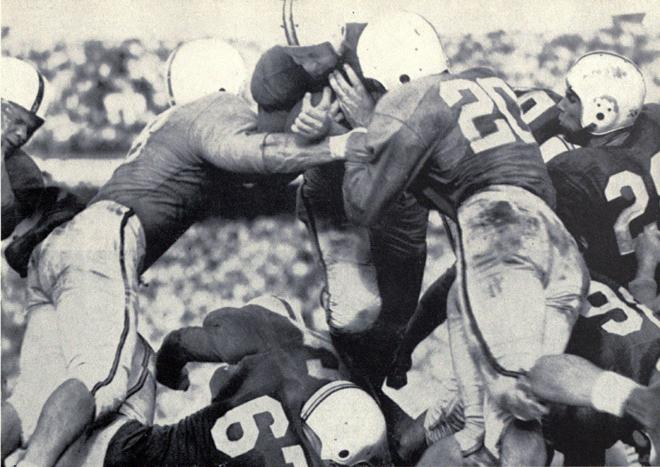 Pictured above is Maryland's Hall of Fame quarterback, Jack Scarbath, scoring a touchdown in a 28-13 victory over Tennessee in the Sugar Bowl. Tennessee had finished #1 in the AP poll, so this was the 2nd straight season that the AP poll's "champion" lost its bowl game. In

1950, it had been Oklahoma that won the regular season AP "title" then lost their bowl game. 11-1 Tennessee was the real champion of 1950, as they had beaten 11-1 Kentucky, who was the team that beat 10-1 Oklahoma in the Sugar Bowl. So this season was the AP poll giving Tennessee a "title" to make up for 1950. The AP poll would give Maryland a "title" to make up for this season in 1953, after which, you guessed it, Maryland lost their bowl game. Gee, it's too bad the AP poll couldn't be bothered to give teams titles for the seasons when they actually

deserved

titles.

The huge Sugar Bowl win this season finished Maryland at 10-0 and dropped Tennessee to 10-1. Tennessee does claim a mythical national championship (MNC) for this season based on winning the major polls, but I do not recognize partial-season MNCs myself. Maryland's real contender for the 1951 crown is 9-0 Michigan State, who finished ranked #2 in the AP poll. Maryland was #3. Of course, it need hardly be said that Maryland would have easily won a post-bowl AP poll after their destruction of #1 Tennessee, who had won all of their games by more than a touchdown prior to the Sugar Bowl.

Here is how all of the organizations listed in the NCAA Records Book see the 1951 mythical national championship (omitting math/computer ratings, which are not generally accepted as MNCs)

:





10-1 Tennessee

:

AP Poll

,

UPI Poll (coaches)


10-0 Maryland

:

CFB Researchers, National Championship Foundation


9-0 Michigan State

:

Helms

Princeton went 9-0 for the 2nd straight season, but while the school claims an MNC for 1950, they do not claim one for this season. Which is just as well, because their schedule did not put them into any kind of real MNC contention. They did not play a team that was even close to rated this year, and they finished ranked #6 in the AP poll. 9-0-1 Illinois (ranked #4) and 11-0-1 Georgia Tech (#5) both fell just short of MNC contention this year, Illinois taking their tie at 4-3-2 Ohio State (#21) and Georgia Tech suffering theirs to 5-4-1 Duke (unranked) at home. Georgia Tech would take it all the way to 12-0 in 1952, extending what would end up a 31 game unbeaten streak.

One minor team of note also had a perfect record, 9-0 San Francisco (ranked #14 in the AP poll). They didn't beat anyone of value, but all but one of their games were routs, and they featured an incredible collection of talent. Ollie Matson led the nation in rushing with 1566 yards, and in scoring with 21 touchdowns. He went on to win 2 medals in the 1952 Olympics, and he is in the NFL Hall of Fame. In fact, 3 players from this team are in the NFL Hall of Fame, the most to ever play on the same college team. Joining Matson in the Hall are Bob St. Clair and Gino Marchetti. San Francisco had the nation's top rushing defense at 51.6 yards per game.

All rankings in the following article, except as noted, come from my 1951 fixed AP poll.

Maryland 1951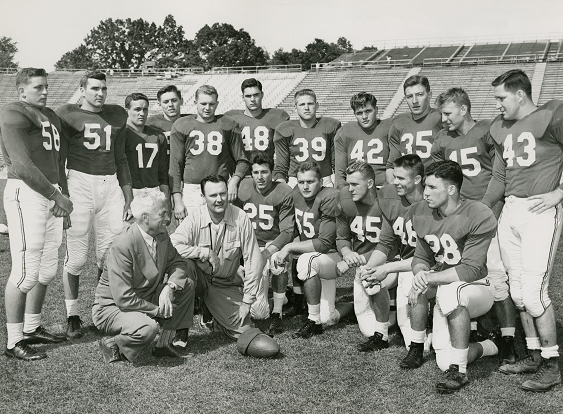 at Washington & Lee (6-4)
54-14
George Washington (2-6-1)
33-6
at Georgia (5-5)
43-7
North Carolina (2-8)
14-7


at Louisiana State (7-3-1)
27-0


Missouri (2-8)
35-0


(Baltimore) Navy (2-6-1)
40-21
North Carolina State (3-7)
53-0
West Virginia (5-5)
54-7

Sugar Bowl


Tennessee (10-1)

28-13

#2
Maryland had very little history of football success prior to the arrival of Hall of Fame coach Jim Tatum in 1947. They had never fielded a top 25 caliber team
, though they had gone 8-2 and won the Southern Conference title in 1937. However, that title was a bit of a joke because Maryland was just 2-0 in conference play that season, and they did not play conference powers 7-1-1 North Carolina or 7-2-1 Duke, both of whom, unlike Maryland, were ranked in the final 1937 AP poll.

A North Carolina grad, Jim Tatum (pictured above with this year's team) went 73-15-4 at Maryland 1947-1955 and won 3 conference titles. They went 9-1 and finished ranked for the first time ever in 1949, and 6 of Tatum's 9 Maryland teams finished ranked, 4 of them in the top 10. His 1953 team finished ranked #1, but they lost their bowl game. This season is the only perfect record Maryland has managed since 1893, their second year in existence. Overall, Tatum was 100-35-7 at 3 schools.

Maryland was very deep in talent this year, and 21 players would be drafted by the NFL over the next 2 years (Michigan State just 12). The star of this year's team was a lineman, Hall of Fame guard Bob Ward.
He was a consensus All American and won the Knute Rockne Award, given to the nation's best lineman. He had been named the MVP of the 1950 Gator Bowl, a 20-7 win over Missouri, and he was voted the team's MVP 4 straight years 1948-1951. Though selected 6th in the NFL draft, Ward declined an NFL career.

The backfield star was Hall of Fame quarterback Jack Scarbath. He would be a unanimous All American in 1952, and finish 2nd in the Heisman vote. He was the 3rd pick in the 1953 NFL draft.

A pair of brothers were nonconsensus All Americans this season, fullback Ed Modzelewski and defensive tackle Dick Modzelewski. Ed went on to a 6 year pro career. Dick had a terrific game against North Carolina this season, racking up 12 solo tackles and helping to hold the Tar Heels to 40 total yards of offense. He moved up to consensus All American in 1952, won the Outland Trophy and the Knute Rockne Award, and he is in the Hall of Fame. He went on to a 14 year pro career.

Maryland's 4th Hall of Fame player was another lineman, tackle Stan Jones. He would be a unanimous All American in 1953, winning Maryland's 3rd straight Knute Rockne Award that season. He went on to a 13 year pro career, mostly with the Bears, making 7 Pro Bowls and winning an NFL title in 1963. He is in both the college and pro Halls of Fame.

Tatum's years easily constitute the greatest era of football success in Maryland's history. They have had brief periods of moderate success since 1955 (generally ranked #11-25 under Jerry Claiborne 1973-1978, Bobby Ross 1982-1985, and Ralph Friedgen 2001-2003), but they have only once been ranked in the top 10. This season in 1951 was part of a 22 game unbeaten streak for Maryland.
Maryland's Season
Maryland led the nation in scoring offense this season at 39.2 points per game, and only one team came within a touchdown of them. However, their schedule was very light, practically worthless outside of the Sugar Bowl game against #1 Tennessee.

They opened the season with a 54-14 rout at 6-4 Washington & Lee, who was decent (they had finished ranked the previous season), but nowhere close to top 25 caliber. Maryland dealt similarly with George Washington and 5-5 Georgia, and then they had their only close game of the season hosting lowly 2-8 North Carolina, coach Jim Tatum's alma mater. Maryland drove 79 yards for a touchdown in the opening quarter, fullback Ralph Felton, who later played 9 years in the pros, scoring from 27 yards out. North Carolina drove 41 yards for a touchdown to tie it up 7-7. In the 2nd quarter, Maryland went ahead 14-7 on a short touchdown pass, and that finished the scoring for this game, though Maryland had to break up a North Carolina pass into the end zone in the closing minutes to seal the win. This was easily Maryland's worst performance of the season, but the victory was considered a big deal because it was Maryland's first win over UNC in their last 11 meetings, going back 25 years.

There was no more drama for Maryland this season, at least on the field of play. The next week's trip to LSU was supposed to be tough, but Maryland crushed them 27-0. LSU finished 7-3-1, but they did not make the top 25 for 1951. Maryland finished the regular season by crushing 4 weak opponents by an average score of 46-7. The drama for Maryland came off the field of play.

In a September meeting, the presidents of the schools in the Southern Conference voted to ban conference football teams from postseason play. The ban would not become official until the conference itself met in December and voted on the matter, but that vote was a foregone conclusion. In the meantime, according to conference rules, teams already had to be granted permission from the Southern Conference to play in bowl games, and this season permission would not be granted. However, Maryland coach Jim Tatum badly wanted a crack at #1 Tennessee, and he was ready to resign as coach if Maryland didn't back him in flaunting the Southern Conference bowl ban. Maryland did back him, accepting a bid to the Sugar Bowl to play Tennessee.

Clemson was a scofflaw this season too, accepting a bid to the Gator Bowl, and both Maryland and Clemson were punished with one year of conference probation, forbidden from playing any other Southern Conference schools in 1952. But neither school ever played football in the Southern Conference again, because in 1953, 7 schools left the Southern Conference to form the ACC

:

Maryland, Clemson, North Carolina, North Carolina State, Duke, Wake Forest, and South Carolina. The rest of the Southern Conference sank into relative obscurity, and it is an FCS conference today.
The Sugar Bowl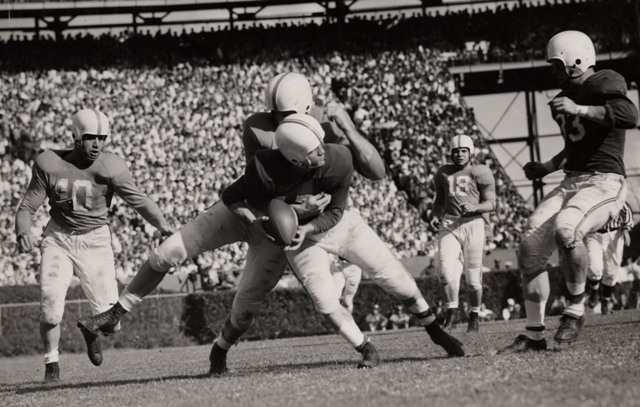 #1 Tennessee was carrying a 20 game winning streak into the Sugar Bowl. They were the defending national champions, and no one had come within a touchdown of them this season (average score 37-9). For Maryland's part, they had a 14 game unbeaten streak going (which would reach 22 games), and they had smashed all but one of their opponents this season (average score 39-7). The Washington Post called this game a second "Game of the Century" (Army-Notre Dame '46 presumably considered the first here, though other games had carried the moniker before that). Most writers, however, were predicting a rout for Tennessee, and the Volunteers were a 7 point favorite.

The game was a rout all right, but for Maryland. Jim Tatum installed an 8-in-the-box defense, as they call it today, with lots of stunts, to shut down Tennessee's running game and to pressure the passer should they go to the air. This defense was spectacularly successful. Tennessee hadn't passed much this season, and when Maryland shut down their running game and they had to pass, their lack of experience with the passing game combined with the aggressive pass rush from Maryland resulted in plenty of lost yardage and 4 interceptions.

Maryland opened a 7-0 lead late in the first quarter. Tennessee fumbled away the ensuing kickoff at their own 13, Maryland tossed a touchdown pass from there, and it was 14-0. Maryland soon added a 46 yard interception return for a touchdown, and the game was pretty much over at 21-0. Tennessee didn't quit, though, throwing a short touchdown pass late in the first half to make it 21-6.




This is a great photograph. As you can see on the scoreboard in the background, Maryland was up 21-0 when this picture was snapped on their sideline, but this is not a team celebrating (you can see what they look like celebrating a couple photos down). Just look at the intensity on their faces as they watch Tennessee about to cut into their lead right before the half. Hall of Fame guard Bob Ward is in the center, with his hand on Hall of Fame quarterback Jack Scarbath's knee.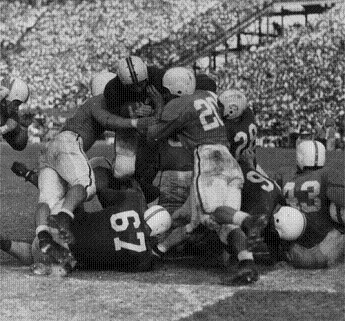 Maryland drove to a touchdown dive by quarterback Jack Scarbath (pictured above, and also at the top of this article) to make it 28-6 in the 3rd quarter, and the Volunteers scored in the 4th quarter to make the final score 28-13. Maryland outgained Tennessee 351 yards to 156, and they outrushed them 289 to 81. It was a stunning performance, though Maryland wasn't perfect

:

they fumbled 7 times, losing 3, and they were penalized 12 times for 120 yards (Tennessee 2-20). Maryland halfback Ed Fullerton scored touchdowns on a run and an interception return, and he threw a touchdown pass. Fullback Ed Modzelewski rushed for 153 yards.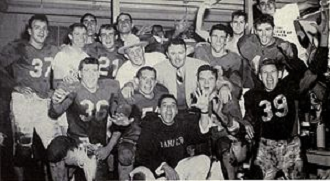 That finished Tennessee at 10-1, and I have them ranked #2 for 1951. 10-0 Maryland is #1, and 9-0 Michigan State is #3.
Michigan State 1951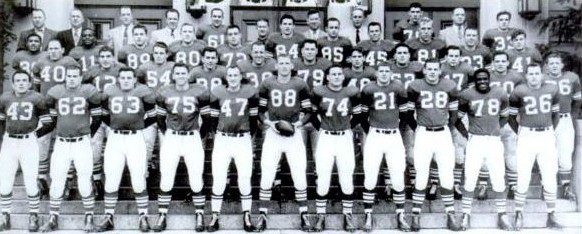 | | | |
| --- | --- | --- |
| Oregon State (4-6) | 6-0 | |
| at Michigan (4-5) | 25-0 | |
| at Ohio State (4-3-2) | 24-20 | #21 |
| Marquette (4-6-1) | 20-14 | |
| at Penn State (5-4) | 32-21 | |
| Pittsburgh (3-7) | 53-26 | |
| Notre Dame (7-2-1) | 35-0 | #19 |
| at Indiana (2-7) | 30-26 | |
| Colorado (7-3) | 45-7 | #23 |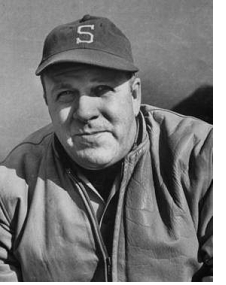 Michigan State was coached by Clarence "Biggie" Munn (pictured at left), a Minnesota grad who took Michigan State from nowhere to the top of the college football world rather quickly. Prior to Munn, Michigan State's football history was rather thin, though not so thin as Maryland's. MSU had fielded top 25 caliber teams 1908-1914, and they had even produced a strong MNC candidate in 1913, but between 1914 and Munn's hiring in 1947, MSU fielded just one top 25 caliber team, with a 7-1 finish in 1932. They also went 8-1 in 1934, but that team beat no one of value, struggled to get by weak opponents, and lost to the only good team they played (6-2 Syracuse).

Munn went 7-2 in his first season at MSU, 1947, and I have that team ranked #25 in that season's fixed and expanded AP poll top 25. All of the rest of his teams finished ranked in the original AP poll. His last 4 teams finished ranked in the top 10, and his 1952 team finished #1. His head coaching career was short but spectacular, 54-9-2 at MSU 1947-1953. The school claims 2 MNCs for him, this season and the next, both 9-0 campaigns, part of a 28 game winning streak 1950-1953. He won the Big 10 in the school's debut season in the conference in 1953. He then retired as coach and became the athletic director 1954-1971, overseeing more national championships won by his former assistant coach, Duffy Daugherty. 1950-1966 was the golden age for Michigan State football, and the only time it has been an elite program
.

This Michigan State team produced far less impressive NFL talent than did Maryland, but MSU fielded more players who made a first team All American list during their careers. On the other hand, they fielded 1 future Hall of Famer to Maryland's 4. That one player was tackle Don Coleman, a consensus All American who finished 2nd for the Outland and was voted the team MVP. End Bob Carey was also a consensus AA this season. He led the team in receiving 3 straight years, totaling 65 catches for 1074 yards and 14 touchdowns in his career, and he was also the placekicker.

Quarterback Al Dorow and safety Jim Ellis were both nonconsensus AA as defensive backs this season. Dorow played both ways, and on offense he completed 56% of his passes for 842 yards and 9 touchdowns. Ellis grabbed 6 interceptions this year, and he was also the kick returner. In a 6-0 win over Oregon State this season, he had 3 interceptions and returned 3 punts for 87 yards.

Linebacker Dick Tamburo, running back Don McAuliffe, and guard Frank Kush would all be nonconsensus AA in 1952. Kush became most famous as the Hall of Fame coach at Arizona State 1958-1979, going 176-54-1 and winning 9 conference titles, all in the Border or WAC conferences. ASU joined the PAC 10 in his last 2 seasons there, so Kush ushered ASU into big time football with the PAC 10 much like his coach at MSU ushered the Spartans into big time football with the Big 10. Kush is on the list for top all-time FBS coaching win percentage.

Last of the future All Americans on this team, receiver Don Dohoney would be a consensus AA in 1953.


Although Michigan State would not start playing football in the Big 10 until 1953, they actually joined the conference in 1949, and as such, they could not play in a bowl game. They had been hoping for a spot in the Big 10 for decades, and they had campaigned vigorously for the spot that was vacated by Chicago when they withdrew from the Big 10 in 1946 (Chicago had ended their football program following the 1939 season). Nebraska and Pittsburgh were their main contenders, but Michigan State won out. Nebraska would join them in the conference 60 years later.

Michigan State's Season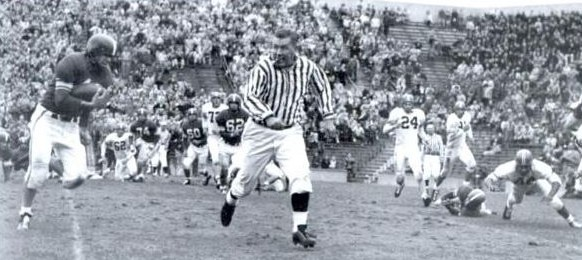 While Maryland's season was nearly drama-free, Michigan State's road to 9-0 was fraught with drama, especially in the first half of the season. The trouble began right out of the gate, in their opener hosting 4-6 Oregon State. Michigan State won just 6-0 on a broken play in the 2nd quarter. On 4th and goal from the OSU 1 yard line, the snap hit MSU fullback Dick Panin in the chest and bounced high in the air. Quarterback Al Dorow retrieved the ball and continued the called play, a lateral to halfback Don McAuliffe, who went wide for the winning touchdown (pictured above). In the 3rd quarter, OSU drove 63 yards to the MSU 11 before they were stopped. Another promising Beaver drive was halted by a Jim Ellis interception at the MSU 1 yard line. Ellis collected 2 more interceptions on Michigan State's side of the field before the game was over, and he also did his part for MSU field position by returning punts for 30 and 40 yards in this game.

The game was statistically even, Michigan State gaining 215 yards of offense, Oregon State 207. Michigan State was plagued by fumbles, 8 of them, but they only lost 2, and that enabled them to win the turnover battle 5-4. Finishing 4-6, Oregon State was obviously not good, but they were often trouble for Michigan State. They upset MSU 25-20 in 1949, and in 1952, when MSU would go 9-0 again, the Spartans' closest game was 17-14 over Oregon State.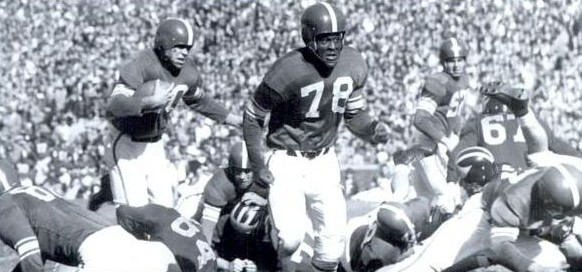 Michigan State had much less trouble winning 25-0 in their next game at rival 4-5 Michigan (the game pictured above), but they found themselves right back in the frying pan at Ohio State the week after that.

The Transcontinental Pass
This was the first season for Hall of Fame coach Woody Hayes at Ohio State. The Buckeyes featured 1950 Heisman-winning halfback Vic Janowicz, but Hayes switched OSU to the T-formation this season, and both Janowicz and the team struggled with the transition. This was only the second-ever football meeting between the 2 schools, the previous being a 35-20 win for MSU in 1912. Michigan State was ranked #1 in the AP poll, and 82,000 fans filled Ohio Stadium hoping to see their team pull off a big upset. The Buckeyes didn't quite get that done, but they did give Michigan State their toughest game of the year.

Michigan State end Bob Carey kicked a 26 yard field goal in the opening quarter. Ohio State came right back through the air, driving 72 yards in 5 plays, the last a 19 yard touchdown pass, and the Buckeyes led 7-3. An 83 yard Michigan State drive was halted at the OSU 5 early in the 2nd quarter, but the field position gain soon led to a 37 yard drive to regain the lead 10-7. Don McAuliffe scored that touchdown on a plunge into the line. Ohio State came right back again, driving 73 yards to a Janowicz touchdown for a 13-10 halftime lead. The key play in that drive was a Janowicz catch for 40 yards that put OSU at the MSU 6 yard line.

Early in the 4th quarter, Ohio State intercepted a pass at midfield, then drove to a 24 yard touchdown pass for a 20-10 lead. At this point, things looked very grim for Michigan State. Undaunted, MSU quarterback Al Dorow hit passes of 17, 9, 27, and 11 yards, and on 4th down he hit a 1 yard touchdown pass to cut the lead to 20-17. OSU still looked good to close out the game for the win, but they lost a fumble at their own 46, and that opened the door for Michigan State to pull out a miracle in the game's closing minutes. On 4th down at the Ohio State 28 yard line, fullback Evan Slonac took the snap and faked a line plunge, then handed the ball to quarterback Al Dorow. Dorow lateraled the ball to sophomore halfback Tom Yewcic, who ran right, taking the OSU defenders with him. But Yewcic stopped and threw the ball back all the way across the field to Al Dorow (pictured catching the pass below), who had made his way left to the 11 yard line. He evaded 2 late-arriving defenders down the sideline and fell into the end zone for the 24-20 win.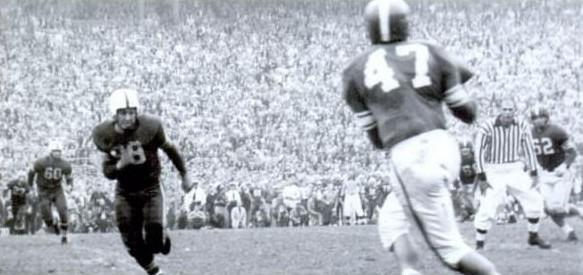 This play became known as the "Transcontinental Pass," and it is one of the most famous plays in Michigan State football history. Biggie Munn told the press after the game that he concocted the play on the bench right before it was run, but in an interview years later, Tom Yewcic said that they had run the play a few times in practice beforehand. This was Yewcic's first collegiate pass, and in fact it was his first play on offense for MSU. He would be MSU's quarterback for their 9-0 run in 1952. Interestingly, the Transcontinental Pass is extremely similar to the most famous play in Minnesota football history. Minnesota had used the play to beat Pittsburgh in 1934, also on 4th down, from a similar spot on the field, and late in the game. This was a few years after MSU coach Biggie Munn had graduated from Minnesota, but I am sure that that is where the play came from. Minnesota went on to finish 8-0 and win the MNC that year.

Michigan State outgained OSU 401 yards to 370, though they gave that advantage away with 113 yards of penalties to 36 for OSU. They had just 1 turnover, OSU 3. Ohio State was very erratic this season. They tied 7-1-1 Wisconsin (#7) on the road in their next game, then lost 32-10 at home to 2-7 Indiana the week after that. They later tied 9-0-1 Illinois (#4), but followed that up with a loss to 4-5 Michigan (unranked), finishing them at 4-3-2. Michigan State did not play an opponent that finished ranked in the original AP poll this season, but 3 of their opponents are ranked in my fixed and expanded AP poll top 25 for 1951, and Ohio State is one of them, thanks to a 3-0 win over 5-4 Northwestern (#22). I have OSU ranked right ahead of the Wildcats, at #21.

Surviving More Drama to 9-0
Michigan State had their fans sweating again the next week, putting on their worst performance of the season before rallying to beat 4-6-1 Marquette 20-14 at home. MSU halfback Billy Wells ripped a 69 yard touchdown run in the 2nd quarter, but Marquette led 14-6 going into the 4th. Quarterback Al Dorow connected with Wells for a 46 yard touchdown pass, cutting the lead to 14-13, and on their next possession, MSU drove 75 yards for the win. The key play was a 49 yard pass from Al Dorow that moved the ball to the 8. Michigan State scored the touchdown 4 plays later.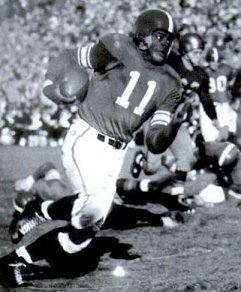 Michigan State finally got rolling after that, winning 32-21 at 5-4 Penn State and 53-26 over 3-7 Pittsburgh. Jim Ellis returned a punt 57 yards against Penn State and 54 yards against Pitt, the latter return pictured above. Then the Spartans mauled Notre Dame 35-0 at home (Jim Ellis pictured embarrassing a couple of their players below), their biggest win of the year, and Michigan State replaced Tennessee at the top of the next AP poll. Unfortunately, though they finished 7-2-1, Notre Dame wasn't particularly good this year. They had already lost to 3-6-1 Southern Methodist, they tied 2-5-2 Iowa 2 weeks after their loss to MSU, and they did not finish ranked in the original AP poll. However, they did beat 7-3 Southern Cal (#17 in fixed AP poll) in their finale, and I have Notre Dame ranked #19 in the fixed AP poll for 1951. But whether they were ranked or unranked, they were MSU's toughest opponent, and this was MSU's best performance.




Michigan State's stay at the top of the AP poll didn't last long, because as happens so often, they followed their best performance with one of their worst, a 30-26 win at 2-7 Indiana. This game was played in snow and high winds, but the weather didn't seem to affect the offenses at all. The game started as expected, MSU leading 14-0 in the opening quarter, but Indiana came back for a 14-14 halftime deadlock. MSU halfback Billy Wells got the lead back with an 83 yard touchdown run. Wells, who would
be the MVP of the 1954 Rose Bowl and a 6 year pro, ran the ball 7 times for 110 yards in this game.
MSU added another touchdown and a 30 yard Bob Carey field goal to go up 30-14, and the game was pretty much over at that point, but Indiana would not go away quietly, putting across 2 more touchdowns to make the score look bad for Michigan State. Indiana outgained MSU 351 yards to 333, and Tennessee supplanted Michigan State at the top of the next AP poll. They would remain there to the end.

Michigan State finished their season with a 45-7 rout of 7-3 Colorado at home, end Bob Carey catching 5 passes for 104 yards and 2 touchdowns. I have Colorado ranked #23 in the fixed and expanded AP poll top 25 for 1951, so this was about as impressive as the Notre Dame win. Michigan State had to decline a Cotton Bowl invitation because of their technical membership in the Big 10, though they weren't yet playing in the conference. Not that it matters, as their Cotton Bowl opponent would have been 6-4 Texas Christian, a yawn-worthy matchup. Much better would have been an Orange Bowl bout against 10-0-1 Georgia Tech, and such a game also would have been a nice preview of the 1952 MNC race (MSU would go 9-0 the next year, Georgia Tech 12-0, but I'll get to that in my next MNC article). But 2 of MSU's 4 All Americans were black, and they would not have been allowed to play in the Orange Bowl even if the Big 10 allowed them to go.
Maryland vs. Michigan State
Here are the significant games for Maryland and Michigan State in 1951. The opponent rankings
come from my fixed AP poll for 1951
.


Maryland 10-0
Michigan State 9-0

North Carolina (2-8)
14-7
Unranked

Sugar Bowl


Tennessee (10-1)

28-13

#2

| | | |
| --- | --- | --- |
| Oregon State (4-6) | 6-0 | Unranked |
| at Ohio State (4-3-2) | 24-20 | #21 |
| Marquette (4-6-1) | 20-14 | Unranked |
| Notre Dame (7-2-1) | 35-0 | #19 |
| at Indiana (2-7) | 30-26 | Unranked |
| Colorado (7-3) | 45-7 | #23 |

Maryland defeated their unranked opponents by an average of 39-7, and Michigan State beat theirs by an average of 28-15.

Interestingly, these 2 teams had played each other the previous season, with 7-2-1 Maryland giving 8-1 Michigan State their only loss 34-7 in East Lansing. That score was oft repeated by sportswriters debating the post-bowl MNC for the 1951 season, but of course that game is irrelevant to the debate. As an example, Maryland lost to Georgia 27-7 in 1950, and they beat Georgia 43-7 this year, so obviously one year has little to do with the next.

What is relevant is the fact that Maryland smashed #1-rated Tennessee in the Sugar Bowl. Maryland may have played a one game season this year, but that one game was worth vastly more than all of Michigan State's games put together. MSU's only argument is that they played more top 25 caliber teams, but that argument doesn't get very far when all 3 of those teams were so lowly ranked. Tennessee was a fellow MNC contender, and no one came within a touchdown of them this season until Maryland did more than that
.

Michigan State would still have a case for a share of the MNC had their performances not been so repeatedly poor. Maryland had just one close win, while MSU had 4, 3 of them over very weak opponents. Frankly, I don't see any reason for Michigan State to share an MNC for this season, and I don't think it's a close call.
Awards Ceremony
1951 #1:

10-0 Maryland


National Co-champion:

None


Contender:

9-0 Michigan State

These are the awards I have been handing out for each season, except seasons when there are no contenders. For this purpose, what I mean by a contender is a team that I think is very close to being worthy of sharing the national championship. A team that you could make an argument for, even if that argument is weak. But the contenders are teams that I myself do not see as national champions.
Grading the Selectors
I have been grading the NCAA Records Book's selectors for each season, and keeping a grade point average, so we can see who is relatively good at selecting national champions and who is not. And although I do not consider computer ratings to be legitimate national championship selectors, I have been including them in this section as well, just for comparison's sake.
I am grading on a scale of 0-5 (5 being the best).


Berryman's math formula had 11-0-1 Georgia Tech ranked #1. Grade

:

0.0



Boand's system came up with 11-0-1 Georgia Tech and 9-0-1 Illinois tied for #1. Grade

: 0.0



The AP and UPI polls, and the Litkenhous and Williamson math formulas all tabbed Tennessee #1. Grade

:

0.0



The Helms Foundation and the Billingsley and Poling math formulas had Michigan State #1. Grade

: 1.5



Everyone else selected Maryland. Grade

: 5.0


Michigan State's case is similar to that of Princeton in 1935 and Cornell in 1939, so that selection gets the same grade those did.

Grade point averages 1936-1951 (the coaches' poll will not be added until they have selected at least half as many champions as the others)

:




1) DeVold (math system)




4.94

2)

College Football Researchers Association




4.90

3) National Championship Foundation
4.78

4) Billingsley (math)

4.68

5)

Houlgate (math)

4.53

6)

Dunkel (math)

4.45

7)

Poling (math)


4.43

8) Boand (math)
4.38
9) Sagarin-ELO (math)
4.331
10) AP Poll
4.325
11) Litkenhous (math)
Sagarin (math)
4.11

13) Helms Foundation

3.87

14) Berryman (math)
3.68
15) Williamson (math)
3.34

Grade point averages 1919-1935
:
| | |
| --- | --- |
| 1) Boand (math system) | 4.26 |
| 2) College Football Researchers Association | 4.22 |
| 3) Poling (math) | 4.11 |
| 4) Helms | 4.09 |
| 5) Sagarin-ELO (math) | 4.06 |
| 6) National Championship Foundation | 3.96 |
| 7) Dickinson (math) | 3.49 |
| 8) Houlgate (math) | 3.35 |
| 9) Billingsley (math) | 3.34 |
| 10) Sagarin (math) | 3.28 |
| 11) Parke Davis | 2.77 |

How the systems that selected champions for 1901-1918 did

:



| | |
| --- | --- |
| 1) Houlgate (math system) | 4.5 |
| 2) Helms | 4.3 |
| 3) Parke Davis | 4.2 |
| 4) National Championship Foundation | 3.7 |
| 5) Billingsley (math) | 3.6 |