Home
1939 College Football National Championship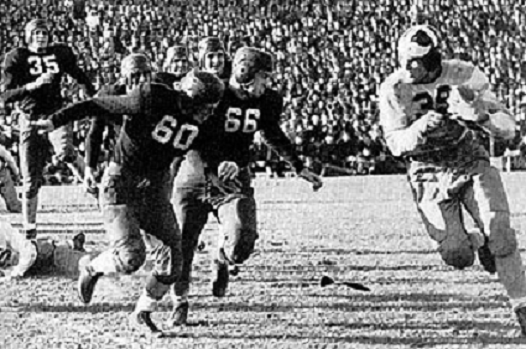 Pictured above is Texas A&M fullback John Kimbrough scoring his 2nd touchdown to rally the Aggies to a 14-13 victory over Tulane in the Sugar Bowl
. That finished Texas A&M at 11-0, and they are a unanimous mythical national championship (MNC) choice among selectors listed in the NCAA Records Book (discounting math/computer ratings).

However, 8-0 Cornell also claims an MNC for 1939, despite finishing #4 in that season's AP poll. Maybe they awarded it to themselves. Actually, they base it on 2 math-based formulas rating them #1 for 1939, Litkenhous and Sagarin. Someday perhaps Notre Dame 1989 and Miami-Florida 1990 will claim their Sagarin #1 finishes as "national championships." In any case, Cornell was 8-0, and they are a legitimate MNC contender, so I will be summarizing them in this article.

8-0-2 Southern Cal also claims an MNC for 1939, based on finishing #1 in the deplorable Dickinson rating system. They first claimed the "title" in 2004, 65 years after the fact, possibly because by that time few knew that USC was 8-0-2 in 1939, Texas A&M 11-0. USC's 2004 press release quoted Frank Dickinson himself as saying that "the Trojans were the best team in the best section." But the West Coast only had one significant intersectional win during the regular season, USC beating 7-2 Notre Dame. Every writer I have read from 1939 believed the South to be the best region in 1939, and the SEC was particularly strong, bringing home all of these intersectional victories

:

Tulane and Alabama over 6-2 Fordham, Auburn over 6-2 Villanova, Florida over 9-2 Boston College, and LSU over 7-2 Holy Cross.

Southern Cal did have a very strong team this year. They won 19-7 at 9-1-1 Oregon State (OSU was unrated by the AP poll, but #18 in the fixed poll), 20-12 at 7-2 Notre Dame (#14 in fixed poll), and most impressively, they drubbed 10-1 Tennessee 14-0 in the Rose Bowl. That snapped a 23 game winning streak for Tennessee, who had gone 11-0 for a share of the 1938 MNC, and it furthermore ended a streak of 15 straight shutouts for Tennessee. They had outscored opponents 212-0 in the regular season, and they were ranked #2 going into the Rose Bowl. So this was a bigger win than Texas A&M or any other team had recorded this season. However, the fact is that USC tied 3-4-1 Oregon and 6-0-4 UCLA (#17 fixed poll), along with an ugly 9-7 win over 4-5 Washington, and as such USC had no real argument for sharing an MNC with Texas A&M.

So I'll not be summarizing USC in the following article, and it's too bad that a football program as proud and storied as Southern Cal feels that they have to stoop to such pathetic MNC claims. Of course, this isn't the first time.

All ratings in the following article, except as noted, come from the fixed 1939 AP poll.
Texas A&M 1939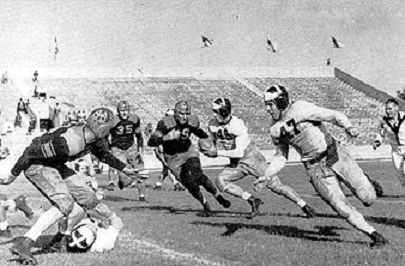 at Oklahoma State (5-4-1)
32-0
Centenary (2-9-1)
14-0
at Santa Clara (5-1-3)
7-3
#22
Villanova (6-2)
33-7
(#26-33)

at Texas Christian (3-7)
20-6


Baylor (7-3)
20-0
at Arkansas (4-5-1)
27-0


Southern Methodist (6-3-1)
6-2
(#26-33)
at Rice (1-9-1)
19-0
Texas (5-4)
20-0

Sugar Bowl


Tulane (8-1-1)

14-13

#5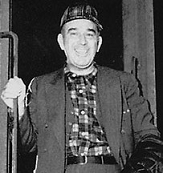 This isn't Texas A&M's first MNC. They claim national titles for 1919 and 1927 as well (I disagree with the first claim, but agree with the 2nd), both seasons the work of Hall of Fame coach Dana X. Bible. This season was the work of another Hall of Fame coach, Homer Norton (pictured at left).

Norton had done great work at Centenary 1919-1921 and 1926-1933, going 61-22-9, and that included 7-0 and 20-0 wins over Texas A&M in his last 2 years there. So Texas A&M hired him away, and he went 82-53-9 there 1934-1947. He won 3 SWC titles, all in a row 1939-1941. Overall he was 143-75-18
.


The star of this team was huge Hall of Fame fullback John Kimbrough (pictured running with the ball below), a consensus All American in 1939 and 1940. He also finished 2nd in the Heisman voting in 1940
. He rushed for 475 yards and 10 touchdowns this season.

Tackle Joe Boyd was a nonconsensus AA, and guard Marshall Robnett would be named a consensus AA in 1940. Halfback Derace Moser would be named a nonconsensus AA in 1941, as well as the SWC MVP.

Texas A&M led the nation in points allowed during the regular season, 18, and in yards allowed per game, 76.3, and this team still holds the NCAA record for yards allowed per play, 1.7. Needless to say, that record won't be broken.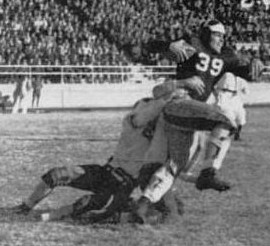 Texas A&M's Season
Texas A&M opened with a 32-0 win at 5-4-1 Oklahoma State and a 14-0 decision over Homer Norton's former team, Centenary, who had beaten A&M 5 straight times prior to this game. A&M's first big game was a trip to San Francisco to face Santa Clara, a powerful mid-major team that had recently won 2 Sugar Bowls. This game was as tough as it was expected to be, and Texas A&M had to rally to get by them 7-3. It ended up being Santa Clara's only loss, though they took 3 ties to finish 5-1-3. They were ranked #14 in the final AP poll, but they are #22 in the fixed poll
.

The Aggies returned home to throttle a pretty good 6-2 Villanova team 33-7 (unrated, though), and they followed that up with a 20-6 win at TCU, 20-6 over Baylor (7-3), and 27-0 at Arkansas. That brought them to their closest game of the regular season, a 6-2 home win over 6-3-1 Southern Methodist in the rain. SMU fumbled the ball away at their own 10 yard line in the 2nd quarter, and Texas A&M cashed the opportunity in with a John Kimbrough touchdown dive. In the final quarter, SMU blocked an Aggie punt in the end zone, but the punter fell on it to keep the damage to a safety. On the last play of the game, SMU threw a bomb to an open receiver, but the ball went off his fingertips, and Texas A&M escaped with the win. A&M outgained SMU 127 yards to 77, but SMU evened things up by outgaining A&M by 65 yards in kick returns. The real difference between the teams was SMU's 5 turnovers to A&M's none.

Texas A&M closed the season with a 19-0 win at Rice and a 20-0 victory over archrival Texas (5-4), and that brought them to their game of the year, against SEC co-champion Tulane in the Sugar Bowl.
The Sugar Bowl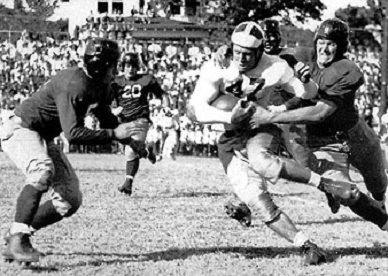 Had Tulane won this game, they would be my choice for 1939 national champion. They came into the game 8-0-1 and ranked #5 in the AP poll, their tie coming against 8-1-1 North Carolina. They had beaten 9-1 Clemson 7-6, 5-5-1 Auburn 12-0, 6-2 Fordham 7-0, 7-2 Mississippi 18-6, and 5-3-1 Alabama 13-0.

Though Texas A&M was the favorite, this game was made more difficult by the fact that it was played on Tulane's home field, which had just been greatly expanded. The previous year's Sugar Bowl attracted 44,000, but this year 73,000 fans attended. Tulane Stadium was now the largest stadium in the South.

Texas A&M took the opening drive all the way to the Tulane goal line, but the Green Wave stopped them a foot away. They couldn't, however, stop A&M's next drive, John Kimbrough taking it in on a dive for a 7-0 lead early in the game. Tulane struck in the 3rd quarter, back Bobby Kellog retreating to grab a Texas A&M quick kick and bring it back 75 yards the other way for a touchdown. It was 7-7, and Tulane got another opportunity when Texas A&M fumbled away the ball at their own 39 at the end of the 3rd quarter. Early in the 4th, Tulane pushed the ball all the way to paydirt to take the lead. However, Texas A&M blocked the extra point try, leaving the lead 13-7, and that proved to be the critical play of the game.

Texas A&M won the game on a 69 yard last period drive that featured big John Kimbrough barreling over tired Tulane defenders. He put the ball on the Tulane 27 with one long run, and scored the touchdown from 18 yards out after taking the lateral on a hook and ladder play, busting through a gaggle of would-be tacklers on the way. The extra point was good, and by that margin the game was Texas A&M's, 14-13.

John Kimbrough rushed for 159 yards on 25 carries and scored both touchdowns. Texas A&M outgained Tulane 306 yards to 193, and 18 first downs to 8, but the Aggies had 3 turnovers, Tulane none, and that plus the long punt return kept the game close. Tulane remains ranked #5 in the fixed AP poll for 1939. This is the last time Texas A&M has won an MNC. Pictured below are the surviving members of the 1939 team at an Aggie game in 1999.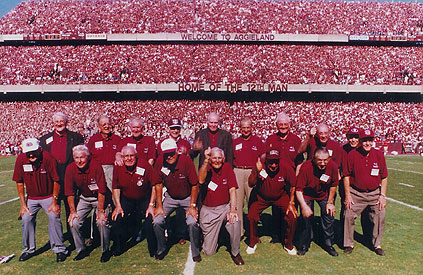 Cornell 1939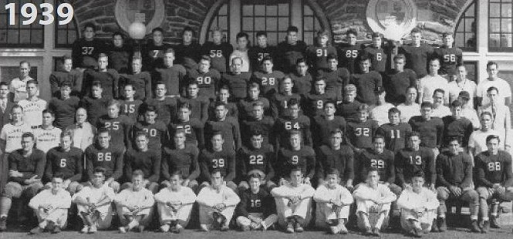 | | | |
| --- | --- | --- |
| Syracuse (3-3-2) | 19-6 | |
| at Princeton (7-1) | 20-7 | (#26-33) |
| Penn State (5-1-2) | 47-0 | |
| at Ohio State (6-2) | 23-14 | #9 |
| Columbia (2-4-2) | 13-7 | |
| Colgate (2-5-1) | 14-12 | |
| at Dartmouth (5-3-1) | 35-6 | |
| at Penn (4-4) | 26-0 | |
Cornell first won an MNC in 1915, and the school claims another 3 in a row for 1921, 1922, and 1923, when they went 24-0, though I only recognize the 1922 and 1923 editions as national champions. Hall of Famer Gil Dobie was the coach for that amazing 3 year stretch, but things slowly devolved for him after that. Cornell was a respectable 46-20-6 1924-1932, but that still represented a big drop-off from the preceding years, and 1933-1935 they fell apart, going 4-3, 2-5, and 0-6-1. That was it for Gil Dobie.

Hall of Fame head coach Carl Snavely, who had gone 42-16-8 at Bucknell 1927-1933 and 15-2-1 at North Carolina 1934-1935, was hired to revive Cornell's fortunes, which he did, though not to the degree of Cornell's glory years 1915-1923. More like Cornell's respectable 1924-1932 period. Snavely went 46-26-3 at Cornell 1936-1944, and the school claims this 8-0 season as another MNC. Overall, Snavely was 180-96-16 over 32 years of coaching
.

Tackle Nick Drahos, also serving as the placekicker, was a consensus AA this year and the next, and he is in the Hall of Fame. Quarterback Walt Matuszczak was a nonconsensus AA this season, though he appeared on but one list.
Cornell's Season
Cornell opened with a 19-6 win over 3-3-2 Syracuse, then went to Princeton and won 20-7, scoring on a pair of long touchdown runs within the first 4 minutes of the game. Princeton had not been expected to be a strong team this season, but they ended up winning out to finish 7-1. However, they were not ranked in the final AP poll, nor are they ranked in the fixed and expanded AP poll top 25 for 1939. That's because Princeton didn't beat anyone of value, and they struggled to get by the likes of 2-4-2 Columbia, 4-4 Harvard, 5-3-1 Dartmouth, and 3-4-1 Yale.

Cornell then romped to a 47-0 win over Penn State, another team that wasn't particularly good, but finished with a nice-looking straight record (5-1-2). Like Princeton, PSU did not beat anyone of value, and they were tied by 3-3-2 Syracuse and 3-4-1 Army.

Next up was Cornell's game of the year at powerful Ohio State. This game was the centerpiece of Cornell's otherwise underwhelming season. 49,000 attended. Ohio State was expected to dominate, and in the early going they did. In the opening quarter they drove 80 yards in 19 plays, all runs, and in the 2nd quarter they marched 72 yards, including a 37 yard pass, and OSU led 14-0. But that was it for OSU, and Cornell was just about to get going.

Backup halfback Walt Scholl was the hero, sparking Cornell's rally with a 79 yard touchdown run. A minute later, her threw a 63 yard touchdown pass, but Ohio State blocked one of the extra points, so Cornell still trailed 14-13 at the half. They remedied that in the 3rd quarter. A 54 yard Cornell punt backed OSU up to their own 2 yard line, and Cornell drove a short field 34 yards for a touchdown on their next drive to take the lead 20-14.

Ohio State answered with a 30 yard completion that helped them drive to the Cornell 11, but 4 runs were stopped for no gain there. Later, OSU took over the ball at the Cornell 16 after a Cornell punt went straight up, traveling just 10 horizontal yards. That opportunity ended in an interception after a run lost yardage. The next Cornell punt fared much better, soaring 54 yards again and finally getting them off their own goal line, and in the 4th quarter Cornell drove from their own 44 to the OSU 4 to set up a field goal, clinching the 23-14 win.

Ohio State had gained 137 rushing yards in the first half, but in the 2nd half they were held to just 51. The Buckeyes lost their finale at 6-2 Michigan to finish 6-2. They were ranked #15 in the final AP poll, but they are #9 in the fixed poll.

Struggling Through the Midseason
There was great hoopla over Cornell's upset rally at Ohio State, and as usually happens, the players had trouble getting back down to business, struggling to edge a couple of weak opponents over the following 2 weeks. First there was a 13-7 home win over 2-4-2 Columbia in front of 15,000 fans. Cornell struck first, hitting a 27 yard pass in the 2nd quarter that carried to the Columbia 2 yard line, then scoring on a plunge to lead 6-0. That lead didn't last long, as Columbia returned the ensuing kickoff 91 yards for a touchdown, hitting the extra point for a 7-6 lead. Neither team could move the ball after that, but Cornell won by blocking a punt for a touchdown in the 3rd quarter.

The next week was even tougher, a 14-12 home win over 2-5-1 Colgate. Both teams scored a pair of touchdowns, so the difference here was Cornell getting their extra points-- despite both kick attempts being blocked! Wingback Mal Baker, who had scored the 2 long runs in the opening minutes of the game at Princeton, was the hero of this game as well. He had a good day running and passing, and he scored both touchdowns, as well as the extra points, to provide all of his team's scoring. But he wasn't a kicker. He scored the first extra point by recovering a blocked kick attempt and depositing the ball in the end zone. The extra point kick after the 2nd touchdown was blocked as well, but Colgate was offside, and Baker ran for the extra point after the penalty mark-off.

That gave Cornell a 14-0 lead, and they drove inside the Colgate 5 yard line 3 more times, but were held each time. Colgate, meanwhile, came back with their passing game, and closed the gap to 14-12, missing their crucial extra point tries. They had one last shot in the closing minute, tossing the ball forward into Cornell territory, but a field goal try went wide on the last play of the game.

After that, Cornell returned to form to end the season, winning 35-6 at 5-3-1 Dartmouth and 26-0 at 4-4 Penn.
Texas A&M vs. Cornell
Here are the significant games for Texas A&M and Cornell in 1939. The opponent rankings
come from my fixed AP poll for 1939
.


Texas A&M 11-0
Cornell 8-0

at Santa Clara (5-1-3)
7-3
#22
Villanova (6-2)
33-7
(#26-33)
Southern Methodist (6-3-1)
6-2
(#26-33)

Sugar Bowl


at Tulane (8-1-1)

14-13

#5

| | | |
| --- | --- | --- |
| at Princeton (7-1) | 20-7 | (#26-33) |
| Penn State (5-1-2) | 47-0 | Unranked |
| at Ohio State (6-2) | 23-14 | #9 |
| Columbia (2-4-2) | 13-7 | Unranked |
| Colgate (2-5-1) | 14-12 | Unranked |

Texas A&M defeated the rest of their opponents by an average of 22-2, and Cornell beat their non-top 33 opponents by an average of 24-5.

Texas A&M obviously has the better resume, but as you can see, there isn't a huge gap here, and Cornell's case for sharing an MNC isn't all that weak. By this point in time, writers nationwide had little respect for the East, treating them like mid-majors. That's why 8-0 Cornell was rated #4, behind 7-0-2 Southern Cal, in the AP poll, and 7-1 Princeton, who lost only to Cornell, wasn't rated at all. The next season, 10-0 Boston College would be rated behind 7-1 Michigan, and 9-0 Lafayette would be rated #19.

But there was good reason for that lack of respect. The East had degraded a great deal between the World Wars. So before comparing Texas A&M and Cornell, let's look at the fall of the East in more detail
.

The Fall of the East
The East had been a powerhouse football region coming out of WWI, second only to the Great Lakes, but one by one other regions caught and surpassed the East over the next decade or so. Cornell and their 7 Eastern opponents in 1939 (Columbia, Syracuse, Colgate, Princeton, Penn State, Dartmouth, and Penn), as a group, went 456-188-56 (.691) in the 1920s, then fell to 379-230-44 (.614) in the 1930s. Furthermore, Yale, Harvard, and Navy, frequent opponents of these teams, went 164-69-19 (.688) in the 1920s, then fell to 136-101-19 (.568) in the 1930s. Since these teams mostly played each other, the problem was obviously intersectional play, and that's where you see the real drop off.

Cornell and their Eastern opponents in 1939 went 14-6-1 against major teams from the Great Lakes, Missouri Valley, West Coast, South, and Southwest 1919-1923 (though just 1-3-1 against the Great Lakes), but then they fell sharply to 20-32-5 against those regions 1924-1931, then fell again to an awful 8-34-1 1932-1939. They went 1-5 in 1938 and 1-7 in 1939, so Cornell's win at Ohio State was the only win this group got against those regions this season.

As you can see, the reason the old Eastern powers were treated like mid-major teams by this time is because they had become the equivalent of mid-major teams.
Texas A&M vs. Cornell for the 1939 MNC
So Cornell's schedule was significantly weaker than Texas A&M's, and thus their entire argument rests on that one big win at Ohio State. And it was a very big win-- on the road, by more than a touchdown, against a top 10 team. But the rest of their schedule was nearly worthless, and while that would have been fine had they performed strongly against it, there is the matter of their close wins over 2-4-2 Columbia and 2-5-1 Colgate, both very bad teams. All of Texas A&M's close games came against good teams. With their schedule, Cornell just could not afford performances like that if they wanted a share of the MNC.

Had they beaten Columbia and Colgate by more than a touchdown each, I would consider Cornell co-MNC with Texas A&M regardless of their mid-major type schedule, but as it is, Texas A&M is the only legitimate MNC team I see for 1939.
Awards Ceremony
1939 #1:

11-0 Texas A&M


National Co-champion:

None


Contender:

8-0 Cornell

These are the awards I have been handing out for each season, except seasons when there are no contenders. For this purpose, what I mean by a contender is a team that I think is very close to being worthy of sharing the national championship. A team that you could make an argument for, even if that argument is weak. But the contenders are teams that I myself do not see as national champions.
This is the last season for which a team now in the Ivy League could be considered a legitimate contender for the MNC.

The end of an era. Ivy League teams had contended for or won MNCs in 24 seasons 1901-1938

.
Grading the Selectors
I have been grading the NCAA Records Book's selectors for each season, and keeping a grade point average, so we can see who is relatively good at selecting national champions and who is not. And although I do not consider computer ratings to be legitimate national championship selectors, I have been including them in this section as well, just for comparison's sake.
I am grading on a scale of 0-5 (5 being the best).


Dickinson's math system gave its MNC trophy to 8-0-2 Southern Cal.

Grade: 0.0


A pair of math formulas, Litkenhous and Sagarin's original recipe, went with Cornell. Grade

: 1.5



Everyone else selected Texas A&M.

Grade: 5.0



This was the Dickinson system's second straight bad pick, following its 1938 anointing of Notre Dame. But unlike USC, Notre Dame has the self respect not to claim it as an MNC. Dickinson moves to the bottom of the list below for the current grading period.

1939 was the debut season for the DeVold math system, and it had Texas A&M #1 along with the majority.

Grade point averages 1936-1939 (DeVold will be added when the system has selected at least half as many champions as the others)

:




1) Boand (math system)




College Football Researchers Association




Poling (math)




Houlgate (math)




Billingsley (math)

5.0

6) AP Poll


National Championship Foundation

4.8

8) Litkenhous (math)
4.13

9)

Dunkel (math)

4.05

10) Helms Foundation

3.9

11)

Sagarin-ELO (math)

3.7

12)

Williamson (math)

3.6

13) Sagarin (math)
2.9
14) Dickinson (math)
2.5

Grade point averages 1919-1935
:
| | |
| --- | --- |
| 1) Boand (math system) | 4.26 |
| 2) College Football Researchers Association | 4.22 |
| 3) Poling (math) | 4.11 |
| 4) Helms | 4.09 |
| 5) Sagarin-ELO (math) | 4.06 |
| 6) National Championship Foundation | 3.96 |
| 7) Dickinson (math) | 3.49 |
| 8) Houlgate (math) | 3.35 |
| 9) Billingsley (math) | 3.34 |
| 10) Sagarin (math) | 3.28 |
| 11) Parke Davis | 2.77 |

How the systems that selected champions for 1901-1918 did

:



| | |
| --- | --- |
| 1) Houlgate (math system) | 4.5 |
| 2) Helms | 4.3 |
| 3) Parke Davis | 4.2 |
| 4) National Championship Foundation | 3.7 |
| 5) Billingsley (math) | 3.6 |