1) Miami-Florida 11-1
2) Notre Dame 12-1
3) Florida State 10-2
4) Colorado 11-1
5) Tennessee 11-1
6) Auburn 10-2
7) Michigan 10-2
8) Southern Cal 9-2-1
9) Alabama 10-2
10) Illinois 10-2
11) Nebraska 10-2
12) Clemson 10-2
13) Arkansas 10-2
14) Houston 9-2
15) Penn State 8-3-1
16) Michigan State 8-4
17) Pittsburgh 8-3-1
18) Virginia 10-3
19) Texas Tech 9-3
20) Texas A&M 8-4
21) West Virginia 8-3-1
22) Brigham Young 10-3
23) Washington 8-4
24) Ohio State 8-4
25) Arizona 8-4
To the left is the final 1989 AP college football top 25. The fixed final AP top 25 follows the article below
.

11-1 Colorado's first national championship was delayed by a year when #2 Notre Dame (12-1) beat them 21-6 in the Orange Bowl. As a result, Colorado dropped all the way to 4th, behind Florida State, despite the fact that FSU had 2 losses. Fair or foul?

Well, this is one of those cases that flew right over the top of the foul pole.

Colorado certainly had the better season overall. Their only loss came to #2 Notre Dame, who is ranked ahead of Florida State anyway, whereas FSU lost to #12 Clemson, and far worse, to 5-6 Southern Miss. Colorado also outperformed Florida State, winning by a slightly higher average margin against rated opponents (both played 4), against winning unrated opponents, and against losing opponents (actually CU's average scoring margin against losers was more than slightly better than FSU's, 45-12 compared to 43-20).

On the other hand, Florida State's 2 upset losses came in their first two games, giving them less weight. They finished 10-0, and saved their best for last, destroying #11 Nebraska 41-17 in the Fiesta Bowl. Colorado needed a 4th quarter rally to beat Nebraska 27-21 at home. And FSU also beat #1 Miami 24-10, making up for one of their two upset losses. That game and FSU's 22-14 win over #6 Auburn give FSU 2 wins over teams who are better than anyone CU defeated. And Colorado was quite unimpressive in their 21-6 bowl loss to Notre Dame.

Back on the first hand, Miami was without starting quarterback Craig Erickson when FSU played them (substitute Gino Torretta threw 4 picks). And they struggled to beat unrated Florida 24-17 in their regular season finale, whereas Colorado had no struggles against unrated opponents.

Tough case. In the end, I think either team is a valid option for #3, so Florida State can stay where they are.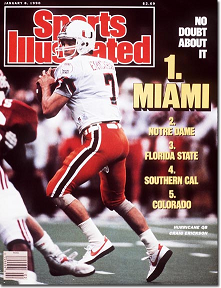 Florida State finally beat Miami, but unfortunately it came in a year when they suffered upsets in their first 2 games, handing the national championship to Miami. "No doubt about it," says Sports Illustrated, though there is 100% doubt about their ranking of Southern Cal at #4. Sure am glad I don't have to fix their top 25... ugh.