Home
1944 College Football National Championship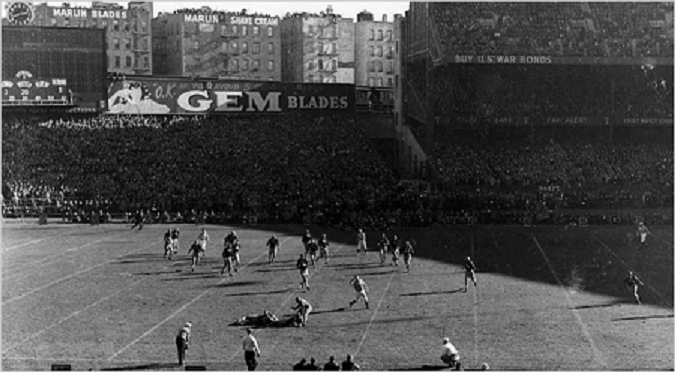 Pictured above is 9-0 Army's 59-0 demolition of 8-2 Notre Dame (#5) in the Bronx. Army outscored opponents by a whopping 504-35 this season (average score 56-4), setting records left and right, and they are considered one of the greatest teams in college football history. They would rout all their opponents again in 1945 for another 9-0 finish, then tie Notre Dame in a "Game of the Century" in 1946 for a 9-0-1 record. Their winning streak was 25 games 1944-1946, their unbeaten streak 32 games 1944-1947. Needless to say, they are practically a unanimous choice for mythical national champion (MNC) of 1944

.

Here is how organizations listed in the NCAA Records Book see the 1944 mythical national championship (omitting math/computer ratings, which are not generally accepted as MNCs)

:





Army

:

AP Poll

,

National Championship Foundation (tie), CFB Researchers

, Helms
Ohio State

:

National Championship Foundation

(tie)



As you can see, the National Championship Foundation splits the 1944 MNC between Army and Ohio State. Ohio State did go 9-0, so I'll be taking a look at them in this article. Their fans liked to say that they won the "civilian national championship" in 1944, but the school does not claim an MNC for this season.

All rankings in this article, except as noted, come from my 1944 fixed AP poll.
Army 1944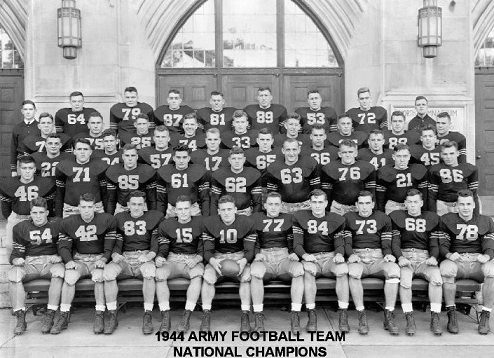 | | | |
| --- | --- | --- |
| North Carolina (1-7-1) | 46-0 | |
| Brown (3-4-1) | 59-7 | |
| Pittsburgh (4-5) | 69-7 | |
| Coast Guard (6-3) | 76-0 | |
| (NYC) Duke (6-4) | 27-7 | #10 |
| Villanova (4-4) | 83-0 | |
| (Bronx) Notre Dame (8-2) | 59-0 | #5 |
| at Penn (5-3) | 25-6 | #8 |
| (Baltimore) Navy (6-3) | 23-7 | #4 |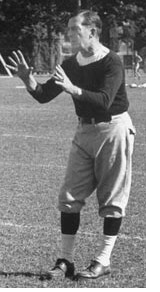 Army was one of the elite football programs of the first half of the 20th century. Charles Daly had coached the team to 2 national championships, in 1914 and 1916, and he was 58-13-3 at Army through 1922. 1923-1935, Army kept it going under a series of coaches that went a combined 82-19-7, and Army would have been ranked in an AP poll's final top 25 for every one of those 13 seasons. Army fell back a step or two in the late '30s, to a low point of 1-7-1 in 1940, but then they hired Hall of Fame coach Red Blaik (pictured at left) away from Dartmouth, and he reacquainted West Point with winning seasons and national championships
.

Blaik had been 45-16-4 at Dartmouth 1934-1940. Prior to his arrival at Army in 1941, military schools had a weight limit of 181 pounds for all students, at the behest of a previous Surgeon General. This rule was due to statistics that showed thinner people to have longer average lifespans. But it meant that Army could not field the same size linemen that other colleges had, and that was a big part of Army's recent football decline. However, Blaik was able to use West Point contacts in Washington to convince the current Surgeon General to rescind the weight restrictions, enabling Blaik to recruit linemen of the proper size, and soon enough Army was back.

Red Blaik went 121-32-10 at Army 1941-1958, and the school claims 3 straight national championships for 1944-1946. His reign was the last period of big-time football success for Army. Overall, he was 166-48-14 for his career, putting him on the list for top all-time major/FBS coaching win percentage.


1944 saw the first perfect season and MNC for Army since 1916. Moreover, Army 1944 dominated to a degree not seen since Georgia Tech's 1917 campaign. Army's 56.0 points per game in 1944 is still an NCAA FBS record (as is their 8.2 touchdowns per game), and they also led the nation in scoring defense with 3.9 points per game. They set another record by intercepting 17.9% of their opponents' passes.

Army's powerful 1944-1946 teams were built thanks to the war, as Army was able to "draft" players from other teams. And those players would remain at the school and be football-eligible for at least 3 years each, whereas the players schools got from V-12 training programs weren't around long before they were called to boot camp, then sent overseas. An inundation of premiere football talent arrived at West Point in 1944, including 8 players who would form the backbone of the 3 straight unbeaten seasons 1944-1946. All 8 would make first team All American during their careers, and 4 are in the Hall of Fame. Two of those Hall of Famers were consensus All Americans this season, both would go on to win the Heisman, and they were probably the most celebrated players of this decade

:

Mr. Inside and Mr. Outside.

Mr. Inside and Mr. Outside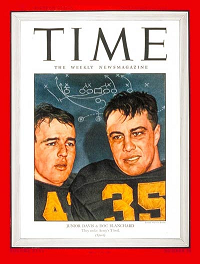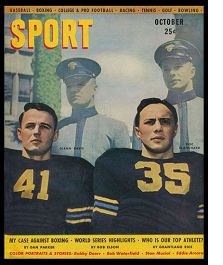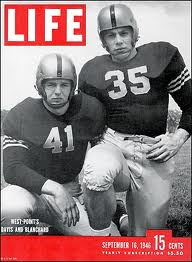 "Mr. Inside" was fullback Felix "Doc" Blanchard (#35 in the pictures above), and "Mr. Outside" was halfback Glenn Davis (#41). These backs were consensus All Americans all 3 years they played at Army, 1944-1946, leading the team to a total record of 27-0-1 and 3 school-claimed MNCs in those years, and again, each brought home a Heisman Trophy in later seasons. This season, Blanchard finished 3rd in the Heisman vote, Davis 2nd.

Doc Blanchard had played for North Carolina in 1942. He would win the Heisman in 1945, the first Junior to do so. In addition to his fullback work in the middle, he was a great blocker and tackler, and he handled the punting and placekicking as well (though this season his placekicking duties were mostly limited to kick-offs). Over his career he rushed for 1908 yards and 38 touchdowns. After graduation he became a fighter pilot in the Air Force, serving 1947-1971.

Glenn Davis had played for Pomona in 1943. He won the Maxwell award this season, and received his Heisman in 1946, when he was also named the AP Athlete of the Year. He was a unanimous All American all 3 years. This year he led the nation in scoring with 120 points, and his record of 20 touchdowns in a season stood for 10 years. In 1945 he averaged a ridiculous 11.5 yards per carry, still an FBS record. For his career he averaged 8.3 yards per carry, also a record, and he scored a total of 59 touchdowns.

Blanchard and Davis played themselves in a 1947 Hollywood movie of their story, "The Spirit of West Point." Their acting abilities did not match their football prowess.

The Rest of the Players
Army was stocked. 6 Hall of Famers took the field for them this season, a number matched only by Notre Dame's 1924 MNC team to this point in history. 6 players made first team All American lists this year, and a whopping 13 players made a first team All American list during their careers, and remember, this was a time when 11 men played offense, defense, and special teams. So this Army team was very deep. Many of the better players were plebes, or first year students, and most of the plebes were back-ups this season. But the plebe line was generally regarded as stronger than the starting line, and when they came into the games in the 2nd quarter, that's when Army tended to pull away.

Quarterback Doug McKenna was a senior. He had played for Mississippi in 1941, then at Army 1942-1944. He was a nonconsensus AA this season, and he is in the Hall of Fame. His back-up was another Hall of Famer, Arnold Tucker. Tucker saw little play this year, and did not even letter, so I'll discuss him in more detail when I cover Army's 1945 MNC team. He had played for Miami-Florida in 1943.

End Barney Poole was a nonconsensus AA this season, and he too is in the Hall of Fame. Wartime eligibility policies allowed him to play 7 seasons of college football! He played for Mississippi in 1942, North Carolina (via a V-12 training program) in 1943, Army 1944-1946, then back at Mississippi 1947-1948 (he was also a nonconsensus AA each of those last 2 seasons). Then he went on to a 6-year pro career. Rounding out Army's Hall of Famers was guard John Green, who had played for Tulane in 1942. He was a nonconsensus AA this season, then team captain and a consensus AA in 1945.

Guard Joseph Stanowicz, another of the rare seniors on this team, was a nonconsensus AA this season. Plebe guard Arthur Gerometta would be a nonconsensus AA in 1945, though he saw little playing time this year. Tackle Albert Nemetz, center Herschel Fuson, and end Richard Pitzer would be nonconsensus AA in 1945 as well.

End Hank Foldberg would be a nonconsensus AA in 1945 and a consensus AA in 1946. He had played for Texas A&M in 1942. Tackle DeWitt "Tex" Coulter would be a consensus AA in 1945. He went on to a 7 year pro career, then another 4 years playing rugby in Canada with the Montreal Alouettes. He was three times a rugby all-star, and was named the most outstanding lineman in 1955.

Army's Season
Army routed all comers this season. Only 2 games were relatively close, and those were won by 20 and 16 points.
The first "tough" game came in mid-season against Duke in New York City. Duke led that game 7-6 at halftime, but Army scored 3 touchdowns in the next half to win 27-7. Duke finished 6-4, but they were much better than their straight record shows, and they were ranked #11 in the final AP poll, #10 in my 1944 fixed AP poll. Their other losses came to 5-3 Penn (I have them #8), 6-3 Navy (#4), and 6-2-1 North Carolina Pre-Flight (all-star military team comparable to a #10 ranked team). Duke defeated 8-3 Georgia Tech (#11), 8-1 Wake Forest (#17), and they edged 5-2-2 Alabama (#19) 29-26 in the Sugar Bowl.

Army returned to New York City 2 weeks later for a game against Notre Dame in Yankee Stadium that was supposed to pose them a challenge, but Army romped to a 59-0 laugher in front of 74,000 fans. It was their first victory over the Irish since 1931. Glenn Davis scored 3 touchdowns, and Army intercepted Notre Dame passes 8 times. You can see film clips of the game here. You might suppose from the 59-0 score that Notre Dame was just a bad team this year, but that was not the case. They finished 8-2 and ranked in the final AP poll's top 10 (I have them #5). Their other loss came to 6-3 Navy (#4), and they defeated 4-3 Tulane (#20), 5-4-1 Illinois (#13), 8-3 Georgia Tech (#11), and 9-2-1 Great Lakes Navy (AP poll rated them #17, but I don't rate military teams in the fixed polls).
Army next went to Penn, their only true road game this year, and stomped on the Quakers 62-7. Penn finished 5-3, and I have them #8 for 1944. Their other losses came to 6-3 Navy (#4) and 8-2 Michigan (#3). Penn's big win came 18-7 at 6-4 Duke (#10).
That brought Army to their biggest game of the year, and college football's biggest game of the year, their finale against Navy in Baltimore.
Navy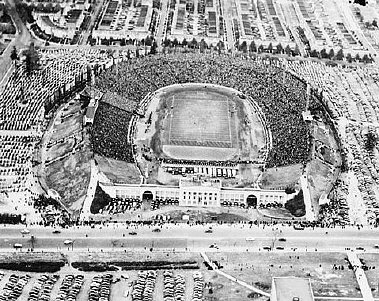 Army was ranked #1 and Navy #2 in the AP poll coming into this game. Aside from military personnel, only people who lived within 10 miles of Baltimore and who purchased war bonds were able to procure tickets, and this game raised 58.6 million dollars, a staggering figure even by today's standards. 66,000 attended, and people listened in on radio all over the world. As Douglas MacArthur put it later, the war stopped for this game.

Navy had lost twice early, to 6-2-1 North Carolina Pre-Flight (a military squad comparable to a #10 ranked team) and to 8-3 Georgia Tech (#11). But they beat 6-3 Penn State, 6-4 Duke (#10), 5-3 Penn (#8), 8-2 Notre Dame (#5), 5-4 Cornell, and 5-5 Purdue (#15). And they were running on a hot streak, having won the last 4 of those games by an average score of 35-3. Army had not beaten Navy in 6 years, and Army's last loss had been dealt by Navy to close out the 1943 season.

This was a brutal, hard-hitting game, and Army knocked out both of Navy's consensus All Americans for more than half of it. But it was a rivalry game, and Navy fought hard. The first quarter was scoreless, and neither team advanced much beyond midfield. In the 2nd quarter, Navy drove to Army's 26, but Army center Herschel Fuson intercepted a pass and returned it to his 40. Army then drove to the Navy 16, where they were held on downs. On Army's next drive, they marched 66 yards, capped by halfback Dale Hall's 24 yard touchdown run. Army intercepted another Navy pass at the Navy 36, then pushed the ball to the 21, but they were held there, and the score remained 7-0 at the half.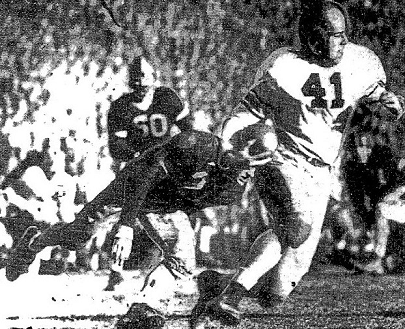 Early in the 3rd quarter, guard Joe Stanowicz blocked a punt for a safety, pushing Army's lead to 9-0. Navy responded with a 73 yard touchdown drive to close the gap to 9-7. In the 4th quarter, Navy was on the move again, reaching the Army 39, when Glenn Davis nabbed an interception and returned it to his 48. Army drove to a touchdown from there, Doc Blanchard doing most of the work and scoring the touchdown from 9 yards out. On their next possession, Army ended all Navy hope with a 69 yard drive, most of that on one big 50 yard touchdown run by Glenn Davis (pictured carrying the ball in this game above). That made the final score 23-7. Halfback Dick Walterhouse set an NCAA record for extra points in a season, ending up with 47 after the last point of this game went through.

Army outgained Navy 262 yards to 169, and Doc Blanchard added to that advantage by averaging 50 yards per punt compared to Navy's 35, but the biggest difference in this game was the 5 times Army intercepted Navy passes. You can watch film clips of the game here.
Greatest of All Time?
When people make lists of the greatest college football teams of all time, Army's 1944 and 1945 teams often show up on those lists, but rarely at the top. Given Army's incredible performance, that may seem strange, but actually, there is a good reason for that. Due to the talent depletion almost every other team saw during the war, Army was not facing nearly as tough competition as they would have after the war. As an example, they stomped on Notre Dame 59-0 in 1944 and 48-0 in 1945, but in 1946, when Notre Dame got back their former players from the war, the two teams fought to a 0-0 tie in a "Game of the Century."

That right there is compelling evidence that Army's 1944-1945 dominance had at least as much to do with their competition as with their own talent level. Army was not exactly the same in 1946 as they were in 1944 and 1945, but the bulk of their best players were there all 3 years 1944-1946, headlined by Mr. Inside and Mr. Outside. In fact, as great as that duo alone was supposed to have been, one has to wonder how any team could hold them scoreless. Great backs? Yes. And there's little doubting that Army fielded great teams 1944-1946. There is, however, room to doubt that they were among the greatest in college football history.

Ohio State 1944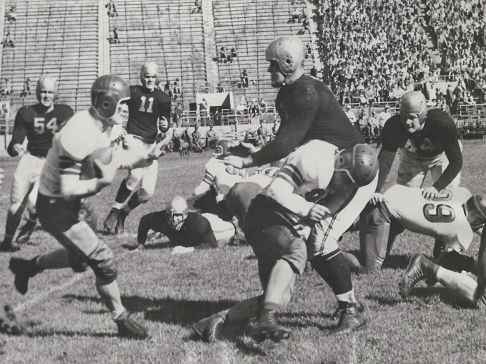 | | | |
| --- | --- | --- |
| Missouri (3-5-2) | 54-0 | |
| Iowa (1-7) | 34-0 | |
| at Wisconsin (3-6) | 20-7 | |
| Great Lakes Navy (9-2-1) | 26-6 | (#17) |
| Minnesota (5-3-1) | 34-14 | #16 |
| Indiana (7-3) | 21-7 | #14 |
| Pittsburgh (4-5) | 54-19 | |
| Illinois (5-4-1) | 26-12 | #13 |
| Michigan (8-2) | 18-14 | #3 |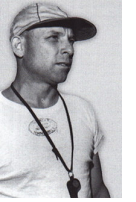 Ohio State had won its first MNC just 2 years prior, in 1942. Almost all of the notable players on this team played on that one too. Paul Brown, coach of the 1942 team, departed after 1943, and his assistant, Carroll Widdoes (pictured at left), took over this season. Widdoes only stuck around 2 seasons himself, going 9-0 this year and 7-2 in 1945.

The star of this year's team was Heisman Trophy winning quarterback Les Horvath (pictured above carrying the ball against Iowa). He had been a reserve halfback on the 1942 team, after which he graduated and entered OSU's dental school. In those days, grad students could not play varsity football, but wartime eligibility rules changed that, and he was able to return to the team in 1944 as its starting quarterback. He rushed for 905 yards, second in the nation, and he passed for another 345 yards, putting him 3rd in total offense
. He scored 12 touchdowns and passed for another 6. Horvath was Ohio State's first Heisman Trophy winner, and of course he is in the Hall of Fame.

Tackle Bill Willis was a nonconsensus All American this season, and he is in both the college and pro Halls of Fame. Guard Bill Hackett was a consensus AA, end Jack Dugger was a nonconsensus AA, and center Gordon Appleby was the captain and another 3-year starter.

The only notable player who had not played for the 1942 MNC team was guard Warren Amling. He would be a consensus AA in 1945, team captain and a consensus AA at tackle in 1946, and he is in the Hall of Fame.
Ohio State's Season
Ohio State routed their first 2 opponents, 54-0 over 3-5-2 Missouri and 34-0 over 1-7 Iowa. Their weakest performance was their next game, a 20-7 win at 3-6 Wisconsin. It was their only true road game of the season.

Their next game was their first big one, hosting military all-star team Great Lakes Navy. GLN was helmed by former Ohio State coach Paul Brown. 73,000 attended, the biggest crowd at Ohio Stadium during the war. This game was tied 6-6 going into the 4th quarter, but Ohio State scored 3 touchdowns in the final period to win 26-6. Their line overwhelmed GLN, making it impossible for their quarterback to look for receivers, and GLN's normally powerful passing attack was thus stymied.

Great Lakes Navy ended up 9-2-1, taking their other loss 28-7 to 8-2 Notre Dame (#5) and tying 5-4-1 Illinois (#13). The AP poll rated them #17 in the end, though I do not rate military teams in the fixed AP poll.

Ohio State then won 34-14 over 5-3-1 Minnesota (#16), 21-7 over 7-3 Indiana (#14), 54-19 over 4-5 Pittsburgh, and 26-12 over 5-4-1 Illinois (#13) in Cleveland. Illinois played a very tough schedule, and obviously they were better than their 5-4-1 record would indicate. They tied 9-2-1 Great Lakes Navy and defeated 7-3 Indiana. Indiana pulled off a huge 20-0 upset win over 8-2 Michigan (#3). Minnesota's best win came over Indiana.

Ohio State's next game was their biggest of the season, the homecoming finale against Michigan.

Michigan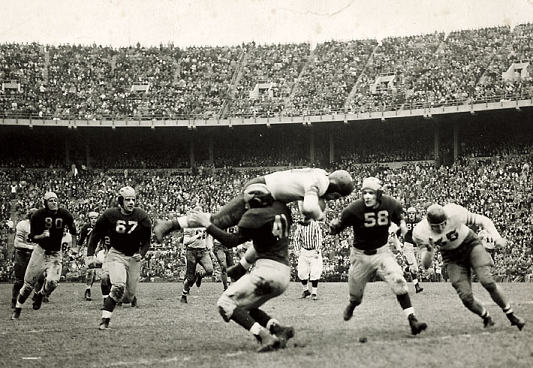 71,000 fans saw a see-saw game, 5 lead changes. Ohio State struck first on a 56 yard touchdown drive for a 6-0 lead. Michigan returned an interception 35 yards to set up a short 25 yard touchdown drive, taking a 7-6 lead at the half. Ohio State turned a break into a short drive of their own, recovering a fumble at the Michigan 24 and driving to paydirt from there to take a 12-7 lead. Michigan regained the lead 14-12 on an 83 yard touchdown march in the 4th quarter. Michigan then attempted an onside kick and failed, and Ohio State drove 52 yards for the winning touchdown (it should be noted that a Michigan source claims that it was not an onside kick attempt, but simply a flubbed kick). The winning drive was ground out on 14 running plays, capped by Les Horvath's dive into the end zone from a yard out with 4 minutes to go. It was his 2nd touchdown of the game.

Ohio State's offense was all on the ground

:

they were 0 for 4 passing. They were also 0 for 3 on extra points, leaving the final score 18-14. The Buckeyes were invited to play in the Rose Bowl, and OSU asked the Big 10 to lift the conference's bowl ban, but the Big 10 said no. Two years later, the Big 10 would begin sending its champion to the Rose Bowl every year. Michigan finished the season 8-2, and I have them ranked #3 for 1944. Their other loss was an upset to 7-3 Indiana (#14). They defeated 5-3-1 Minnesota (#16), 5-5 Purdue (#15), 5-3 Penn (#8), 5-4-1 Illinois (#13), and 10-1 Iowa Pre-Flight (#6 in AP poll, but I don't rate military teams in the fixed poll).
Army vs. Ohio State
Here are the significant games for Army and Ohio State in 1944. The opponent rankings
come from my fixed AP poll for 1944
. I don't include military teams in the fixed poll, so for the military opponents, I give their original AP poll ranking in parentheses.


Army 9-0
Ohio State 9-0

| | | |
| --- | --- | --- |
| (NYC) Duke (6-4) | 27-7 | #10 |
| (Bronx) Notre Dame (8-2) | 59-0 | #5 |
| at Penn (5-3) | 62-7 | #8 |
| (Baltimore) Navy (6-3) | 23-7 | #4 |

| | | |
| --- | --- | --- |
| Great Lakes Navy (9-2-1) | 26-6 | (#17) |
| Minnesota (5-3-1) | 34-14 | #16 |
| Indiana (7-3) | 21-7 | #14 |
| (Cleveland) Illinois (5-4-1) | 26-12 | #13 |
| Michigan (8-2) | 18-14 | #3 |

Army defeated the rest of their opponents by an average of 67-3, and Ohio State beat theirs by an average of 41-7.

Poor Ohio State. They had a helluva season, and most any year it would be a slam dunk MNC season, but look at the gulf between them and Army. Army played a much tougher schedule (none of their 4 tough games were at home), and as strong as OSU's performance was, it wasn't even close to Army's.
Ohio State only had one close game, and they outscored their opponents by an average of 23 points per game, but Army had no close games and outscored their opponents by a crazy average of 52 points per game. Army's closest result was their 16 point win over Navy, and OSU had 4 games that were closer than that, one of them over a 3-6 team.

Ohio State suffers the same fate as Pittsburgh in 1917. Like Georgia Tech that season, Army set the MNC bar far higher in 1944 than normal. For me to consider Ohio State as a shared MNC, they would have needed to beat Michigan more handily than they did. Alternatively, if Michigan had not been upset 20-0 by 7-3 Indiana, Ohio State's case would be much stronger. Ohio State's performance compares more closely to that of 8-2 Notre Dame than that of Army. OSU and Dame played 4 common opponents, and OSU beat those teams by a total of 82 points, while Notre Dame beat them by 90. And Army beat Notre Dame 59-0.


So there is no shared MNC here
for the Buckeyes. As is already widely presumed.
Awards Ceremony
1944 #1:

9-0 Army


National Co-champion:

None


Contender:

9-0 Ohio State

These are the awards I have been handing out for each season, except seasons when there are no contenders. For this purpose, what I mean by a contender is a team that I think is very close to being worthy of sharing the national championship. A team that you could make an argument for, even if that argument is weak. But the contenders are teams that I myself do not see as national champions.

As previously stated, this Ohio State team would have earned at least a share of an MNC in most any other season.
Grading the Selectors
I have been grading the NCAA Records Book's selectors for each season, and keeping a grade point average, so we can see who is relatively good at selecting national champions and who is not. And although I do not consider computer ratings to be legitimate national championship selectors, I have been including them in this section as well, just for comparison's sake.
I am grading on a scale of 0-5 (5 being the best).


Sagarin's ELO-Chess system tabbed Ohio State #1. Grade

: 0.1



The National Championship Foundation split the MNC between Army and Ohio State. Grade

:

3.6



Everyone else selected Army
. Grade

: 5.0



The National Championship Foundation probably deserves a lower grade than they got because of the lack of consistency between this split and their reticence to hand out shared MNCs to far more deserving teams for previous seasons. I could understand splitting the title between Army and Ohio State for 1944 if the NCF consistently made such choices, but they did not. For 1942, they crowned 9-1 Ohio State and not 11-1 Georgia, and those teams were much closer than Ohio State and Army were in 1944. Similarly, they crowned 8-0 Minnesota for 1940 and not 10-0 Stanford or 11-0 Boston College, 11-0 TCU and not 11-0 Tennessee for 1938, 9-0-1 Pitt and not 7-0-1 Fordham (who tied Pitt!) for 1937, and the list goes on and on.

The point is, the NCF went out of their way to split hairs and not split MNCs for all those previous seasons, and now they suddenly split an MNC between 2 teams that weren't close for 1944? And they would do the same for 1945, indicating that at some point, the NCF changed the way they selected MNC teams. That means their criteria are not consistent, which is a bad thing for an MNC selector. By the time the NCF got to the 1970s, they were splitting titles frequently, and amongst more than 2 teams. That culminated in a ridiculous 5-way shared title for 1981.

Grade point averages 1936-1944

:




1) Boand (math system)




College Football Researchers Association




5.0

3) AP Poll


Poling (math)


Billingsley (math)

4.91

6) DeVold (math)
4.87
7) National Championship Foundation
4.76
8) Litkenhous (math)
4.5

9)

Houlgate (math)

4.4

10)

Dunkel (math)

4.02

11) Sagarin (math)
3.97

12) Helms Foundation

3.93

13) Berryman (math)
3.84
14) Sagarin-ELO (math)
3.81
15) Williamson (math)
3.2

16)

Dickinson (math)

3.0

Grade point averages 1919-1935
:
| | |
| --- | --- |
| 1) Boand (math system) | 4.26 |
| 2) College Football Researchers Association | 4.22 |
| 3) Poling (math) | 4.11 |
| 4) Helms | 4.09 |
| 5) Sagarin-ELO (math) | 4.06 |
| 6) National Championship Foundation | 3.96 |
| 7) Dickinson (math) | 3.49 |
| 8) Houlgate (math) | 3.35 |
| 9) Billingsley (math) | 3.34 |
| 10) Sagarin (math) | 3.28 |
| 11) Parke Davis | 2.77 |

How the systems that selected champions for 1901-1918 did

:



| | |
| --- | --- |
| 1) Houlgate (math system) | 4.5 |
| 2) Helms | 4.3 |
| 3) Parke Davis | 4.2 |
| 4) National Championship Foundation | 3.7 |
| 5) Billingsley (math) | 3.6 |