Home
1947 College Football National Championship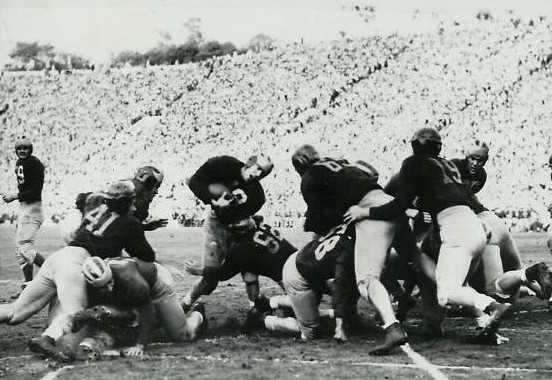 Pictured above is the last of 3 touchdowns scored by Michigan fullback Jack Weisenburger in a 49-0 demolition of Southern Cal in the Rose Bowl. 9-0 Notre Dame had been ranked #1 in the "final" AP poll, which ended before the bowls, by a 107-35 margin over Michigan. But there was a great clamor for a post-bowl poll after 10-0 Michigan routed 7-2-1 Southern Cal in the Rose Bowl, and the AP actually did one this year, with Michigan topping Notre Dame in the post-bowl poll by a vote of 226 to 119 (another 12 had the 2 teams tied). However, the AP declared that the post-bowl poll didn't count as "official."

That hasn't stopped Michigan from claiming a mythical national championship (MNC) for 1947. In fact, they are actually the consensus choice for 1947

.

Here is how all of the organizations listed in the NCAA Records Book see the 1947 mythical national championship (omitting math/computer ratings, which are not generally accepted as MNCs)

:





10-0 Michigan

:

National Championship Foundation,

CFB Researchers

, Helms

(tie)


9-0 Notre Dame

:

AP Poll

,

Helms

(tie)



10 of 11 math formula ratings listed in the NCAA Records Book went with Michigan over Notre Dame as well. These were the only major teams with perfect records this season, though plenty of teams came just a game away from perfection. 7-0-1 Penn won big in every game but one, a 7-7 tie with 5-2-2 Army (Notre Dame beat Army 27-7). 9-0-1 Penn State was tied by 9-0-2 Southern Methodist in the Cotton Bowl. Still, both teams might have been MNC contenders were it not for SMU's upset tie at 4-5-2 TCU in their regular season finale. 9-1 Cal lost 39-14 to Southern Cal (who was crushed by both Michigan and Notre Dame). 10-1 Georgia Tech took a 14-7 upset loss at 8-3 Alabama.

But the best team of 1947 might well have been 10-1 Texas. All 10 of their wins came by more than a touchdown, including 38-13 at 7-3 Oregon, 34-0 over 8-2 North Carolina, 34-14 over 7-2-1 Oklahoma, and 27-7 over 8-3 Alabama in the Sugar Bowl. They played

seven

teams that are ranked in the fixed AP poll top 25 for 1947, while Michigan and Notre Dame each played just 2. Texas' opponents were 69-38-8, while Michigan's were 41-45-5 and Notre Dame's were 29-46-7 (the SWC was the top conference this year, 24-5-3 against nonconference opponents). But alas, Texas lost by the slim margin of 1 point, 14-13, at 9-0-2 SMU, costing them a certain MNC (though the AP poll would never have voted them #1 over Notre Dame or Michigan regardless of what they accomplished), not to mention the SWC title. Still, their schedule was so much tougher than that of Michigan and Notre Dame, and their performance so strong, that I think they are a legitimate contender for the 1947 crown, and I will be summarizing them in this article.

All rankings in the following article, except as noted, come from my 1947 fixed AP poll.

1947 AP Poll
Notre Dame and Michigan fought all year over the #1 spot in the weekly 1947 AP poll. Notre Dame was #1 in the initial poll published on October 7th, but after Michigan destroyed 1-8 Pittsburgh 69-0 the next week (Notre Dame had beaten them 40-6), the Wolverines took over the #1 slot in the next poll. They stayed there 2 weeks, but when they struggled to beat 6-3 Minnesota 13-6, Notre Dame reclaimed the top spot in the following poll. Notre Dame held on for 3 weeks, then had a struggle of their own, 26-19 at 3-6 Northwestern (Michigan beat them 49-21), and Michigan passed them up for #1 again.

Michigan's stay at the top didn't last long. The next week, Notre Dame beat 2-5-2 Tulane 59-6, and Michigan beat 2-6-1 Ohio State 21-0, and the bigger score prevailed, putting Notre Dame back on top. Michigan's regular season was done, but Notre Dame crushed previously unbeaten Southern Cal 38-7 in their finale, and that cemented them at #1 by a 3-1 margin in the final regular season AP poll.

But then came Michigan's 49-0 win over USC in the Rose Bowl, and the "unofficial" post-bowl AP poll that voted Michigan #1 by a 2-1 margin. 54 of the voting writers actually saw both teams play, and they voted for Michigan by a count of 33-17-4. The huge reversal of the post-bowl poll was an excellent illustration of exactly why the AP didn't want to do post-bowl polls in the first place

:

it was a gargantuan disadvantage to teams that did not play in bowl games, such as the media's one true love, Notre Dame.
Michigan 1947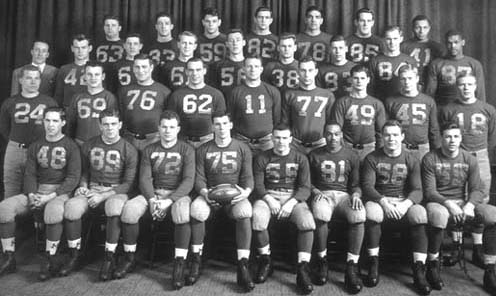 Michigan State (7-2)
55-0
#25
Stanford (0-9)
49-13
Pittsburgh (1-8)
69-0
at Northwestern (3-6)
49-21
Minnesota (6-3)
13-6
(#27-33)

at Illinois (5-3-1)
14-7
(#26-32)

Indiana (5-3-1)
35-0
(#29-36)
at Wisconsin (5-3-1)
40-6
(#28-34)

Ohio State (2-6-1)
21-0

Rose Bowl


Southern Cal (7-2-1)

49-0

#7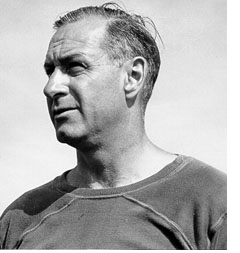 Michigan was the most consistently powerful football program from 1901 to this point in history, and they had previously contended for mythical national championships in 1901, 1902, 1903, 1904, 1918, 1922, 1923, 1925,
1932, and 1933
. The school claims MNCs for all but 2 of those years, though I only selected them as national co-champions for 4 of them (1902, 1918, 1932, and 1933), and if there had been an AP poll all of those years, they would have likely ended up #1 just once, in 1933. And of course they didn't end up #1 this year either, at least not in the "official" AP poll
.

It's not even a certainty that 7-0-1 Michigan would have been #1 in 1933, because Princeton was 9-0 that year, and they might have won a poll. Princeton's coach that year? Hall of Famer Fritz Crisler (pictured at left), who happens to be the coach of this 1947 Michigan team. I covered Crisler in the Princeton section of my 1933 national championship article. The highlights

:

35-9-5 at Princeton 1932-1937, including a pair of 9-0 seasons for which Princeton claims MNCs, 71-16-3 at Michigan 1938-1947, including 2 conference titles and this year's 10-0 MNC season. Overall he was 116-32-9, putting him on the list for top all-time FBS coaching win percentage.

Crisler brought Michigan's now-iconic winged helmet with him from Princeton, where he had first designed it. He just changed the colors for Michigan. He retired from coaching after this season, but remained Michigan's athletic director through 1968. Michigan's basketball venue, Crisler Arena, is of course named for him.


Fritz Crisler's biggest contribution to football was the now-standard "2 platoon" system, separate teams for offense and defense. He had been toying with this idea in previous years, rotating whole lines and linebackers for offense and defense, but this year he went (nearly) all in on the system. Only halfback Bump Elliott and fullback Jack Weisenburger played regularly on both offense and defense this season. This team was known as the "Mad Magicians" because of their high level of deception on offense. It has often been written that sometimes even Fritz Crisler didn't know who had the ball watching from the sidelines.
The Players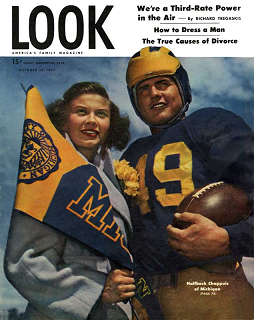 Michigan's star player was Hall of Famer Bob Chappuis (pictured on the cover of Look magazine). He was a passing specialist, but Michigan was still using the single wing offense rather than the spreading T-formation, so Chappuis was a halfback. He was a unanimous All American this season, and finished 2nd in the Heisman race to Notre Dame quarterback Johnny Lujack, much as his team finished #2 to Notre Dame in the AP poll (the "official" one anyway). Chappuis broke the Big 10 (actually Big 9 at this time) record for total offense in 1946, then broke it again this season. In 1946 he passed for 734 yards and rushed for 501, and this season he passed for 976 (11 touchdowns) and rushed for 544 (5 touchdowns). He was the MVP of the Rose Bowl to cap his career, rushing 13 times for 91 yards and hitting 14 of 24 passes for 188 yards.

But star players on 2-platoon teams were not as impactful for their teams as the stars for other teams who played every down. And even on this team, while Chappuis was the big name, his fellow Hall of Fame halfback, Bump Elliott, was arguably more important, being an every-down player. Elliot was named MVP of the Big 9 this year, and he was a nonconsensus All American. Elliott had played at Purdue in 1943 and 1944, and Purdue was 9-0 in 1943. He returned from the war and played for Michigan in 1946 and 1947. This year he led the conference with 8 touchdowns in Big 9 play, and scored 12 on the season as a whole. He rushed for 438 yards, caught passes for 318, returned kicks, and of course was a strong defensive player. In Michigan's 14-7 win over Illinois this season, Elliott returned a punt 74 yards for a touchdown, set up the 2nd touchdown with a long reception near Illinois' goal line, and intercepted an Illinois pass at the Michigan 8 to stop a threat. Bump Elliott later became Michigan coach 1959-1968, going 51-42-2 and winning 1 conference title. He was then the athletic director at Iowa 1970-1991.

Bump Elliott's brother, Pete Elliott, also played on this team, a defensive quarterback. He would be a nonconsensus AA in 1948, and he joined his brother in the Hall of Fame. And also like his brother, he became a head coach. But while his brother was mediocre as a coach, Pete was just poor. He went 56-72-1 at 4 schools, and did not have a winning record at any of those stops. But on the positive side, he did win 2 conference titles and take both those teams to the Rose Bowl, California in 1958 and Illinois in 1963.

Michigan's 4th Hall of Famer was defensive tackle Alvin Wistert, who would be a consensus AA in 1948 and 1949. He was the last of 3 brothers to play for Michigan, the others being Albert and Whitey, and all 3 were All Americans, wore #11, and are in the Hall of Fame. But Alvin's road to Michigan was much longer than the routes his brothers took. Alvin worked in a factory out of high school, then joined the Marines during the war. He went to Boston University for a year in 1946 as a 30 year old freshman, then decided to follow in his brothers' footsteps at Michigan 1947-1949. He is the oldest player ever named an All American, 33 years old when he was AA in 1949.

Michigan's other notable players were all ends. Dick Rifenburg would be a consensus AA in 1948, leading the Big 9 in receptions that season with 22 for 508 yards. He started 9 games this season. Len Ford made 2nd and 3rd team AA lists this year. He played for Morgan State in 1944 and transferred to Michigan in 1945. At 6' 5" and 240 pounds, he was mainly a defensive end, but he also played some offense. He went on to an 11 year pro career, won 3 NFL titles with the Browns, was All-Pro 4 times, and he is in the Pro Hall of Fame. Bob Mann played for the Hampton Institute in 1942 and 1943, then at Michigan in 1944, 1946, and 1947. He was an offensive specialist who broke the Big 9 record for receiving yards in 1946 (13-284 in Big 9 play), then did it again this season (12-302). Like Len Ford, he made 2nd and 3rd team AA lists. Mann went on to a 7 year pro career, and led the NFL in receiving yards (1014) in 1949.

Michigan's Season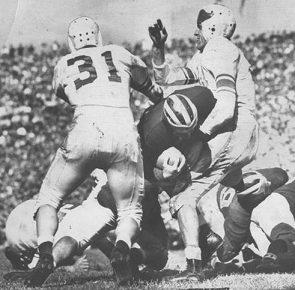 Michigan opened the season with a 55-0 beatdown of Michigan State (halfback Bob Chappuis is pictured carrying the ball in this game above). Michigan State was not yet a member of the Big 10, which is why it was the Big 9 at this time. MSU also lost 7-6 to Kentucky (8-3, #24)
, and they finished 7-2. Their one big win came 7-0 over Mississippi State (7-3), and I have them ranked #25 in the fixed and expanded AP poll for 1947.

Michigan beat up on a trio of weak opponents next, 49-13 over 0-9 Stanford, 69-0 over 1-8 Pittsburgh, and 49-21 at 3-6 Northwestern. Their only close games of the season were their next 2 bouts, starting with their homecoming game against Minnesota for the Little Brown Jug. 85,000 were on hand. Minnesota started the scoring in the 2nd quarter with a 50 yard touchdown drive, but they missed the extra point and led 6-0. After some punt exchanges, Michigan took over at the Minnesota 40, and Bob Chappuis hit fellow halfback Bump Elliott for a big touchdown pass from there, giving Michigan a 7-6 halftime lead (Bob Chappuis is pictured carrying the ball in this game below).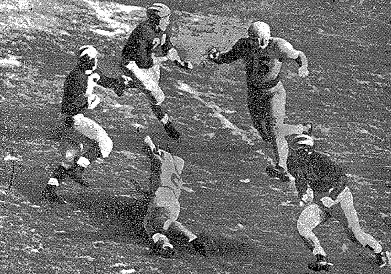 In the 3rd quarter, Minnesota missed a chance at retaking the lead when a 36 yard field goal try hit the goal post. Midway through the final quarter, Michigan intercepted a Minnesota pass at their 45 and returned it 21 yards. Halfback Gene Derricotte soon scored on a 21 yard run, and that made the final tally 13-6. Michigan barely outgained Minnesota, 243 yards to 222, the real difference coming in the passing game

:

Michigan hit 8 of 12 passes for 131 yards, and Minnesota connected on just 7 of 18 for 91 with 3 interceptions. Minnesota wasn't bad, finishing 6-3, but they took a loss at 3-5-1 Iowa, and they are not quite ranked in the top 25 for 1947.
Michigan's next game was another homecoming, but this time it was Illinois' (the game pictured below). This was expected to be Michigan's biggest game of the season. Illinois had beaten Michigan 13-9 the previous season to take the Big 9 championship, and they had started this season very strong, including a tie with 3-time defending national champion Army, who still had not lost a game since 1943, and a 40-13 rout of Minnesota, whom Michigan had struggled to get by 13-6. Illinois had been upset 14-7 at Purdue (5-4) the week before hosting Michigan, but they had been upset by Indiana prior to beating Michigan in 1946. 71,000 attended.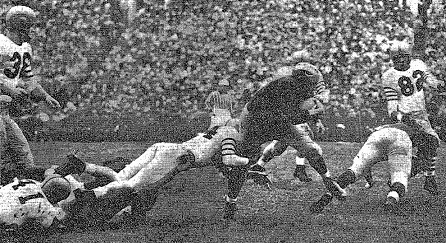 This game was Michigan halfback Bump Elliott's show. He returned a punt 74 yards for a touchdown in the opening quarter for a 7-0 lead. Illinois star fullback Russ Steger got off a 53 yard run to set up his own touchdown in the 2nd quarter, tying the game 7-7. Bump Elliott went to work again, catching a pass from Bob Chappuis that went 52 yards to the Illinois 4, setting up a touchdown for a 14-7 lead. Illinois answered through the air, hitting 3 passes that took them to the Michigan 27, but Bump Elliott struck again, intercepting the next pass attempt at his own 8, so the score remained 14-7 at the half.

And that would be the final score as well. Illinois moved to the Michigan 20 in the 3rd quarter before they were stopped, and they recovered a fumble at the Michigan 23 in the 4th quarter, but that final threat was halted inches short of a first down. Illinois finished the season 5-3-1, losing their finale 28-13 to 3-6 Northwestern at home, and that leaves them just outside the top 25 for 1947.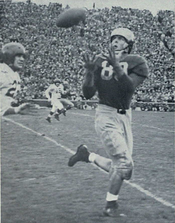 Michigan went into rout mode for the rest of the season. They won 35-0 over Indiana (end Dick Rifenburg is pictured catching a pass in that game above), who finished 5-3-1 and would be ranked #29-36. Then they rolled 40-6 at Wisconsin, who also finished 5-3-1, and would have been ranked #28-34. This win sealed the Big 9 title, and Fritz Crisler is pictured celebrating after the game with Hall of Fame brothers Bump (#18) and Pete (#45) Elliott below. Michigan finished the regular season with a 21-0 win over Ohio State (2-6-1).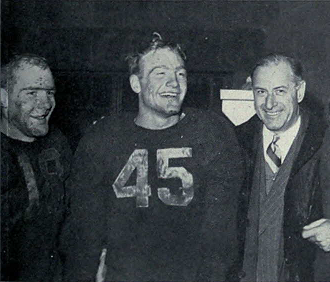 There was actually some talk of trying to get a game together between 9-0 Michigan and 9-0 Notre Dame, but while Notre Dame coach Frank Leahy was all for it, Michigan coach Fritz Crisler had no interest at all. He had inherited an eternal hatred for Notre Dame from his former athletic director, Fielding Yost, and despite calls for the teams to play for years afterward, even from Michigan fans and boosters, Fritz Crisler would never allow such a game to take place while he remained athletic director at Michigan through 1968. It would be up to the next athletic director, Don Canham, to end the cold war between the schools.

Of course, it wouldn't have mattered if Crisler wanted to play Notre Dame after this season, because the conference would not have allowed such a game to take place anyway. Michigan was instead off to the Rose Bowl to play 7-1-1 Southern Cal.

The Rose Bowl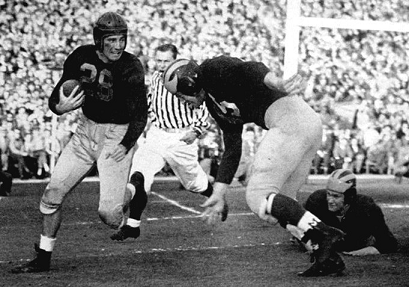 Southern Cal had tied Rice (6-3-1, #10), and in their finale they had been trounced by Notre Dame 38-7. That result had cemented Notre Dame at #1 with a commanding point total in the final AP poll, but everyone knew that Michigan's Rose Bowl game with Southern Cal would be

the

measuring stick for comparing Michigan and Notre Dame. Michigan knew it above all, and they were heavily incentivized to run up the score. So run it up they did.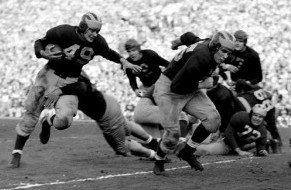 Michigan set a bunch of Rose Bowl records as they opened up a 21-0 halftime lead, then poured it on in the 4th quarter with 3 more touchdowns to win 49-0. It was the worst defeat in Southern Cal's history, and tied the Rose Bowl record for points scored and margin of victory (Michigan had beaten Stanford 49-0 in the 1902 Rose Bowl). Other records included Michigan's 491 yards of offense, kicker Jim Brieske's 7 extra points, and halfback Bob Chappuis' 14 completions thrown. Chappuis hit 14 of 24 for 188 yards and a touchdown, and he ran 13 times for 91 yards (he's pictured carrying the ball in this game above). Fullback Jack Weisenburger also rushed for 91 yards, and he scored 3 touchdowns (his first touchdown is pictured below, and his last is pictured at the top of this article).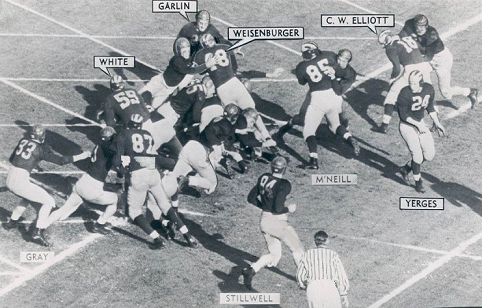 Michigan outgained Southern Cal 491 yards to 133. USC had one sustained drive, 73 yards in the 2nd quarter, but that march ended in an interception, and they only crossed midfield one other time, and barely. Nevertheless, USC coach Jeff Cravath said after the game that he thought Notre Dame could have beaten Michigan. The majority of witnesses did not share his opinion, as an unprecedented post-bowl AP poll named Michigan #1 by a 2-1 margin. The AP poll declared that the post-bowl poll was not "official," but that hasn't stopped Michigan from claiming it as an MNC. And who can blame them?

The loss finished Southern Cal at 7-2-1, and I have them ranked #7 for 1947. You can see film clips of the 1948 Rose Bowl here (in color!).
Notre Dame 1947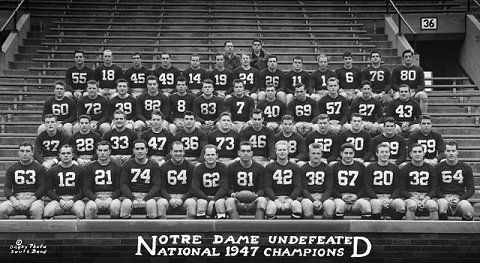 | | | |
| --- | --- | --- |
| at Pittsburgh (1-8) | 40-6 | |
| at Purdue (5-4) | 22-7 | (#30-37) |
| Nebraska (2-7) | 31-0 | |
| Iowa (3-5-1) | 21-0 | |
| (Cleveland) Navy (1-7-1) | 27-0 | |
| Army (5-2-2) | 27-7 | #12 |
| at Northwestern (3-6) | 26-19 | |
| Tulane (2-5-2) | 59-6 | |
| at Southern Cal (7-2-1) | 38-7 | #7 |
Notre Dame had also finished #1 in the 1946 AP poll, so this was their second straight MNC. I covered all of this season's notable players, and their legendary coach Frank Leahy, in my 1946 national championship article. The only significant loss from the 1946 team was nonconsensus All American guard George Mastrangelo, but he had just been a part-time starter for this very deep team. Notre Dame's 7 Hall of Famers (the most of any team to this point in history) all returned.

This year Notre Dame fielded 3 consensus All Americans, tackle George Connor, guard Bill Fischer, and quarterback John Lujack. Lujack also brought home the Heisman Trophy, beating out Michigan halfback Bob Chappuis. End Leon Hart and tackle Ziggy Czarobski were nonconsensus AA this year (Hart would go on to win the Heisman in 1949)
. This team was so deep that the first string would play the 1st and 3rd quarters, and the 2nd string would play the 2nd and 4th quarters.

Notre Dame followed up their 8-0-1 campaign in 1946 with a 9-0 finish this year, stretching their unbeaten streak to 18 games, and they would go 9-0-1 and 10-0 the next 2 seasons, their streak reaching 39 games before it was broken. They would also win an MNC in 1949, giving them 3 in 4 years, and because Leahy had been gone due to the war in 1944 and 1945, his 1943 MNC at Notre Dame gave him a personal 4 MNCs in 5 seasons at Notre Dame.
Notre Dame's Season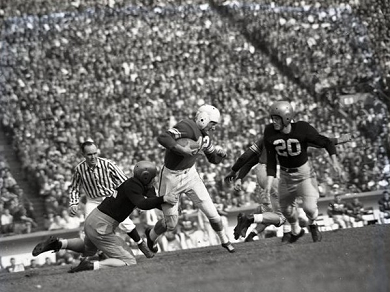 Notre Dame's schedule was far easier this season than it had been in 1946, and not just because they weren't playing a fellow MNC-caliber team this time around. Their opponents were just 29-46-7, and they played 2 top 25 caliber teams. Yet their average margin of victory was down this season compared to the previous (when their opponents had been 41-40-4).

They started 5-0 against the weakest part of their schedule (aggregate record of those opponents 12-31-2), winning those games by an average of 28-3. That performance was fine, but Michigan opened 4-0 over their own weak opponents (though one of them actually finished top 25) by an average score of 56-9, and the bigger numbers moved Michigan to #1 in the AP poll. Notre Dame was served notice that they had better start running up some bigger scores, which they would do in their final 2 games to pass up Michigan for the #1 slot and finish there.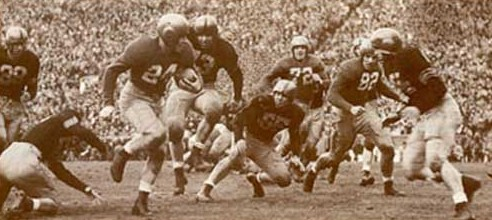 Notre Dame's season really began on November 8th with a home rematch of 1946's "Game of the Century" against Army. The rematch was not so exciting, as Army's 32 game unbeaten streak had already been broken in a loss at Columbia (7-2, #18), and the Irish handled them easily enough. Notre Dame halfback Terry Brennan returned the opening kickoff 97 yards for a touchdown, and Our Lady cruised 27-7 (the last Irish touchdown is pictured above). Army finished 5-2-2, and I have them ranked #12 for 1947.

Notre Dame's weakest effort of the season was a 26-19 win the next week at Northwestern, who came into the game 2-5, and finished 3-6. The game was played in drizzle and mud in front of 48,000 fans. Notre Dame jumped out to a 14-0 lead in the opening quarter, but Northwestern returned an interception to the Notre Dame 20 late in the quarter, then drove to a 4th down touchdown dive early in the 2nd, to close the gap to 14-6. Notre Dame backup quarterback Frank Tripucka tossed a 38 yard touchdown pass to make it 20-6 at halftime.

A 3rd quarter Notre Dame drive was halted at the Northwestern 19, and the Wildcats hit 5 passes for 59 yards in the ensuing drive, the last for 7 yards and a touchdown, and the gap was closed again, to 20-12. Another Notre Dame drive was halted at the Northwestern 7, and in the 4th quarter, Notre Dame halfback Terry Brennan fumbled the ball away at the Northwestern 4 to kill yet another drive. But the Irish finally finished a drive to put the game away, Lujack hitting end Leon Hart on 4th down for a 7 yard touchdown pass. Tripucka threw an interception that was returned 18 yards for a touchdown with 5 minutes to play, and that made the final score 26-19. Notre Dame was never really threatened in this game, and it wasn't as close as the final score makes it look to have been. The Irish rushed for 284 yards, Northwestern 49, and Notre Dame totaled 410 yards, Northwestern 132. Both teams turned the ball over 4 times.

Funny thing is, the only reason Tripucka was throwing the ball from his own 5 late in the game with a 26-12 lead was to try and run up the score to fend off Michigan for #1. But because of the interception return that made it 26-19, Michigan passed the Irish up for #1 in the next AP poll. Didn't last long, though, as Notre Dame properly rolled up huge scores in their last 2 games, 59-6 over Tulane (2-5-2) and 38-7 at Southern Cal (7-2-1, #7), and they reclaimed #1 in the end. The Southern Cal score was particularly impressive, as they were coming into the game at 7-0-1. 104,000 attended, largest crowd ever for a West Coast game. Notre Dame only led 10-7 at the half, but they crushed the Trojans in the 2nd half, and Frank Leahy called it the "best single game Notre Dame ever played."

Of course, it became a whole lot less impressive when Michigan steamrolled the same team 49-0 in the Rose Bowl.
Texas 1947
Texas Tech (6-5)
33-0
at Oregon (7-3)
38-13
North Carolina (8-2)
34-0
#8
(Dallas) Oklahoma (7-2-1)
34-14
#20

(Memphis) Arkansas (6-4-1)
21-6
#15

Rice (6-3-1)
12-0
#10

at Southern Methodist (9-0-2)
13-14
#3
Baylor (5-5)
28-7
Texas Christian (4-5-2)
20-0
#19
at Texas A&M (3-6-1)
32-13

Sugar Bowl


Alabama (8-3)

27-7

#11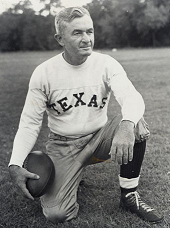 Although Texas had been fielding strong, winning football teams in their region from the start (4-0 in their initial campaign in 1893), and they were the strongest football school in the Southwest for the 1893-1939 period, they had had little national success and enjoyed little national prominence until the 1940s. SMU, TCU, and Texas A&M were more prominent because of big nationally relevant wins in the previous 2 decades, and all 3 had been named a national champion by one contemporaneous source or another in the 1930s. Texas nevertheless had a winning all-time record against all of them heading into this 1947 campaign.

Most of Texas' head football coaches had been winners. Dave Allerdice went 33-7 and won 2 conference titles 1911-1915. Bill Juneau went 19-7 and won Texas' first SWC title with a 9-0 campaign in 1918, but he left the school after just 3 seasons because he couldn't stand the constant criticism of the fans.
Berry Whitaker went 22-3-1 in another 3-season stint, the highlight 9-0 in 1920. E. J. Stewart went 24-9-3 1923-1926. Clyde Littlefield stuck around a little longer, going 44-18-6 and winning 2 conference titles 1927-1933. And he stuck around a lot longer as Texas' track coach, winning 25 SWC titles in that sport over a 41 year career. But then the wheels came off, as Jack Chevigny went just 13-14-2 at Texas 1934-1936.

Texas hired Hall of Fame coach Dana X. Bible away from Nebraska in an effort to right the ship, but initially he did even worse, going 2-6-1 and 1-8 in his first 2 seasons. He got Texas above water again, 5-4 in 1939, and in the 1940s Texas became the kind of national football power they have more or less been ever since. Had there been an AP poll 1900-1935, I believe that Texas would have been ranked in its top 25 just half a dozen times. But they were a top 25 team practically every year in the 1940s. They were particularly strong in 1941, finishing 8-1-1 and #4. Bible went 63-31-3 at Texas and won 3 conference titles 1937-1946.

Succeeding him this season was his assistant coach, Blair Cherry (pictured above). Cherry had played for TCU 1920-1922, and he had been a very successful high school coach after graduation. At Amarillo High School 1930-1936, he went 84-5 and won 3 straight state championships in his last 3 seasons there. Dana X. Bible hired him as an assistant when he took over at Texas in 1937. The first thing Cherry did when he took over as head coach this season was to switch Texas from the single wing to the T formation, and that shift led to huge success this season. Cherry went 32-10-1 and won 2 SWC titles 1947-1950, and then, like Bill Juneau 30 years earlier, he retired early because he could not take the constant carping of the fans. He was suffering from ulcers and insomnia, and the grief just wasn't worth it, even with all the success he had.

The Players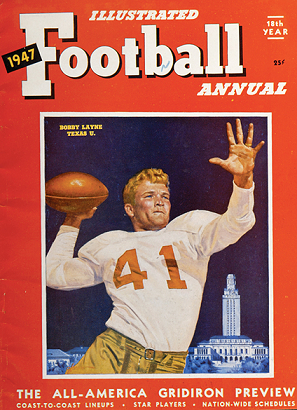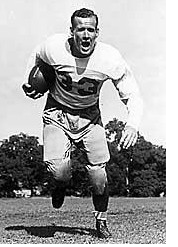 Notre Dame's Johnny Lujack and Michigan's Bob Chappuis were the nation's most heralded players this season, but Texas' star player has surpassed both in fame with the passage of time. That would be consensus All American quarterback Bobby Layne (pictured above on the cover of the 1947

Illustrated Football Annual

), who is enshrined in both the college and pro Halls of Fame. Layne was all-SWC 4 straight years at Texas 1944-1947. In a 40-27 win over Missouri in the 1946 Cotton Bowl, Layne accounted for all 40 points, scoring 4 touchdowns, throwing 2 touchdown passes, and kicking 4 extra points. He finished 8th in the Heisman vote in 1946, and 6th this year. He passed for a school record 3145 yards in his career on 210 completions in 400 attempts.

Bobby Layne went on to a 15 year career in the NFL, appearing in 6 Pro Bowls. He led the NFL in passing yards in 1950 and 1951, and in passing touchdowns in 1951, and he won 3 NFL titles. He retired with career records galore, including 26,768 yards passing and 196 touchdowns.

The rest of Texas' players, however, paled considerably compared to those of Notre Dame and Michigan. Practically the entire roster for Notre Dame went on to the NFL, for example, but only 11 players from this Texas roster went on to play pro ball, and most of them only lasted one season.

Tackle Dick Harris was a nonconsensus All American, and like Layne, he was all-SWC 4 times, 1945-1948. He and Layne are the only Texas players to ever accomplish the feat. Halfback Randall Clay would be a nonconsensus AA in 1949. He was a backup, but he saw a lot of play this season, and his 6 rushing touchdowns led the team.

And there was one player on this team who might now be even more famous than Bobby Layne

:

fullback Tom Landry (pictured, #33). His fame, of course, came as head coach of the Dallas Cowboys 1960-1988, where he went 270-178-6 and won a pair of Superbowls. He was also a pretty good pro player for 7 years before that, making All-Pro as a defensive back for the New York Giants in 1954. But it was his long illustrious coaching career that got him into the pro Hall of Fame, where he joins Bobby Layne.
Texas' Season
As I noted earlier, Texas played a much tougher schedule than Michigan and Notre Dame did. They played 7 top 20 teams, more than Michigan and Notre Dame combined, and their opponents went 69-38-8 (Michigan and Notre Dame's opponents had an aggregate losing record). The SWC was the top conference this year, 24-5-3 in nonconference games. Yet Texas smashed almost all of their opponents. The only team that came close to them was the team that beat them, 9-0-2 Southern Methodist.

Texas came into the SMU game 6-0 and ranked #3. All 6 of those opponents finished with winning records. The results

: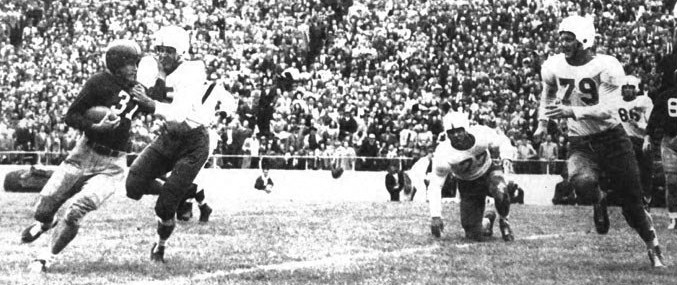 SMU came into the game 5-0 and ranked #8. They had struggled at 3-7 Oklahoma State and 5-4 UCLA, so they had not looked as impressive as Texas had, and Texas had beaten them 6 straight times prior to this season, so the Longhorns were big favorites. But SMU's struggles this season had come on the road, and they were at home for this game. SMU featured superstar halfback Doak Walker (pictured carrying the ball in this game above), a former high school teammate of Texas quarterback Bobby Layne at Highland Park in Dallas. The two were close friends, and would play together again in the 1950s with the Detroit Lions. Both are Hall of Famers, college and pro. This game, unfortunately for Texas, would be Doak Walker's show.

The Cotton Bowl seated 45,500 at this time, but an estimated 50,000 found their way in for this game. Plans were already underway for a major expansion, a direct result of the throngs coming out to watch Doak Walker play. Which is why they used to call the Cotton Bowl the "house that Doak built." This was the biggest game in Texas Longhorn football history to this point, though not the biggest for SMU (that would be the 1935 SMU-TCU game).

SMU won this game on the strength of a few big plays, and one missed extra point try by Texas. The game started with a bang

:

SMU's Frank Payne collected the opening kickoff, lateraled to Paul Page at about the 10, and Page took the ball down the sideline all the way to the Texas 19. Three plays gained 2 yards, and on 4th down Doak Walker completed a pass that carried to the Texas 4. Two plays later, with Texas' defense keying on Walker, Page took the ball over the goal line. Walker's extra point made it 7-0. Texas tied it up soon enough, fullback Tom Landry going over from 2 yards out early in the 2nd quarter. Midway through the quarter, SMU's Gil Johnson threw a long pass to Doak Walker, who made a spectacular leaping catch at the Texas 18 and ran the ball all the way to the doorstep of their end zone (the play pictured below). The next play was a touchdown, and Walker's extra point made it 14-7.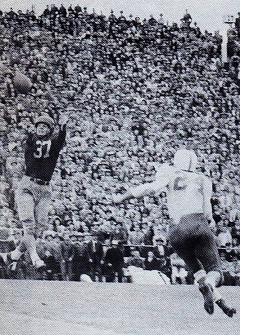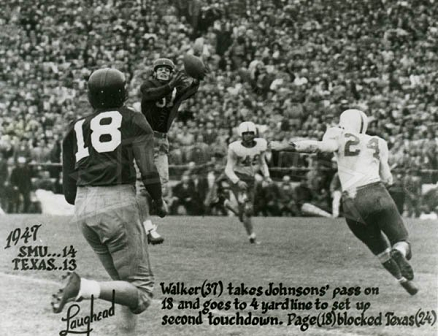 Bobby Layne got hot on one 4th quarter drive, completing passes all the way down the field until he hit Byron Gillory for a 15 yard touchdown pass. But Frank Guess was wide on the extra point try, and by that margin Texas lost 14-13. This was a very even game, SMU totaling 199 yards of offense, Texas 196. Doak Walker, who won 2 NFL titles, would say many years later that this game was his greatest sports highlight. SMU took a tie at 4-5-2 Texas Christian (#19) in their finale, but they still won the SWC over Texas by half a game. In the Cotton Bowl, SMU was tied by 9-0-1 Penn State (#4), thus finishing 9-0-2 and #3.

Texas finished out the regular season thusly

:

28-7 over 5-5 Baylor, 20-0 over 4-5-2 TCU (#19), and 32-13 at 3-6-1 Texas A&M. Next up was Alabama in the Sugar Bowl.
The Sugar Bowl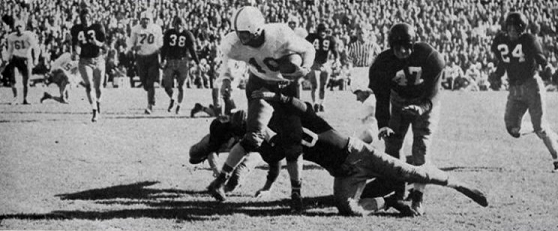 After starting out the season 1-2, Alabama had won their last 7 games, including a 14-7 triumph over 10-1 Georgia Tech. 73,000 attended the Sugar Bowl.

Texas drove 85 yards for a touchdown in the opening quarter, Bobby Layne connecting on passes for 44 yards and the 5 yard score to make it 7-0. Alabama answered in the 2nd quarter with a touchdown drive of their own, quarterback Harry Gilmer tossing an 8 yard touchdown pass that Ed White wrestled away from a defender in the end zone. It was 7-7 at the half.

This game saw little offense after that, but Texas wouldn't need it. In the 3rd quarter, they blocked an Alabama punt and recovered the ball in the end zone for a touchdown and 14-7 lead. In the 4th quarter, Harry Gilmer threw a pass from his own end zone that was intercepted and returned 20 yards for another touchdown. On the next possession, Gilmer was sacked and fumbled the ball away. Texas recovered at the Alabama 5, and that set up a Bobby Layne touchdown dive for a final score of 27-7.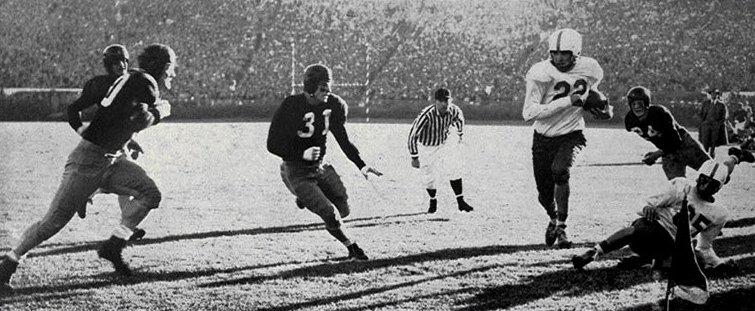 Texas outgained Alabama 242 yards to 103. Bobby Layne (pictured carrying the ball in this game above) was the game's MVP, rushing for 51 yards and passing for 183, almost all of Texas' offense. Alabama star quarterback Harry Gilmer was dealt the worst game of his career, 3 of 11 passing with 2 interceptions. Alabama was finished at 8-3, and I have them ranked #11 for 1947.
Michigan vs. Notre Dame vs. Texas
Here are the significant games for our contenders in 1947. The opponent rankings come from my 1947 fixed AP poll.


Michigan 10-0
Notre Dame 9-0
Texas 10-1

Michigan State (7-2)
55-0
#25
Minnesota (6-3)
13-6
(#27-33)
at Illinois (5-3-1)
14-7
(#26-32)
Indiana (5-3-1)
35-0
(#29-36)
at Wisconsin (5-3-1)
40-6
(#28-34)

Rose Bowl


Southern Cal (7-2-1)

49-0

#7

| | | |
| --- | --- | --- |
| at Purdue (5-4) | 22-7 | (#30-37) |
| Army (5-2-2) | 27-7 | #12 |
| at Northwestern (3-6) | 26-19 | Unranked |
| at Southern Cal (7-2-1) | 38-7 | #7 |

North Carolina (8-2)
34-0
#8
(Dallas) Oklahoma (7-2-1)
34-14
#20
(Memphis) Arkansas (6-4-1)
21-6
#15
Rice (6-3-1)
12-0
#10
at SMU (9-0-2)

13-14

#3
TCU (4-5-2)
20-0
#19

Sugar Bowl


Alabama (8-3)

27-7

#11

Against opponents not ranked in the top 40, Michigan defeated 4 teams by an average score of 47-9, Notre Dame defeated 6 by an average of 34-5, and Texas defeated 4 by an average of 33-8. But those opponents for Texas went 21-19-1, significantly better than the weakest teams Michigan and Notre Dame played.

Unlike Michigan and Notre Dame, Texas took a loss, but obviously they played a far tougher schedule than did Michigan and Notre Dame. Texas is similar to Michigan and Pittsburgh in 1925, and like I said about those teams, I could certainly understand someone giving Texas 1947 at least a share of the MNC. They wouldn't be a bad choice, and MNC-selecting organizations have made far worse choices a great many times over the years.

They didn't win their conference, but then neither did Minnesota in 1935 or Alabama in 2011. It would be a bit awkward ranking Texas higher than 9-0-2 SMU, who beat them and won the SWC, or 9-0-1 Penn State, who tied SMU in the Cotton Bowl. But it's definitely viable. SMU's win came by just 1 point at home, not decisive, and Texas outperformed them at every turn over the rest of their schedules. SMU beat 3-7 Oklahoma State 21-14 and 5-4 UCLA 7-0, neither of those teams rated, while Texas beat 8-2 North Carolina (#8) 34-0 and 7-2-1 Oklahoma (#20) 34-14. SMU and Texas played 5 common opponents in the SWC, and SMU beat those teams by a total of 70-25, while Texas beat them by a total of 113-26. And SMU was tied by 4-5-2 TCU in their regular season finale. As for Penn State, the only rated team they played all season was SMU, and they struggled to get by a pair of their weak opponents.

But while Texas being rated higher than SMU is viable, Michigan and Notre Dame are much more of a reach, as both posted perfect records and spectacular performances. Both ripped apart 7-2-1 Southern Cal on the road (#7), and Southern Cal tied Rice, whom Texas beat just 12-0 at home. Texas' 34-0 win over 8-2 North Carolina (#8) is in the same ballpark as Michigan and Notre Dame's wins over Southern Cal, but it was at home, and North Carolina didn't actually do much to earn the high rating the AP poll gave them. They lost to unrated 6-4 Wake Forest, and their big wins came over 9-2 William & Mary (#17) and 5-5 Tennessee (#23).

As noted above, Michigan and Notre Dame both did a bit better than Texas did at squashing non-top 40 opponents, though Texas' weakest opponents were stronger. Michigan also beat top 25 teams by an average of 52-0, Notre Dame by 33-7, and Texas by 23-6. Michigan beat top 40 opponents by an average of 34-3, Notre Dame by 29-7, and Texas by 23-6. I'm afraid I have to go with the majority, then and now, and presume that Texas would have had a lot of trouble keeping up with Michigan and Notre Dame. Michigan was running college football's first 2-platoon team (separate teams for offense and defense), and Notre Dame was alternating whole teams between quarters. That's why they beat teams so handily. Attrition.

So Texas is eliminated. It's an "easy" choice to make, since no one listed in the NCAA Records Book names Texas an MNC for 1947, but I think they are extremely close, and really exist in the gray area between worthy and not. It isn't clear-cut.

Michigan vs. Notre Dame
There's not much to say here. As I said in my article on fixing the 1947 AP poll, either of these teams could be rated #1. Michigan played the tougher schedule, and they crushed all 3 common opponents better than Notre Dame did, so they are probably the best choice. But on the other hand, Michigan had 2 close wins and Notre Dame only had 1, and on that basis I could see Notre Dame getting the nod. Shared MNC here.
Awards Ceremony
1947 #1:

10-0 Michigan and/or 9-0 Notre Dame


National Co-champion:

Michigan or Notre Dame if not ranked #1


Contender:

10-1 Texas

These are the awards I have been handing out for each season, except seasons when there are no contenders. For this purpose, what I mean by a contender is a team that I think is very close to being worthy of sharing the national championship. A team that you could make an argument for, even if that argument is weak. But the contenders are teams that I myself do not see as national champions.

Though no math-based rating system listed in the NCAA Records book had Texas #1, I have seen 3 unlisted computer ranking systems that rank Texas #1 for 1947. This season was Texas' first legitimate contention for an MNC.
Grading the Selectors
I have been grading the NCAA Records Book's selectors for each season, and keeping a grade point average, so we can see who is relatively good at selecting national champions and who is not. And although I do not consider computer ratings to be legitimate national championship selectors, I have been including them in this section as well, just for comparison's sake.
I am grading on a scale of 0-5 (5 being the best).


The Helms Foundation split the MNC between Michigan and Notre Dame. Grade

:

5.0



The AP Poll and Williamson math-based system crowned Notre Dame alone. Grade

: 5.0



The other 12 selectors all went with Michigan alone
. Grade

: 5.0



Grade point averages 1936-1947

:




1) Boand (math system)




5.0

2) AP Poll


College Football Researchers Association




Poling (math)


4.93

5) DeVold (math)
4.91

6) Billingsley (math)

4.87

7) National Championship Foundation
4.70
8) Litkenhous (math)
4.64

9)

Houlgate (math)

4.45

10) Berryman (math)
4.28

11)

Dunkel (math)

4.27

12) Sagarin (math)
4.23

13) Helms Foundation

4.20

14) Sagarin-ELO (math)
4.11
15) Williamson (math)
3.62

Grade point averages 1919-1935
:
| | |
| --- | --- |
| 1) Boand (math system) | 4.26 |
| 2) College Football Researchers Association | 4.22 |
| 3) Poling (math) | 4.11 |
| 4) Helms | 4.09 |
| 5) Sagarin-ELO (math) | 4.06 |
| 6) National Championship Foundation | 3.96 |
| 7) Dickinson (math) | 3.49 |
| 8) Houlgate (math) | 3.35 |
| 9) Billingsley (math) | 3.34 |
| 10) Sagarin (math) | 3.28 |
| 11) Parke Davis | 2.77 |

How the systems that selected champions for 1901-1918 did

:



| | |
| --- | --- |
| 1) Houlgate (math system) | 4.5 |
| 2) Helms | 4.3 |
| 3) Parke Davis | 4.2 |
| 4) National Championship Foundation | 3.7 |
| 5) Billingsley (math) | 3.6 |