Home
1955 College Football National Championship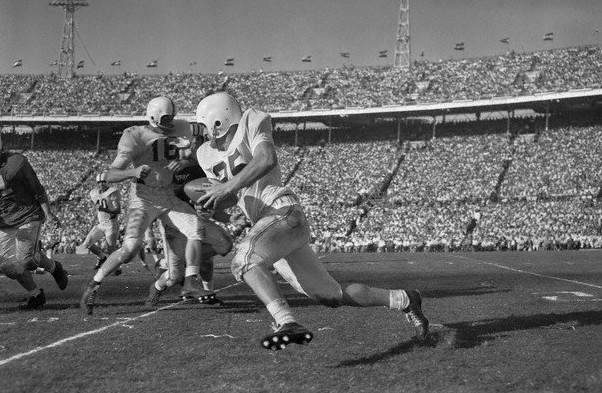 Pictured above is Oklahoma's star halfback Tommy McDonald carrying the ball against Maryland in the Orange Bowl. 11-0 Oklahoma defeated 10-1 Maryland 20-6 to end all debate as far as the 1955 mythical national championship is concerned, and they were and are the unanimous choice for 1955 MNC among organizations listed in the NCAA Records Book
(omitting math/computer ratings, which are not generally accepted as MNCs).


One math-based ranking system (Boand) did go with 9-1 Michigan State for #1, but MSU took an upset loss at Michigan (7-2, #14), and they are not a legitimate contender for the 1955 crown. Neither are 10-1 Mississippi, who lost at Kentucky (6-3-1, #22), or 9-0 Miami-Ohio, who played no one of any value. So Oklahoma is the only team I'll be summarizing for this article.


All rankings in this article, except as noted, come from my 1955 fixed AP poll.
Oklahoma 1955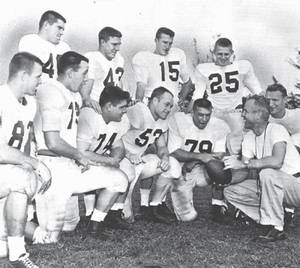 at North Carolina (3-7)
13-6
Pittsburgh (7-4)
26-14
#10
(Dallas) Texas (5-5)
20-0
Kansas (3-6-1)
44-6


Colorado (6-4)
56-21


at Kansas State (4-6)
40-7


at Missouri (1-9)
20-0
Iowa State (1-7-1)
52-0
at Nebraska (5-5)
41-0
Oklahoma State (2-8)
53-0

Orange Bowl


Maryland (10-1)

20-6

#2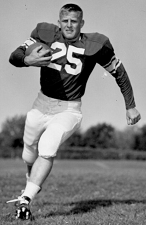 Oklahoma was doing pretty well for themselves in the postwar years. They had gone 11-0 in 1949, and I consider them to be an MNC for that season

;

they finished #1 in the AP poll in 1950, but then lost in the Sugar Bowl
;

they went 10-0 in 1954, but fell short of an MNC that year. I covered their Hall of Fame coach, Bud Wilkinson, in the linked 1949 national championship article, and I covered most of this year's notable players in the linked 1954 article. This season's 11-0 effort continued Oklahoma's NCAA record 47 game winning streak that stretched from 1953 to 1957.

Oklahoma had graduated both the consensus All Americans from their 1954 team, center Kurt Burris and end Max Boydston
. Of the returning players from the 1954 team, guard Bo Bolinger was a consensus AA this year, and halfback Tommy McDonald (pictured at left) was a nonconsensus AA. He would be a consensus AA in 1956, and is in the college and pro halls of fame. Another Hall of Famer, center Jerry Tubbs, would be a unanimous AA in 1956.

Two notable sophomores joined the team this year that would go on to be consensus AA as seniors in 1957

:

guard Bill Krisher and halfback Clendon Thomas. Thomas would lead the nation in scoring in 1956 (18 touchdowns), and for his career he totaled 2156 rushing yards, 3209 all-purpose yards, and 36 touchdowns. He went on to an 11 year pro career, and he is in the Hall of Fame.
Oklahoma's Season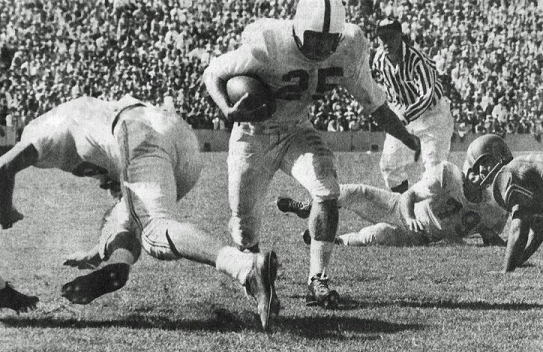 Oklahoma's only close game this season was their opener at North Carolina (3-7). NC scored a touchdown in the initial quarter by recovering a fumble in the Oklahoma end zone, and they held a 6-0 halftime lead because they stopped Sooner drives at their 1, 3, 14, 18, and 30 yard lines. But they couldn't stop them forever. Oklahoma drove 74 yards for a touchdown in the 3rd quarter to take a 7-6 lead, and late in the game halfback Tommy McDonald scored an insurance touchdown for the 13-6 final score. The Sooners totaled 373 yards rushing in this game.

Oklahoma's toughest regular season game was the next week, hosting Pittsburgh (7-4, #10). The Sooners started fast in this one, Tommy McDonald scoring from 43 yards out on the opening drive, and Oklahoma raced to a 19-0 halftime lead thanks in part to Pitt throwing 3 interceptions. Pitt came back with a pair of touchdowns in the 3rd and 4th quarters, closing the gap to 19-14. Oklahoma's starters came back in, and Tommy McDonald again scored a late insurance touchdown, putting the final tally at 26-14. Oklahoma rushed for 357 yards.

Oklahoma faced no other worthy opponents in the regular season, and no one else got closer to them than 20 points. Oklahoma led the nation in total offense this year with 410.7 yards per game and in scoring with 36.5 points per game
.

The Orange Bowl


The Orange Bowl got a great matchup this year, 10-0 Oklahoma vs. 10-0 Maryland, Oklahoma riding a 30 game winning streak, Maryland 15. This was a rematch of the 1954 Orange Bowl, when Oklahoma topped Maryland 7-0 to deny them a legitimate national championship (though they still claim a regular season MNC for 1953, of course).

Maryland scored a touchdown in the opening quarter and held a 6-0 halftime advantage, but the 2nd half belonged to Oklahoma. On Oklahoma's first possession of the 3rd quarter, Tommy McDonald returned a punt 32 yards to the Maryland 46, then Oklahoma surprised the Terrapins with a hurry-up offense that quickly led to a McDonald touchdown and a 7-6 lead. On their next possession, Oklahoma went to the hurry-up offense again, and marched for 16 plays to a 14-6 lead. Maryland came back with a pair of drives into Oklahoma territory, but both were stymied by interceptions, the last returned 82 yards for a touchdown to make the final score 20-6.

Oklahoma had 16 first downs to 9 for Maryland, but only outgained them 255 yards to 233. The biggest difference was 2 turnovers for Oklahoma, 5 for Maryland. That finished Maryland at 10-1, and I have them ranked #2 for 1955.
Awards Ceremony
1955 #1:

11-0 Oklahoma


National Co-champion:

None


Contender:

None

These are the awards I have been handing out for each season, except seasons when there are no contenders. For this purpose, what I mean by a contender is a team that I think is very close to being worthy of sharing the national championship. A team that you could make an argument for, even if that argument is weak. But the contenders are teams that I myself do not see as national champions.
Grading the Selectors
I have been grading the NCAA Records Book's selectors for each season, and keeping a grade point average, so we can see who is relatively good at selecting national champions and who is not. And although I do not consider computer ratings to be legitimate national championship selectors, I have been including them in this section as well, just for comparison's sake.
I am grading on a scale of 0-5 (5 being the best).


Boand's math-based system tabbed 9-1 Michigan State #1. Grade

:

0.0



Everyone else went with 11-0 Oklahoma. Grade

: 5.0
.

Grade point averages 1936-1955 (the UPI coaches' poll and the Football Writers Association of America will not be added until they have selected at least half as many champions as the others)

:




1) DeVold (math system)




4.95

2) National Championship Foundation
4.82

3) Billingsley (math)

4.75

4)

College Football Researchers Association




4.67

5)

Dunkel (math)

4.56

6)

Poling (math)


4.54

7)

Houlgate (math)

4.53

8) Sagarin-ELO (math)
4.47
9) Litkenhous (math)
Sagarin (math)
4.29
10) Boand (math)
4.26
12) AP Poll
4.21

13) Helms Foundation

4.10

14) Berryman (math)
3.70
15) Williamson (math)
3.67

Grade point averages 1919-1935
:
| | |
| --- | --- |
| 1) Boand (math system) | 4.26 |
| 2) College Football Researchers Association | 4.22 |
| 3) Poling (math) | 4.11 |
| 4) Helms | 4.09 |
| 5) Sagarin-ELO (math) | 4.06 |
| 6) National Championship Foundation | 3.96 |
| 7) Dickinson (math) | 3.49 |
| 8) Houlgate (math) | 3.35 |
| 9) Billingsley (math) | 3.34 |
| 10) Sagarin (math) | 3.28 |
| 11) Parke Davis | 2.77 |

How the systems that selected champions for 1901-1918 did

:



| | |
| --- | --- |
| 1) Houlgate (math system) | 4.5 |
| 2) Helms | 4.3 |
| 3) Parke Davis | 4.2 |
| 4) National Championship Foundation | 3.7 |
| 5) Billingsley (math) | 3.6 |