Home
1954 College Football National Championship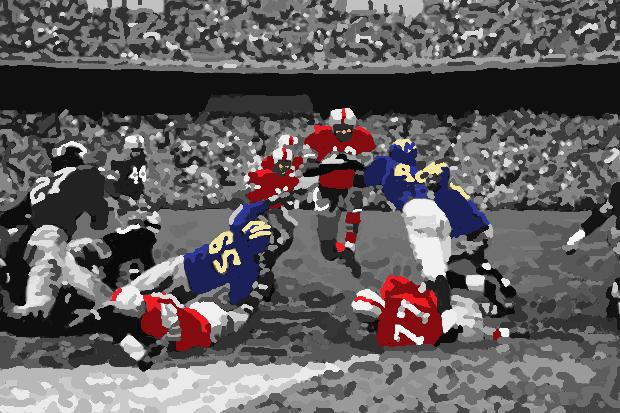 Here is my painting of Ohio State halfback Hopalong Cassady hopping in for the touchdown that made the final score 21-7
over Michigan in 1954. The Buckeyes then beat Southern Cal 20-7 in the Rose Bowl to finish 10-0. But two other major teams also sported perfect records this season

:

9-0 UCLA and 10-0 Oklahoma. Unlike UCLA, however, Oklahoma stirred little to no national championship debate.


Here is how all of the organizations listed in the NCAA Records Book see the 1954 mythical national championship (omitting math/computer ratings, which are not generally accepted as MNCs)

:




10-0 Ohio State
:
AP Poll
,
INS Poll (sportswriters)
,
CFB Researchers
(tie),
Helms
(tie),
National Championship Foundation
(tie)
9-0 UCLA
:
UPI Poll (coaches),
Football Writers Association of America,
National Championship Foundation
(tie),
CFB Researchers
(tie),
Helms
(tie)

This was the debut season for the Football Writers Association of America "championship," a poll of member writers that was very different from the AP poll in that it was done after the bowl games. The FWAA handed out the Grantland Rice Trophy to its champion, as it did every year through 2013, after which the system was retired, the FWAA being satisfied with the debut of the 4-team college football playoff in 2014.

As you can see, people were perfectly divided on whether Ohio State or UCLA deserved to sit on this season's throne, but I'll be looking at the completely ignored Oklahoma team as well. They did go 10-0, and they would also post perfect records in each of the next 2 seasons, winning a pair of consensus MNCs... should they have had a threepeat?

Defending champion 9-1 Notre Dame was upset by 5-3-1 Purdue 27-14 early in the season and thus blew their chance at repeating this season. 8-1 Miami-Florida lost 14-13 at 8-3 Auburn, but their schedule wasn't good enough for MNC contention anyway. That is even more true in the cases of 8-1 West Virginia (lost 13-10 to 4-5 Pittsburgh) and 8-0-1 Virginia Tech (tied by 4-4-2 William & Mary).


All rankings in the following article, except as noted, come from my 1954 fixed AP poll.
Ohio State 1954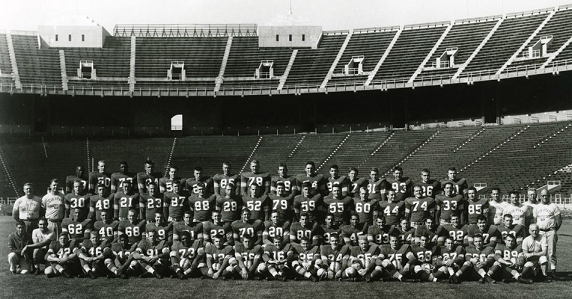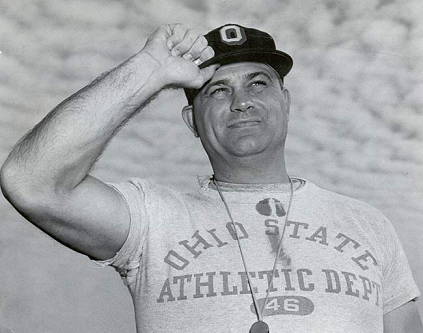 Indiana (3-6)
28-0
California (5-5)
21-13
at Illinois (1-8)
40-7
#14
Iowa (5-4)
20-14
Wisconsin (7-2)
31-14
#7
at Northwestern (2-7)
14-7


Pittsburgh (4-5)
26-0


at Purdue (5-3-1)
28-6
#15
Michigan (6-3)
21-7
#12

Rose Bowl


Southern Cal (8-4)

20-7

#25

Ohio State was coached by Hall of Famer Woody Hayes (pictured above), the man most responsible for turning OSU into the elite football power that they remain to this day. He climbed his way up the Ohio football coaching ladder from Denison to Miami-Ohio to Ohio State, where he remained for the rest of his career. He went 205-61-10 at OSU 1951-1978, winning 13 Big 10 titles and 5 school-claimed MNCs. Overall, he was 238-72-10 with 16 conference titles
.

Hayes was a "colorful" coach with a severe anger management problem that periodically led to suspensions and/or fines, culminating in the 1978 Gator Bowl, where he punched a Clemson player in the face for the "crime" of intercepting a pass that sealed a loss for OSU. Hayes was fired, and that punch is still what he is best remembered for. But sportsmanship was never his bag

:

In a 50-14 win over rival Michigan in 1968, Hayes directed his team to go for 2 in the closing minutes.

And punching players was always his bag

:

he punched and slapped his own players rather frequently. Glen Mason, who played and coached for Hayes, once said, "I think if you spent four years at Ohio State and Woody didn't hit you, you felt cheated." But the important thing, as far as OSU fans are concerned, is that Hayes won a whole lot of football games.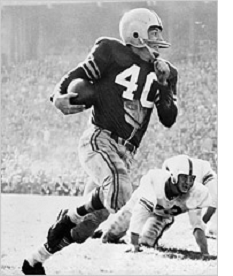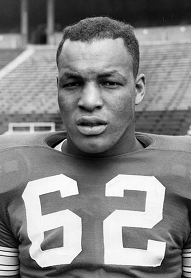 Ohio State's 10-0 campaign in 1954 was led by Hall of Fame halfback Howard "Hopalong" Cassady (pictured above at left), a consensus All American who finished 3rd in the Heisman vote. The next season, he would repeat as a consensus AA and win the Heisman. He set a number of school career records, including rushing yards (2466), all-purpose yards (4403), and points (222). The school claims that as a defensive back, he never had a pass completed against him in four years. He went on to a 9-year pro career.

Guard Jim Parker (pictured above at right) also ended up in the Hall of Fame, or should I say "Halls"

:

as in college

and

pro. He would be a nonconsensus AA in 1955, and a unanimous AA in 1956 and Outland Trophy winner. He went on to an 11 year career with the Baltimore Colts, winning 2 NFL titles and being named All-Pro ten times.

End Jack Dugger was a nonconsensus AA this season.
Ohio State's Season
Ohio State opened with a 28-0 romp over Indiana (3-6), but they struggled quite a bit more to get by California (5-5) at home the next week. The game started well enough, with Cal fumbling away the ball on the 3rd play of the game, and Hopalong Cassady swooping in for a 26 yard touchdown run soon thereafter. Another fumble set up another Buckeye touchdown in the 2nd quarter, and it was 14-0. Cal quarterback Paul Larson sparked their comeback, first setting up a touchdown with a 68 yard kickoff return to close the gap to 14-7 at the half, then hitting 3 straight passes to set up another touchdown in the 3rd quarter. Larson was also the goat, though, as he missed the second extra point try, leaving Cal down 14-13, and then he tossed an interception that Cassady returned 29 yards for a touchdown to make the final score 21-13. Cassady finished the game with 109 yards rushing, 50 receiving, and 2 touchdowns.

Ohio State won another romp 40-7 at Illinois (1-8), then survived a tremendous effort from Iowa (5-4, #14) at home the next week. Iowa struck first in this one, halfback Earl Smith returning an interception 67 yards for a touchdown and a 7-0 opening quarter lead. Ohio State answered with touchdown drives of 61 and 72 yards to lead 14-7 at the half. Earl Smith struck again for Iowa, returning a punt 75 yards for a tying touchdown. Ohio State answered again, driving 64 yards for a touchdown and a 20-14 lead. Iowa completely dominated the 4th quarter, but they couldn't score. They drove 76 yards, but missed on a pass to a wide-open receiver in the end zone, then drove to the OSU 5, where they were stopped inches short on 4th down.

That brought Ohio State to their biggest game of the year, their homecoming game against 4-0 Wisconsin. OSU came into this game ranked #4, Wisconsin #2. Wisconsin hit a 34 yard touchdown pass to lead 7-3 at the half, and they were driving for more late in the 3rd quarter when the game turned on an 88 yard Hopalong Cassady interception return for a touchdown. Wisconsin fell apart after that, fumbling twice and failing badly on a fake punt to set up 3 more touchdowns for OSU in the final quarter. Wisconsin then scored against the reserves to make the final score 31-14. The Badgers finished the season 7-2, and I have them ranked #7 for the season. The Buckeyes moved past UCLA and Oklahoma to #1 in the next AP poll.

As happens so often, Ohio State followed their best performance of the season with their worst, sleepwalking to a 14-7 win at Northwestern (2-7). UCLA passed them back up in the following AP poll. OSU bounced back with a 26-0 home win over Pittsburgh (4-5) and a 28-6 win at Purdue (5-3-1, #15), after which they edged past UCLA to regain the top spot of the AP poll, where they would remain to the end. The Buckeyes totaled 407 yards rushing against Purdue, led by Hopalong Cassady's 165.

Next up for Ohio State was their regular season finale hosting archrival Michigan (6-3, #12). Michigan marched 68 yards to a touchdown after the opening kickoff to take an early lead. The Buckeyes lost their top scorer, halfback Bob Watkins, early in the game, and struggled to move the ball after that, but a long interception return set up a touchdown pass that knotted the game up 7-7 at half, despite Michigan's 198-42 advantage in yards gained from scrimmage.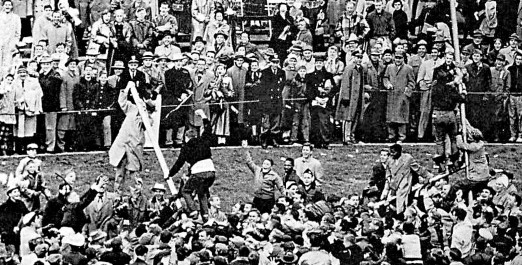 In the 4th quarter, OSU stopped Michigan inches short of their goal line (Michigan partisans griped for years afterward that the last plunge was actually a touchdown, and that they got "homered"), then proceeded to drive 99 1/2 yards for a 14-7 lead, Hopalong Cassady supplying 52 of the 99 1/2 on one run. Cassady intercepted a pass to launch a 61 yard clinching drive, scoring the touchdown in the final minute of play (as shown in the painting at the top of the article) to make the final score 21-7. Michigan's yardage advantage was whittled down to a closer 303-254 by the end. Woody Hayes was carried off the field by his team, the fans descended and tore down the goalposts (as pictured above), and the Buckeyes would have a nice rest before their next game in the Rose Bowl.
The Rose Bowl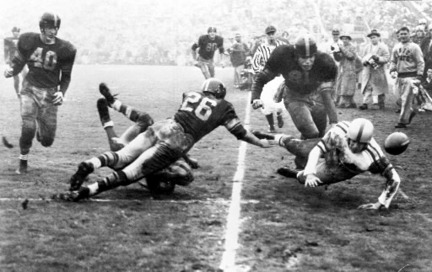 Unfortunately, because of the well-intentioned but ultimately idiotic "no repeat" rule most conferences had in place for bowl games in the 1950s, Ohio State would not be facing #2 UCLA in the Rose Bowl, but mediocre Southern Cal instead (8-4, #25), a terrible and completely useless matchup for a #1 team, especially since UCLA had already capped their season by destroying the Trojans 34-0. UCLA had played in the Rose the year before, and would appear there again following the 1955 season. The "no repeat" rule had 10-0 Oklahoma sitting at home as well, since they had played in the Orange Bowl the previous season.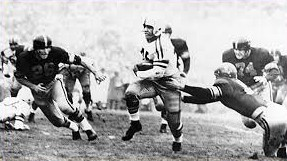 The game was played in a heavy rainstorm and deep mud, but OSU slogged their way to a 20-7 win, outgaining USC 360 yards to 206. Southern Cal's one touchdown came on an 86 yard punt return. Never the diplomat, Woody Hayes spent his post-game time with the press grousing about the bands marching on the muddy field at halftime and musing that half a dozen Big Ten teams would have beaten the Trojans. He was right about that.
UCLA 1954
| | | |
| --- | --- | --- |
| San Diego Navy | 67-0 | |
| at Kansas (0-10) | 32-7 | |
| Maryland (7-2-1) | 12-7 | #10 |
| at Washington (2-8) | 21-20 | |
| Stanford (4-6) | 72-0 | |
| at Oregon State (1-8) | 61-0 | |
| at California (5-5) | 27-6 | |
| Oregon (6-4) | 41-0 | |
| Southern Cal (8-4) | 34-0 | #25 |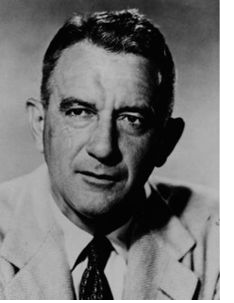 UCLA owns the most NCAA national championships of any university in the country, but 1954 is UCLA's one and only mythical national championship in football. The head coach was Hall of Famer Henry "Red" Sanders (pictured), a Vanderbilt graduate who had coached there 1940-1942 and 1946-1948, going 36-22-2. He then went 69-19-1 at UCLA 1949-1957 and won 3 straight PCC titles 1953-1955. Just before the 1958 season, he died of a heart attack in a Los Angeles hotel room with a prostitute.

Overall, Red Sanders was 102-41-3. He, not Vince Lombardi, coined the phrase "Winning isn't everything; it's the only thing." By this point in time, most of the nation had moved to the T-formation, but Sanders was a holdout, still running the old-fashioned single wing at UCLA.

UCLA fielded six players who would make a first-team All American list during their careers, twice as many as Ohio State fielded. However, unlike OSU, UCLA has put none of them in the Hall of Fame
.

Tackle Jack Ellena was UCLA's one consensus AA this year, and the UPI lineman of the year. Guard Jim Salsbury and fullback Bob Davenport were nonconsensus AA. The other guard, Hardiman Cureton, would be a consensus AA the next season, as well as UCLA's first African American captain. He went on to a 9 year career in the CFL. A pair of backups, guard James Brown and halfback Sam Brown, would be nonconsensus AA the next season.

But the sparkplug of this team won no awards. That would be halfback Primo Villanueva (pictured scoring a touchdown against Stanford below), nicknamed the "Calexico Kid" after his hometown. He was the team leader in total offense and scored 14 touchdowns on the season. He went on to a 6 year career in the CFL, then founded a Mexican restaurant empire in Canada. He is enshrined in the British Columbia Restaurant Hall of Fame.
UCLA's Season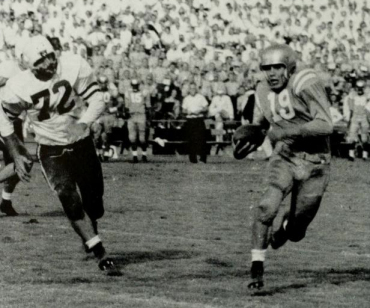 UCLA opened with a pair of cupcakes, routing San Diego Navy 69-0 and Kansas (0-10) 32-7 on the road. Next up was their biggest game of the year, hosting Maryland (7-2-1, #10) on a Friday night. Maryland was the defending AP poll "champion," though they had then lost the Orange Bowl to Oklahoma, and coming into this game they were ranked #6, UCLA #4. UCLA converted a Maryland fumble into a touchdown dive by fullback Bob Davenport to open the scoring at 6-0, and they stopped Maryland at their 2 yard line late in the first half to preserve that lead into halftime.

Maryland finally drove 63 yards for a touchdown early in the final quarter to take a 7-6 lead. Later, they punted out of their end zone to just their 15 yard line, and UCLA drove from there for another Bob Davenport touchdown and a 12-7 lead that would hold up as the final score, though UCLA would first have to halt a Maryland drive inches short of a first down at the UCLA 19 yard line.

Like Ohio State, UCLA followed up their biggest win of the year with their worst performance of the year, and like Ohio State, it was a road trip to a team that won just 2 games in 1954. UCLA got off to a great start at Washington (2-8), and despite seeing drives end at the UW 10, 4, and 1 yard lines, the Bruins forged a seemingly safe 21-0 lead, including 2 more touchdowns from Bob Davenport. Washington quarterback Bobby Cox led a furious rally against UCLA's substitutes, tossing 3 touchdown passes over the final 20 minutes, but UW missed one of their extra points to just fall short, 21-20. Washington coach John Cherberg and Red Sanders are pictured below shaking hands after the game (Sanders on the right).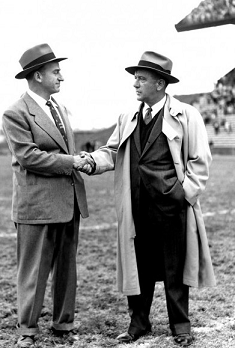 UCLA was never threatened again, winning their next 5 games by an average score of 47-1. The only notable opponent in that stretch was archrival Southern Cal (8-4, #25), whom they plastered 34-0 at home in their finale. UCLA returned 5 interceptions for 167 yards in that game, and scored 27 points in the 4th quarter.
Oklahoma 1954
| | | |
| --- | --- | --- |
| at California (5-5) | 27-13 | |
| Texas Christian (4-6) | 21-16 | #24 |
| (Dallas) Texas (4-5-1) | 14-7 | #23 |
| at Kansas (0-10) | 65-0 | |
| Kansas State (7-3) | 21-0 | |
| at Colorado (7-2-1) | 13-6 | |
| at Iowa State (3-6) | 40-0 | |
| Missouri (4-5-1) | 34-13 | |
| Nebraska (6-5) | 55-7 | |
| at Oklahoma State (5-4-1) | 14-0 | |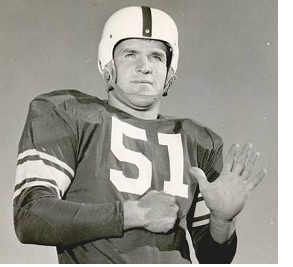 Oklahoma had gone 11-0 in 1949, and I consider them to be an MNC for that season, and they finished #1 in the AP poll in 1950, but then lost in the Sugar Bowl
. I covered their Hall of Fame coach, Bud Wilkinson, in the linked 1949 national championship article. This year's 10-0 effort was just part of an NCAA record 47 game winning streak that would stretch to 1957, and though Oklahoma was lost in the shadows of Ohio State and UCLA this season, they would be the consensus MNC for each of the next 2 seasons.

Like UCLA, Oklahoma fielded half a dozen players who would make a first team All American list in their careers, and again, that's twice as many as Ohio State fielded. Most of these players would become better known as Oklahoma continued to win over the next 2 seasons, but this season's team was led by senior consensus AA center Kurt Burris (pictured), who finished 2nd in the Heisman, was the Helms Foundation player of the year, the Philadelphia Sports Writers Association lineman of the year, and a Hall of Famer
.

End Max Boydston was also a consensus AA senior, and went on to an 8 year pro career.

Fullback Jerry Tubbs was a sophomore that wouldn't be a household name until 1956, but this season he was moved from the line to the backfield when starting fullback Billy Pricer was injured and lost for the season in the Texas game, even though Tubbs had never played as a back before. He averaged 6.1 yards per carry this year, but was moved back to center in 1955, and in 1956 he was a unanimous AA, the UPI lineman of the year, and he won the Walter Camp Award. He went on to a 10 year pro career, a 21 year career as an assistant coach for the Dallas Cowboys, and he is in the Hall of Fame.

The other notable players from this team were backups who saw plenty of playing time. Chief among these was halfback Tommy McDonald, who is in both the college and pro Halls of Fame. He would be a nonconsensus AA in 1955 and a consensus AA in 1956, when he won the Maxwell Award. He went on to a 12 year pro career as a wide receiver, collecting 8410 career receiving yards, making 6 Pro Bowls, and winning an NFL title with the Eagles in 1960.

Guard Bo Bolinger would be a consensus AA in 1955, and tackle Ed Gray would be a nonconsensus AA in 1956.
Oklahoma's Season
Oklahoma opened the season with a 27-13 win at California (5-5), moved past Notre Dame from #2 to #1 in the next AP poll, and then struggled mightily in their next two games. First up was a home bout with Texas Christian (4-6, #24), a terrific game that would become legendary for its highly unusual example of honorable sportsmanship. TCU piled up 308 yards in this game on the way to a 16-7 4th quarter lead. They led 2-0 at the half, but Oklahoma took the lead 7-2 on a 61 yard punt return from substitute quarterback Jimmy Harris. Starting quarterback Gene Calame had been knocked out of the game, and understudy Harris seized his opportunity with a starring turn. He would proceed to go 25-0 as a starting quarterback at Oklahoma.

TCU answered Oklahoma's touchdown with one of their own to cap an 81 yard drive. Oklahoma responded by driving to TCU's 2 yard line, but they fumbled the ball away into the end zone. They fumbled 10 times in this game, losing 5. TCU then drove 80 yards for the touchdown that put them up 16-7. But Oklahoma rallied in the last 10 minutes for the 21-16 win. Harris scored his 2nd touchdown to cap the first touchdown drive, and a 50 yard punt return set up the second. But TCU still wouldn't go quietly. They pushed the ball back to the Oklahoma 7 yard line before the clock wound down to zero.

Now about that legendary example of honorable sportsmanship... the details of this story vary quite a bit across tellers, articles, and books, but the gist of it is as follows. At some point in the game, TCU end Johnny Crouch appeared to make a catch on a low pass in the end zone, and the field judge called it a touchdown. Johnny Crouch, however, told the referee that it was not a catch, and that he had trapped it. The ref then called it an incomplete pass, and by that margin, TCU ended up losing the game. Crouch was showered with sportsmanship awards for his honesty after the season and became a national story.


But it turns out that that is not quite how it actually went down. Here's a nice article on this story by Berry Tramel, published at NewsOK.com in 2012. Tramel found out what really happened from Crouch's teammates, and the gist of it is as follows. On the play, the field judge signaled touchdown, but the linesman signaled incomplete. As they discussed it, Crouch was actually arguing that he caught it cleanly. Several TCU players had seen the ball bounce before it got to him, and one of them, tackle Ray Hill, walked up to Crouch as he was arguing, punched him, and said that he didn't catch it. Crouch then admitted that yes, he hadn't cleanly caught the ball. So yes, he admitted it, but not of his own accord.

After an off week, Oklahoma struggled to win again, this time against archrival Texas (4-5-1, #23). Oklahoma fumbled the ball away 5 times again, and one of those, on the opening kickoff, set up a short touchdown drive for Texas and a 7-0 lead. Oklahoma answered with 2 touchdown drives to wrest away the lead 14-7 early in the 2nd quarter. That held up as the final score, though Texas drove to the Oklahoma 10 yard line late in the game.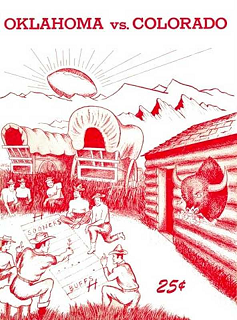 That sent Oklahoma into conference play, and their conference was incredibly weak in the 1950s, about the power level of today's Sun Belt aside from the Sooners. Still, Oklahoma had even more trouble at 7-2-1 Colorado (unrated) than they'd had against Texas. Colorado took a 6-0 lead that held up until the 4th quarter. They halted one Sooner drive at their 1 yard line, but Oklahoma later drove 88 yards to a touchdown to take the lead 7-6. Halfback Tommy McDonald threw a 39 yard pass that set up an insurance touchdown that made the final score 13-6.
Ohio State vs. UCLA vs. Oklahoma
Here are the significant games for our contenders in 1954. The opponent rankings come from my 1954 fixed AP poll.


Ohio State 10-0
UCLA 9-0
Oklahoma 10-0

California (5-5)
21-13
Unrated
Iowa (5-4)
20-14
#14
Wisconsin (7-2)
31-14
#7
at Northwestern (2-7)
14-7
Unrated
at Purdue (5-3-1)
28-6
#15
Michigan (6-3)
21-7
#12

Rose Bowl


Southern Cal (8-4)

20-7

#25

| | | |
| --- | --- | --- |
| Maryland (7-2-1) | 12-7 | #10 |
| at Washington (2-8) | 21-20 | Unrated |
| Southern Cal (8-4) | 34-0 | #25 |

| | | |
| --- | --- | --- |
| Texas Christian (4-6) | 21-16 | #24 |
| (Dallas) Texas (4-5-1) | 14-7 | #23 |
| at Colorado (7-2-1) | 13-6 | Unrated |

Against opponents not ranked in the top 25, Ohio State defeated 5 teams by an average score of 26-5, UCLA defeated 7 by an average of 46-5, and Oklahoma defeated 8 by an average of 34-5.

We have some comparative scores to look at, starting with the interesting fact that all 3 of these teams played 5-5 California. Ohio State struggled to beat Cal 21-13 at home, whereas UCLA beat Cal 27-6 and Oklahoma beat them 27-13, both on the road. Other common opponent results

:



Ohio State beat #25 Southern Cal 20-7 in the Rose Bowl, and UCLA beat them 34-0 at home, but it must be noted that the Rose Bowl was played in heavy rain and mud.

UCLA beat 0-10 Kansas 32-7, and Oklahoma beat them 65-0, both on the road.
Oklahoma is pretty easy to eliminate from this race, as they did not come close to playing an MNC caliber schedule, and they did not perform well against the few decent teams they did play. Both of the rated teams they played were at the bottom of the top 25, and both had losing records! Oklahoma's performance against the 3 best teams they played was consistent, and it was that of a #15 team

:

all close wins. UCLA's schedule wasn't much better, but they did play a top 10 team, and they did smash the #25 team 34-0, as an MNC contender ought to do.

That brings us to Ohio State vs UCLA. Obviously Ohio State played a vastly tougher schedule, and their best win, 31-14 over #7 Wisconsin, was better than UCLA's best win, 12-7 over #10 Maryland. I would select Ohio State as #1 myself. However, playing a tougher schedule does not mean that a team is better, and in this case I think that UCLA performed better enough overall that they are a legitimate option for #1 over Ohio State. UCLA had one poor outing against an unrated opponent, while OSU had 2. UCLA had a better average point differential than Ohio State did against rated opponents (UCLA 23-4, OSU 24-10), against unrated opponents that were .500 or better (UCLA 34-3, OSU 24-7), and against losers (UCLA 47-10, OSU 27-5). And of course, UCLA performed better against each of their 2 common opponents.

It's a split title.
Awards Ceremony
1954 #1:

10-0 Ohio State and/or 9-0 UCLA


National Co-champion:

Ohio State or UCLA if the other one is alone at #1


Contender:

10-0 Oklahoma

These are the awards I have been handing out for each season, except seasons when there are no contenders. For this purpose, what I mean by a contender is a team that I think is very close to being worthy of sharing the national championship. A team that you could make an argument for, even if that argument is weak. But the contenders are teams that I myself do not see as national champions.
Grading the Selectors
I have been grading the NCAA Records Book's selectors for each season, and keeping a grade point average, so we can see who is relatively good at selecting national champions and who is not. And although I do not consider computer ratings to be legitimate national championship selectors, I have been including them in this section as well, just for comparison's sake.
I am grading on a scale of 0-5 (5 being the best).


Dunkel, the Football Writers Association of America, Litkenhous, and the UPI coaches poll all went with UCLA #1. Grade

:

5.0



The College Football Researchers Association, National Championship Foundation, and Helms split the title between Ohio State and UCLA. Grade

: 5.0



Everyone else went with Ohio State. Grade

: 5.0


Grade point averages 1936-1954 (the UPI coaches' poll and the FWAA will not be added until they have selected at least half as many champions as the others)

:




1) DeVold (math system)




4.95

2) National Championship Foundation
4.81

3) Billingsley (math)

4.73

4)

College Football Researchers Association




4.65

5)

Dunkel (math)

4.54

6)

Houlgate (math)

4.53

7)

Poling (math)


4.52

8) Boand (math)
4.48
9) Sagarin-ELO (math)
4.44
10) Litkenhous (math)
Sagarin (math)
4.25
12) AP Poll
4.17

13) Helms Foundation

4.05

14) Berryman (math)
3.51
15) Williamson (math)
3.60

Grade point averages 1919-1935
:
| | |
| --- | --- |
| 1) Boand (math system) | 4.26 |
| 2) College Football Researchers Association | 4.22 |
| 3) Poling (math) | 4.11 |
| 4) Helms | 4.09 |
| 5) Sagarin-ELO (math) | 4.06 |
| 6) National Championship Foundation | 3.96 |
| 7) Dickinson (math) | 3.49 |
| 8) Houlgate (math) | 3.35 |
| 9) Billingsley (math) | 3.34 |
| 10) Sagarin (math) | 3.28 |
| 11) Parke Davis | 2.77 |

How the systems that selected champions for 1901-1918 did

:



| | |
| --- | --- |
| 1) Houlgate (math system) | 4.5 |
| 2) Helms | 4.3 |
| 3) Parke Davis | 4.2 |
| 4) National Championship Foundation | 3.7 |
| 5) Billingsley (math) | 3.6 |