Home
1966 College Football National Championship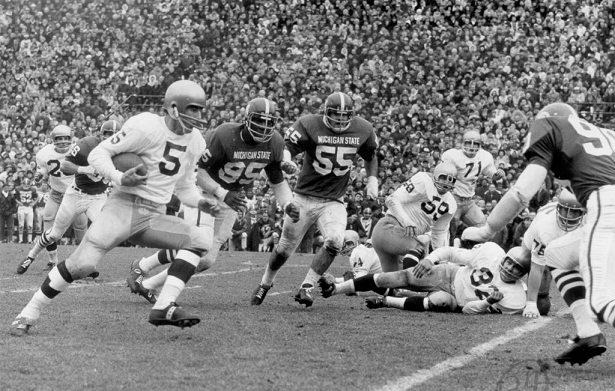 Pictured above is the 1966 "Game of the Century," #1 Notre Dame at #2 Michigan State, which ended in an anticlimactic tie, much like the 1946 "Game of the Century" that had featured #2 Notre Dame vs. #1 Army. Despite the ties, Notre Dame won the AP poll in both 1946 and 1966. Lost in the shadows in 1946 had been 11-0 Georgia, whom I concluded deserved a share of the 1946 MNC with Notre Dame and Army, and lost in the shadows in 1966, we have another perfect SEC team, 11-0 Alabama. Another 3-way MNC? We shall see...


Here is how all of the organizations listed in the NCAA Records Book see the 1966 mythical national championship (omitting selections made by a single magazine or by math/computer ratings, which are not generally accepted as MNCs)

:




9-0-1 Notre Dame
:
AP Poll
, Football Writers Association of America,
Helms
(tie)
,
National Championship Foundation
, National Football Foundation (tie), UPI Poll (coaches)
9-0-1 Michigan State
:
National Football Foundation (tie),
Helms
(tie)
,
CFB Researchers


No love for Alabama there, but we'll be taking a look at their case below. After all, they were, along with Michigan State, defending national champions, and they did go 11-0.


All rankings in this article, except as specified, come from my 1966 fixed AP poll.
Notre Dame 1966
| | | |
| --- | --- | --- |
| Purdue (9-2) | 26-14 | #5 |
| at Northwestern (3-6-1) | 35-7 | |
| Army (8-2) | 35-0 | #23 |
| North Carolina (2-8) | 32-0 | |
| at Oklahoma (6-4) | 38-0 | #15 |
| (Philadelphia) Navy (4-6) | 31-7 | |
| Pittsburgh (1-9) | 40-0 | |
| Duke (5-5) | 64-0 | |
| at Michigan State (9-0-1) | 10-10 | #2 |
| at Southern Cal (7-4) | 51-0 | #10 |
Notre Dame had previously won 8 national championships, all under Hall of Fame coaches Knute Rockne and Frank Leahy, who are #1 and #2 in all-time FBS coaching win percentage. Rockne won MNCs in 1924, 1929, and 1930, and Leahy did it in 1943, 1946, 1947, 1949, and 1953
. Leahy retired after the 1953 season, and Notre Dame's fortunes waned, much as they had in the 1930s after Rockne's death in a plane crash. In 1956 they fell to 2-8, and 1960-1963 they were 14-25. But the next year the program began their 3rd era of greatness, the "Era of Ara."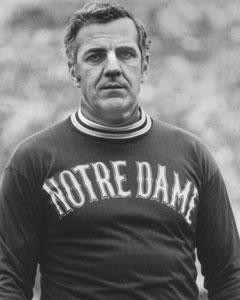 Hall of Fame coach Ara Parseghian (pictured above) had played at halfback for Miami-Ohio 1946-1947. After a couple of seasons with the Cleveland Browns, he became an assistant at his alma mater under Hall of Fame coach Woody Hayes in 1950. Hayes left for Ohio State the next year, and Parseghian was promoted to head coach. He went a blistering 39-6-1 at Miami 1951-1955, and they were 9-0 and ranked in the AP poll his last year there. Moribund Northwestern, 0-8-1 in 1955, hired him away, and he went 36-35-1 there, in a very tough Big 10, 1956-1963, finishing ranked 5 times (fixed polls).

The Era of Ara began the next year at Notre Dame. Ara Parseghian was the first head coach there that had not graduated from the school since Jesse Harper 1913-1917. The Irish had gone 2-7 in 1963, but Parseghian righted the ship immediately, going 9-1 in 1964, and he went 95-17-4 and won 2 MNCs at Notre Dame 1964-1974. For his career he was 170-58-6.

In terms of talent, and arguably performance as well, Notre Dame 1966 was likely the best team of the decade, with Michigan State 1966 a top contender, and that's what made their game this season such a big deal. Michigan State fielded 4 Hall of Famers (Notre Dame had 2 and Alabama none), and the Spartans would have 4 players taken in the top 8 picks of the next NFL draft, but Notre Dame was actually deeper in talent. The Irish fielded 11 players who would make first-team All American lists during their careers, while Michigan State had 7 and Alabama 5.
The Players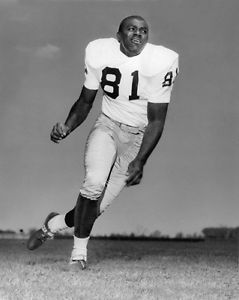 Where to start? That's easy

:

defensive end Alan Page (pictured above), consensus All American and a college and pro Hall of Famer. He was 6' 5" and 238 pounds, and had 68 tackles this season, then went on to a 15 year pro career with the Vikings and Bears. He won an NFL title in 1969, made 9 Pro Bowls, 6 All-Pro teams, and was named defensive player of the year 3 times. For his career he totaled 173 sacks. While playing for the Vikings, he also got his law degree, and later served on the Minnesota state supreme court 1993-2015.

There were 3 other consensus All Americans this season

:

guard Tom Regner, running back Nick Eddy, and Hall of Fame linebacker Jim Lynch. Eddy finished 3rd in the Heisman vote this year, and Lynch won the Maxwell Award. Lynch led the team in tackles in 1965 (108) and 1966 (106), and went on to an 11-year pro career with the Chiefs, winning a Superbowl in 1969 over NFL champion Minnesota, which featured his old teammate Alan Page.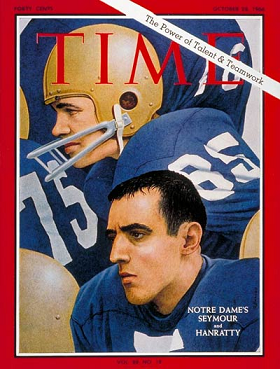 The defensive tackles, Pete Duranko and Kevin Hardy, were nonconsensus AA this year, while linebacker Mike McGill and end Jim Seymour would be nonconsensus AA the following year. Seymour (pictured on the cover of

Time

from October of 1966, #85) had 48 catches for 862 yards and 8 touchdowns this season.

Three more players would be consensus AA in future seasons

:

safety Tom Schoen, quarterback Terry Hanratty (also pictured on that cover of

Time

), and tackle George Kunz. Hanratty completed 53.1% of his passes this year for 1247 yards, 8 touchdowns, and 10 interceptions, and he rushed for 5 touchdowns. He finished 6th in the Heisman vote this season. Kunz, who went on to a 12-year pro career and made 8 Pro Bowls, was lost to injury this season, but here is how deep Notre Dame was

:

his replacement starter was Bob Kuechenberg, who went on to a 14-year pro career with the Dolphins, winning a pair of Super Bowls and making 6 Pro Bowls.

Finally, we have running back Rocky Bleier, this year's 3rd-leading rusher with 282 yards and 4 touchdowns, and 17 catches for 209 yards and a touchdown. He did not win awards in college, but went on to a famed 11-year career as a fullback for the Pittsburgh Steelers, winning 4 Super Bowls.

Notre Dame's Season
Other than this season's "Game of the Century
," there isn't much to talk about. Notre Dame led the nation in scoring offense at 36.2 points per game, they averaged 392.5 yards per game offense and 187.6 defense, and no one came close to them this year except for Michigan State. Defending national champions Alabama and Michigan State opened the season at #1 and #2 in the AP poll, Notre Dame #6.

Notre Dame's toughest matchup other than MSU was their opener hosting #7 Purdue, who featured college and pro Hall of Fame quarterback Bob Griese (2nd for the Heisman this year), as well as 4 other first-team All Americans and an All Big 10 running back. Purdue had beaten the Irish the previous season, and they were 8-4 against Notre Dame in their last 12 meetings. That would grow to 11-5 through 1969, but Notre Dame won this bout 26-14 thanks to an incredible debut by sophomores Terry Hanratty and Jim Seymour, who connected on 13 passes for 276 yards and 3 touchdowns. Purdue also lost to Michigan State, but they won the Rose Bowl over #10 Southern Cal, finishing 9-2 and ranked #5.

Notre Dame proceeded to roll up even bigger scores, including a 35-0 trouncing of Army (8-2, #23), and in mid-October, after Alabama struggled to beat unranked Tennessee 11-10 and Michigan State struggled to beat unranked Ohio State 11-8, Notre Dame rose to #1, where they would remain to the end. In their first game as #1, the Irish destroyed #10 Oklahoma (finished 6-4, #15) 38-0, and they just kept getting better, annihilating 5-5 Duke 64-0 the week before their trip to #2 Michigan State.
Game of the Century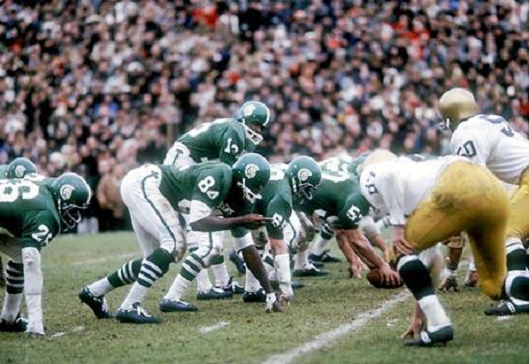 This "Game of the Century" was not as historic a matchup as the 1946 edition that featured Notre Dame and Army, but it was the best college football matchup since that game, and featured a dizzying array of All Americans, Hall of Famers, and future NFL stars. People were looking forward to this game for weeks, and when both teams did their part to come into it with perfect records, well, it may not have actually been the "Game of the Century," but it was certainly the Game of the Decade (sorry, Texas-Arkansas 1969, but you are not even close).

Notre Dame's best back, Heisman candidate Nick Eddy, injured his shoulder getting off the train in East Lansing, and was unable to play. On top of that, they lost their starting center to injury on the game's first series, and quarterback Terry Hanratty was knocked out of the game in the first quarter on a sack by Hall of Fame defensive end Bubba Smith. This was a very hard-hitting game, and Notre Dame also lost a starting end and the halfback who replaced Eddy to injuries, leaving Rocky Bleier to do most of the running.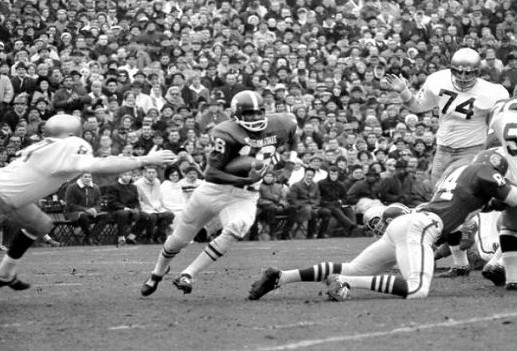 Michigan State lost a fumble at their own 4 yard line in the opening quarter, but Notre Dame was unable to cash the opportunity for any points. The Spartans got rolling late in the quarter on a 42 yard pass from quarterback Jimmy Raye to Hall of Fame end Gene Washington (pictured below), and then they ran the ball into the middle 9 straight times, scoring a touchdown early in the 2nd quarter. Raye got loose for a 30 yard run the next time MSU had the ball, setting up a 47 yard field goal by barefoot kicker Dick Kenney. Notre Dame quarterback Coley O' Brien struggled in place of Hanratty, completing just 7 of 19 passes for 102 yards, but after a 38 yard kickoff return, he hit 3 passes, the last for a 24 yard touchdown to Nick Eddy's replacement, Bob Gladieux, and the Irish closed the gap to 10-7 at the half.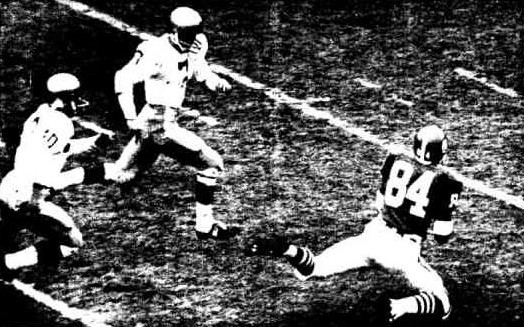 Notre Dame drove 70 yards, then tied the score on a short field goal early in the 4th quarter (pictured below), but after that Coley O' Brien missed on 6 straight passes, and neither team could generate any offense the rest of the game. Still, Notre Dame had a golden opportunity late when safety Tom Schoen intercepted a pass and returned it to the MSU 18 yard line. But they took an 8 yard loss, then just missed on a 41 yard field goal attempt with 4:39 left. They next got the ball on their own 30 with 1:24 left, and here Ara Parseghian infamously elected to just run out the clock and take the 10-10 tie.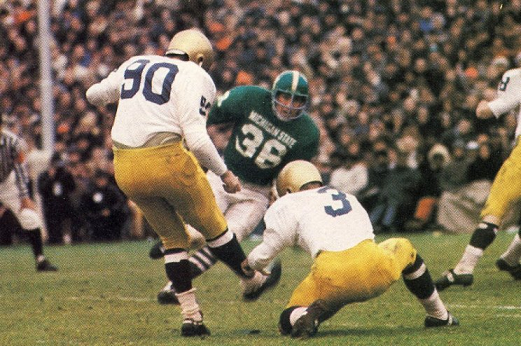 This decision caused an eruption of disgust nationwide, and antipathy for Parseghian persisted for decades afterward. But Parseghian's line worked out well

:

Notre Dame held on to #1 by a slim 3 poll points over Michigan State in the next AP poll, and they would finish #1 in the final poll. Almost 20 years later, Nebraska coach Tom Osborne was lauded as a hero for going for 2 and the win in the 1984 Orange Bowl, but what did he have to show for it? Certainly not a national championship.
Michigan State outgained Notre Dame 284 yards to 219, but they also had 4 turnovers to 2 for Notre Dame, and for that reason the Irish had more scoring threats. MSU receiver Gene Washington caught 5 passes for 123 yards, and because he drew double-team coverage, his mere presence opened up running room for their quarterback, Jimmy Raye, so without Washington, MSU might not have scored at all in this game.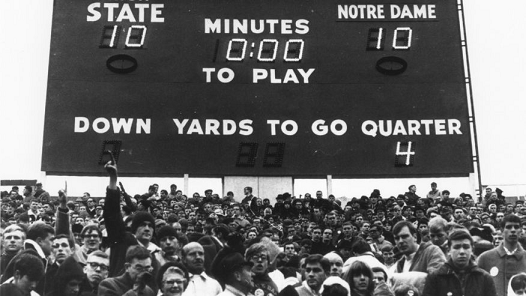 Big Finish
Michigan State's season was over, but Notre Dame had to travel to archrival Southern Cal, then 7-2 and ranked #10, the next week, and with all the negative publicity over taking the tie, Ara Parseghian knew that a big showing was required to stave off Michigan State and Alabama in the AP poll. Well, he didn't get a big showing, he got a humongous, mind-blowing showing, a 51-0 decimation that was Southern Cal's worst loss ever.




Coley O' Brien hit 21 of 31 passes for 255 yards and 3 touchdowns, and Jim Seymour caught 11 of them for 150 yards and 2 touchdowns (one touchdown pictured below), while Southern Cal totaled just 188 yards of offense. Notre Dame returned 2 interceptions for touchdowns. Southern Cal went on to lose the Rose Bowl to #5 Purdue, finishing the Trojans at 7-4, but I still have them ranked #10 for 1966. USC lost to #5 Purdue by 1 point, to #6 UCLA (9-1) by 7 points, and to #8 Miami-Florida by 3 points, so you can see how monumental that 51-0 stomping of them was.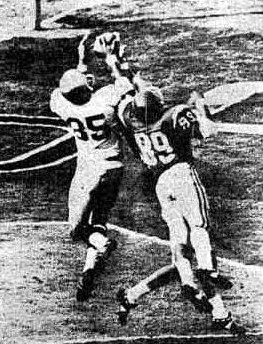 Ara Parseghian stumped for AP poll votes in the locker room after the game, proclaiming that the Irish had proven they were #1, and moreover that Notre Dame was "by far the best college football team I've ever had and it's the best college team I've ever seen." Notre Dame was a landslide winner in the final AP poll, with 41 first place votes to 8 for #2 Michigan State and 7 for #3 Alabama.

Michigan State 1966

| | | |
| --- | --- | --- |
| North Carolina State (5-5) | 28-10 | |
| Penn State (5-5) | 42-8 | |
| at Illinois (4-6) | 26-10 | |
| Michigan (6-4) | 20-7 | |
| at Ohio State (4-5) | 11-8 | |
| Purdue (9-2) | 41-20 | #5 |
| at Northwestern (3-6-1) | 22-0 | |
| Iowa (2-8) | 56-7 | |
| at Indiana (1-8-1) | 37-19 | |
| Notre Dame (9-0-1) | 10-10 | #1 |
Michigan State, along with Alabama, was a defending national champion, and I covered their Hall of Fame coach, Duffy Daugherty, as well as most of this year's significant players, including 4 Hall of Famers, in my 1965 MNC article. Michigan State returned 6 first-team All Americans.

Nonconsensus AA quarterback Steve Juday had graduated, but his replacement, Jimmy Raye, put up similar numbers

:

50.4%, 1110 yards, and 10 touchdowns passing, and 486 yards and 5 touchdowns rushing. Raye was the first black quarterback to win a legitimate MNC (since I don't recognize bowl loser Minnesota as MNC of 1960). He went on to a decades-long career as an assistant coach in the NFL, 19 years as an offensive coordinator.

Tight end Al Brenner caught 22 passes for 357 yards and a touchdown, and would be a nonconsensus All American at safety in 1968. He went on to a 9-year pro career, mostly in Canada. Linebacker Charles Thornhill led the team with 102 tackles this year.

In the next NFL draft, MSU had 4 players taken in the top 8 picks

:

#1 defensive end Bubba Smith, #2 running back Clint Jones, #5 linebacker George Webster, and #8
receiver Gene Washington, who caught 27 passes for 677 yards and 7 touchdowns this season, a spectacular 25 yards per catch. Over the next 2 seasons, MSU had 14 players drafted, topped only by Notre Dame's 15. Alabama had 7.
Michigan State's Season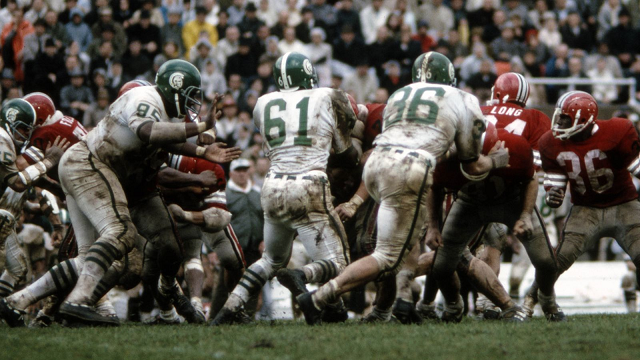 Michigan State's season held only a bit more drama than Notre Dame's did, due to one poor outing at Ohio State (4-5) in mid-October that cost them the #1 slot in the AP poll (the game pictured above). This game was played in a rainstorm, and Ohio State led 2-0 at halftime thanks to a bad MSU punt snap that resulted in a safety. Michigan State kicked a field goal in the 3rd quarter to take a 3-2 lead, but Ohio State came back with a 47 yard touchdown pass early in the 4th quarter to go ahead 8-3. Michigan State answered with an 84 yard touchdown drive, Jimmy Raye connecting on 4 passes and fullback Bob Apisa scoring on 4th down from the 1, and a successful 2-point conversion made the final score 11-8.

Michigan State fell to #2, but the next week they got back in stride, plastering #9 Purdue at home 41-20. Purdue finished 9-2, their only other loss coming to Notre Dame. They defeated Southern Cal (#10) in the Rose Bowl, and I have the Boilermakers ranked #5 for 1966. That was the only ranked team MSU played aside from Notre Dame in their finale (that game described in the Notre Dame section above).
Alabama 1966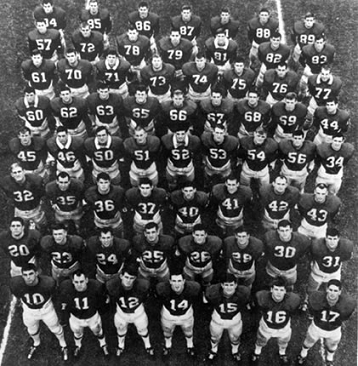 Louisiana Tech (1-9)
34-0


at Mississippi (8-3)
17-7
#17
Clemson (6-4)
26-0
at Tennessee (8-3)
11-10
#18

Vanderbilt (1-9)
42-6


Mississippi State (2-8)
27-14


Louisiana State (5-4-1)
21-0
#24
South Carolina (1-9)
24-0
(Mobile) Southern Miss (6-4)
34-0


(Birmingham) Auburn (4-6)
31-0

Sugar Bowl


Nebraska (9-2)

34-7

#7
Alabama was having quite a good decade. They won legitimate national championships in 1961 and 1965, and they also won the AP poll in 1964, but then lost their bowl game, so I don't recognize that team as a national champion. I covered their Hall of Fame coach, Paul "Bear" Bryant, in the linked 1961 article, and I covered most of the significant players from this year's team in the 1965 article. Departing from that team were consensus All American center Paul Crane, quarterback Steve Sloan, and top running back Steve Bowman.

Steve Sloan was replaced smoothly at quarterback this season by Kenny "the Snake" Stabler, who completed 64.9% of his passes for 956 yards, 9 touchdowns, and 5 interceptions, and ran for 397 yards and 3 touchdowns. He went on to a 17-year pro career, winning a Super Bowl with the Raiders and making 4 Pro Bowls. He threw for a career 27,938 yards in the NFL, and he is in the Pro Hall of Fame
.

Steve Bowman was not really replaced at running back, and in fact Stabler's 397 yards led the team in rushing, but a bevy of players contributed, and Alabama had little trouble putting points on the board this season.

Linebacker Mike Hall would be a nonconsensus AA in 1968.
Alabama's Season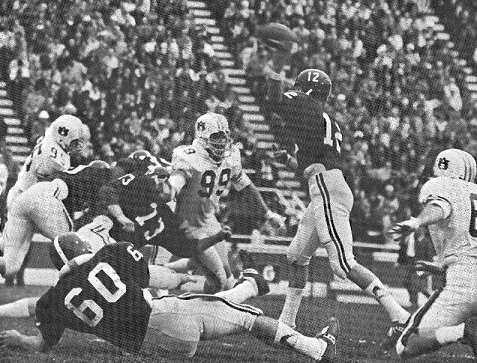 Alabama had the top scoring defense this year at 3.7 points per game, but that bumped up to 4.0 after their bowl game, behind Notre Dame's 3.8 (Notre Dame also led the nation in scoring offense). Alabama was ranked #1 in the preseason, but they started their season late, playing minor team Louisiana Tech September 24, and their first real game, against Mississippi in Jackson, wasn't until October, by which time Alabama had dropped to #3.

Alabama led Ole Miss 7-0 at halftime, and in the 3rd quarter Ken Stabler threw a 28 yard touchdown pass to Ray Perkins to make it 14-0. Mississippi drove 92 yards for a touchdown in the 4th quarter, but Alabama clinched the game with a short field goal, winning 17-7. Tide defensive back Dick Thompson snagged 3 interceptions, Stabler was good on 16 of 19 passes, and Ray Perkins caught 9 of them. Mississippi finished 8-3, and I have them ranked #17 for 1966, but Alabama's performance against them left voters unimpressed, and Alabama dropped to #4 in the next AP poll.

After routing Clemson (6-4) 26-0, Alabama rose back to #3 in the AP poll, but not for long. Their next game was at Tennessee, where they turned in their one truly poor performance of the season, and on the same day Michigan State had their one poor game. This game was played in the rain, which apparently suited Tennessee just fine, as they jumped out to a 10-0 lead in the opening quarter, and carried that margin into the 4th quarter.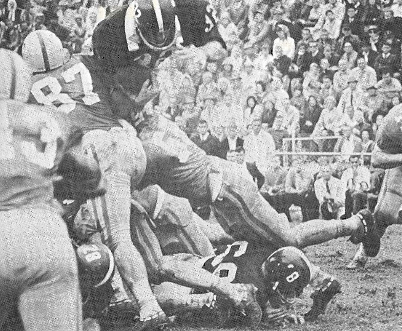 Alabama scored a touchdown early in the 4th quarter, and Stabler tossed a vital 2-point conversion that closed the gap to 10-8. Later, Stabler completed a couple of passes and ran for 10 yards and a first down to drive Alabama 74 yards to a short field goal, giving them an 11-10 lead with 3:23 left in the game. Out of timeouts, Tennessee drove all the way to the Alabama 3 yard line, but they missed the chip-shot field goal with 18 seconds left, and Alabama was off the hook. Sort of. They dropped to #4 again in the AP poll, and after this game, the rest of their schedule would afford them no real shot at #1.

Tennessee went on to finish 8-3, and I have them ranked #18 for 1966. The rest of Alabama's regular season was a yawnfest. They turned in another lackluster performance 2 weeks later, a 27-14 home win over Mississippi State (4-6), outgaining them just 307 yards to 284, but there was no real drama until the Sugar Bowl, and very little there.
The Sugar Bowl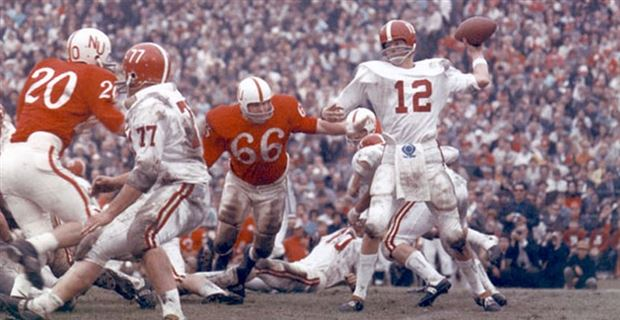 When Alabama and Nebraska agreed to play in the Sugar Bowl, both had perfect records and were ranked #3 and #4. #1 Notre Dame and #2 Michigan State were not playing in bowl games, so this was by far the best bowl matchup, and Alabama and Nebraska both hoped that the winner would be awarded the Grantland Rice Trophy by the Football Writers Association, which voted after the bowl games. Alas, those hopes were dashed, for both teams, when Nebraska lost their regular season finale 10-9 at Oklahoma (6-4, #15).

Suddenly, Nebraska looked rather unimpressive for a 9-1 team. They had just 1 win over a rated opponent, 7-3 Colorado (#14), and they had barely beaten a pair of 2-win teams, TCU and Iowa State. Alabama was a 9-point favorite in this game, but 9 points wasn't going to do it. Their plan, naturally, was to win by as much as possible, and they were very impressive, though not quite 51-0 impressive.

They started on pace for that, zipping to a 17-0 lead in the opening quarter, but slowed down to 24-0 at half, and a 34-7 final. Ken Stabler was 12 of 18 for 218 yards and a touchdown, and Ray Perkins caught 7 passes for a huge 178 yards and the touchdown, scoring it from 45 yards out in the 4th quarter. Alabama outgained Nebraska 436 yards to 297, and the Huskers had 7 turnovers, including 5 interceptions. Tide defensive back Bobby Johns snagged 3 of them.

After the game, as he had after beating 4-6 Auburn 31-0 to end the regular season, Bama coach Bear Bryant went to work campaigning for votes, this time for the Grantland Rice Trophy rather than for the AP poll. Bryant declared, echoing Parseghian's remarks after Notre Dame had whipped Southern Cal, that Alabama was the greatest team he had ever seen, and he maintained for years that this was the best team he ever coached. However, the Football Writers Association, Helms Foundation, National Championship Foundation, and College Football Researchers Association, all of which took bowl games into account, joined the AP and coaches polls in thinking that they had all seen a better team play this season, let alone in their lifetimes. And they had.
Notre Dame vs. Michigan State vs. Alabama
Here are the significant games for our contenders in 1966. The opponent rankings come from my 1966 fixed AP poll.


Notre Dame 9-0-1
Michigan State 9-0-1
Alabama 11-0

| | | |
| --- | --- | --- |
| Purdue (9-2) | 26-14 | #5 |
| Army (8-2) | 35-0 | #23 |
| at Oklahoma (6-4) | 38-0 | #15 |
| at Michigan State (9-0-1) | 10-10 | #2 |
| at Southern Cal (7-4) | 51-0 | #10 |

| | | |
| --- | --- | --- |
| at Ohio State (4-5) | 11-8 | Unranked |
| Purdue (9-2) | 41-20 | #5 |
| Notre Dame (9-0-1) | 10-10 | #1 |

(Jackson) Mississippi (8-3)
17-7
#17
at Tennessee (8-3)
11-10
#18
Louisiana State (5-4-1)
21-0
#24

Sugar Bowl


Nebraska (9-2)

34-7

#7

Against opponents not ranked in the fixed AP poll, Notre Dame defeated 5 teams by an average score of 40-3, Michigan State defeated 8 by an average of 30-9, and Alabama defeated 7 by an average of 31-3.

I think it's perfectly clear looking at the table above that Notre Dame should be #1 for 1966, and thus the landslide vote that way. Michigan State tied them and won the rest of their games, including a rout of #5 Purdue, who lost only to Notre Dame and Michigan State, so MSU sharing the 1966 MNC with Notre Dame makes sense. But the tie came on MSU's home field, they had a terrible outing at 4-5 Ohio State, while Notre Dame crushed everyone else they played, and MSU played a much weaker schedule than Notre Dame did, so I can't see the Spartans sharing #1 with Notre Dame.

As for Alabama, they compare well to Michigan State, but there are only 2 reasons Michigan State shares this MNC with Notre Dame

:

their tie with the Irish first and foremost, and their big win over #5 Purdue, who defeated 2 conference champions (#10 USC and #12 SMU). Alabama enjoyed neither of those advantages. Their big win, 34-7 over #7 Nebraska, may seem like it compares well with the win over Purdue, but Purdue only lost to #1 Notre Dame and #2 Michigan State, while Nebraska lost at #15 Oklahoma in their regular season finale.

And of course, Alabama does not compare well at all to Notre Dame. Dame's opponents were 54-46-2, Alabama's 54-56-1. And unlike Notre Dame, Alabama played a pair of minor teams, 4-4 Louisiana Tech and 6-4 Southern Miss, so their major opponents were 44-48-1.

And yet Notre Dame outscored their tougher schedule by an average of 36.2 to 3.8, better than Alabama's 27.4 to 4.0 on both offense and defense. And make that 25.9 to 4.9 against major teams. But the big problem for Alabama is really just that game at #18 Tennessee, which they won by the miraculous luck of Tennessee missing a field goal from extra point range at the end of the game. Notre Dame did not have a game remotely like it, and that is the one game that ultimately costs Alabama a share of the MNC in my estimation.

At the beginning of this article, I referenced the 1946 season, when #1 Army and #2 Notre Dame tied each other in another "Game of the Century," and 11-0 Georgia was largely forgotten. I decided that Georgia merited a share of the MNC with Army and Notre Dame for 1946. So why not 11-0 Alabama for 1966? Well, most importantly, Georgia '46 won all of their games by more than a touchdown, so nothing like what happened for Alabama at Tennessee in 1966. And Georgia '46 victim Georgia Tech, while 9-2 like Nebraska '66, and hammered similarly by Georgia (35-7), was a more impressive opponent than was Nebraska. GT's upset loss in 1946 came to a #9 team (9-2 Tennessee), while Nebraska lost to #15 Oklahoma (6-4) in 1966, and GT '46 won all of their games by more than a touchdown, including a 26-7 thrashing of #7 LSU (9-1-1), while Nebraska '66 had 3 close wins, 2 of them over 2-win teams.

Any other year in the 1960s, Alabama's season would have been good for an MNC. But Notre Dame was above and beyond this year, the best team of the decade in my opinion, so it was just the wrong year for Alabama to have the season they did. Much like Alabama's perfect 1945 team. Or Pittsburgh in 1917. Some years, the bar is a lot higher than it is in other years.

The Missing Ring
If you want to read an entire (too-long) book about the woeful injustice done to the Crimson Tide in not being voted #1 in 1966, you may want to check out "The Missing Ring" by Keith Dunnavant. Subtitle

:

"How Bear Bryant and the 1966 Alabama Crimson Tide Were Denied College Football's Most Elusive Prize."

Dunnavant posits that it happened because of segregation (the George Wallace effect), Alabama fatigue among poll voters (they'd won the AP poll the previous 2 seasons), and the media's love for Notre Dame. And while all of these things no doubt helped Notre Dame's cause, he seems to be missing the simplest and clearest reason why Notre Dame was voted #1 over Alabama

:

they simply looked better.

Again, Notre Dame played a far tougher schedule, and they performed better against it, far better offensively. How does it not cross your mind that maybe beating the #10 team 51-0 on the road had more to do with the Irish being voted #1 than anything else? Alabama had been segregated when they won the AP polls in 1961, 1964, and 1965, and Texas would win the poll with an all-white team in 1969. So that rationalization falls flat.

Here's another reason the Tide was Denied

:

Notre Dame had 4 consensus All Americans and a total of 9 players make AA lists this season, while Alabama had 2 consensus AA and 3 make lists. Notre Dame had the Maxwell Award winner (Jim Lynch) and 2 other players finish 3rd (Nick Eddy) and 6th (Terry Hanratty) in the Heisman vote. Now, you may be saying, "Aw, that's just more undue media love for Notre Dame." Well, if that's your take, explain this

:

Notre Dame fielded 22 future pro players, Alabama 5, and Irish players appeared in a total of 24 Pro Bowls, Alabama 4! Notre Dame fielded 12 players taken in the first 3 rounds of the NFL draft, Alabama 3. Any way you want to slice it, Notre Dame had a ridiculously talented team, leaving Alabama far behind.

Now, that doesn't mean that Notre Dame would have beaten Alabama had they played. Football is a team sport, and Bear Bryant was among the greatest of coaches. Of course, Ara Parseghian would end up with a better winning percentage at Notre Dame than Bryant had at Alabama, and the coaches' teams would clash in bowl games to end the 1973 and 1974 seasons, and Parseghian came out on top both times, giving Alabama its only loss both times, so Parseghian cost Alabama 3 MNCs in his career. It is certainly too bad we didn't have a playoff in 1966, or all along in college football history. But Alabama '66 is far from being the only major team with a perfect record that wasn't considered a national champion. Joe Paterno, who broke Bear Bryant's career win record, had it happen to him 4 times at Penn State!

The point is, the segregation politics and the Notre Dame love aren't worth focusing on as reasons for the Irish being voted #1, when Notre Dame clearly performed so much better against a tougher schedule, and clearly had a far more talented team. The only team in the 1960s that fielded talent akin to Notre Dame '66 was Michigan State '66. That's why they called it a "Game of the Century.
"

Awards Ceremony
1966 #1:

9-0-1 Notre Dame


National Co-champion:

9-0-1 Michigan State


Contender:

11-0 Alabama

These are the awards I have been handing out for each season, except seasons when there are no contenders. For this purpose, what I mean by a contender is a team that I think is very close to being worthy of sharing the national championship. A team that you could make an argument for, even if that argument is weak. But the contenders are teams that I myself do not see as national champions.

Here's a shout-out to 11-0 San Diego State, who was not a major team at this time, and did not even make the fixed AP poll for 1966.
Grading the Selectors
I have been grading the NCAA Records Book's selectors for each season, and keeping a grade point average, so we can see who is relatively good at selecting national champions and who is not. And although I do not consider computer ratings to be legitimate national championship selectors, I have been including them in this section as well, just for comparison's sake.
I am grading on a scale of 0-5 (5 being the best).


Sagarin's ELO-Chess and Berryman's math-based systems rated Alabama #1. Grade

: 2.1



The College Football Researchers Association chose Michigan State to stand alone as 1966 MNC. Grade

: 4.0



The Helms Foundation, National Football Foundation, and the Poling system selected both Michigan State and Notre Dame as co-champions. Grade

: 5.0



Everyone else went with Notre Dame alone. Grade

:

5.0


Berryman, the worst math-based system of the previous grading period (1936-1964), starts the new grading period where it left off... as the worst. As for the College Football Researchers Association choosing Michigan State to stand alone as MNC for this season... I am baffled. Simply baffled by the "thinking" there.

Grade point averages 1965-1966

:




Poling (math system)
Helms
Matthews (math)
Billingsley (math)
Sagarin (math)
Dunkel (math)
Litkenhous (math)
DeVold (math)
Coaches Poll
FWAA
Football News
NFF
5.0
National Championship Foundation
AP Poll
4.6
College Football Researchers
4.1
Sagarin ELO-Chess (math)
Berryman (math)
3.55

How the selectors did in previous grading periods

:



Grade point averages 1936-1964

:




1) National Championship Foundation
4.69

2) Billingsley (math system)

4.67

3)

Houlgate (math)

4.53

4)

College Football Researchers Association




4.48

5) Sagarin-ELO (math)
4.46

6) DeVold (math)




4.44

7)

Poling (math)


4.38

8) Helms Foundation

4.35

9) Boand (math)
4.27
10) Sagarin (math)
4.24
11) Litkenhous (math)

4.22
12) AP Poll
4.08

13)

Dunkel (math)

4.05

14) Williamson (math)
3.86
15) Berryman (math)
3.17
16) Coaches Poll
3.05

Grade point averages 1919-1935
:
| | |
| --- | --- |
| 1) Boand (math system) | 4.26 |
| 2) College Football Researchers Association | 4.22 |
| 3) Poling (math) | 4.11 |
| 4) Helms | 4.09 |
| 5) Sagarin-ELO (math) | 4.06 |
| 6) National Championship Foundation | 3.96 |
| 7) Dickinson (math) | 3.49 |
| 8) Houlgate (math) | 3.35 |
| 9) Billingsley (math) | 3.34 |
| 10) Sagarin (math) | 3.28 |
| 11) Parke Davis | 2.77 |

How the systems that selected champions for 1901-1918 did

:



| | |
| --- | --- |
| 1) Houlgate (math system) | 4.5 |
| 2) Helms | 4.3 |
| 3) Parke Davis | 4.2 |
| 4) National Championship Foundation | 3.7 |
| 5) Billingsley (math) | 3.6 |