Home
1964 College Football National Championship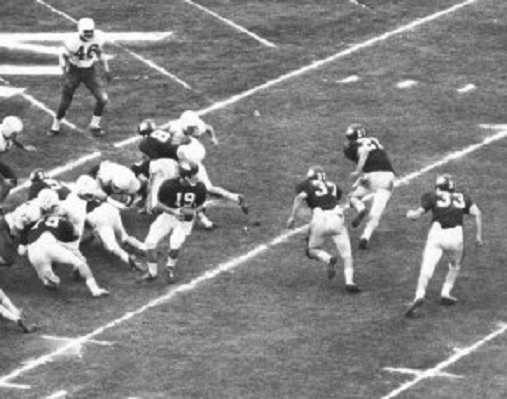 Pictured above is Arkansas running back Bobby Burnett (#33) about to take a pitch and score the winning touchdown with 4 minutes left in the 1965 Cotton Bowl, giving the Razorbacks a 10-7 win over #6 Nebraska (9-2). When 10-1 Texas, who had taken their loss to Arkansas earlier in the season, upset #1 Alabama in the Orange Bowl that evening, Arkansas was left the only legitimate choice as mythical national champion of the 1964 season. This was the straw that finally broke the AP poll's back, and they would conduct their first official post-bowl poll the next season.

Here is how all of the organizations listed in the NCAA Records Book see the 1964 mythical national championship (omitting selections made by a single magazine or by math/computer ratings, which are not generally accepted as MNCs)

:





10-1 Alabama

:

AP Poll

, UPI Poll (coaches)




11-0 Arkansas

:

Football Writers Association of America

, CFB Researchers

,

National Championship Foundation

,

Helms
9-1 Notre Dame

:

National Football Foundation

As you can see, Alabama was voted a regular season "championship" by the 2 major polls, but of course I do not recognize partial-season "championships." More curious was the National Football Foundation's choice of 9-1 Notre Dame. The Irish defeated only one winning team, 6-3 Purdue (#13), and they lost their finale 20-17 to 7-3 Southern Cal (#8). This "championship" baffles me, but Notre Dame doesn't claim it, and they have absolutely no legitimate case for an MNC this season, so I will not be summarizing them in this article.

11-0 Arkansas beat 10-1 Texas, who beat 10-1 Alabama, and that is all you have to know about the 1964 MNC. 9-1 Michigan was knocked out of the race by Purdue, and 9-0 Princeton was too far removed from major football to be a contender. So I'll just be summarizing Arkansas here, as well as the Orange Bowl, where Texas paved the way with their huge win over Alabama.

All rankings in this article, except as specified, come from my 1964 fixed AP poll.

Arkansas 1964
Oklahoma State (4-6)
14-10
Tulsa (9-2)
31-22
#19
at Texas Christian (4-6)
29-6
Baylor (5-5)
17-6


at Texas (10-1)
14-13
#2

Wichita State (4-6)
17-0


at Texas A&M (1-9)
17-0
Rice (4-5-1)
21-0
Southern Methodist (1-9)
44-0
at Texas Tech (6-4-1)
17-0

Cotton Bowl


Nebraska (9-2)

10-7

#6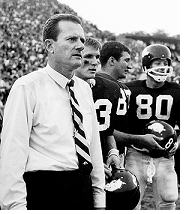 The head coach at Arkansas was Hall of Famer Frank Broyles (pictured at left), easily the greatest coach in school history. He had played quarterback for Georgia Tech 1944-1946, and had been the SEC player of the year in 1944. After one year coaching Missouri in 1957, he moved on to Arkansas, and stuck around for nearly 50 years, first as coach, then as athletic director. He was the head coach 1958-1976, going 144-58-5 and winning 7 SWC titles, and he was the AD 1974-2007.


Prior to Broyles, Arkansas had fielded just 5 top 25 caliber teams (1901-1957) in their history, and no top 10 teams. In his 19 years as coach, Broyles produced 12 top 25 teams, 8 of them top 10. In the 39 years since his retirement as coach (as of this writing), Arkansas has fielded 15 top 25 teams, 5 of them top 10. So Broyles produced more top 10 teams at Arkansas than the school has seen in the entire rest of its football history.

But Broyles wasn't the only Hall of Fame coach here in 1964. Two of his assistants from this season went on to become Hall of Fame head coaches as well, Barry Switzer and Johnny Majors
. Switzer, of course, made his fame at Oklahoma, going 157-29-4 and winning 3 MNCs and 12 conference titles 1973-1988. He is top 5 in all-time winning percentage. Majors coached at Iowa State, Pittsburgh, and Tennessee, going 185-137-10 and winning an MNC at Pitt.

The Players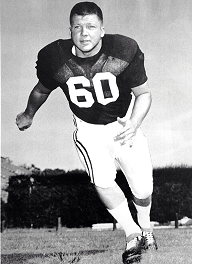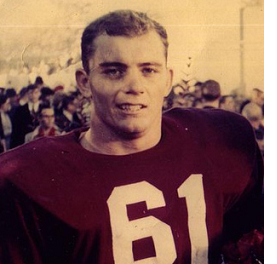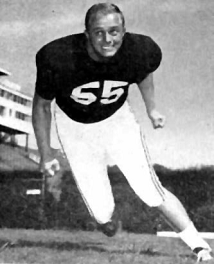 This Arkansas team also fielded 3 players who are in the Hall of Fame, one of whom was enshrined as a coach (giving the team 4 Hall of Fame coaches!). The future coaching great was middle guard Jimmy Johnson (pictured above at left), who was all-SWC this year, and won an MNC as coach of Miami (Florida) in 1987, as well as a pair of Superbowls as coach of the Dallas Cowboys in the 1990s.

The other Hall of Famers were Linebacker Ron Caveness (pictured above at right) and defensive tackle Lloyd Phillips. Caveness was a nonconsensus All American this year. He led the team in tackles for 21 straight games, and he totaled 309 tackles for 1963 and 1964 combined. Phillips would be a consensus AA in 1965 and 1966, and win the Outland in 1966.

Tackle Glen Ray Hines would be a consensus AA in 1965, and went on to an 8-year pro career, making All-Pro twice. Receiver Bobby Crockett would be a nonconsensus AA in 1965. Backup quarterback and defensive back Martine Bercher would be a nonconsensus AA in 1966.

Safety Ken Hatfield led the nation in punt returns this season. He went on to a long coaching career, going 168-140-4 over 27 seasons at Air Force, Arkansas, Clemson, and Rice.

And last but not least, guard Jerry Jones (pictured above in middle) was All-SWC, but is best known now as the longtime owner of the Cowboys (he's the one who hired his old teammate Jimmy Johnson as coach, of course).
Arkansas' Season



Like most of the Southern MNC contenders I've summarized 1957-1964, Arkansas was built on defense, and they led the nation in defensive scoring at 5.7 points per game. It took a while for that defense to gel, though. They gave up a total of 57 points in their first 5 games, then gave up a total of just 7 points in their last 6, a touchdown to #6 Nebraska in the Cotton Bowl.

Their weakest performance was their opener hosting Oklahoma State (4-6). The Razorback offense was ineffective in the first quarter, so cornerback Billy Gray, a former quarterback, was moved back under center in the 2nd quarter. Gray hit a 23 yard pass, and wingback Jim Lindsey ran for an 18 yard touchdown to give Arkansas a 7-0 lead at halftime. Oklahoma State tied it 7-7 in the 3rd quarter. Gray brought Arkansas down the field again, hitting a 25 yard pass in the drive, and the Razorbacks were up 14-7 heading into the final quarter. Oklahoma State kicked a 37 yard field goal early in the 4th quarter, after having missed on 2 earlier attempts, but they posed no more threats, and Arkansas held on for the 14-10 win
.


They next hosted Tulsa, and found themselves down 14-0 pretty quickly. Tulsa featured a terrific quarterback in Jerry Rhome, who would hit 20 of 26 passes in this game for a pair of touchdowns. But Arkansas linebacker Ron Caveness turned the game around with an interception returned for a touchdown, and though Tulsa still led at halftime 14-10, Arkansas was on the way to scoring 31 unanswered points. Tulsa added some points in garbage time to make the final score 31-22. This ended up being a tremendous year for Tulsa, as they finished 9-2 and ranked #19, and they also led the nation in passing, scoring, and total offense.


After dispatching Texas Christian (4-6) 29-6, Arkansas moved into the AP poll, which only listed 10 teams at this time, at #9, and after sleepwalking past Baylor (5-5) 17-6, they crept to #8. Next up was their game of the year, a trip to #1 and defending national champion Texas.

Ken Hatfield returned a punt 81 yards for a touchdown in the 2nd quarter to give his team a 7-0 lead, and the score remained thus until Texas drove for a touchdown to tie the game early in the 4th quarter. On Arkansas' next drive, they got a free first down when Texas had 12 men on the field for a punt, and they made good on the break by driving 75 yards for the go-ahead touchdown, scored on a 34 yard pass from quarterback Fred Marshall to end Bobby Crockett. Texas drove 70 yards and scored another touchdown with 1:27 to play, but they went for 2 points and the win rather than a tie, and missed on a pass, enabling Arkansas to escape with a 14-13 win. Ron Caveness had 25 tackles in this game. Texas, of course, finished the season 10-1, defeating #1 Alabama in the Orange Bowl, and I have them ranked #2 for 1964.

Arkansas shut out their next 5 opponents, none of whom were ranked, and then it was Cotton Bowl time.

Cotton Bowl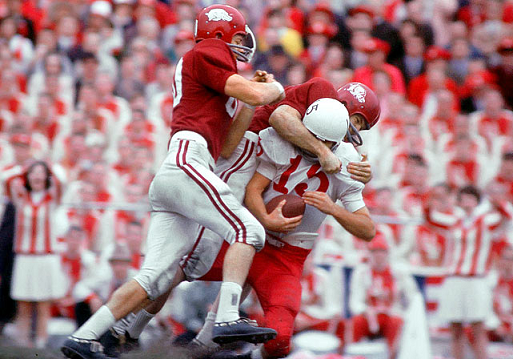 The Cotton Bowl featured #2 Arkansas against #6 Nebraska. Though they were coming in at 9-1, Nebraska wasn't particularly scary as an opponent. They only beat one top 25 team, #21 Missouri, and they lost to #20 Oklahoma (6-4-1) in their regular season finale.

Arkansas opened the scoring with a 31 yard field goal in the first quarter. Nebraska came back with a touchdown in the 2nd quarter and led 7-3 until late in the final quarter. Arkansas quarterback Fred Marshall went to work then, hitting passes of 12, 11, 10, and 28 yards to set up tailback Bobby Burnett's short touchdown run, giving Arkansas a 10-7 win.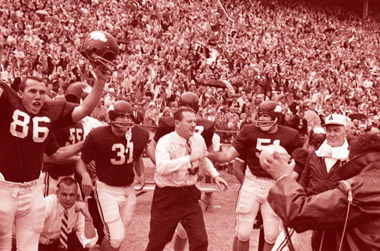 Arkansas was done at 11-0, but the last football game of the season was still to come that evening, and it had a big impact on Arkansas...

Orange Bowl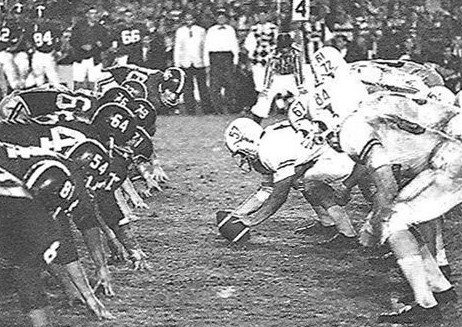 This was the first Orange Bowl played at night, and it featured #1 Alabama (10-0) playing #5 Texas (9-1, lost to #2 Arkansas) in a great game that went down to the wire, so the primetime telecast drew 40 million viewers, influencing other major sporting events to go primetime afterward (NFL Monday Night Football, Superbowls, Major League playoff and World Series games).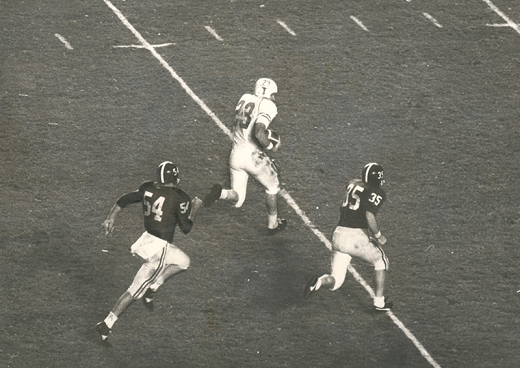 Texas struck first, running back Ernie Koy getting free for a 79 yard touchdown run in the opening quarter (pictured above). Alabama hit a 41 yard pass and drove to the Texas 7, but they missed a chip shot field goal. Texas hit the Tide with another big play in the 2nd quarter, a 69 yard touchdown pass, and it was 14-0. Joe Namath (pictured throwing the ball in this game below), despite a bad knee, replaced Steve Sloan at quarterback for Alabama and went to work, hitting 6 passes for 81 yards, the last for a short touchdown, to close the gap to 14-7. But Ernie Koy scored his 2nd touchdown just before the break, and Texas led Alabama 21-7 at halftime.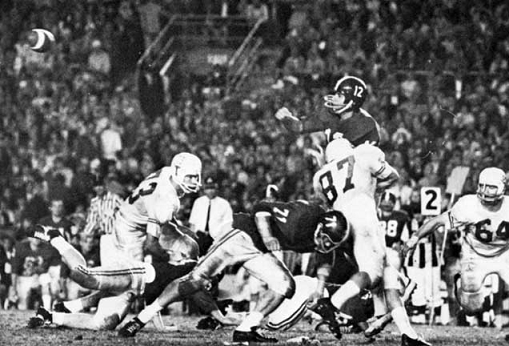 That was it for Texas, who never crossed midfield in the 2nd half. In the 3rd quarter, Namath connected on a 20 yard touchdown pass to Ray Perkins, and Bama was back within a touchdown, 21-14. They added a short field goal early in the 4th quarter, narrowing the deficit to 21-17. Later, Alabama drove to the Texas goal line, but Texas stopped them 3 times (one stop shown below), and on 4th down, Texas linebacker Tommy Nobis hit Joe Namath on the sneak, and the too-close-to-call play was called short of the goal line. Namath insisted for years that he definitely got the ball over the goal line, but one referee's best guess enabled Texas to hold on for the 21-17 win.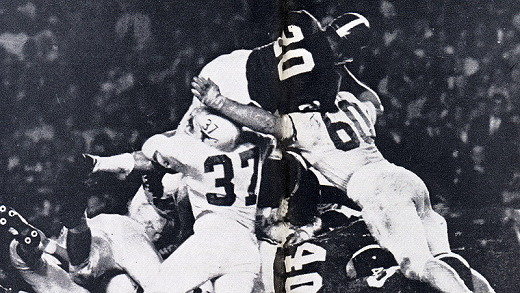 Joe Namath was named MVP, hitting 18 of 37 passes for 255 yards and 2 touchdowns. Alabama outgained Texas 347 yards to 313, largely because Texas was playing conservatively in the 2nd half. This game left Texas 10-1 and #2, Alabama 10-1 and #3, and of course it rendered 11-0 Arkansas the legitimate #1 for 1964. Frank Broyles is shown below accepting the Grantland Rice trophy, presented by the Football Writers Association of America after the bowl games.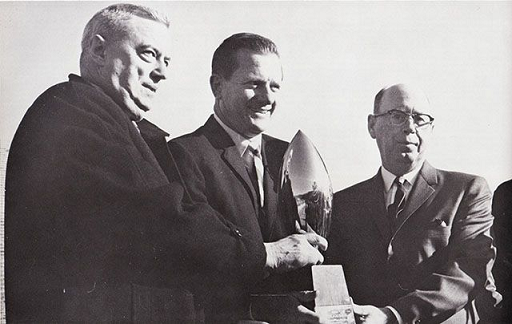 Awards Ceremony
1964 #1:

11-0 Arkansas


National Co-champion:

None


Contender:

None

These are the awards I have been handing out for each season, except seasons when there are no contenders. For this purpose, what I mean by a contender is a team that I think is very close to being worthy of sharing the national championship. A team that you could make an argument for, even if that argument is weak. But the contenders are teams that I myself do not see as national champions.
Grading the Selectors
I have been grading the NCAA Records Book's selectors for each season, and keeping a grade point average, so we can see who is relatively good at selecting national champions and who is not. And although I do not consider computer ratings to be legitimate national championship selectors, I have been including them in this section as well, just for comparison's sake.
I am grading on a scale of 0-5 (5 being the best).


The AP and UPI (coaches) polls, and the Berryman and Litkenhous math systems, crowned 10-1 Alabama #1. Grade

: 0.0



The National Football Foundation,

Football News

, and DeVold's math system went with 9-1 Notre Dame. Grade

: 0.0



Dunkel's math system ranked 9-1 Michigan #1. Grade

: 0.0



Everyone else selected 11-0 Arkansas. Grade

:

5.0


This was the last season an AP poll "champion" would ever lose its bowl game. The poll went to a post-bowl poll for the 1965 season, went back to a regular season poll for the next 2 seasons, but those #1 teams did not lose bowl games, and then the AP poll went post-bowl for good after that. As such, I am going to close this grading period and start a new one.

As you can see below, the AP poll and the coaches poll were among the worst MNC selectors for the 1936-1964 time period, and it was precisely because they named their "champions" before all the games had been played. The coaches poll is dead last in the table below, but that is misleading, because the poll began in 1950, just in time for a parade of #1 teams losing their bowl games. But Berryman's math system fared even worse during the same time period, 1950-1964, and would have a grade point average of 2.33 for those years, significantly worse than the coaches' 3.05. So Berryman is actually the worst selector for this time period, and it isn't close.

Grade point averages 1936-1964

:




1) National Championship Foundation
4.69

2) Billingsley (math system)

4.67

3)

Houlgate (math)

4.53

4)

College Football Researchers Association




4.48

5) Sagarin-ELO (math)
4.46

6) DeVold (math)




4.44

7)

Poling (math)


4.38

8) Helms Foundation

4.35

9) Boand (math)
4.27
10) Sagarin (math)
4.24
11) Litkenhous (math)

4.22
12) AP Poll
4.08

13)

Dunkel (math)

4.05

14) Williamson (math)
3.86
15) Berryman (math)
3.17
16) Coaches Poll
3.05

Grade point averages 1919-1935
:
| | |
| --- | --- |
| 1) Boand (math system) | 4.26 |
| 2) College Football Researchers Association | 4.22 |
| 3) Poling (math) | 4.11 |
| 4) Helms | 4.09 |
| 5) Sagarin-ELO (math) | 4.06 |
| 6) National Championship Foundation | 3.96 |
| 7) Dickinson (math) | 3.49 |
| 8) Houlgate (math) | 3.35 |
| 9) Billingsley (math) | 3.34 |
| 10) Sagarin (math) | 3.28 |
| 11) Parke Davis | 2.77 |

How the systems that selected champions for 1901-1918 did

:



| | |
| --- | --- |
| 1) Houlgate (math system) | 4.5 |
| 2) Helms | 4.3 |
| 3) Parke Davis | 4.2 |
| 4) National Championship Foundation | 3.7 |
| 5) Billingsley (math) | 3.6 |