Home
1953 College Football National Championship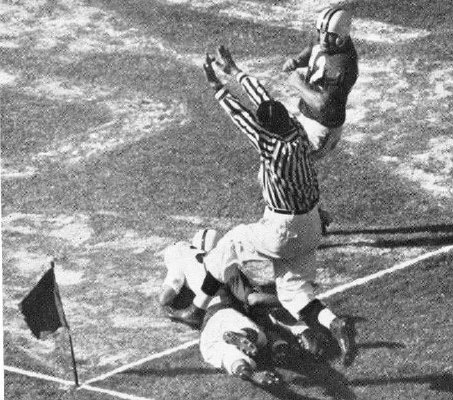 Pictured above is #4 Oklahoma scoring the touchdown that beat #1 Maryland 7-0 in the Orange Bowl. This was the 3rd time in 4 seasons that the AP poll's #1 team lost its bowl game. That result left Maryland 10-1, and it left 9-0-1 Notre Dame (ranked #2) as the actual mythical national champion (MNC) of 1953, as they had won 28-21 at 9-1-1 Oklahoma in their season opener
.


Here is how all of the organizations listed in the NCAA Records Book see the 1953 mythical national championship (omitting math/computer ratings, which are not generally accepted as MNCs)

:




10-1 Maryland
:
AP Poll
,
UPI Poll (coaches),
INS Poll (sportswriters)
9-0-1 Notre Dame
:
Helms
,
National Championship Foundation
9-1-1 Oklahoma
:
CFB Researchers

The major poll selections of Maryland are understandable, as those polls didn't count bowl games, and Maryland was 10-0 when they voted (though Maryland had not played a single team that was rated in the final AP poll). The selection of Oklahoma by the College Football Researchers Association, on the other hand, is a real head-scratcher, given that Notre Dame had a better record and defeated Oklahoma in Norman. And in addition to the head-to-head result, Notre Dame's tie came to 5-3-1 Iowa, rated #9, while Oklahoma's tie came to 3-5-1 Pittsburgh, a team Notre Dame beat 23-14 the next week. Oklahoma had 4 close wins (touchdown or less), and Notre Dame had 1. The fact is, Oklahoma is a simply awful selection as 1953 MNC, an embarrassment for the CFRA.

Notre Dame is the only legitimate contender for the 1953 MNC, so they are the only team I will be summarizing in this article. And this season is a perfect illustration of why it was always silly to not count bowl games. During the regular season, Maryland went 10-0 while playing no teams that were ranked in the final AP poll, while Notre Dame went 9-0-1 against a schedule that included the AP poll's #4, #8, and #9 teams. Those schedules were nowhere near fair and equitable. Maryland's

only

real challenge all season was their Orange Bowl bout with #4 Oklahoma. Before that, there was simply no way for anyone to know how good they really were. Now we know.

9-1 Michigan State, the defending MNC and 9-0 the previous 2 seasons, took an upset loss at 2-7 Purdue (whom Notre Dame beat 37-7), costing the Spartans a repeat MNC. It was their first season in the Big 10, and they won the conference and defeated 8-2 UCLA 28-20 in the Rose Bowl. 11-1 Texas Tech, playing in the Border Conference, took their loss to 4-5-1 Texas A&M, but their schedule would have made them a poor MNC choice even at 12-0.


All rankings in the following article, except as noted, come from my 1953 fixed AP poll.
Notre Dame 1953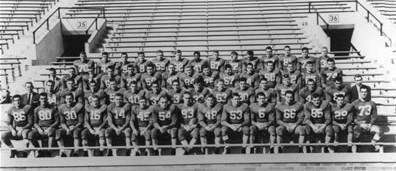 | | | |
| --- | --- | --- |
| at Oklahoma (9-1-1) | 28-21 | #2 |
| at Purdue (2-7) | 37-7 | |
| Pittsburgh (3-5-1) | 23-14 | |
| Georgia Tech (9-2-1) | 27-14 | #6 |
| Navy (4-3-2) | 38-7 | |
| at Penn (3-5-1) | 28-20 | |
| at North Carolina (4-6) | 34-14 | |
| Iowa (5-3-1) | 14-14 | #9 |
| at Southern Cal (6-3-1) | 48-14 | (#26) |
| Southern Methodist (5-5) | 40-14 | |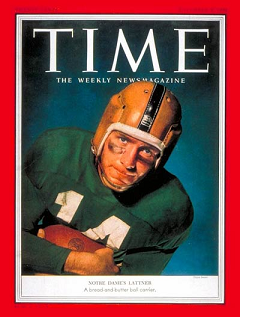 As I count them, this was Notre Dame's 8th MNC, following mythical titles in 1924, 1929, 1930, 1943, 1946, 1947, and 1949. It need hardly be said that that is the most of any school 1901-1953. During that time period, I have 4 schools behind Notre Dame with 6 MNC each

:

Harvard, Yale, Michigan, and Minnesota. I covered Notre Dame's 1953 coach, Hall of Famer Frank Leahy, in the linked 1943 article. This was his 5th MNC in 11 seasons at Notre Dame, and I recognize his 1940 Boston College team as an MNC as well, giving him 6 MNCs in 13 years for his career.
That is a championship rate that will never be topped (albeit mythical), a
nd that's just as a head coach. He was the line coach for Fordham when they won an MNC in 1937 (and their famous line was the strength of the team), and he played for a pair of MNC Notre Dame teams in 1929 and 1930. That's 9 MNCs he was a part of. But this year was the end of the championship line for him, as he had to retire after this season for health reasons.

As usual under Leahy, Notre Dame was overflowing with talent. A record 12 players were taken in the next NFL draft, and the roster was full of players who went on to long pro careers. One exception was the star player, Hall of Fame halfback Johnny Lattner (pictured on the cover of Time magazine). He won the Maxwell Award in 1952 and 1953, and he won the Heisman this year. This season he rushed for 651 yards and 9 touchdowns, caught 14 passes for 204 yards, returned 8 kickoffs for 321 yards and 2 touchdowns, returned punts for 103 yards, and grabbed 4 interceptions as a defensive back.

Joining him in the Hall of Fame was quarterback Ralph Guglielmi, a unanimous All American and 4th in the Heisman vote in 1954. He started 4 years 1951-1954, throwing for 3117 yards and 18 touchdowns for his career, as well as scoring another 13 touchdowns himself and intercepting 10 passes as a defensive back. He went on to a 7 year pro career.

Tackle Art Hunter was Notre Dame's 2nd consensus All American this season (joining Lattner), and he went on to a 12 year pro career. The other tackle, "Fainting" Frank Varrichione, would be a nonconsensus AA in 1954 and an 11 year pro. He earned his nickname for faking injuries to stop the clock twice against Iowa this season, enabling Notre Dame to salvage a tie.

Backup guard Pat Bisceglia would be nonconsensus AA in 1955. He had first come to Notre Dame as a 22 year old freshman, following a stint in the Navy. Backup quarterback and fullback Don Schaeffer would also be nonconsensus AA in 1955.
Notre Dame's Season


1953's game of the year ended up being the season opener for both teams, #1 Notre Dame visiting #6 Oklahoma. Notre Dame had given Oklahoma their only loss the previous season, and looking for revenge, the Sooners instead got more of the same this year. Oklahoma opened the scoring, putting over a touchdown that was set up by a Notre Dame fumble on their own 23 yard line. The Sooners returned the favor with a fumble at their own 15, and Notre Dame quarterback Ralph Guglielmi threw a touchdown pass to halfback Joe Heap to tie the game up at 7. Oklahoma set up another touchdown in the 2nd quarter with a 62 yard pass, then gave the Irish another gift later in the half. Notre Dame tackle Frank Varrichione blocked a quick kick, and end Don Penza recovered the ball at the Sooner 9 yard line. Guglielmi scored a touchdown soon after, and it was 14-14 at the half.

Notre Dame jumped out to a big lead in the 3rd quarter. Joe Heap scored on a 36 yard catch and fullback Neil Worden tallied on a 9 yard run, and Notre Dame led 28-14. Oklahoma scored on a 60 yard punt return touchdown with 5 minutes left in the game, making the final score 28-21. This was Oklahoma's first home loss in 25 games, and it would be their last loss of any kind until 1957, as they would tie Pittsburgh the next week, then launch an NCAA-record 47 game winning streak. The team that would snap that streak? Notre Dame, of course. Oklahoma finished this season 9-1-1 with a huge win over 10-1 Maryland in the Orange Bowl, and I have the Sooners ranked #2 for 1953.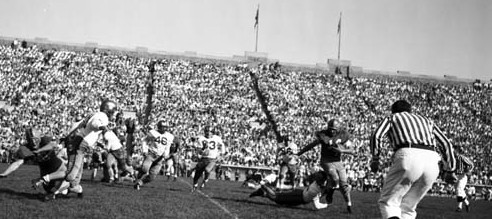 Notre Dame next won 37-7 at 2-7 Purdue, then they had to rally from a 14-0 deficit to beat 3-5-1 Pittsburgh 23-14 at home (Johnny Lattner pictured carrying the ball in that game above). The next game was a big one, as they were facing 4-0-1 Georgia Tech, who had not lost a game since 1950, a 31 game unbeaten streak. Notre Dame was ranked #1, Georgia Tech #4. The game was supposed to have been played in Atlanta, but Notre Dame had some black players, and they would not have been allowed to play in Atlanta. Georgia Tech either had to give up their home game or cancel the series entirely, and they chose to play in South Bend.

With his team leading 7-0 at halftime, Frank Leahy suddenly collapsed in the locker room, and was taken to the hospital. The team feared it was a heart attack, and legend says a priest delivered the last rites. It was a pancreatic attack, which may have seemed like good news at first, but at the end of the season, Leahy would retire, citing health concerns and his doctor's orders. Notre Dame came out of the locker room in a bit of shock, and Georgia Tech marched to a tying touchdown. But Notre Dame came roaring back in the same quarter, quarterback Ralph Guglielmi hitting halfback Joe Heap for a touchdown pass, and tackle Art Hunter recovering a bad snap in Georgia Tech's end zone, giving the Irish a commanding 21-7 lead. Both teams scored in the 4th quarter, making the final score 27-14. Georgia Tech went on to finish 9-2-1, and I have them ranked #6 for 1953.

Notre Dame next cruised 38-7 over 4-3-2 Navy, staggered to a 28-20 win at 3-5-1 Penn in their worst performance of the season, and won 34-14 at 4-6 North Carolina. Then they hosted Iowa, coming in at 5-3 and ranked #20, for what would end up being the most talked about game of 1953.
The Fainting Irish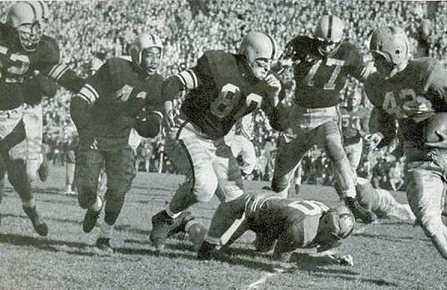 Notre Dame outgained Iowa 358 yards to 198, but turnovers and mistakes (such as dropping an easy touchdown pass) were costly for the Irish, and they had to resort to faking injuries to stop the clock on both of their touchdown drives to eke out a 14-14 tie. Iowa intercepted a 1st quarter pass and then marched 72 yards to lead 7-0. Halfback Johnny Lattner returned a punt 41 yards very late in the first half, but the play appeared to be for naught when quarterback Ralph Guglielmi was sacked at the Iowa 12 yard line, the clock draining away and Notre Dame out of time-outs. But tackle "Fainting" Frank Varrichione came to the rescue, collapsing to the turf on his way back to the huddle and screaming in "pain" to get an injury time-out (pictured below). Guglielmi hit a tying touchdown pass to end Dan Shannon on the next play.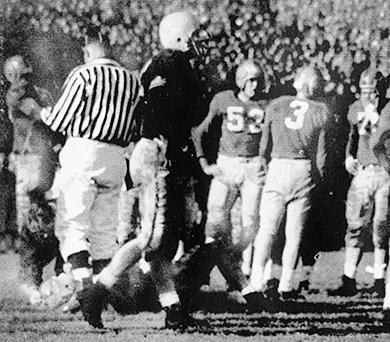 Iowa launched their next touchdown drive following another interception, scoring with just 2 minutes left in the game to go up 14-7. Back came the Irish, Johnny Lattner catching 3 passes to help them move down the field. Notre Dame had no time-outs, so various players took turns faking injuries again to stop the clock throughout the drive. After the last of the injury shenanigans, with 6 seconds left on the clock, Guglielmi hit Shannon again for a 9 yard touchdown pass, salvaging a 14-14 tie.

Although faking injuries was not uncommon gamesmanship at the time, Notre Dame was excoriated by writers and editors in newspapers coast to coast the rest of the season, derided as the "Fainting Irish." Legendary writer Grantland Rice was quoted nationwide as saying at a football writers' luncheon the next Monday, "I consider it a complete violation of the spirit and ethics of the game, and was sorry to see Notre Dame, of all teams, using this method." The NCAA responded to the outcry by altering its injury rules in the off-season.

Maryland moved up to #1 in the next AP poll, Notre Dame was dropped to #2, and Iowa was moved all the way up from #20 to #9 despite being 5-3-1. All 3 teams would finish the season ranked at those positions as well. And while that may seem like an overrating for Iowa, it's logically viable. Their only losses came to 9-1 Michigan State (#4), 6-2-1 Wisconsin (#7), and 6-3 Michigan (#11). Their straight record may have been worse than Michigan's, but Michigan lost 22-0 at Minnesota (4-4-1, #22), a team Iowa beat 27-0, and of course Iowa tied 9-0-1 Notre Dame (#1), so Iowa actually had the better relevant record despite the head-to-head loss.

Frank Leahy stayed at home for Notre Dame's trip to Southern Cal the next week, citing health concerns, though speculation in later years has been that he was staying out of sight following the storm of negative publicity over the injury-faking. Similarly, speculation has been that his retirement at season's end had more to do with trouble he was having with the Notre Dame administration over the negative publicity, along with the overbearing power of Notre Dame football compared to academics, than with his health.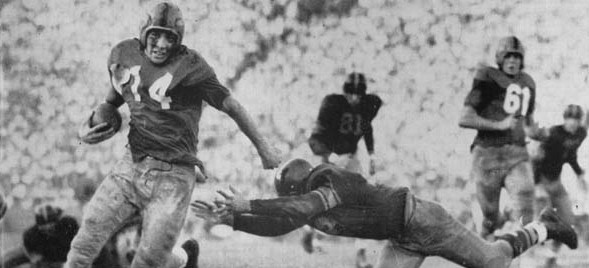 In any case, Notre Dame fared well enough without him, drilling 6-3-1 Southern Cal (just outside the top 25 at #26) 48-14, the biggest margin of victory in the series to that date. 98,000 fans watched Johnny Lattner score 4 touchdowns (he's pictured carrying the ball in this game above). Notre Dame then finished the season with a 40-14 home whipping of 5-5 Southern Methodist (also not far outside the top 25 for 1953). Lattner, Heisman Trophy already in hand by the time this December 5th game was played, scored another couple of touchdowns.

The final AP poll had also already been conducted prior to Notre Dame's final game, but that result would not have changed anything anyway. 9-0-1 Notre Dame was #2, and since they did not play in bowl games at this time, their only hope for being considered a national champion for the 1953 season rested on 8-1-1 and #4 Oklahoma beating 10-0 and #1 Maryland in the Orange Bowl. So the Orange Bowl game was almost as important to Notre Dame's season as their opener at Oklahoma, as Oklahoma's 7-0 win over Maryland cleared the way for a post-bowl MNC for the Irish.
Awards Ceremony
1953 #1:

9-0-1 Notre Dame


National Co-champion:

None


Contender:

None

These are the awards I have been handing out for each season, except seasons when there are no contenders. For this purpose, what I mean by a contender is a team that I think is very close to being worthy of sharing the national championship. A team that you could make an argument for, even if that argument is weak. But the contenders are teams that I myself do not see as national champions.
Grading the Selectors
I have been grading the NCAA Records Book's selectors for each season, and keeping a grade point average, so we can see who is relatively good at selecting national champions and who is not. And although I do not consider computer ratings to be legitimate national championship selectors, I have been including them in this section as well, just for comparison's sake.
I am grading on a scale of 0-5 (5 being the best).


The 3 major polls, AP, UPI, and INS, all went with 10-1 Maryland at #1. Grade

:

0.0



The College Football Researchers Association and the Berryman math system selected 9-1-1 Oklahoma. Grade

: 0.0



Everyone else went with 9-0-1 Notre Dame (including 9 math-based systems). Grade

: 5.0


The CFRA and Berryman actually deserve negative grades here. The 3 major polls had an excuse for their poor selection, as they did not count bowl games. Berryman obviously had a poor formula, but the CFRA's selection here is just baffling. Bad.

With its #1 team losing a bowl game for the 3rd time in 4 years, the AP poll's grade point average has sunk miserably, as you can see below. The AP poll is the most respected MNC selector of this time period, but the fact is that it was one of the worst selectors of this time period. Not counting bowl games, or even regular season games played after Thanksgiving weekend, is obviously a severe handicap for any organization presuming to be naming a mythical national champion. In fact, it's more than a handicap

;

it renders that organization useless as a selector.

Grade point averages 1936-1953 (the UPI coaches' poll will not be added until they have selected at least half as many champions as the others)

:




1) DeVold (math system)




4.95

2) National Championship Foundation
4.80

3) Billingsley (math)

4.72

4)

College Football Researchers Association




4.63

5)

Houlgate (math)

4.53

6)

Dunkel (math)

4.51

7)

Poling (math)


4.49

8) Boand (math)
4.45
9) Sagarin-ELO (math)
4.41
10) Litkenhous (math)
Sagarin (math)
4.21
12) AP Poll
4.12

13) Helms Foundation

3.99

14) Williamson (math)
3.52
15) Berryman (math)
3.51

Grade point averages 1919-1935
:
| | |
| --- | --- |
| 1) Boand (math system) | 4.26 |
| 2) College Football Researchers Association | 4.22 |
| 3) Poling (math) | 4.11 |
| 4) Helms | 4.09 |
| 5) Sagarin-ELO (math) | 4.06 |
| 6) National Championship Foundation | 3.96 |
| 7) Dickinson (math) | 3.49 |
| 8) Houlgate (math) | 3.35 |
| 9) Billingsley (math) | 3.34 |
| 10) Sagarin (math) | 3.28 |
| 11) Parke Davis | 2.77 |

How the systems that selected champions for 1901-1918 did

:



| | |
| --- | --- |
| 1) Houlgate (math system) | 4.5 |
| 2) Helms | 4.3 |
| 3) Parke Davis | 4.2 |
| 4) National Championship Foundation | 3.7 |
| 5) Billingsley (math) | 3.6 |