Home
1965 College Football National Championship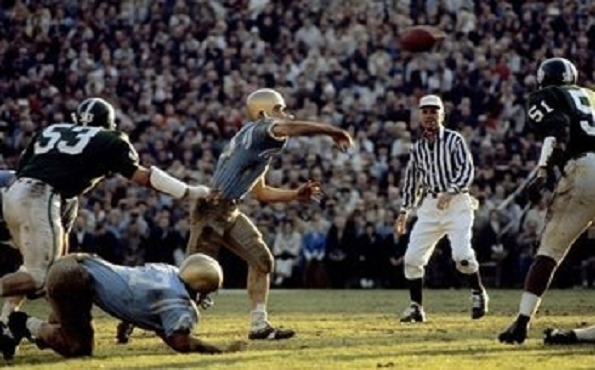 Pictured above is the 1966 Rose Bowl, where #5 UCLA (8-2-1) upset #1 Michigan State (10-1) 14-12. On the same day, #2 Arkansas (10-1) was upset by unranked LSU (8-3) 14-7 in the Cotton Bowl, and #3 Nebraska (10-1) lost to #4 Alabama (9-1-1) 39-28 in the Orange Bowl. All of this chaos mightily benefited the Crimson Tide, who had "won" a regular season AP poll "championship" the previous season despite losing their bowl game, because this season, for the first time ever, the AP poll conducted an official post-bowl poll, and Alabama vaulted to #1 in it.


Here is how all of the organizations listed in the NCAA Records Book see the 1965 mythical national championship (omitting selections made by a single magazine or by math/computer ratings, which are not generally accepted as MNCs)

:




9-1-1 Alabama
:
AP Poll
, Football Writers Association of America (tie),
CFB Researchers
,
National Championship Foundation
10-1 Michigan State
:
UPI Poll (coaches),
Football Writers Association of America (tie)
,
National Football Foundation,
Helms
All of the math-based (computer) systems listed in the NCAA Records Book lined up unanimously for Michigan State, and they are correct

:

Michigan State is the best choice for #1 for the 1965 season. That makes them the only team in college football history that lost their bowl game and still merited being ranked #1. I went over this issue in great detail in my article on fixing the 1965 AP poll, but I'll summarize both teams, then compare them again below.


All rankings in this article, except as specified, come from my 1965 fixed AP poll.
Alabama 1965



Alabama had last won a legitimate MNC in 1961, and I covered their Hall of Fame coach, Paul "Bear" Bryant in the linked article. They were also the AP poll's regular season "champion" in 1964, but lost their bowl game to Texas, and I don't consider them to be a legitimate MNC for that season.


Alabama's one consensus All American this season was center Paul Crane, who went on to a 7-year pro career. He won a Superbowl with the Jets, snapping the ball to Joe Namath, whom he had snapped to at Alabama in 1964.

Quarterback Steve Sloan was a nonconsensus AA this season. He led the nation in passing efficiency, hitting 60.6% of his passes for 1453 yards, 10 touchdowns, and only 3 interceptions. He also rushed for 6 touchdowns. Sloan went on to a coaching career, going 68-86-3 in 14 seasons at 4 schools. The highlights were a 7-3-2 finish at Vanderbilt in 1974 and a 10-2 finish at Texas Tech in 1976, winning the SWC. But his last 9 years of coaching all produced losing records. Sloan's backup this season was future Pro Hall of Famer Ken Stabler, though he saw little real playing time.

A pair of players would be consensus AA in 1966, tackle Cecil Dowdy and receiver Ray Perkins. Perkins caught 19 passes for 279 yards and 1 touchdown, and in '66 he upped that to 33 catches for 490 yards and 7 touchdowns. Like Sloan, he went into coaching, going 42-75 with the Giants and Buccaneers in the NFL. Between stints with those teams, he succeeded Bear Bryant, going 32-15-1 at his alma mater 1983-1986.

Placekicker David Ray had been nonconsensus AA in 1964, and defensive back Bobby Johns would be nonconsensus AA in 1966 and consensus AA in 1967. Johns was All-SEC 3 straight years 1965-1967, and this season he snagged 6 interceptions. Dennis Homan played some receiver and running back this season, catching 10 passes for 298 yards and 4 touchdowns, and he would be a consensus AA at receiver in 1967. For his collegiate career he totaled 87 catches for 1495 yards and a school record 18 touchdowns, and he went on to a 7 year pro career.

Finally we have senior backup linebacker Jackie Sherrill, who was not particularly significant as a player, but went on to a long coaching career, going 180-120-4 in 26 seasons at Washington State, Pitt, Texas A&M, and Mississippi State
.
Alabama's Season
Alabama was the defending AP poll champion, but they had lost their bowl game, and they had graduated superstar quarterback Joe Namath and 3 All Americans, so they opened the season ranked #5. Even this seemed too high for most of the season, as the Tide staggered through their first 7 games, performing consistently like a #15 team, but once they turned it on, they looked unbeatable down the stretch. Their one loss came in their opener at Georgia (6-4, #17).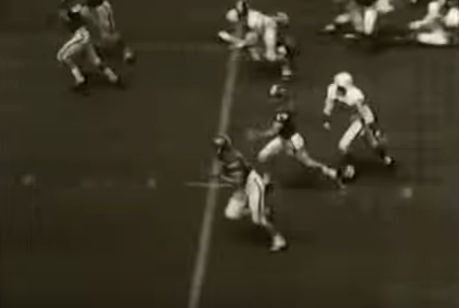 Georgia jumped to a 10-0 lead in the 2nd quarter, the big play a 55 yard interception returned for a touchdown (pictured above). Tide kicker David Ray connected on a field goal just before half to close the gap to 10-3, and fullback Steve Bowman scored a touchdown in the 3rd to tie the game 10-10. Late in the final quarter, Steve Sloan went to the air to drive the Tide down the field, and he scored the touchdown on a dive to take a 17-10 lead. That brought up the play of the game, with just over 2 minutes remaining.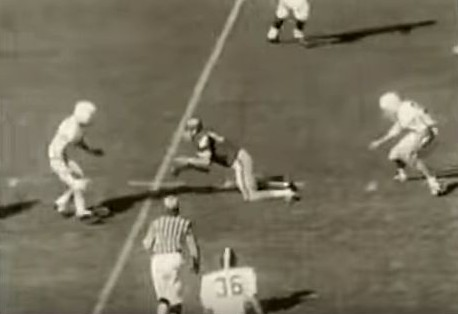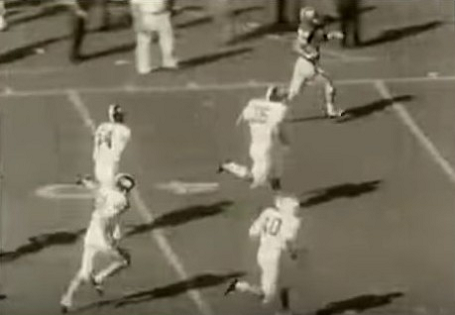 Georgia called it a "flea flicker" at the time, but it was actually a pass-and-lateral. Pat Hodgson caught the pass well downfield, then lateraled to Bob Taylor, who took it all the way in for a 73 yard touchdown (the play shown in 2 pictures above). This play was controversial because Hodgson's knees clearly hit the ground hard before he lateraled, and the ball should have been down there (as you can see in this mini-documentary of the play, and in the picture above, on the left, as well). But it was not called thus, and Georgia went for the 2-point conversion and got it on a pass (pictured below) for a miraculous 18-17 lead. Alabama moved quickly down the field in the last couple of minutes, but they missed a 42 yard field goal at the end, leaving Georgia the winner.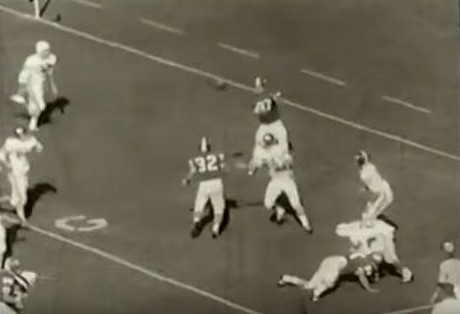 The AP poll only ranked 10 teams at this time, so the loss knocked Bama out of the AP poll's list. After routing Tulane (2-8), the Tide found themselves in another tight game hosting Mississippi (7-4, #14), the first time these teams had met during the regular season since 1944. Mississippi jumped out to a Georgia-like lead, scoring on a field goal in the first quarter and a touchdown pass in the 2nd, but they missed the extra point, which would end up being the difference in this game. Alabama scored a touchdown late in the half to close the margin to 9-7.

An interception set up another Ole Miss touchdown in the 4th quarter, giving them a daunting 16-7 lead, but the Tide came right back with a David Ray field goal to make it 16-10, and then they marched 89 yards, Steve Sloan carrying it in for his 2nd touchdown with just over a minute left in the game, and Alabama survived 17-16.

Alabama found themselves down at Vanderbilt (2-7-1) again the next week, 7-0 going into the 4th quarter, but the Tide exploded for 22 points in the final 9 minutes to pull away. That brought them to the third Saturday in October, and their biggest game of the year, hosting rival Tennessee.

Another Blemish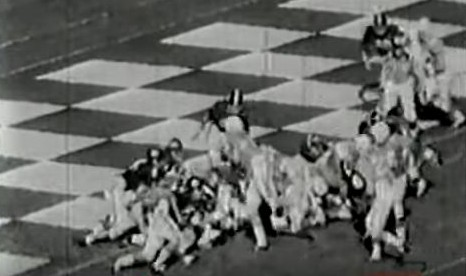 3-1 Alabama and 2-0-1 Tennessee were unranked when they met, but at season's end both would be ranked in the top 5 (fixed poll). Tennessee drove for a touchdown in the 2nd quarter (pictured above), and Alabama answered with a touchdown of their own just before halftime. That 7-7 deadlock would hold up as the final score despite Alabama advancing plenty of scoring threats in the 2nd half. Two of those ended with Steve Sloan fumbles as the Tide approached the Tennessee goal line, the last with 4 minutes left. Backup quarterback Ken Stabler was sent in, and he promptly led his team down the field to the Tennessee 4, but he threw the game away when he fired a pass out of bounds to stop the clock for the field goal team to come in, not knowing that it was 4th down.

Alabama outgained Tennessee 361 yards to 195, but 4 turnovers in the 2nd half left them settling for a tie. Tennessee was upset by Mississippi (7-4, #14) a few weeks later, but they beat #3 UCLA (8-2-1) 37-34 at home in their regular season finale, and they finished 8-1-2 and ranked #4.

After crushing Florida State (4-5-1), Alabama was 4-1-1 and moved into the AP poll at #10. But the next week they suffered their worst performance of the season, a 10-7 win at Mississippi State (4-6), and fell out of the rankings again. That game started well enough, Steve Sloan hitting Dennis Homan for a 65 yard touchdown pass in the game's first play from scrimmage. They added a field goal in the 3rd quarter to make it 10-0, but Mississippi State answered with a touchdown pass to close the lead to 10-7, and they repeatedly threatened the rest of the way, but the Tide blocked a late field goal try and held on for the win.

After that, Alabama caught fire, scoring at least 30 points in each of their last 4 games, which they hadn't done once in their previous 7 games. They won 31-7 at LSU (8-3, #8), 35-14 over South Carolina (5-5), and 30-3 over Auburn (5-5-1, #16).
Alabama was now ranked #4, set to play #3 Nebraska (10-0) in the Orange Bowl.

Orange Bowl
By the time the Orange Bowl began, #1 Michigan State and #2 Arkansas had already been upset, so Alabama and Nebraska knew the winner was likely to end up ranked #1 in the first-ever post-bowl AP poll. Alabama struck first, Steve Sloan hitting Ray Perkins for a 21 yard touchdown pass in the opening quarter (pictured above), and Nebraska answered with a 33 yard touchdown pass in the 2nd quarter to tie it up. The rest was pretty much all Alabama. They scored 17 points in the 2nd quarter, including another touchdown pass to Ray Perkins, and the Tide led 24-7 at the half.

Nebraska hit a 49 yard touchdown pass in the 3rd quarter, but Alabama answered with their own touchdown, capped by a 2-point conversion pass to Ray Perkins, and Alabama's lead was 32-13 going into the final quarter. The defenses were apparently put to bed early, and Nebraska scored a touchdown, answered by an Alabama touchdown, answered by a Nebraska touchdown, and the final score was 39-28.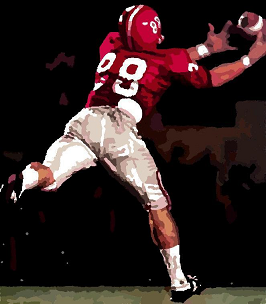 Alabama rolled up a staggering 518 yards of offense, Nebraska 377. Steve Sloan was 20 of 28 for 296 yards, and Perkins caught 9 passes for 159 yards, 2 touchdowns, and a 2-point conversion (my painting of Perkins tracking down a pass in this game above). Nebraska had been a running team during the regular season, but in this desperation game, their quarterback Bob Churchich tossed touchdown passes of 33, 49, and 14 yards, and he also scored a rushing touchdown. Nebraska was finished at 10-1, and I have them ranked #5 for 1965.

Nebraska had lost the Cotton Bowl to 1964 national champion Arkansas, and long before that they had lost the Rose Bowl to 1940 national champion Stanford, so this Orange Bowl was the hat trick for Nebraska, the first team to lose 3 bowl games to national champions. It was a tradition Nebraska took to heart, and as of this writing, they have now lost 10 bowl games to national champions, still more than anyone else (former conference-mate Oklahoma is next with 6 such losses).
Michigan State 1965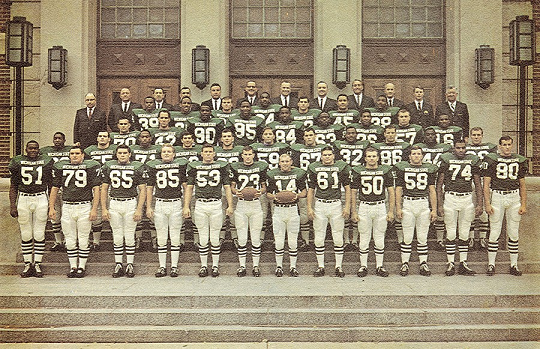 Michigan State had emerged as a nationally relevant football program and joined the Big 10 at the beginning of the previous decade
. They had gone 9-0 in 1951, but I felt that team fell short of meriting an MNC. They went 9-0 again and won the MNC in 1952, and came very close to another with an 8-1 finish in 1957. I covered their Hall of Fame coach, Duffy Daugherty, in the linked 1957 MNC article. He had only gone 4-5 in 1964, but the heart of his career was 1965 and 1966, when he won his only Big 10 titles and a pair of MNCs. After that, he faded again, going just 27-34-1 in his last 6 seasons at MSU.

Obviously he wasn't much of a coach by this time, but he didn't have to be 1965-1966, because Michigan State had an amazing collection of talent, an advantage that was gained because Daugherty was the most aggressive recruiter of African Americans of any major school's coach during this time period. As such, he changed the complection of college football quite a bit. Even integrated teams of 1965 tended to field just a few black players, and rarely ever more than 1 or 2 at a time, but Michigan State had more than 15 African Americans that saw play this season, and at least 20 on their roster.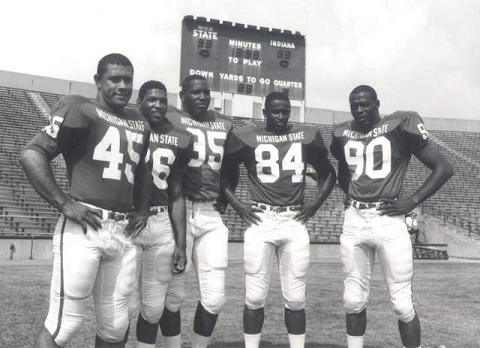 And the best of the lot were the All American gems pictured above

:

from left to right, Bob Apisa, Clint Jones, Bubba Smith, Gene Washington, and George Webster. All but Apisa are in the Hall of Fame. In total, Michigan State had 6 players make first-team All American lists this season, and 8 players did it during their careers. Michigan State had 4 players taken during the top 10 picks of the 1967 NFL draft.

Roverback George Webster was 6' 5" and ran a 4.3 40-yard dash, and Daugherty called him "The greatest football player I ever coached." He was consensus AA this year and the next, and he went on to a 10-year pro career as a linebacker, making All-Pro 3 times. Defensive end Bubba Smith was also consensus AA this year and next, and also went on to a 10-year pro career, winning a Superbowl with the Colts and making 2 Pro Bowls. These 2 players were the heart of the best defense in the country this year.

Running back Clint Jones was nonconsensus AA this season and consensus AA the next. He rushed for 900 yards and 10 touchdowns this year, and caught 27 passes for 314 yards and 2 touchdowns. Fullback Bob Apisa was a nonconsensus AA this year, and he rushed for 715 yards and 10 touchdowns. Quarterback Steve Juday was also nonconsensus AA this year, hitting 51% of his passes for 1253 yards and 7 touchdowns, but he also threw 10 interceptions, and "All American" seems like a stretch looking at those numbers.

Receiver Gene Washington would be a consensus AA in 1966. He had caught 35 passes for 542 yards and 5 touchdowns in 1964, and this season he grabbed 44 for 719 yards and 4 touchdowns. He would catch 27 for 677 yards and 7 touchdowns in 1966, and went on to an 8-year pro career, making 2 Pro Bowls.

Middle guard Harold Lucas was nonconsensus AA this season, and tackle Jerry West would be nonconsensus AA in 1966.
Michigan State's Season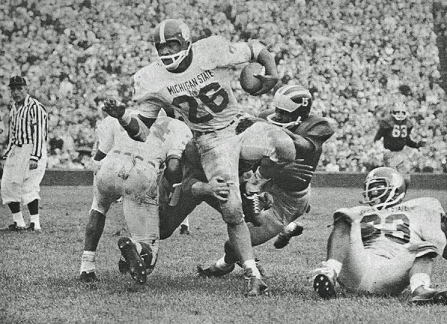 Michigan State led the nation in scoring defense (6.2 points per game), rushing defense (45.6 yards per game), and total defense (169.9). That defense was called the "Wall of Steel," which would be adapted by the Pittsburgh Steelers a decade later into the "Steel Curtain." The Spartans had been 4-5 the previous season, so expectations were low, and they entered this season unranked. They opened their 1965 campaign hosting UCLA, who had gone 4-6 in 1964, so was similarly dismissed, but these 2 teams would meet again in the Rose Bowl, and both finish ranked in the top 3 (fixed poll).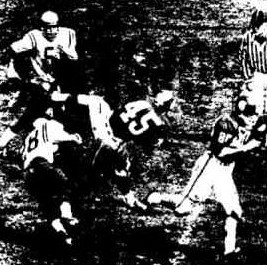 Michigan State dominated the first meeting between the teams, and a pair of Hawaiians did all the scoring for the Spartans, fullback Bob Apisa (pictured carrying the ball in this game above, #45) and barefoot kicker Dick Kenney. Apisa scored a touchdown on a 21 yard run in the 2nd quarter, and Kenney kicked the extra point and a field goal for a 10-0 halftime lead. Both teams added field goals in the 2nd half, and MSU won 13-3. It could have been worse, as the Spartans lost 3 fumbles near the UCLA goal line. This was the first time MSU had ever successfully kicked more than one field goal in a game, oddly enough.

Michigan State next traveled to Penn State (5-5) for their opener, and though PSU was favored, the Lions were mauled 23-0. Their coach, Rip Engle, was so impressed by the Wall of Steel that he called MSU "the best football team we ever played." MSU came into the next AP poll at #9. Interestingly, UCLA traveled to PSU the next week.

Michigan State got a tough game from Illinois (6-4, #20) at home the next week, but they pulled away in the final quarter for a 22-12 win. Then the Spartans went to Michigan (4-6) and clobbered their rivals 24-7. That brought the Spartans to back-to-back games that would decide the Big 10 title, hosting Ohio State (7-2, #12) and at Purdue (7-2-1, #11).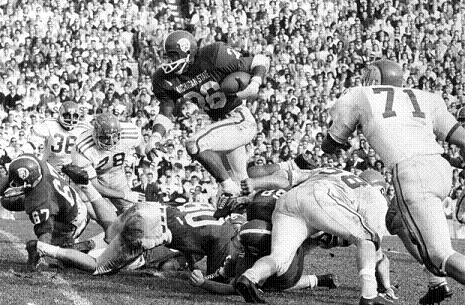 The Ohio State game was a joke, as MSU held them to negative-22 yards rushing, and rushed for 387 yards themselves. Clint Jones carried 16 times for 132 yards (he is pictured advancing the ball in this game above), Bob Apisa 17-114. It was the 2nd consecutive week the Spartans had held a team to minus-yards rushing, and it was the first time it had happened to OSU in school history. MSU won 32-7. But the game at Purdue the next week was another story entirely...

Purdue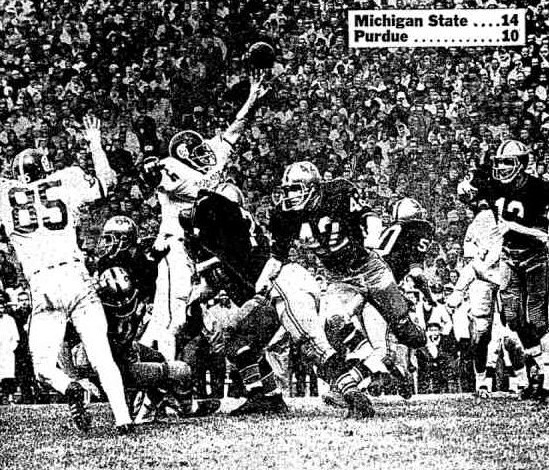 Michigan State was ranked #2 at this point, Purdue 4-0-1 and ranked #6, though they had already beaten #4 Notre Dame. It was Purdue's homecoming game, and 62,000 fans came home for it. Purdue quarterback Bob Griese (pictured completing a pass in this game above), a college and pro Hall of Famer, kicked a field goal in the first quarter, then directed a 23-play 96 yard touchdown drive in the 2nd quarter, completing 9 passes along the way, to give Purdue a 10-0 halftime lead. Michigan State missed on 2 field goal tries of more than 50 yards in the 3rd quarter, and they were still down 10-0 going into the final quarter.




The Spartans drove 50 yards to a Bob Apisa touchdown dive with 10 minutes to go, then went for 2, Steve Juday passing to a wide-open Clint Jones, cutting the lead to 10-8. Michigan State returned Purdue's next punt 17 yards to the Boilermaker 39 yard line, and MSU was in business again. At the Purdue 24, Juday threw an incompletion on 3rd and 8, but roughing the passer was called, and MSU was given a free first down, setting up a Clint Jones touchdown (pictured above) for a 14-10 win. Purdue coach Jack Mollenkopf complained bitterly about the roughing call to the press after the game. Michigan State moved to #1 in the next AP poll, where they would remain until they lost their bowl game.

MSU mowed down 3 straight losers, Northwestern, Iowa, and Indiana, wrapping up the Rose Bowl bid, then they traveled to South Bend for a huge game against #4 Notre Dame in their regular season finale. Similar to Ohio State, Notre Dame was held to negative rushing yards in this game for the first time in their history, and they had been the 2nd best rushing offense in the country coming into the game! They were held to -12 yards rushing, and to an equally pathetic 24 yards passing. Still, the Irish managed a field goal thanks to a fumble recovery, and led 3-0 at halftime. Clint Jones, who rushed 20 times for 117 yards, scored a touchdown in the 3rd quarter, and Steve Juday threw a touchdown pass in the 4th, and MSU won 12-3.
Rose Bowl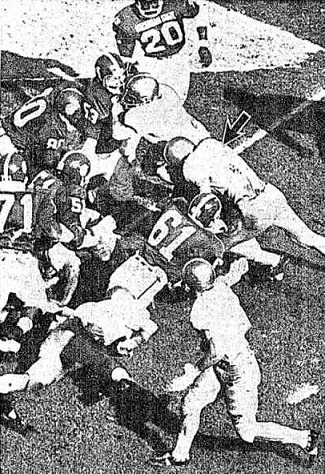 The Rose Bowl drew more than 100,000 fans, and it featured #1 Michigan State as a 2-touchdown favorite over #5 UCLA. But in the 2nd quarter, it was the Bruins that jumped to a 14-0 lead, and that score held into the 4th. Late in the opening quarter, UCLA defensive back Bobby Stiles intercepted a pass and returned it 42 yards. Michigan State held, but the Spartans fumbled the ball back to the Bruins on the punt return at their own 6 yard line, and UCLA quarterback Gary Beban soon scored a touchdown (pictured above), early in the 2nd quarter. UCLA then surprised MSU with an onside kick and recovered it. Beban connected on a 27 yard pass to set up his 2nd touchdown run, and just that quickly, UCLA built their 14-0 lead, which was all they would need. Michigan State had a promising drive at the end of the first half, but they missed a short field goal attempt.

UCLA drove to the MSU 12 in the 3rd quarter, and could have put the game away with a score, but Beban fumbled the ball to MSU there. Michigan State dominated play from scrimmage and threatened often, but quarterback Steve Juday threw 3 interceptions, and the Spartans were stopped on 4th down 3 times. With 6 minutes to go, Michigan State finally scored, Juday hitting a 42 yard pass to Gene Washington, then Bob Apisa taking a late pitch for a 38 yard touchdown. Not wanting to settle for a tie, MSU went for 2, but Juday's pass was batted down.

Later, Bubba Smith partially blocked a UCLA punt, giving MSU the ball at midfield. Gene Washington caught 2 passes, MSU converted 3 times on 4th down, and Juday scored on a touchdown run with 31 seconds left. They went for 2 and the tie, Bob Apisa taking a pitch wide, but he was stopped just short of the goal line on a big hit by Bobby Stiles, who was knocked unconscious on the play. UCLA had held on for the 14-12 win in one of the biggest upsets of the decade.

Michigan State outgained UCLA 314 yards to 212, but MSU had 5 turnovers to UCLA's 2, and that doesn't include the onside kick and the 3 times MSU was stopped on 4th and 1, all of which functioned like turnovers. Crucial also was the short field goal the Spartans missed just before half. But in the end, both teams scored 2 touchdowns, and the real difference in this game was MSU's unwillingness to settle for a tie, and going for 2 twice. That is a whole lot of stars aligning for UCLA this day. Bobby Stiles was voted MVP.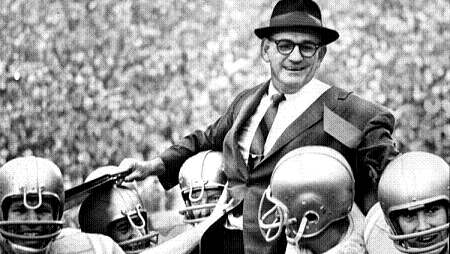 In the locker room after the game, UCLA coach Tommy Prothro (pictured above celebrating this win) declared that he thought Michigan State should remain ranked #1

:

"Comparing Michigan State today and at the start of the season, when they beat us, I'd say they have definitely improved. Their continued improvement the whole season earned them their number 1 rating. And you have to judge a team on its whole season's performance. So far as I'm concerned, they're still number 1."

UCLA was finished at 8-2-1, and I have them ranked #3 for 1965.
Alabama vs. Michigan State
Here are the significant games for Alabama and Michigan State in 1965. The opponent rankings
come from my fixed AP poll for 1965
. Click on the links in the table headers to see Alabama or Michigan State's full schedule at the College Football Data Warehouse.


Alabama 9-1-1
Michigan State 10-1

at Georgia (6-4)
17-18
#17
Mississippi (7-4)
17-16
#14
Tennessee (8-1-2)
7-7
#4
at Mississippi State (4-6)
10-7
Unranked
at Louisiana State (8-3)
31-7
#8
(Birmingham) Auburn (5-5-1)
30-3
#16

Orange Bowl


Nebraska (10-1)

39-28

#5

UCLA (8-2-1)
13-3
#3
Illinois (6-4)
22-12
#20
Ohio State (7-2)
32-7
#12
at Purdue (7-2-1)
14-10
#11
at Notre Dame (7-2-1)
12-3
#9

Rose Bowl


at UCLA (8-2-1)



12-14


#3

Alabama defeated their unranked opponents by an average of 23-6, and Michigan State defeated theirs by an average of 32-5.


I discussed this case in detail in my article on fixing the 1965 AP poll, and as I concluded there, I think the valid options here are to either rank MSU #1 alone, or to rank MSU and Alabama together at #1 in a tie. That makes MSU the only team in history that lost its bowl game and still merits being ranked #1. And needless to say, these 2 teams should share the 1965 MNC.

Michigan State's advantages over Alabama were many. First of all, they were 10-1, Alabama 9-1-1. MSU averaged 352 yards per game offense, Alabama 328, and MSU averaged 170 defense, Alabama 229. As far as performance goes, MSU outscored opponents by an average of 24-7, Alabama 23-10, and more importantly, Alabama had an awful performance in a 10-7 win at 4-6 Mississippi State, while no unrated team got within a touchdown of MSU. Both teams played an impressive 6 games against rated opponents, but MSU's rated opponents were slightly better, averaging #9.2, while Alabama's averaged
#10.7.


Alabama's one argument is timing. They were red hot over their last 4 games, plastering #8 LSU and beating #5 Nebraska by more than a touchdown in the Orange Bowl. Their loss and tie came in the first half of the season, giving them less weight. Michigan State, on the other hand, took their one loss in their bowl game, giving it more weight.
Awards Ceremony
1965 #1:

10-1 Michigan State, or MSU in a tie with 9-1-1 Alabama


National Co-champion:

Alabama if MSU is alone at #1


Contender:

None

These are the awards I have been handing out for each season, except seasons when there are no contenders. For this purpose, what I mean by a contender is a team that I think is very close to being worthy of sharing the national championship. A team that you could make an argument for, even if that argument is weak. But the contenders are teams that I myself do not see as national champions.

Here's a shout-out to Ivy League champion 9-0 Dartmouth (#21 in fixed poll).
Grading the Selectors
I have been grading the NCAA Records Book's selectors for each season, and keeping a grade point average, so we can see who is relatively good at selecting national champions and who is not. And although I do not consider computer ratings to be legitimate national championship selectors, I have been including them in this section as well, just for comparison's sake.
I am grading on a scale of 0-5 (5 being the best).


The AP poll, College Football Researchers Association, and National Championship Foundation went with Alabama alone as MNC. Grade

: 4.2



The Football Writers Association of America chose both Michigan State and Alabama as co-champions, which makes them the most sensible selector for this season. Grade

: 5.0



Everyone else selected Michigan State alone. Grade

:

5.0


I'm starting a new grading period, and the AP poll, though they finally did the sensible thing and conducted a post-bowl poll, starts the new period the way they ended the previous one

:

relatively poorly. Damned if they do, damned if they don't, I guess. But worry not, the AP poll will be the best MNC selector for this time period.

How the selectors did in previous grading periods

:



Grade point averages 1936-1964

:




1) National Championship Foundation
4.69

2) Billingsley (math system)

4.67

3)

Houlgate (math)

4.53

4)

College Football Researchers Association




4.48

5) Sagarin-ELO (math)
4.46

6) DeVold (math)




4.44

7)

Poling (math)


4.38

8) Helms Foundation

4.35

9) Boand (math)
4.27
10) Sagarin (math)
4.24
11) Litkenhous (math)

4.22
12) AP Poll
4.08

13)

Dunkel (math)

4.05

14) Williamson (math)
3.86
15) Berryman (math)
3.17
16) Coaches Poll
3.05

Grade point averages 1919-1935
:
| | |
| --- | --- |
| 1) Boand (math system) | 4.26 |
| 2) College Football Researchers Association | 4.22 |
| 3) Poling (math) | 4.11 |
| 4) Helms | 4.09 |
| 5) Sagarin-ELO (math) | 4.06 |
| 6) National Championship Foundation | 3.96 |
| 7) Dickinson (math) | 3.49 |
| 8) Houlgate (math) | 3.35 |
| 9) Billingsley (math) | 3.34 |
| 10) Sagarin (math) | 3.28 |
| 11) Parke Davis | 2.77 |

How the systems that selected champions for 1901-1918 did

:



| | |
| --- | --- |
| 1) Houlgate (math system) | 4.5 |
| 2) Helms | 4.3 |
| 3) Parke Davis | 4.2 |
| 4) National Championship Foundation | 3.7 |
| 5) Billingsley (math) | 3.6 |