Home
1961 College Football National Championship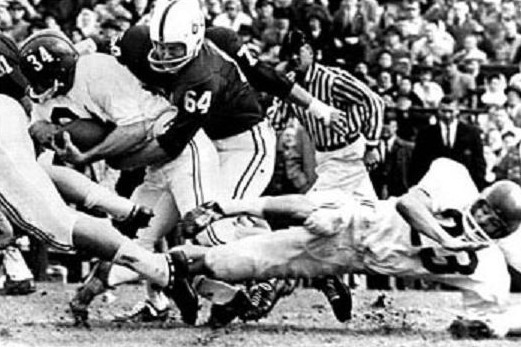 Pictured above is Alabama's defense putting the clamps on Arkansas in the Sugar Bowl. Alabama led the nation in total defense and scoring defense, and they shut down Arkansas for a 10-3 win in the Sugar Bowl to complete an 11-0 season.

Here is how all of the organizations listed in the NCAA Records Book see the 1961 mythical national championship (omitting selections made by a single magazine or by math/computer ratings, which are not generally accepted as MNCs)

:





11-0 Alabama

:

AP Poll

, UPI Poll (coaches), National Football Foundation

, CFB Researchers

,

National Championship Foundation

,

Helms


8-0-1 Ohio State

:

Football Writers Association of America

As you can see, the Football Writers Association has once again diverged from the consensus view (and the otherwise-unanimous view). They also selected 9-1 Ohio State over 10-0 Auburn for the 1957 season, and 8-1-1 Iowa over 11-0 LSU for the 1958 season. Iowa was a good pick, to

share

the MNC with LSU anyway, but Ohio State was a poor selection in 1957, and spoiler alert -- they are a poor selection this year too. But I'll go ahead and summarize and compare the 2 teams anyway.

The team that tripped Ohio State up with a tie was 3-5-2 Texas Christian, but OSU wasn't the only MNC contender they tripped up. 10-1 Texas fell from the #1 ranking when they lost 6-0 to TCU at home

, a game in which the Longhorns were stopped at the TCU 2, 3, 8, 21, and 27 yard lines. 10-1 LSU took their upset loss 16-3 at 7-4 Rice in their opener. 9-0 Rutgers was the equivalent of a lower-division team.



All rankings in the following article, except as specified, come from my 1961 fixed AP poll.

Alabama 1961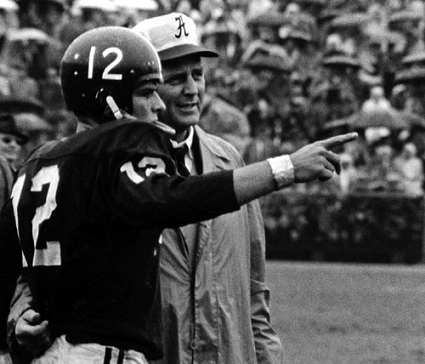 at Georgia (3-7)
32-6
(Mobile) Tulane (2-8)
9-0
at Vanderbilt (2-8)
35-6
North Carolina State (4-6)
26-7


Tennessee (6-4)
34-3


at Houston (5-4-1)
17-0


Mississippi State (5-5)
24-0
Richmond (5-5)
66-0
Georgia Tech (7-4)
10-0
#16
(Birmingham) Auburn (6-4)
34-0

Sugar Bowl


Arkansas (8-3)

10-3

#9
Alabama had emerged as a powerhouse in the 1920s under Hall of Fame coach Wallace Wade, winning 3 Rose Bowls, and MNCs in 1925 and 1930. He was followed by another Hall of Fame coach, Frank Thomas, who won an MNC in 1934 and fielded a strong MNC contender in 1945. Thomas was not followed by a Hall of Fame coach, and Alabama started to degrade, hitting bottom with an 8-29-4 record over 4 straight losing seasons 1954-1957. That's when Alabama called Paul "Bear" Bryant home.


Bryant (pictured above) had played at end for Alabama's 1934 MNC team, then had been an assistant coach at Alabama under Frank Thomas. His head coaching career began with one season at Maryland, going 6-2-1 in 1945, and then he made a name for himself as the greatest football coach Kentucky ever had, going 60-23-6 there 1946-1953 and winning their first SEC title. Next was a stint at Texas A&M 1954-1957, going 25-14-2 and winning an SWC title. And that brings us to Alabama, where he became a legend. In his 25 years here 1958-1982, he won 6 school-claimed MNCs (though I count fewer) and 13 SEC titles, and he went 232-46-9.

Overall Bear Bryant was 323-85-17, a record for wins at the time he retired. He won 15 conference titles, and his teams were top 25 for 32 of his 38 seasons -- despite the fact that in the year before he started at each of his 4 schools, they had gone 1-7-1,
2-8, 4-5-1, and 2-7-1. He was a very quick program (re-)builder. Needless to say, Bear Bryant is in the Hall of Fame, and his name is sure to come up in "greatest coaches of all time" discussions.

Quarterback Pat Trammell (pictured above with Bryant) was the SEC MVP in 1961. He passed for 1035 yards, 8 touchdowns, and just 2 interceptions, and he rushed for 279 yards and 9 touchdowns.
He was 26-2-4 as a starter at Alabama.
Trammell passed up the NFL to become a doctor instead, but died from cancer at the age of 28.

Tackle Billy Neighbors was a consensus All American who went on to an 8 year pro career, and center/linebacker Lee Roy Jordan would be named a consensus AA in 1962 and is in the Hall of Fame. He played linebacker for the Dallas Cowboys for 14 years, making 5 Pro Bowls.
Alabama's Season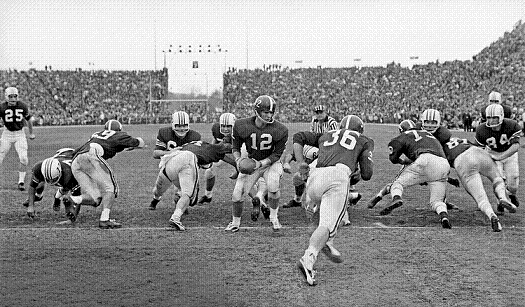 Alabama had a remarkable defense this year. They led the nation in total defense at 132.6 yards per game, and in scoring defense at 2.2 points per game. No team has posted a lower average scoring defense since
. Alabama had gone 8-1-2 in 1960, so expectations were high this season, and they began the season ranked #3 in the AP poll.

Otherwise, there isn't much to say about Alabama's season, because no one came within a touchdown of them until their bowl game. Alabama opened the season with 4 wins over teams that finished with losing records, then a 34-3 rout of Tennessee (6-4). They held the Volunteers to 61 yards of offense. They then shut out all of their last 5 opponents, including 5-4-1 Houston, 5-5 Mississippi State, 7-4 Georgia Tech (#16), and 6-4 Auburn. They held Georgia Tech to 96 yards of offense, and this game ended up causing Georgia Tech to leave the SEC, because their coach, Bobby Dodd, didn't like how rough Alabama players were.


Texas had been ranked #1, Alabama #2, until the Longhorns were upset by TCU November 18th. That moved Alabama to #1, and by a landslide. But then Ohio State ran the score up on 6-3 Michigan in their finale, putting 29 points on the scoreboard in the 4th quarter, and even taking over the ball at their own 20 with 34 seconds left, throwing passes downfield until they scored, then going for 2. They won 50-20, and after the game, Woody Hayes admitted that he ran the score up to get AP poll votes. And it worked, because in the next AP poll, Ohio State did go from 61 poll points behind Alabama to just 7 poll points back. Apparently quite a few sportswriters liked to reward bad sportsmanship.

The next week, Ohio State's season was done, and Alabama mowed down 6-4 Auburn 34-0 (the game pictured above). And they scored 7 points in the 3rd quarter and 3 in the 4th, so they didn't do it Woody Hayes style, running up the score in the last quarter on an already-beaten opponent. Alabama's lead over Ohio State stretched to 16 poll points in the final AP poll.

Sugar Bowl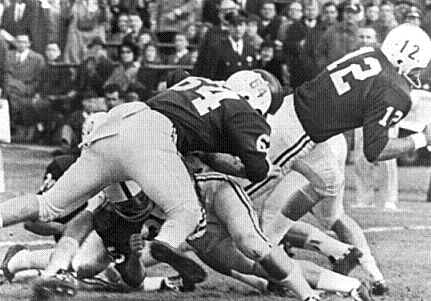 We have repeatedly seen, in these last few MNC articles, an MNC-contending SEC team going to the Sugar Bowl and playing a tier-two or worse opponent, and this season is no exception. As a result, none of these teams had to face much of a challenge to "win" their MNC, which is too bad, and may be part of the reason the FWAA repeatedly chose a Big 10 team that played a tougher schedule as their MNC team. As I've said in past articles, part of the problem was segregation, which severely limited which teams could play in the bowl (and conveniently protected SEC teams from having to play the

best

teams from other regions). But that was only one problem. The Sugar Bowl did a poor job of recruiting even the best all-white teams to come play the SEC champion, and in at least one instance the SEC team playing there lobbied behind the scenes for an easier opponent.

Auburn 1957 was on probation and couldn't go to a bowl, and so won their MNC more easily because of that. 1958 LSU won their MNC by playing #19 Clemson, who LSU coach Paul Dietz lobbied the Sugar to invite instead of #6 Air Force. 1959 was the only season during this time period when the Sugar Bowl actually matched up 2 top-ranked teams, but it was a rematch of a regular season game, LSU vs. Mississippi, so it was still a lame matchup. 1960 Mississippi played #25 Rice in the Sugar, and the FWAA rewarded them with an MNC (I disagree with that one). There were 5 all-white teams better than Rice that could have been recruited to play, but weren't.

This year, #1 Alabama played for their MNC against #9 Arkansas, when a couple of other all-white teams, #4 LSU and #5 Mississippi, would have been better. And that brings up another issue -- these SEC MNC-contenders from this time period were rarely even playing the best teams from their

own conference

. In any case, Arkansas 1961 was 8-2, losing 16-0 at #4 Mississippi and 33-7 to #3 Texas. They had beaten one rated team, 7-4 Rice (#17) 10-0 on the road. But as part of another trend, for the 4th year in a row, the SEC champion gave one of their weakest performances of the season in the Sugar Bowl.

Alabama scored a touchdown in the opening quarter, fullback Mike Fracchia getting loose for a 43 yard run, then quarterback Pat Trammell running it in from 12 yards out on the next play. Fracchia, pictured below carrying the ball in this game, rushed 20 times for 124 yards, and Trammell, pictured above, rushed 18 times for 69. Alabama later missed a field goal, but an interception returned to the Arkansas 20 set up another attempt, and they hit that one to lead 10-0. Arkansas finally got moving to the Alabama 10 late in the first half, but missed a field goal, so it remained 10-0 at halftime.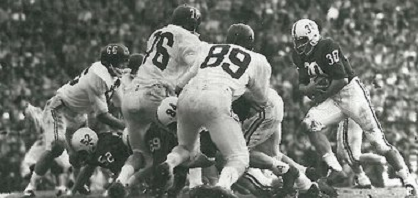 Arkansas drove to 2 more field goal attempts in the 3rd quarter

;

the first was blocked but the next was good, closing the gap to 10-3. Arkansas never drove all that close to the Alabama goal line again, but one long pass went just off the fingertips of an open receiver in the end zone, and another was tipped and intercepted at the goal line. Arkansas coach Frank Broyles said after the game, "We were in it on the scoreboard, but were never in it on the field."

Alabama outgained Arkansas 234 yards to 113, and they had 12 first downs to 7 for Arkansas. The Razorbacks finished 8-3, but still ranked #9.
Ohio State 1961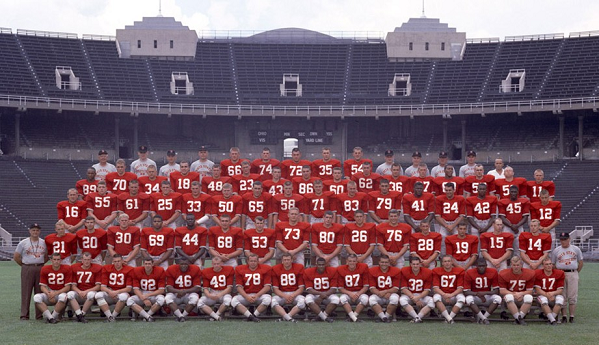 | | | |
| --- | --- | --- |
| Texas Christian (3-5-2) | 7-7 | |
| UCLA (7-4) | 13-3 | #25 |
| Illinois (0-9) | 44-0 | |
| at Northwestern (4-5) | 10-0 | |
| at Wisconsin (6-3) | 30-21 | #12 |
| Iowa (5-4) | 29-13 | #11 |
| at Indiana (2-7) | 16-7 | |
| Oregon (4-6) | 22-12 | |
| at Michigan (6-3) | 50-20 | #8 |
Ohio State had last won a legitimate MNC in 1954, and the FWAA awarded their 9-1 team an illegitimate MNC over
10-0 Auburn in 1957, which is pretty much what happened this year as well. I covered their Hall of Fame coach, Woody Hayes, in the linked 1954 MNC article.

Ohio State's star player this year was Hall of Fame fullback Bob Ferguson, a consensus All American, Maxwell Award winner, UPI player of the year, and runner-up for the Heisman Trophy. He rushed for 938 yards, 4.6 per carry, and 11 touchdowns. For his career he totaled 2162, and Ohio State sources like to say that he was never tackled for a loss, but that is, of course, not true. He was tackled for a loss in the opening drive of their first game this year, as one example.

Ferguson was the "thunder," and sophomore halfback Paul Warfield was the "lightning." Warfield rushed for 420 yards, 5.5 per carry, and 5 touchdowns, and he caught 9 passes for 120 yards and another touchdown. Warfield would be named a nonconsensus AA in 1963, and he went on to a celebrated 14 year pro career as a wide receiver. He made 8 Pro Bowls and totaled 427 receptions for 8565 yards and 85 touchdowns, and he is in the NFL Hall of Fame.
Ohio State's Season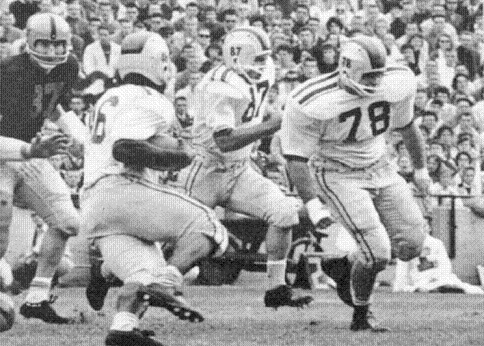 In 1957, Ohio State had finished 9-1 because they lost their opener at home to 5-4-1 Texas Christian. This year, they finished 8-0-1 because they were tied in their opener at home... by 3-5-2 Texas Christian. They came into the game ranked #3, and the game started on-script, OSU scoring a touchdown on their first drive of the game. Bob Ferguson carried the ball 13 times on the drive, converting twice on 4th and 1, and the touchdown was scored on a short pass on another 4th down play. But TCU outgained the Buckeyes the rest of the way. Their answering drive went to the OSU 4, highlighted by a 31 yard pass, but a 4th down pass was dropped at the goal line. Their next drive went to the OSU 24 before it was halted by an interception, and the score remained 7-0 at the half.

TCU was stopped at the OSU 24 in the 3rd quarter, and they finally broke through for a touchdown in the final quarter, on a 12 yard pass that was set up by a 61 yard pass. That tied the game up 7-7, but now it was OSU that took control of the game. They drove to the TCU 10, but on 2nd down they threw an interception at the goal line that was returned to the 6. The next time OSU got the ball, they had a short field but no time, and they had to try a 54 yard field goal on the last play of the game. It came up short, but there was still some drama left, as a TCU player caught the ball at his 2, ran backward into his end zone avoiding tacklers, and barely got back out again to avert a game-ending safety.

Ohio State totaled 249 yards of offense, almost all on the ground, and TCU had 236, mostly through the air. As stated above, TCU finished the season 3-5-2, and they were not top 25. Still, OSU wasn't the only strong team they pestered. TCU also gave 10-1 Texas (#3) their only loss 6-0 in Austin, and they defeated 7-3-1 Kansas (#15) 17-16. But on the other hand, TCU lost to 4-6 Texas Tech and 6-5 Baylor, and they tied 2-7-1 SMU in their finale.

Nobody else came within a touchdown of Ohio State this season, though 4 more times opponents were within a touchdown going into the 4th quarter. The first of these was the next week, hosting UCLA (7-4, #25), when Ohio State found themselves down 3-0 going into the final quarter but pulled away to win 13-3. The next game was not so exciting, a 44-0 rout of Illinois (0-9), but the next 3 games were all close going into the 4th quarter again. First they led 3-0 at Northwestern (4-5) and won 10-0, then they led 23-15 at Wisconsin and won 30-21. They gave up 305 yards in that one, but Wisconsin ended up being pretty good, upsetting 8-2 Minnesota (#6) in their finale to finish 6-3 and ranked #12.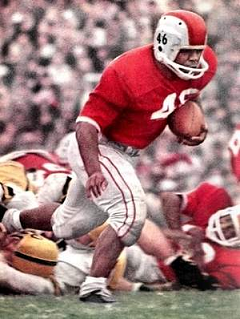 The next week Ohio State hosted Iowa and led 12-7, but exploded in the 4th quarter to win 29-13 (Bob Ferguson pictured carrying the ball in this game above). Iowa outgained them by a hefty 374 yards to 288, but the Hawkeyes also had 4 turnovers to none for the Buckeyes. Iowa finished 5-4, but they beat 6-3 Wisconsin, and all 4 of their losses came to top 10 teams, so I have the Hawkeyes ranked #11 for 1961. OSU was fairly unimpressive in their next 2 outings, leading at Indiana (2-7) just 9-7 at half and winning 16-7, then beating Oregon (4-6) 22-12. They gave up 315 yards of offense in that one.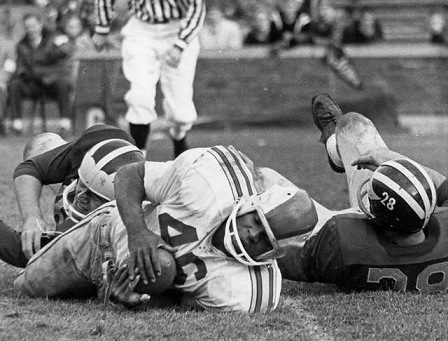 That brought them to their finale at Michigan, where, as previously discussed, they poured it on as much as possible in an effort to win the AP poll despite the tie in their season opener. They led 21-6 at the half, and 21-12 going into the 4th, but they piled up 29 points in the final quarter to win 50-20. Bob Ferguson scored 4 touchdowns (one of them pictured above). As previously indicated, on their last drive Ohio State took over at their own 20 with 34 seconds left, threw 4 passes to get into the end zone, then went for 2 and got it. Woody Hayes explained after the game, "We were going for national recognition." But although they made up a lot of ground on #1 Alabama in the next AP poll, they came up short.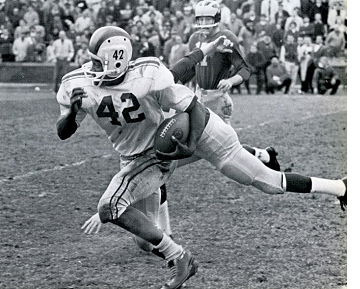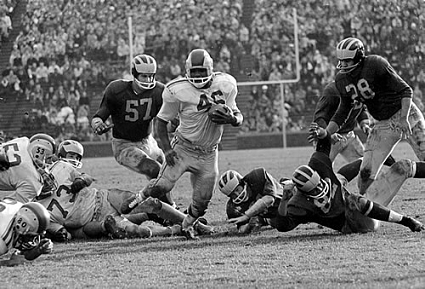 Ohio State's next game should have been the Rose Bowl, but in a surprise move, the Ohio State faculty council voted to decline the Rose Bowl bid, largely because they were tired of the overimportance of football at OSU. This is why major football schools don't let their professors vote on such matters anymore. OSU students rioted for 2 days (as pictured below), and Woody Hayes fumed over the decision for years. Ohio State football declined a bit over the next 6 years, and Woody Hayes blamed it on this Rose Bowl bid being declined, thinking it led to weak recruiting. But they had just gone 3-5-1 in 1959 -- what caused that? In any case, even If Ohio State had gone to the Rose Bowl, it would have just been a rematch with UCLA (7-4, #25), which would have been a worse matchup than the Sugar Bowl and a waste of everybody's time.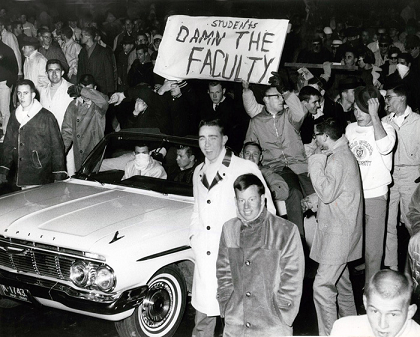 Alabama vs. Ohio State
Here are the significant games for Alabama and Ohio State in 1961. The opponent rankings
come from my fixed AP poll for 1961
.


Alabama 11-0
Ohio State 8-0-1

Georgia Tech (7-4)
10-0
#16

Sugar Bowl


Arkansas (8-3)

10-3

#9

| | | |
| --- | --- | --- |
| Texas Christian (3-5-2) | 7-7 | Unranked |
| UCLA (7-4) | 13-3 | #25 |
| at Wisconsin (6-3) | 30-21 | #12 |
| Iowa (5-4) | 29-13 | #11 |
| at Michigan (6-3) | 50-20 | #8 |

Alabama defeated their unranked opponents by an average of 31-2, and Ohio State defeated theirs by an average of 20-5.


In the original AP poll's top 20, Alabama had played 2 rated opponents and Ohio State 1, and Alabama's opponents were 53-58-1 (47.8%) while OSU's were 37-46-2 (44.7%). However, as you can see above, OSU's schedule was tougher when you consider the fixed AP poll (which is to say, it was tougher in reality, if the teams of 1961 are properly and logically rated). But was it enough tougher to make up for a tie to an unranked -- even a

losing

-- team? No, of course not.

The main argument for an Ohio State MNC is that big 50-20 win over 6-3 Michigan in their finale, which was a vastly better performance than Alabama's 10-3 win over a similar 8-3 Arkansas. But across the rest of their schedules, Alabama easily outperformed Ohio State, whose defense was just not very good this season, especially by MNC standards. Alabama had a historically great defense, one that has not been equaled since. Even with OSU's big game at Michigan, Alabama scored more points per game than Ohio State did this year, and gave up a

lot

fewer. Only 3 opponents got closer to Alabama than 17 points, and 7 of OSU's 9 opponents came closer to them than that.

And of course OSU's better performance against Michigan is not as significant as the fact that they tied an unranked --

losing

-- team. Alabama had only one close game, and it was against a top 10 team.

Unlike all the other recent Big 10 teams that claim MNCs over teams with better records (Iowa 1956, Ohio State 1957, Iowa 1958, and Iowa 1961), this one is not even close. The FWAA giving the Buckeyes an MNC for this season is a joke.
Awards Ceremony
1961 #1:

11-0 Alabama


National Co-champion:

None


Contender:

8-0-1 Ohio State

These are the awards I have been handing out for each season, except seasons when there are no contenders. For this purpose, what I mean by a contender is a team that I think is very close to being worthy of sharing the national championship. A team that you could make an argument for, even if that argument is weak. But the contenders are teams that I myself do not see as national champions.

Ohio State barely qualifies as a "contender" here, in my opinion.
Grading the Selectors
I have been grading the NCAA Records Book's selectors for each season, and keeping a grade point average, so we can see who is relatively good at selecting national champions and who is not. And although I do not consider computer ratings to be legitimate national championship selectors, I have been including them in this section as well, just for comparison's sake.
I am grading on a scale of 0-5 (5 being the best).


The Poling math system and the FWAA rated Ohio State #1. Grade

:

1.1



The other 15 systems and organizations listed in the NCAA Records Book all went with 11-0 Alabama. Grade

: 5.0


Grade point averages 1936-1961 (the UPI coaches' poll and the Football Writers Association of America will not be added until they have selected at least half as many champions as the others)

:




1) National Championship Foundation
4.69

2) Billingsley (math system)

4.63

3) DeVold (math)




4.62

4)

Houlgate (math)

4.53

5)

College Football Researchers Association




4.45

6) Sagarin-ELO (math)
4.40

7)

Poling (math)


4.34

8) Litkenhous (math)

4.32

9) Helms Foundation

4.30

10) Boand (math)
4.27
11) AP Poll
4.20

12)

Dunkel (math)

4.17

13) Sagarin (math)
4.15
14) Williamson (math)
3.80
15) Berryman (math)
3.37

Grade point averages 1919-1935
:
| | |
| --- | --- |
| 1) Boand (math system) | 4.26 |
| 2) College Football Researchers Association | 4.22 |
| 3) Poling (math) | 4.11 |
| 4) Helms | 4.09 |
| 5) Sagarin-ELO (math) | 4.06 |
| 6) National Championship Foundation | 3.96 |
| 7) Dickinson (math) | 3.49 |
| 8) Houlgate (math) | 3.35 |
| 9) Billingsley (math) | 3.34 |
| 10) Sagarin (math) | 3.28 |
| 11) Parke Davis | 2.77 |

How the systems that selected champions for 1901-1918 did

:



| | |
| --- | --- |
| 1) Houlgate (math system) | 4.5 |
| 2) Helms | 4.3 |
| 3) Parke Davis | 4.2 |
| 4) National Championship Foundation | 3.7 |
| 5) Billingsley (math) | 3.6 |