Home
1968 College Football National Championship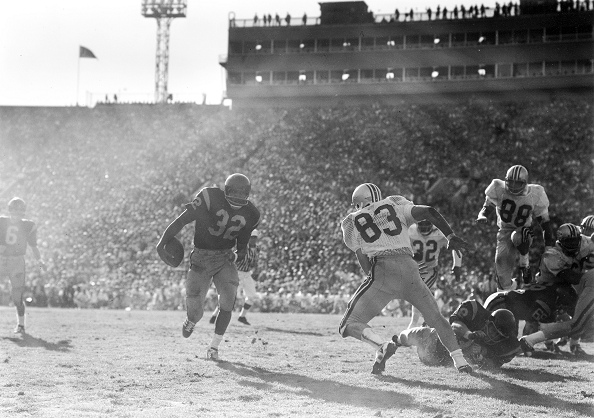 Pictured above is the 1969 Rose Bowl, where 10-0 Ohio State defeated defending MNC Southern Cal (9-1-1) and their superstar running back, O. J. Simpson, 27-16.

That left Ohio State a unanimous choice as MNC of 1968 among human selectors, with nary a peep on behalf of 11-0 Penn State, the same fate that befell Alabama in 1966, not to mention Oklahoma in 1967. We'll be looking at Penn State's case for 1968 in the article that follows, but don't get your hopes up for the Nittany Lions

:

not even a single math-based ratings system listed in the NCAA Records Book had them #1
for 1968.


All rankings in this article, except as specified, come from my 1968 fixed AP poll.
Ohio State 1968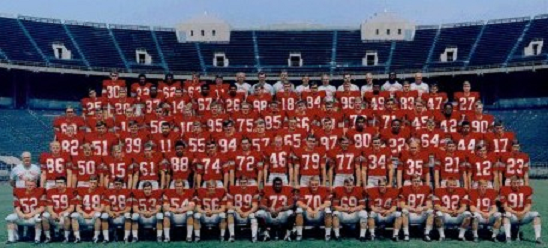 Southern Methodist (8-3)
35-14
#9
Oregon (4-6)
21-6
#8
Purdue (8-2)
13-0
Northwestern (1-9)
45-21
at Illinois (1-9)
31-24
Michigan State (5-5)
25-20
at Wisconsin (0-10)
43-8


at Iowa (5-5)
33-27
Michigan (8-2)
50-14
#14


Rose Bowl


Southern Cal (9-1-1)

27-16

#5
Ohio State had last won a legitimate MNC in 1954, but the FWAA awarded their 9-1 team an illegitimate MNC over
10-0 Auburn in 1957, then extended the exact same favor for their 8-0-1 team over 11-0 Alabama in 1961, so Ohio State had claimed 3 MNCs for Hall of Fame coach Woody Hayes coming into this season. I covered Hayes in the linked 1954 MNC article.
This team became famous for its "Super Sophomores," regarded as one of the best recruiting classes in college football history. 12 sophomores started for Ohio State in 1968, and those players would go 27-2 1968-1970, taking upsets at the end of each of the next 2 seasons to deny themselves an MNC "threepeat." In the bigger picture, this season was the start of a strong 10 year run for the Buckeyes, as they would win 9 conference titles 1968-1977, though 6 were shared with Michigan.

But this is the only legitimate national championship team of that 10 year run, or for the "Super Sophomores," and they have some 1968 upperclassmen to thank for that. The only first-team All Americans this season were senior tackles Dave Foley (consensus) and Rufus Mayes (nonconsensus), who went on to 9 and 11 year pro careers.

The leading rusher for this team, and for 3 straight years 1967-1969, was junior fullback Jim Otis, who would be a consensus AA in 1969 and finish 7th for the Heisman. This year he rushed for 985 yards and 17 touchdowns. After graduation, he went on to a 9-year pro career, making 1 Pro Bowl.

And a pair of juniors, guard Chuck Hutchison and safety Ted Provost, would be nonconsensus AA in 1969. Hutchison went on to a 6-year pro career and Provost 8 years, the latter mostly in the CFL.

The Super Sophomores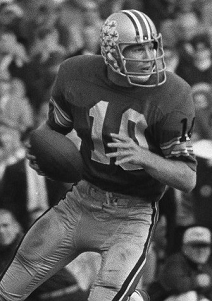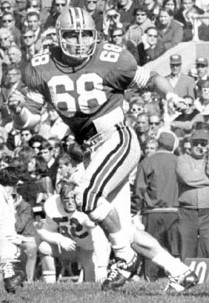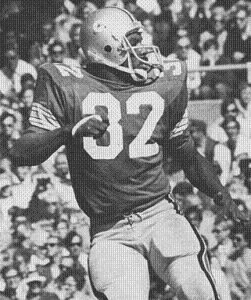 That brings us to the Super Sophomores, 8 of whom would make a first-team All American list during their careers at Ohio State. And combined with the upperclassmen, that means that 13 players from this team did it. The Super Sophomores count 3 Hall of Famers among them

:

quarterback Rex Kern, middle guard Jim Stillwagon, and safety Jack Tatum (pictured above in that order).

Rex Kern may seem like an odd Hall of Fame inclusion, because he never made a first-team All America list as a quarterback, but he nevertheless finished 3rd for the Heisman in 1970, and he made a first-team AA list as a running back in 1969. He did rush for over 500 yards all 3 years he started, for a career total of 1704 yards. This year he rushed for 534 yards and 8 touchdowns, and he was also a passable passer, completing 57.3% for 972 yards and 7 touchdowns, 6 interceptions.

Jim Stillwagon was a consensus AA in 1969 and 1970, and as a senior he won the Outland Trophy and first-ever Lombardi Award, and was also the UPI Lineman of the Year. He played 5 years in the CFL, and was an All-Star 3 times. Safety Jack Tatum was also a consensus AA in 1969 and 1970, and he was All Big 10 for 3 straight years. He went on to a 10-year pro career, making 3 Pro Bowls.

Five other Super Sophomores would all be nonconsensus AA in 1970

:

tight end Jan White, running backs John Brockington and Leo Hayden, and defensive backs Mike Sensibaugh and Tim Anderson. White caught 21 passes for 283 yards and a touchdown this season.

Brockington was mostly a blocker until Jim Otis graduated, but in 1970 he was promoted to featured back and rushed for a school record
1142 yards and 17 touchdowns. This year he rushed for 187 yards and 1 touchdown. Brockington went on to a 7-year pro career, making 3 Pro Bowls. Leo Hayden rushed for 284 yards this season and 1 touchdown, and he caught a touchdown pass as well.

Sensibaugh snagged 22 interceptions in his career, which is still the school record. He went on to an 8-year pro career.
Ohio State's Season
Ohio State was one of those odd teams that smashes their best opponents, but repeatedly struggles against weaker opposition. They played 4 top 25 teams this season, and beat them all by more than a touchdown, but they posted 3 close wins over teams that did not have winning records. They started the season ranked #11, and opened hosting Southern Methodist (8-3, #9) the last Saturday of September. SMU threw 69 passes in this game, good for 417 yards, but Ohio State picked off 5 of those passes, all inside their own 20 yard line, and the Buckeyes won big, 35-14. Quarterback Rex Kern ran for a touchdown and passed for 2 more in his debut.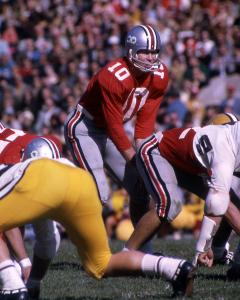 After disposing of Oregon (4-6) 21-6, Ohio State was ranked #4 and hosting #1 Purdue. This game was scoreless at the half as the teams combined to miss 5 field goals. Ohio State safety Ted Provost returned an interception 35 yards for a touchdown in the 3rd quarter, and the way their defense played in this game, that was all the points they would need, but another interception set up another touchdown, and the Buckeyes won 13-0. Jim Otis rushed for 144 yards, while Purdue's Heisman candidate running back, Leroy Keyes (he would finish 2nd for the award), was held to just 19 yards. Purdue finished the season 8-2, and I have them ranked #8 for 1968.

Ohio State moved up to #2 in the next AP poll, behind defending MNC Southern Cal, whom the Buckeyes would pass up after routing Michigan in their finale. In the meantime, Ohio State first faced a slate of 5 straight weak opponents. But 3 of those teams gave them better games than anyone else did this season.

The trouble started with Ohio State's first road trip, to Illinois, who was 0-5 and would finish 1-9. This game started as one would expect, with the Buckeyes leading 24-0 at halftime. But OSU fell asleep at the wheel, and Illinois came back with 3 touchdowns, and capped them all with successful 2-point conversions, to tie the game 24-24 with 4:38 remaining in the game. Substitute quarterback Ron Maciejowski came in for an injured Rex Kern, and tossed a 40 yard pass to tight end Jan White, then a short touchdown pass to Jim Otis, and Ohio State won 31-24.

The next week was difficult again, hosting #16 Michigan State, who would finish 5-5 and unranked. OSU jumped to a 13-0 lead in this game, and led 19-7 at the half, but they could never quite shake off Michigan State, who kept coming back to within range of winning via one big play. OSU led 25-20 going into the final quarter, but MSU kept turning the ball over, and that remained the final score. The Buckeyes outgained the Spartans 429 yards to 271, and MSU lost 7 turnovers, so it's pretty miraculous that Michigan State was able to keep the score so close.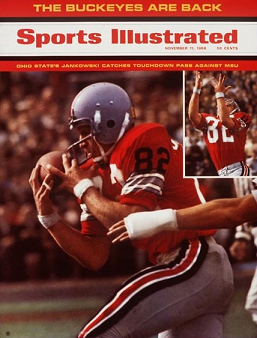 Ohio State's last close game was at Iowa (5-5, unranked), the week before their finale with Michigan. This game was not as close as the final score would indicate. Ohio State led 12-0 at the half and 26-6 going into the 4th quarter, but Iowa scored 3 touchdowns in the final frame. Fortunately for the Buckeyes, they interrupted that scoring explosion with a 22 yard John Brockington touchdown run, thus winning the game 33-27. But Iowa had no chance to actually win, as they scored their final touchdown with 9 seconds left in the game. OSU outgained Iowa just 420 yards to 387. Jim Otis and Rex Kern scored 2 touchdowns each (an Otis touchdown pictured below).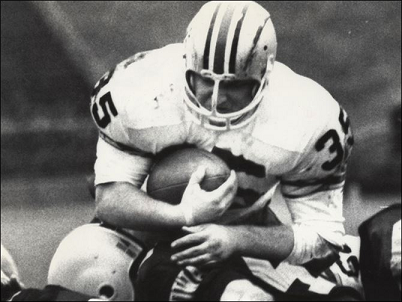 Regular Season Finale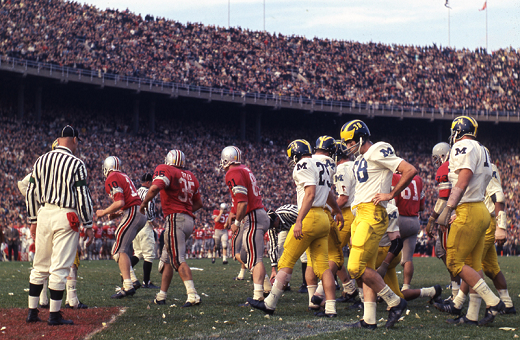 That brought Ohio State to their regular season finale, hosting archrival Michigan, who was 8-1 and ranked #4. The last time Ohio State was hoping to win a national championship coming into this game, in 1961, they famously ran up the score and won 50-20. That included taking over the ball with 34 seconds left on the clock, throwing bombs downfield, then going for 2 when they scored a touchdown. Unfortunately, the FWAA was so impressed by this display of some of the worst sportsmanship in the history of college football that they rewarded the Buckeyes with a ridiculous "national championship" (which, needless to say, I do not recognize).


Woody Hayes certainly remembered the lesson well, and in a good example of why you don't reward a psychopath for bad behavior, this year was deja vu all over again. Ohio State led 21-14 at halftime, 27-14 going into the 4th quarter, and then much like 1961, they really poured it on, scoring 23 more points to make the final score 50-14. They even went for 2 points after their final touchdown again, though unlike 1961 they didn't get it. When asked why he went for 2, Woody Hayes famously replied, "Because I couldn't go for 3." What a charmer.

But the psychopath was rewarded again, as Ohio State edged out Southern Cal for #1 in the next AP poll. Not that it mattered, as OSU was now set to play USC in the Rose Bowl, and anyway, USC took an upset tie to #9 Notre Dame in their finale the next week.

Rose Bowl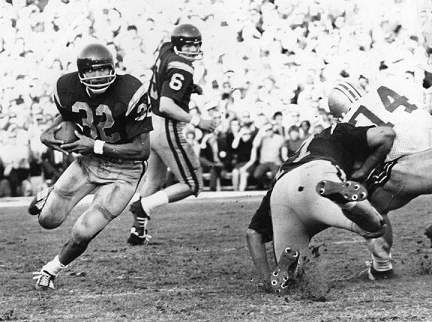 Defending MNC Southern Cal remained ranked #2 after their upset tie with Notre Dame, so this was a great Rose Bowl matchup, #1 vs. #2, and if USC had won, they would certainly have been consensus MNC over 11-0 Penn State even with the tie on their record.

The game was scoreless in the opening quarter, but Southern Cal kicked a field goal, and Heisman winner O. J. Simpson ripped an 80 yard touchdown run to extend their lead to 10-0. Ohio State came back with a 69 yard touchdown drive, then kicked a field goal just before the half to tie the game 10-10.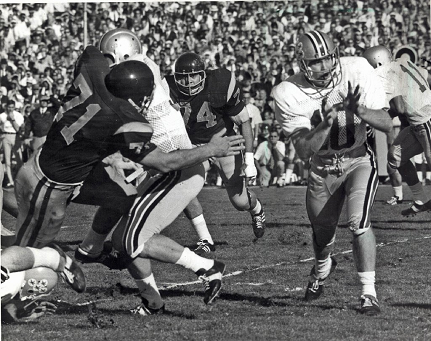 Ohio State's defense took over the game from there. The Buckeyes kicked a field goal in the 3rd quarter, then forced fumbles deep in USC territory to set up a pair of 4th quarter touchdowns. USC scored a touchdown in the final minute to feel better about themselves, but OSU won easily 27-16. O. J. Simpson had 171 yards rushing and 85 receiving, but USC was doomed by 5 turnovers, while OSU had none.

That left Southern Cal 9-1-1, and I have them ranked #5 for 1968.
Penn State 1968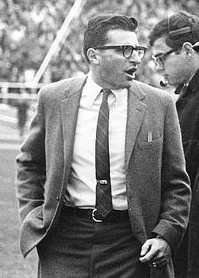 Navy (2-8)
31-6
Kansas State (4-6)
25-9
at West Virginia (7-3)
31-20
at UCLA (3-7)
21-6


at Boston College (6-3)
29-0


Army (7-3)
28-24


Miami-Florida (5-5)
22-7
#20
at Maryland (2-8)
57-13
at Pittsburgh (1-9)
65-9
Syracuse (6-4)
30-12

Orange Bowl


Kansas (9-2)

15-14

#11
Penn State had been pretty good in the early 20th century, and 1901-1923, they produced 14 top 25 teams, 6 of them top 10. They were very close to mythical national championships with an 8-0-1 finish in 1911 and 8-0 in 1912, and I recognize their 1919 team as the school's first
MNC. Penn State appeared in the Rose Bowl following the 1922 season, and they were 6-2-1 and ranked #16 for 1923, but after that the school de-emphasized football, banning scholarships and recruiting, and fell off the map. They would not be rated again until the 1942 AP poll, 1947 in the fixed AP poll.

Penn State finally eschewed amateur sports purity and started to come back to big time football after WW2, particularly blossoming under Hall of Fame coach Rip Engle, who went 104-48-4 here 1950-1965. It took a while to get going, but they are ranked in the fixed AP poll top 25 for 6 straight seasons 1959-1964. Then they went 5-5 in 1965, and Engle retired. Promoted to replace him was Hall of Fame coach Joe Paterno (pictured above).

Paterno had played at quarterback for Brown University under coach Rip Engle 1946-1949. After graduation he followed his coach to Penn State and was an assistant there for Engle's entire tenure. He went 5-5 in his debut season as head coach, 1966, then started his climb to the top of the college football world, going 8-2-1 in 1967 (#9), then 11-0 this season and next. He remained the head coach at Penn State for 46 seasons, building an incredible record of 409-136-3. Needless to say, that is the NCAA record for wins. He won consensus MNCs in 1982 and 1986, and he went unbeaten, untied, and uncrowned in 1968, 1969, 1973, and 1994. He was 24-12-1 in bowl games.

Joe Paterno was on the coaching staff at Penn State for 62 years, but his career came to an ignominious end when he was fired in the middle of the 2011 season. His former defensive coordinator, Jerry Sandusky, had just been convicted on 45 counts of sexually assaulting children over a long period of time, some of it at Penn State football facilities, and it had come to light that Paterno had known about it for nearly a decade beforehand, but had said nothing about it to the public or to law enforcement authorities. Thus the firing. However, it should be noted that many Penn State fans insist that there is another side to the story

:

that Paterno did report what he knew to the proper authorities (his "superiors" at PSU), or that Paterno didn't actually understand what Sandusky was doing, or even that Sandusky was framed, and didn't molest any children at all.

Whatever. Point is, it was a sad end to a very long and illustrious career, but it turned out that Paterno had another problem all along, and he died of lung cancer just 2 months after he was fired.
The Players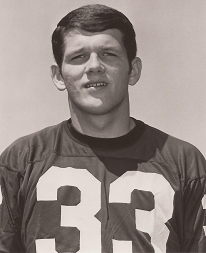 Obviously Ohio State had an enormously talented team in 1968, but Penn State actually fielded 4 Hall of Famers this season, one more than Ohio State did

:

linebackers Jack Ham and Dennis Onkotz, defensive tackle Mike Reid, and tight end Ted Kwalik.

Jack Ham (pictured above) is both a college and pro Hall of Famer, and was a consensus All American in 1970. He blocked 3 punts this season, and for his career he totaled 251 tackles. He played for the Steelers for 12 years, winning 4 Super Bowls and making 8 Pro Bowls, and he holds the NFL record for most career forced turnovers for a linebacker at 53. Dennis Onkotz was consensus AA this season and next, and in addition to linebacker, he was also the team's punt returner, averaging 13 per return. He totaled 287 tackles for his career and 11 interceptions, 3 of them returned for touchdowns.

Mike Reid would be a consensus AA in 1969, and also won the Outland and Maxwell Trophies that year and finished 5th for the Heisman. He went on to a 5-year pro career, making 2 Pro Bowls, but he retired early due to nagging injuries and because he wanted to focus on his music career. He became a country music songwriter and performer, winning a Grammy for a song he wrote and releasing 2 albums that charted 7 singles.

Ted Kwalik was a consensus AA this season. He led the team in receiving, catching 31 passes for 403 yards and 2 touchdowns, and for his career he totaled 1343 yards and 10 touchdowns. He went on to a 9-year pro career, making 3 Pro Bowls.

Running back Charlie Pittman would be a nonconsensus AA in 1969. He had 706 yards rushing this year and led the team in scoring with 11 touchdowns. For his career he had 2236 rushing yards and 30 touchdowns. Safety Neal Smith would also be a nonconsensus AA in 1969. He intercepted 19 passes for his career.
Penn State's Season
The East was many decades removed from its glory years by this time, so Penn State's schedule garnered them little respect. They did take a road trip to UCLA, who had been a top 10 team for 3 straight seasons, but unfortunately, this year the Bruins fell to 3-7. So even though PSU had just one close game in the regular season, they had no real chance to challenge Ohio State for #1, and even if Southern Cal had beaten OSU in the Rose Bowl, the Trojans would have been voted #1 at 10-0-1.

The one close game came at home against Army (7-3, unranked), who had already lost at home to Vanderbilt (5-4-1). PSU led this game 9-0 in the opening quarter and 16-10 going into the 4th quarter. Then they attempted a field goal that was badly short, so short it hit an Army player's leg and was recovered at the Army 2 yard line by Penn State. They scored a touchdown soon enough. Army came back with a 58 yard pass to set up a touchdown, cutting the lead to 22-17, and tried an onside kick. The ball caromed around players trying to grab it, and finally Penn State tight end Ted Kwalik got hold of it and ran it in untouched for a score from 53 yards out. The game was over at that point, but Army passed the ball right down the field to score again and make the final 28-24.

The only regular season contest against a rated foe was a home game against Miami-Florida (5-5, #20) the next week. Miami jumped to a 7-0 lead in the 2nd quarter on a 78 yard touchdown pass, and held that lead at halftime, but it was all the offense they could muster, as they were held to a total of 20 yards in the 2nd half. Charlie Pittman scored 3 touchdowns for Penn State, and they won 22-7.
Orange Bowl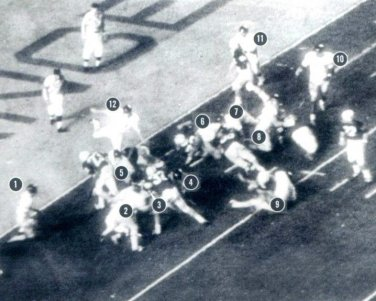 While the Rose Bowl featured #1 Ohio State against #2 Southern Cal, the Orange countered with the much less sexy #3 Penn State vs. #6 Kansas, and Kansas was fortunate to be rated that highly. They actually shared the Big 8 title with Oklahoma (7-4, #10), who had beaten them 27-23 in Lawrence. Kansas had but one win over a rated team, 21-19 at Missouri (8-3, #13). I have the Jayhawks rated #11 for 1968, and so they offer Penn State little help for an MNC race. And PSU was rather fortunate to win this game.

Penn State moved the ball well in the first half, but 4 turnovers kept them from realizing many points from it. Kansas scored a touchdown in the first quarter, and PSU answered with a Charlie Pittman touchdown run in the 2nd quarter to make it 7-7 at halftime. Kansas running back John Riggins scored a touchdown in the 4th quarter to give them a 14-7 lead, and later they had the ball 4th and 1 at the PSU 14, and passed up a game-sealing field goal to go for it. But John Riggins was stopped short, keeping Penn State alive.

With just over a minute to go, Penn State partially blocked a Kansas punt and recovered the ball at midfield. On the next play, PSU hit a long pass that went to the Kansas 3 yard line, and they scored a touchdown 3 plays later. The Nittany Lions then went for 2 and the win, but their pass was batted down, and Kansas players began celebrating. As they were celebrating, however, a referee threw a flag. Turns out Kansas had 12 men on the field, as shown in the picture above, and in fact, after the game it was determined that Kansas had been playing with 12 men on defense for several plays before the conversion attempt. Given a mulligan from shorter distance, PSU ran in the 2-pointer and won the game 15-14.

Penn State outgained Kansas 361 yards to 241, but they barely won because they had 4 turnovers to 1 for Kansas. This is the last conference title Kansas has won in football, and it is difficult to imagine them ever winning one again.
Ohio State vs. Penn State
Here are the significant games for Ohio State and Penn State in 1968. The opponent rankings
come from my fixed AP poll for 1968
.


Ohio State 10-0
Penn State 11-0

Southern Methodist (8-3)
35-14
#9
Purdue (8-2)
13-0
#8
at Illinois (1-9)
31-24
Unranked
Michigan State (5-5)
25-20
Unranked
at Iowa (5-5)
33-27
Unranked
Michigan (8-2)
50-14
#14

Rose Bowl


Southern Cal (9-1-1)

27-16

#5

Army (7-3)
28-24
Unranked
Miami-Florida (5-5)
22-7
#20

Orange Bowl


Kansas (9-2)



15-14


#11

Ohio State defeated their unranked opponents by an average of 33-18, and Penn State defeated theirs by an average of 35-11.


Despite the 3 close games Ohio State posted over unranked opponents, they are an easy call for MNC of 1968, as they played a vastly tougher schedule, and defeated another MNC caliber team in the Rose Bowl. Penn State just didn't do anything worth an MNC this season, as their schedule was lousy

:

the Eastern teams on it were basically the equivalent of mid-majors, and their 2 key intersectional opponents, UCLA and Miami-Florida, declined this season, UCLA from 7-2-1 to 3-7, Miami from 7-4 to 5-5 (though I still have the Hurricanes at #20).

So Penn State's MNC hopes rested entirely on their Orange Bowl win over 9-2 Kansas, but it was a very unimpressive 15-14 outcome, since Kansas didn't do much of note this year either. Kansas beat one rated opponent, 21-19 at #13 Missouri (8-3), but they lost 27-23 at home to #10 Oklahoma (7-4)
. The Sooners shared the Big 8 title with Kansas, but of course, that head-to-head win renders Oklahoma the real conference champions in my book. Kansas is very remindful of Nebraska in 1966, who was also 9-2, was also unimpressive on the season, also lost to a 4-loss Oklahoma team, and also lost the Orange Bowl to an 11-0 team. And that 11-0 team, Alabama, also failed to win an MNC, partially because their Orange Bowl opponent just wasn't good enough to matter enough.


At least Alabama routed Nebraska in the 1967 Orange Bowl. Penn State was nowhere near doing the same to Kansas in the 1969 edition. So yes, 11-0 Penn State deserved to be uncrowned for the 1968 season. Joe Paterno has 3 more Penn State teams coming that went unbeaten, untied, and uncrowned (1969, 1973, and 1994), and we shall see if those teams also deserved to be uncrowned as we eventually get to those seasons. The first of those, of course, won't be much of a wait.
Awards Ceremony
1968 #1:

10-0 Ohio State


National Co-champion:

None


Contender:

11-0 Penn State

These are the awards I have been handing out for each season, except seasons when there are no contenders. For this purpose, what I mean by a contender is a team that I think is very close to being worthy of sharing the national championship. A team that you could make an argument for, even if that argument is weak. But the contenders are teams that I myself do not see as national champions.
Grading the Selectors
I have been grading the NCAA Records Book's selectors for each season, and keeping a grade point average, so we can see who is relatively good at selecting national champions and who is not. And although I do not consider computer ratings to be legitimate national championship selectors, I have been including them in this section as well, just for comparison's sake.
I am grading on a scale of 0-5 (5 being the best).


The Litkenhous system rated 8-1-2 Georgia #1. Grade

: 0.0



Three systems rated 9-1-1 Texas #1

:

DeVold, Matthews, and Sagarin. Grade

: 0.0



Everyone else went with 10-0 Ohio State. Grade

:

5.0


A few words on the 3 systems that rated Texas #1. Now, obviously Texas is a ridiculous choice as national champion of 1968, so this is another example of why math-based systems are poor national championship selectors. However, what a good math-based system

is

useful for is telling you who the best teams are, and in this case, these 3 systems might well have been correct. Texas might have been the best team this season.

This was the year Texas implemented the wishbone offense, which would dominate college football throughout the next decade. They took their tie and loss in their first 2 games, then started whipping teams, rolling up bigger numbers as the season moved along. They beat 10-1 Arkansas by 10 points, 8-3 SMU by 31, and 8-2-1 Tennessee by 23 in the Cotton Bowl. And that winning streak would extend throughout 1969, bringing them another national championship, and all the way until a Cotton Bowl upset loss to cap the 1970 season. A 30 game winning streak.

Grade point averages 1965-1968

:




1) Helms
Billingsley (math system)
Coaches Poll
FWAA
Football News
NFF
5.0
7) National Championship Foundation
AP Poll
4.8
9) College Football Researchers
4.6
10) Sagarin ELO-Chess (math)
Berryman (math)
4.3
12) Poling (math)
4.1
13) Dunkel (math)
Sagarin (math)
DeVold (math)

3.8
16) Matthews (math)
3.3
17) Litkenhous (math)
2.5

How the selectors did in previous grading periods

:



Grade point averages 1936-1964

:




1) National Championship Foundation
4.69

2) Billingsley (math system)

4.67

3)

Houlgate (math)

4.53

4)

College Football Researchers Association




4.48

5) Sagarin-ELO (math)
4.46

6) DeVold (math)




4.44

7)

Poling (math)


4.38

8) Helms Foundation

4.35

9) Boand (math)
4.27
10) Sagarin (math)
4.24
11) Litkenhous (math)

4.22
12) AP Poll
4.08

13)

Dunkel (math)

4.05

14) Williamson (math)
3.86
15) Berryman (math)
3.17
16) Coaches Poll
3.05

Grade point averages 1919-1935
:
| | |
| --- | --- |
| 1) Boand (math system) | 4.26 |
| 2) College Football Researchers Association | 4.22 |
| 3) Poling (math) | 4.11 |
| 4) Helms | 4.09 |
| 5) Sagarin-ELO (math) | 4.06 |
| 6) National Championship Foundation | 3.96 |
| 7) Dickinson (math) | 3.49 |
| 8) Houlgate (math) | 3.35 |
| 9) Billingsley (math) | 3.34 |
| 10) Sagarin (math) | 3.28 |
| 11) Parke Davis | 2.77 |

How the systems that selected champions for 1901-1918 did

:



| | |
| --- | --- |
| 1) Houlgate (math system) | 4.5 |
| 2) Helms | 4.3 |
| 3) Parke Davis | 4.2 |
| 4) National Championship Foundation | 3.7 |
| 5) Billingsley (math) | 3.6 |