Home
1967 College Football National Championship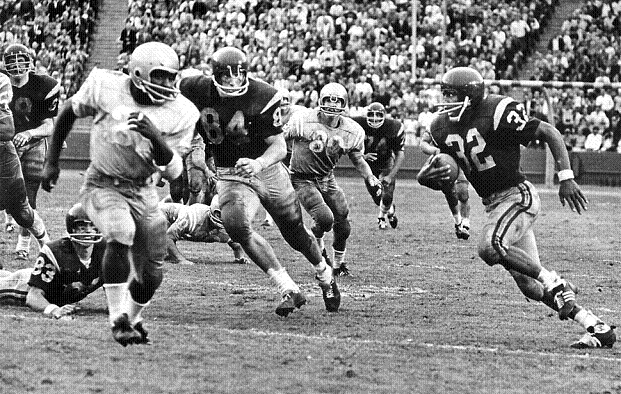 Pictured above is Southern Cal running back O. J. Simpson on his way to a 64 yard touchdown run in the 4th quarter to beat #1 UCLA 21-20. USC replaced their crosstown rivals at #1 in the next AP poll, then beat 9-2 Indiana 14-3 in the Rose Bowl to secure the 1967 MNC.


Southern Cal had been upset 3-0 at Oregon State (7-2-1, #5) the week prior to their big win over UCLA, so they finished 10-1, but they are a unanimous choice among human selectors for the 1967 MNC. Three math-based systems came up with 3 other teams at #1, one each going for 10-1 Oklahoma, 9-2 Tennessee (who lost to Oklahoma in the Orange Bowl), and 8-2 Notre Dame (who lost to Southern Cal). Obviously Tennessee and Notre Dame are not contenders, but Oklahoma was the only major team aside from USC that finished 10-1 or better, so Oklahoma is the only other team I will be looking at in this article (Wyoming finished 10-1, but their schedule leaves them out of the mix for an MNC).


All rankings in this article, except as specified, come from my 1967 fixed AP poll.
Southern Cal 1967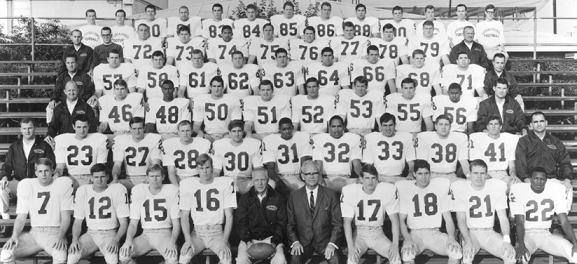 Washington State (2-8)
49-0
Texas (6-4)
17-13
at Michigan State (3-7)
21-17
Stanford (5-5)
30-0
at Notre Dame (8-2)
24-7
#7
at Washington (5-5)
23-6
Oregon (2-8)
28-6
at California (5-5)
31-12
at Oregon State (7-2-1)
0-3
#5
UCLA (7-2-1)
21-20
#4

Rose Bowl


Indiana (9-2)

14-3

#8
Southern Cal had last won an MNC in 1962, and I covered their Hall of Fame coach, John McKay, in the linked article.


Southern Cal would not have won this year's MNC without college and pro Hall of Fame running back O. J. Simpson, a transfer who arrived this season from City College of San Francisco. He led the nation in rushing with 1415 yards and scored 11 touchdowns. He was a consensus All American and won the Walter Camp Award. In 1968 he would repeat as national rushing champion with 1709 yards and score 22 touchdowns, winning the Heisman by the largest voting margin in history to that point in time.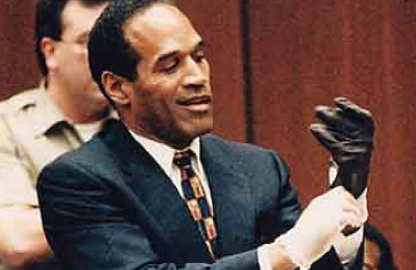 Simpson went on to an 11 year NFL career, making 6 Pro Bowls and rushing for a career 11,236 yards and 61 touchdowns. He was the NFL rushing champion 4 times. But he is most famous today for killing his wife and (somewhat) getting away with it in the 1990s, and as of this writing he has spent the last 7 years in prison for an unrelated robbery conviction. He was one of the greatest running backs of all time, but unfortunately, that has been eclipsed by his latter day infamy.

Tackle Ron Yary is also a college and pro Hall of Famer, was also consensus AA in 1967 and 1968, and was also a transfer (Cerritos College). He would be a unanimous AA in 1968, and win the Outland and Knute Rockne Awards. He went on to a 15 year pro career, making 7 Pro Bowls.

Defensive end Tim Rossovich and linebacker Adrian Young were also consensus AA this season, putting USC's total at 4. Both played at least 7 years in the NFL. Defensive back Mike Battle would be a nonconsensus AA in 1968, and defensive end Jimmy Gunn would be a consensus AA in 1969. Battle snagged 5 interceptions this season, and he was also the punt returner, bringing back 49 for 640 yards and 2 touchdowns.

And the 3rd string quarterback for this team was Mike Holmgren, who would go 174-122 as an NFL head coach over 17 years, winning a Super Bowl with the Packers for the 1996 season.

Five Southern Cal players were taken in the first round of the 1968 NFL draft
.
Southern Cal's Season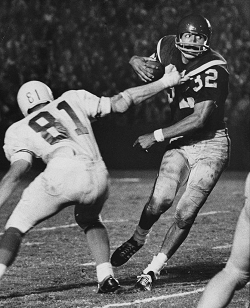 Southern Cal opened the season ranked #7, and after disposing of Washington State 49-0, they moved up to #4 and were hosting #5 Texas in their next game. Texas drove 85 yards to a touchdown pass to open the scoring, but Southern Cal responded with 17 unanswered points. This was O. J. Simpson's coming-out party, as he rushed for 158 yards and USC's initial touchdown (Simpson pictured carrying the ball in this game above). Texas scored a late touchdown to make the final score look better for them, 17-13.

Southern Cal's next game was at defending MNC Michigan State. Trojan quarterback Steve Sogge hit 14 of 16 passes in this game, and Simpson ran for 190 yards and a pair of touchdowns, but the game was very tight all the way to the end. USC led 14-7 on Simpson's touchdowns, but in the 2nd quarter, Michigan State connected on a 47 yard touchdown pass, made good on a 2-point conversion, and added a safety thanks to a bad snap on a USC punt. The Spartans thus led 17-14 at the half.

In the 3rd quarter, O. J. Simpson threw a touchdown pass to take the lead 21-17, which would hold up as the final score, but not without some major drama. Late in the game, MSU drove 70 yards, then connected for a touchdown pass on 4th and goal from the USC 5 yard line, but the play was nullified by a penalty, and that was the end of that. Southern Cal rose to #1 in the next AP poll, but Michigan State's season fell apart from here, and they finished just 3-7 this year.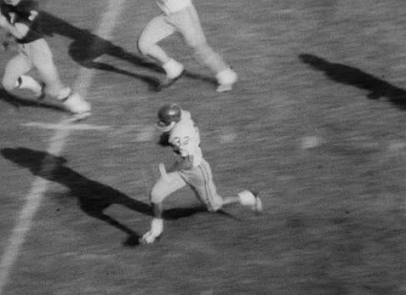 Two weeks later, Southern Cal took another trip out to the Midwest, to face the other defending MNC, Notre Dame, who came into the game ranked #5. Notre Dame led this game 7-0 at the half, primarily because of USC quarterback Steve Sogge's 3 interceptions before the break. But Sogge would throw only 3 more passes the rest of the game, leaving O. J. Simpson to win it on 150 yards rushing and 3 touchdowns (he's pictured running free in this game above). Notre Dame tossed 7 interceptions, 4 of them to linebacker Adrian Young, and USC cruised to a 24-7 win in the 2nd half. This was their first win in South Bend since 1939.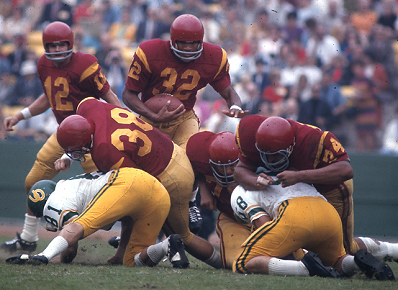 Southern Cal won easily in their next 3 games, 2 of them on the road, but then they were tripped up at prolific giant-killer Oregon State, USC's 4th road trip in 5 games, and 5th in 7.

Beaten by the Giant Killers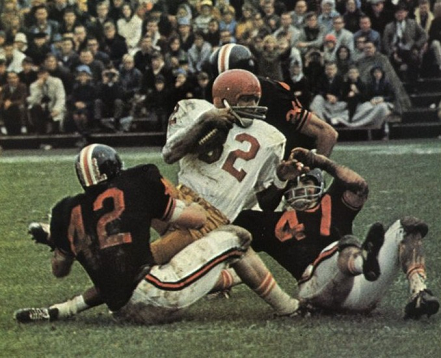 Oregon State loved the role of underdog this season. They had lost to a pair of unranked opponents, 13-6 at Washington (5-5) and 31-13 at home to Brigham Young (6-4). However, after those losses they got very hot, winning 22-14 at #2 Purdue, 35-7 over Washington State, and tying 16-16 at #2 UCLA. A home game against #1 Southern Cal was next, and it was played in rain and mud

:

Beaver weather. They kicked a short field goal in the 2nd quarter for a 3-0 lead (pictured below), then held on to make that the game's final score. O. J. Simpson rushed for 188 yards, but the Beavers stiffened up every time their backs approached their own goal line.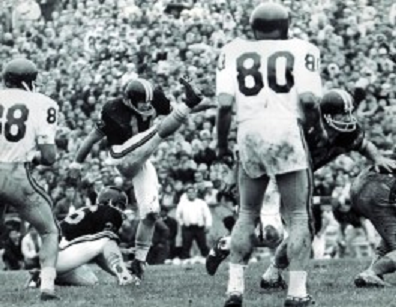 Oregon State finished 7-2-1, but they were 4-0-1 down the stretch, including those 3 games against top 10 opponents, and I have them ranked #5 for 1967.

Southern Cal dropped to #4 in the next AP poll, and UCLA, then 7-0-1, moved up to #1. #2 Tennessee and #3 Purdue each had a loss, so Southern Cal's next game, the regular season finale hosting #1 UCLA, was likely for the AP poll's championship.
Game of the Year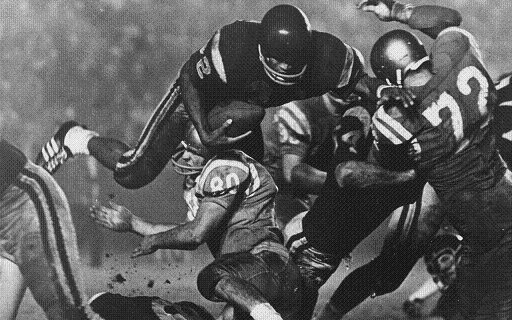 This was another "Game of the Century," but since both had been upset by Oregon State the previous 2 weeks, that may seem silly. Still, the 1967 USC-UCLA game was definitely the game of the year, and as it played out, it

is

considered to be one of the best college football games of the 20th century. On the line were not only the usual rivalry bragging rights, but also a conference title and Rose Bowl slot, #1 in the AP poll, and even the Heisman Trophy, which by this point had come down to a race between UCLA quarterback Gary Beban and USC running back O. J. Simpson. Both players delivered sensational performances in this game, despite both playing through injuries.

UCLA struck first, driving 47 yards for a touchdown after a bad Southern Cal punt, but USC answered late in the opening quarter by returning a Gary Beban interception 55 yards for the tying touchdown. UCLA returned a 2nd quarter punt 47 yards, but their field goal try was blocked to end the drive, and this ended up being the key to the whole game.

USC coach John McKay had noted in game film that UCLA's kicks had a low trajectory, so he put his tallest men on the line for UCLA's kicking attempts in this game, and instructed them not to rush the kicker, but to just stand there with their arms up. In the middle of that line was 6' 8" Bill Hayhoe, and he blocked 2 field goal attempts and 1 critical extra point, and that is what ultimately enabled Southern Cal to win the game.

After the first blocked field goal attempt, Southern Cal wide receiver Earl McCullough, who like O. J. Simpson ran a 9.4 second 100 yard dash, got loose on a 52 yard reverse, then caught a 15 yard pass to set up a 13 yard Simpson touchdown, and USC led 14-7. Bill Hayhoe blocked another field goal attempt in the quarter, and it remained 14-7 at the half.

Gary Beban, playing with badly bruised ribs, brought UCLA back with a 53 yard touchdown pass in the 3rd quarter and a 20 yarder in the 4th, but after the last one, Bill Hayhoe tipped the extra point try, deflecting it wide of the goal posts, and that would be the difference. On Southern Cal's next drive, O. J. Simpson cut back for a 64 yard touchdown run, one of the most famous plays in college football history (pictured at the top of this article). That made the final score 21-20, as the Trojan defense took over, sacking Gary Beban 4 times.

Still, Beban finished the game 16 of 24 for 301 yards and 2 touchdowns, while playing injured, and that heroic effort earned him the Heisman over Simpson this season. For his part, O. J. Simpson rushed for 177 yards and 2 touchdowns, and he would get his Heisman the next season. USC moved to #1 for good in the next AP poll. UCLA, playing without Gary Beban, was upset 32-14 by Syracuse (8-2, #10) the next week, finishing their season at 7-2-1. I have them ranked #4 for 1967.

Rose Bowl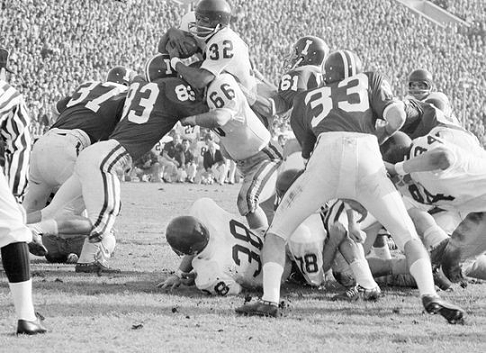 This is the only appearance Indiana has ever made in the Rose Bowl. They came into the game at 9-1 and ranked #4, albeit by a series of miracles that saw them barely survive in game after game after game against unranked opponents. Indiana had been down 10-0 at half in their opener against 2-8 Kentucky, but rallied to win 12-10. They beat 5-5 Kansas 18-15 thanks to a field goal that was taken by a defensive back because the starting kicker was injured. They edged 1-8-1 Iowa 21-17 on a touchdown pass in the final minute. They beat Michigan 27-20 on a touchdown with 1:11 left. They got by 0-9-1 Wisconsin by 5 points and 3-7 Michigan State by 1 point. Then they lost 33-7 at 8-2 Minnesota (#12).

At that point, though 8-1, it was highly doubtful that Indiana was a top 25 team at all power-wise. Then they pulled off their biggest miracle of the season, knocking off #3 Purdue 19-14 at home in their finale and earning the only Rose Bowl bid in school history. Purdue gave it away on 4 lost fumbles, one of them at the Indiana 1 yard line.

So #1 Southern Cal, basically playing a home game at the Rose Bowl, was served up easy pickings to finish off their 1967 MNC campaign. Indiana did play tough and make them work for it, but USC dominated the game and won 14-3 on MVP O. J. Simpson's 128 yards rushing and 2 touchdowns (the first is pictured above). USC outgained Indiana 317 yards to 189, and they lost a fumble in the Indiana end zone, or the score would have been worse.

Indiana was done at 9-2, and I have them ranked #8 for 1967, but other than their one big win over Purdue, they consistently played more like a #26-50 team.
Oklahoma 1967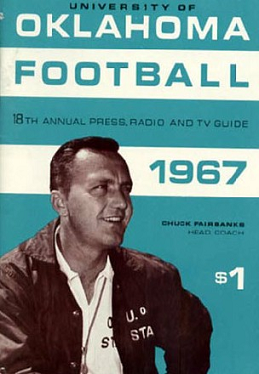 Washington State (2-8)
21-0
Maryland (0-9)
35-0
(Dallas) Texas (6-4)
7-9
at Kansas State (1-9)
46-7


at Missouri (7-3)
7-0


Colorado (9-2)
23-0
#11

at Iowa State (2-8)
52-14
Kansas (5-5)
14-10
at Nebraska (6-4)
21-14
Oklahoma State (4-5-1)
38-14

Orange Bowl


Tennessee (9-2)

26-24

#3
Oklahoma had won 14 conference titles and 3 MNCs (1949, 1955, and 1956) during the tenure of Hall of Fame coach Bud Wilkinson 1947-1963
, but his successor, Gomer Jones, went 6-4-1 and a disastrous 3-7 over the next 2 seasons. Jim Mackenzie took over in 1966, and Oklahoma rebounded to 6-4 and a #15 ranking in the fixed poll. But Mackenzie tragically died of a heart attack, at only 37 years old, in April of 1967, and 4 days later, assistant Chuck Fairbanks was promoted to head coach.

Fairbanks (pictured on this season's Oklahoma football media guide above) had played at Michigan State 1952-1954, and he was a mere 33 years old when he took over as head coach at Oklahoma. He went 52-15-1 here 1967-1972, winning 3 conference titles, and then he moved on to the NFL, where he went 46-40 as coach of the Patriots 1973-1978. He next returned to the college ranks and went an awful 7-26 at Colorado 1979-1981, plummeting his college total to 59-41-1. He then finished his coaching career by going 6-12 with the New Jersey Generals of the USFL.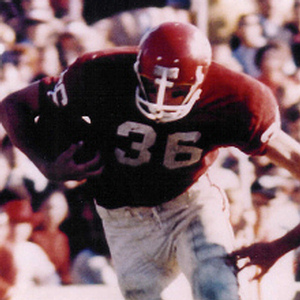 1967 Oklahoma's best-known player today is Hall of Fame halfback Steve Owens (pictured above). He didn't start a single game this year, but he still led the team in rushing with 869 yards and 13 touchdowns. He would go on to win the Heisman in 1969, and for his career he totaled 4041 yards rushing and 57 touchdowns, the latter a school record that stood until 2010. Owens played for the Detroit Lions for 5 years and made 1 Pro Bowl.

Middle guard Granville Liggins was the team's only consensus All American this season, and he was also the UPI Lineman of the Year and finished 7th for the Heisman. He played 11 years in the CFL, twice a CFL All-Star, and became a Canadian citizen. Guard Bob Kalsu was a nonconsensus AA, played for the Buffalo Bills in 1968, then joined the Army and was killed in action in Vietnam in 1970.

Tight end Steve Zabel was the team's leading receiver with 23 catches for 338 yards and 3 touchdowns, and he would be a nonconsensus AA in 1969, then go on to a 10-year pro career. Center Ken Mendenhall would also be a nonconsensus AA in 1969, and also went on to a 10-year pro career.

This was the first year Oklahoma
used their current helmet design with the interlocking O and U
.
Oklahoma's Season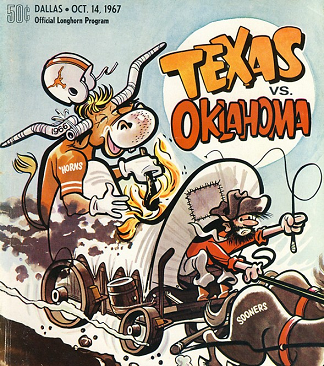 Oklahoma led the nation in scoring defense at 6.8 points per game. They opened the season with a pair of shutouts of bad teams, including 21-0 over 2-8 Washington State the week after Southern Cal beat them 49-0, and then they suffered their one loss of the season, against archrival Texas (6-4, unranked), who had lost their opener 17-13 at Southern Cal.

Oklahoma dominated this game early, and drove 78 yards with the opening possession to a touchdown, then threatened twice more in the half, but both times quarterback Bob Warmack threw interceptions into the end zone, and it remained 7-0 at halftime. Oklahoma fumbled the ball away at the Texas 31 yard line in the 3rd quarter, and then the Longhorns came to life, driving to a field goal to cut the lead to 7-3, then driving 84 yards to a 4th quarter touchdown to win the game 9-7. Oklahoma outgained Texas 360 yards to 300, but they had the 3 turnovers, Texas none, and Oklahoma also missed 2 vital field goal attempts in this game.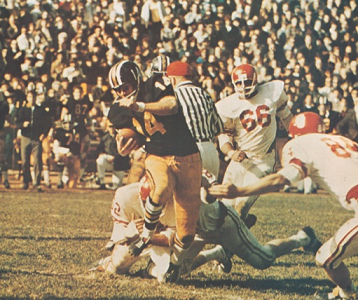 The Sooners smashed another bad team, then got into a defensive struggle again at Missouri (7-3, unranked). Bob Warmack hit tight end Steve Zabel with a 51 yard pass to set up a 2nd quarter touchdown, but this time Oklahoma protected that lead, winning 7-0. Missouri was held to 172 yards of offense.

The next week Oklahoma hosted #9 Colorado, the only ranked team they played during the regular season, with the Big 8 title on the line. This one was easy, as Oklahoma held Colorado to 181 yards of offense and cashed in a bunch of Buffalo turnovers for a 23-0 win. Colorado finished 9-2 and ranked #11. Oklahoma moved into the next AP poll at #8.

Oklahoma finished the regular season with a slate of mediocre opponents, but they still struggled to beat 2 of them, getting by 5-5 Kansas 14-10 at home and winning 21-14 at 6-4 Nebraska. They ended the regular season 9-1 and ranked #3 in the final AP poll, and then they were off to the Orange Bowl to play #2 Tennessee, who was also 9-1.
Orange Bowl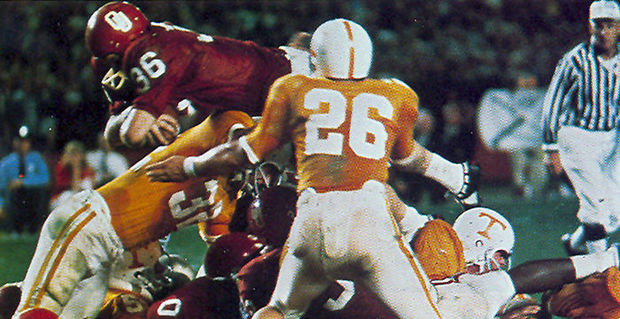 Oklahoma was all over Tennessee in the first half, and led 19-0 at halftime. But the Sooners were pressing for more, as they hoped a huge score would convince the FWAA, which decided its national championship after the bowl games, to send them the Grantland Rice Trophy, and quarterback Bob Warmack threw a pair of interceptions, one returned for a touchdown, the other setting up another touchdown. Tennessee added a field goal in the 4th quarter, and suddenly Oklahoma's lead was just 19-17, and from there the game got good.

Oklahoma returned their own interception for a touchdown to go up 26-17, and Tennessee answered with a touchdown drive to make it close again. With 2 minutes to go, Oklahoma went for it on 4th and 1 from their own 43 yard line, and halfback Steve Owens was tackled in the backfield. But Tennessee was unable to cash in on the opportunity, missing a 43 yard field goal try with 7 seconds left in the game, and Oklahoma held on for the 26-24 win.

Oklahoma was outgained 332 yards to 310. Tennessee was finished at 9-2, and I have them ranked #3 for 1967.
Southern Cal vs. Oklahoma
Here are the significant games for Southern Cal and Oklahoma in 1967. The opponent rankings
come from my fixed AP poll for 1967
.


Southern Cal 10-1
Oklahoma 10-1

Texas (6-4)
17-13
Unranked
at Michigan State (3-7)
21-17
Unranked
at Notre Dame (8-2)
24-7
#7
at Oregon State (7-2-1)
0-3
#5
UCLA (7-2-1)
21-20
#4

Rose Bowl


Indiana (9-2)

14-3

#8

(Dallas) Texas (6-4)
7-9
Unranked
at Missouri (7-3)
7-0
Unranked
Colorado (9-2)
23-0
#11
Kansas (5-5)
14-10
Unranked
at Nebraska (6-4)
21-14
Unranked

Orange Bowl


Tennessee (9-2)



26-24


#3

Southern Cal defeated their unranked opponents by an average of 28-8, and Oklahoma defeated theirs by an average of 27-8.


Obviously Southern Cal should be ranked #1, but Oklahoma is pretty close to meriting a share of the MNC here. They did defeat a higher ranked team than Southern Cal did, and though they had 3 weak wins over unrated teams, that was only one more than USC posted. The big problem for Oklahoma is their

loss

to an unranked team. Southern Cal's loss came to a top 5 team that defeated another top 10 team and tied a third, and it was on the road, in bad weather.

On top of that, USC defeated 3 top 10 teams to Oklahoma's 1. USC's opponents were 59-50-2, while Oklahoma's were 51-59-1. And USC's weak wins came in games 2 and 3, while Oklahoma's came in games 5, 8, and 9
. Furthermore, USC's win over Texas wasn't really close, as Texas scored a late touchdown, so the Trojans had 1 weak win to 3 for Oklahoma. And speaking of Texas, Southern Cal happened to beat the team that beat Oklahoma.


So I'm going to have to go with everyone else and give Southern Cal the only crown for 1967.
Awards Ceremony
1967 #1:

10-1 Southern Cal


National Co-champion:

None


Contender:

10-1 Oklahoma

These are the awards I have been handing out for each season, except seasons when there are no contenders. For this purpose, what I mean by a contender is a team that I think is very close to being worthy of sharing the national championship. A team that you could make an argument for, even if that argument is weak. But the contenders are teams that I myself do not see as national champions.
Grading the Selectors
I have been grading the NCAA Records Book's selectors for each season, and keeping a grade point average, so we can see who is relatively good at selecting national champions and who is not. And although I do not consider computer ratings to be legitimate national championship selectors, I have been including them in this section as well, just for comparison's sake.
I am grading on a scale of 0-5 (5 being the best).


The Dunkel system rated 8-2 Notre Dame #1. Grade

: 0.0



The Litkenhous system rated 9-2 Tennessee #1. Grade

: 0.0



The Poling system rated 10-1 Oklahoma #1. Grade

: 1.4



Everyone else went with 10-1 Southern Cal. Grade

:

5.0


Grade point averages 1965-1967

:




Helms
Matthews (math system)
Billingsley (math)
Sagarin (math)
DeVold (math)
Coaches Poll
FWAA
Football News
NFF
5.0
National Championship Foundation
AP Poll
4.7
College Football Researchers
4.4
Sagarin ELO-Chess (math)
Berryman (math)
4.0
Poling (math)
3.8
Dunkel (math)
Litkenhous (math)
3.3

How the selectors did in previous grading periods

:



Grade point averages 1936-1964

:




1) National Championship Foundation
4.69

2) Billingsley (math system)

4.67

3)

Houlgate (math)

4.53

4)

College Football Researchers Association




4.48

5) Sagarin-ELO (math)
4.46

6) DeVold (math)




4.44

7)

Poling (math)


4.38

8) Helms Foundation

4.35

9) Boand (math)
4.27
10) Sagarin (math)
4.24
11) Litkenhous (math)

4.22
12) AP Poll
4.08

13)

Dunkel (math)

4.05

14) Williamson (math)
3.86
15) Berryman (math)
3.17
16) Coaches Poll
3.05

Grade point averages 1919-1935
:
| | |
| --- | --- |
| 1) Boand (math system) | 4.26 |
| 2) College Football Researchers Association | 4.22 |
| 3) Poling (math) | 4.11 |
| 4) Helms | 4.09 |
| 5) Sagarin-ELO (math) | 4.06 |
| 6) National Championship Foundation | 3.96 |
| 7) Dickinson (math) | 3.49 |
| 8) Houlgate (math) | 3.35 |
| 9) Billingsley (math) | 3.34 |
| 10) Sagarin (math) | 3.28 |
| 11) Parke Davis | 2.77 |

How the systems that selected champions for 1901-1918 did

:



| | |
| --- | --- |
| 1) Houlgate (math system) | 4.5 |
| 2) Helms | 4.3 |
| 3) Parke Davis | 4.2 |
| 4) National Championship Foundation | 3.7 |
| 5) Billingsley (math) | 3.6 |