Home
1962 College Football National Championship
Pictured above is the 1963 Rose Bowl, where #1 Southern Cal survived a 23 point rally in the 4th quarter by #2 Wisconsin to hold on for a 42-37 win. This was the first time the AP poll's #1 and #2 teams had played each other since the 1946 Army-Notre Dame game. There would be a much shorter wait for the next #1 vs. #2 matchup, Oklahoma vs. Texas in less than a year.


11-0 Southern Cal was and is a unanimous choice among human selectors for the 1962 mythical national championship
, but 10-0 Mississippi claims an MNC for 1962 as well, resting on 4 math-based systems rating them #1 (5 other systems listed in the NCAA Records Book went with USC).


I think Mississippi had a better case for #1 than Southern Cal did, which I'll go over in detail when I compare the 2 teams near the end of this article, but obviously the AP poll didn't even have 10-0 Mississippi #2. They had 8-1 Wisconsin rated higher despite a loss (Southern Cal gave them a 2nd loss in the Rose Bowl). Clearly Mississippi commanded very little respect, and there is a reason for that.


This is the 5th time in 6 years 1957-1962 that we have an SEC team vying for the MNC against a non-Southern team, and I've discussed this issue in previous MNC articles,

but the big problem for the South at this time was segregation. This wasn't just because segregation caused poll voters to have a political bias against Southern teams, but also because segregation forced SEC MNC contenders to only play against other all-white teams, severely restricting the level of their competition. On top of that, they generally only played teams from their own region, and as such they were easy for the rest of the nation to forget about or ignore.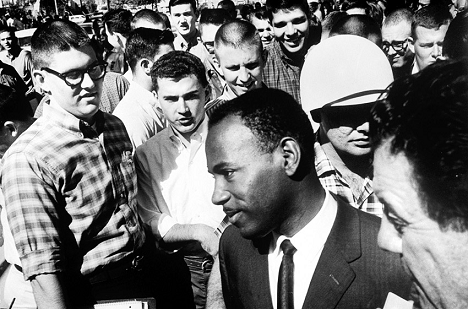 But this was a particularly difficult year for the Ole Miss football team, because in the fall of 1962, James Meredith (pictured above) became the first African American student at the university, and the ensuing racist riots and violence (pictured below) were so virulent and ugly that it was impossible for anyone not from the South to have any good will for Mississippi, either the college or the state as a whole, and there was simply no way that anyone not from the South was going to even entertain the notion of voting their football team #1.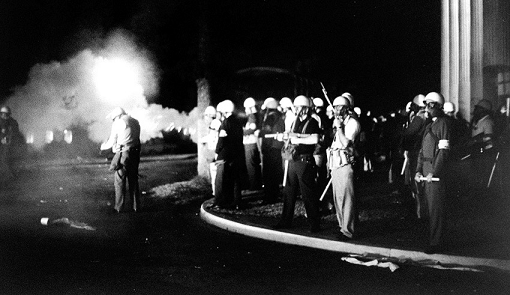 I can certainly sympathize with the reticence to reward the Mississippi fans of 1962 with a national championship, but when it comes to selecting mythical national champions, in the end my only concern in these articles is what happened on the field of play. When I talk about whether or not a team deserves a national championship, football considerations are my only considerations. And while most Mississippi fans of 1962 deserved nothing but ill, Mississippi's football team deserved an MNC.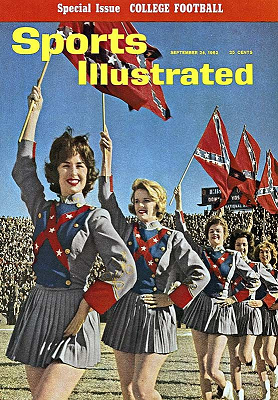 Ugh. Still, one look at that 1962

Sports Illustrated

cover and I completely understand the feelings of most of the voters for the AP, UPI, Football Writers Association, College Football Researchers Association, Helms, Football News, and National Championship Foundation. And those feelings can best be summarized as a "fuck you" to all things Mississippi.

All rankings in the following article, except as specified, come from my 1962 fixed AP poll.
Southern Cal 1962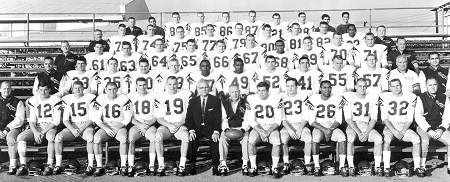 Duke (8-2)
14-7
#14
at Southern Methodist (2-8)
33-3
at Iowa (4-5)
7-0
California (1-9)
32-6
at Illinois (2-7)
28-16
Washington (7-1-2)
14-0
#18
at Stanford (5-5)
39-14
Navy (5-5)
13-6
at UCLA (4-6)
14-3
Notre Dame (5-5)
25-0

Rose Bowl


Wisconsin (8-2)

42-37

#3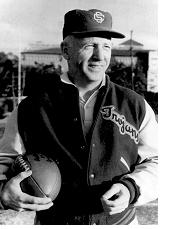 Southern Cal had previously won national championships in 1931 and 1932 under Hall of Fame coach Howard Jones. Another Hall of Famer, John McKay (pictured at left), brought the Trojans a 2nd round of greatness as head coach 1960-1975, going 127-40-8 and winning 9 conference championships and 4 school-claimed MNCs (I count fewer). McKay had played at halfback for Purdue in 1946 and for Oregon 1947-1949. He had then been an assistant coach at Oregon 1950-1958, then at Southern Cal for one season in 1959 before being promoted to head coach. Southern Cal had been on probation when he took over, and they went a mere 4-6 in 1960 and 4-5-1 in 1961 before breaking through for 11-0 this season. McKay is the winningest head coach in USC history. After his tenure at Southern Cal, he became the first-ever coach for the Tampa Bay Buccaneers 1976-1984, going 44-88-1.


Southern Cal's one consensus All American this season was Hall of Fame end Hal Bledsoe (pictured below catching a pass in the Rose Bowl), who caught 33 passes for 827 yards (25.1 yards per catch!) and 11 touchdowns. His 68 points led the team for the 2nd straight year, and he added 2 touchdown receptions in the Rose Bowl. For his career he caught 82 passes for 1717 yards (20.9 ypc) and 20 touchdowns.

Tailback Willie Brown led the team in rushing, interceptions, punt and kickoff returns, and he was 2nd in receptions. Guard/linebacker Damon Bame was a nonconsensus AA
.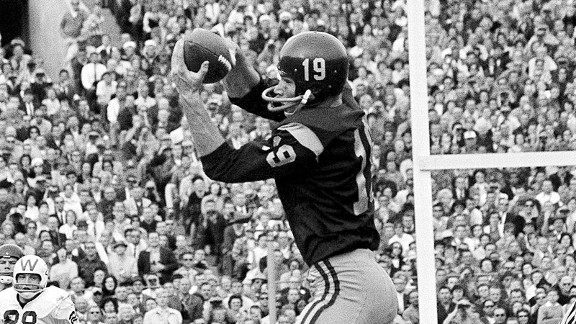 Southern Cal's Season
The AP poll only ranked 10 teams at this time, and Southern Cal was unranked to start the season, hosting #8 Duke in their opener. Duke struck first on a 25 yard touchdown pass in the initial quarter to lead 7-0
. Southern Cal answered with a short touchdown pass from quarterback Pete Beathard to tailback Willie Brown in the 2nd quarter, and late in the half, their other quarterback, Bill Nelson, hit Hal Bledsoe for a 51-yard touchdown pass, giving the Trojans a 14-7 lead that held up as the final score. USC's defense was the real star here, holding Duke to 55 yards rushing and snagging 5 interceptions, 2 by Damon Bame. Duke finished the season 8-2, and I have them ranked #14 for 1962.

USC moved into the next AP poll at #9, then hit the road for trips to Southern Methodist (2-8), where they won 33-3, and to Iowa, where they met much more resistance but still won 7-0. In that game, a fumble set up a short touchdown drive in the opening quarter, and Iowa coughed up 7 turnovers, but USC missed 3 field goals to keep the game in doubt until the very end. Iowa finished the season 4-5 and unranked.


Southern Cal was more impressive in their next 4 games, winning 32-6 over 1-9 Cal, 28-16 at 2-7 Illinois, 14-0 over 7-1-2 Washington (#18), and 39-14 at 5-5 Stanford. At this point USC was ranked #2, behind unbeaten defending national champion Alabama, and Mississippi was ranked #3. But Alabama was upset by Georgia Tech (7-3-1, #12) the following week, and when USC held on for a sloppy 13-6 win over Navy (5-5) at home, they moved to #1 for good.

USC gave up 5 turnovers against Navy, the first at their own 23 in the opening quarter, which led to Navy quarterback Roger Staubach's 18 yard touchdown run and a 6-0 Navy lead. In the 2nd quarter, USC quarterback Pete Beathard hit Hal Bledsoe for 3 passes totaling 59 yards, the last going for a touchdown, and in the 3rd quarter Willie Brown scored a 56 yard touchdown on a reverse, making the 13-6 final score. Navy wasn't done, pushing the ball to the Southern Cal 1 yard line in the 4th quarter, but they fumbled the ball away there.

Southern Cal won their last 2 regular season games 14-3 at UCLA (4-6) and 25-0 over Notre Dame (5-5), and over those 2 weeks they saw their lead in first place votes over Ole Miss in the AP poll go from 20-15 to 42-2, and in fact 8-1 Wisconsin, as previously noted, passed up 10-0 Mississippi for #2.

Rose Bowl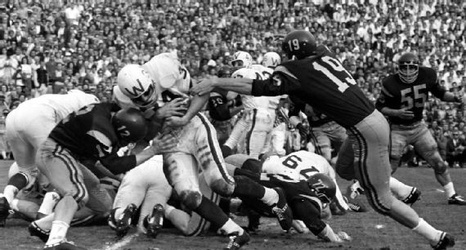 So the Rose Bowl got a pretty good matchup with #1 Southern Cal facing #2 Wisconsin. Wisconsin was the season scoring champion at 31.7 points per game, and though they started slowly in this one, they ended up outdoing that average thanks to a huge 4th quarter.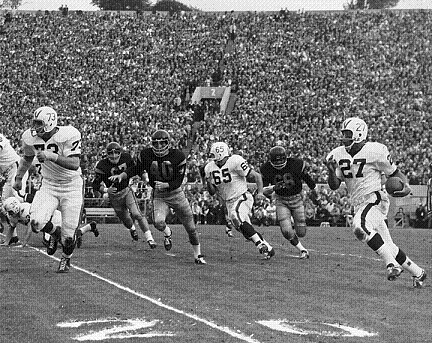 It wasn't much of a game for most of the afternoon, as USC led 21-7 at the half and 42-14 in the 4th quarter, Hal Bledsoe catching 2 of USC's 4 touchdown passes. But Wisconsin roared to life and scored 23 unanswered points, quarterback Ron Vander Kelen throwing for 401 yards, mind-boggling numbers for the time. With the score closed to 42-28, Willie Brown intercepted a pass in his own end zone, which would prove to be a critical play. USC took a safety on a bad punt snap soon after that, and Wisconsin quickly scored again, but there was no time left when next they got the ball back, and the Badgers came up short 42-37.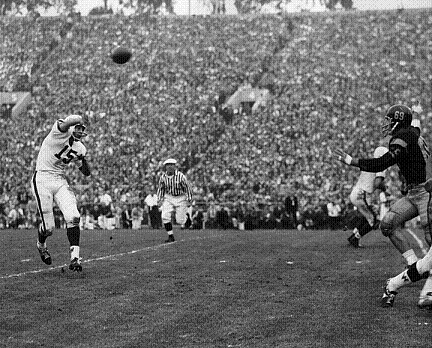 11 Rose Bowl records were broken that day, and a high-scoring shootout in a big game was unheard of in those days (the previous #1 vs. #2 showdown, Army vs. Notre Dame in 1946, had ended in a 0-0 tie), so this game was considered an instant classic. Wisconsin, despite the loss, was more lauded after the game than they had been before it, and probably would have been voted #2 in a post-bowl AP poll despite being 8-2, Ole Miss 10-0. Speaking of which...
Mississippi 1962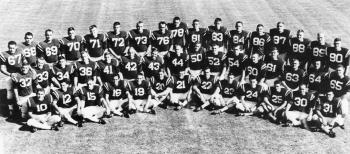 at Memphis (8-1)
21-7
#25
Kentucky (3-5-2)
14-0
Houston (7-4)
40-7
Tulane (0-10)
21-0


(Memphis) Vanderbilt (1-9)
35-0


at Louisiana State (9-1-1)
15-7
#5

Tennessee-Chattanooga (5-5)
52-7
at Tennessee (4-6)
19-6
Mississippi State (3-6)
13-6

Sugar Bowl


Arkansas (9-2)

17-13

#7
As I indicated in my 1960 MNC article, these were the golden years for Ole Miss football, and the school claims MNCs for 1959, 1960, and this season, though none of those claims were staked until long after the fact (they made and mailed out national championship rings for the 1962 team 50 years later)
. I covered their Hall of Fame coach, John Vaught, in the linked 1960 article. Mississippi had gone 10-1 in 1959, 10-0-1 in 1960, 9-2 in 1961, and this season they finally found perfection with a 10-0 finish, meriting the only MNC I recognize in the program's history. This was also the only perfect record Mississippi has ever managed in football.

The one consensus All American this season was tackle Jim Dunaway, who went on to a 10 year career in the pros. He played for the Buffalo Bills, then finished his career with the unbeaten Miami Dolphins in 1972. While with the Bills, he played with O. J. Simpson for 3 years, and Simpson must have taught him a few tricks, because like O. J., he found himself accused of murdering his ex-wife in the 1990s. And like O. J., Dunaway convinced a jury that a pro football player should not be convicted of such things, but also like O. J., Dunaway lost the same case in civil court, his own children successfully winning a wrongful death suit against him in 2002. But unlike O. J., I don't think Dunaway will ever get into the Hall of Fame.

Quarterback Glynn Griffing was a nonconsensus AA for Mississippi this season.

For those simply assuming that Southern Cal, based on name value and greater racial integration, was the more talented team, take note

:

Southern Cal had 6 players drafted by the NFL over the next 2 years, while Ole Miss had 10, and Ole Miss had more over the next 3 years as well.
Mississippi had the top defense in the country this year at 142.2 yards per game (Southern Cal averaged 260.2).
Mississippi's Season
Mississippi opened the season at Memphis, a mid-major team on the rise. They had gone 8-2 each of the previous 2 seasons, and they would finish 9-0-1 and top 10 in 1963. Ole Miss won 21-7, but it was the only loss dealt this season to Memphis, who finished 8-1, including a victory over 9-1 Southern Miss, who defeated each of their other opponents by more than a touchdown. I have Memphis ranked #25 in the fixed AP poll for 1962, but of course they might have been top 10 for all we know.

Mississippi met little resistance over their next 4 games, including an impressive 40-7 mauling of 7-4 Houston, and that brought them to their game of the year, #6 Mississippi at #4 Louisiana State. LSU was Mississippi's greatest nemesis, having beaten or tied them in each of the previous 4 seasons, costing them legitimate MNCs in 1959 and 1960 (though Mississippi claims both anyway). Mississippi had come into each of those meetings unbeaten as well.

LSU looked to be on the way to doing it again with a touchdown in the opening quarter and a 7-0 lead, but Ole Miss drove 61 yards in the closing minutes of the half, scoring on a 10 yard touchdown pass to close the gap to 7-6. Mississippi went ahead on another touchdown pass and pulled away for a 15-7 victory. LSU went on to finish the season 9-1-1, including a huge 13-0 win over 9-1-1 Texas in the Cotton Bowl, and I have LSU ranked #5 for 1962.

The only other difficulty faced by Ole Miss in the regular season came against rival Mississippi State (3-6) in their finale. Mississippi was a 23 point favorite, but Mississippi State opened the scoring in the first quarter to lead 6-0, and they played stingy defense throughout. Ole Miss scored in the 2nd quarter to lead 7-6 at the half, and they didn't score again until late in the game, putting the final score at just 13-6. Still, they remained unbeaten, and Mississippi was headed to the Sugar Bowl for the 3rd time in 4 years.

Sugar Bowl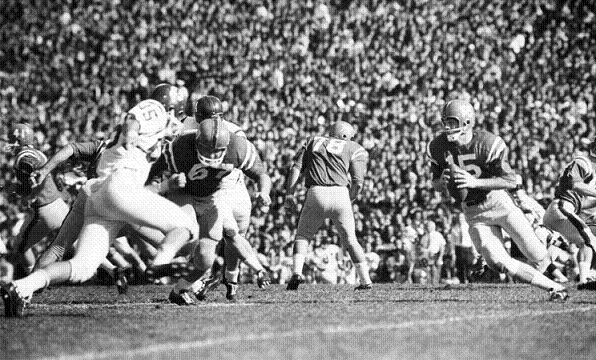 The Sugar Bowl wanted to match Mississippi up against Alabama, who was 9-1 and ranked #5, but Alabama declined in favor of the Orange Bowl. Still, the Sugar did just as well in getting Arkansas, who was also 9-1 and ranked right behind Alabama. Arkansas and Mississippi had been longtime rivals, playing each other annually for nearly 50 years, but after their 1960 game, Arkansas coach Frank Broyles had canceled the series in bitterness over a key call by an SEC official that cost his team a win right at the end. When fans chided him about canceling the series, he had answered that the 2 programs would meet again in a bowl game, and now here they were, just 2 years later.

Arkansas missed a 43 yard field goal attempt in the first quarter, and Ole Miss hit one from 32 yards out in the 2nd to lead 3-0. Arkansas then connected on a 68 yard pass to a receiver who got behind everyone, but he stumbled on the way to the end zone, enabling a Mississippi defender to catch up enough to dive and slap his heel, spilling him at the 13. That effort ended up keeping Arkansas to a field goal on the drive. Mississippi answered on their next drive with a 33 yard touchdown pass, giving them a 10-3 halftime lead.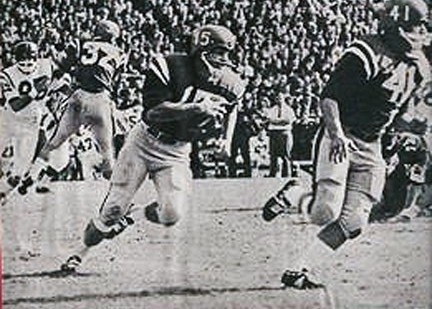 Mississippi fumbled the ball away at their own 18 yard line early in the 2nd half, and Arkansas hit a touchdown pass soon thereafter to tie the game up 10-10. Mississippi again answered on their next drive, quarterback Glynn Griffing hitting passes of 23 and 35 yards, then scoring on a sneak for a 17-10 lead. It was Arkansas' turn, and they drove right to the Mississippi goal line, but a tackle for loss forced them to settle for a field goal again, making it 17-13. But that would hold up as the final score, as Arkansas was unable to mount any real offense the rest of the game, while Mississippi drained the clock in the 4th quarter with 3 long drives that ended inside the Arkansas 10 yard line.

Though the final score was close, Mississippi dominated this game, outgaining Arkansas 429 yards to 170 and making 22 first downs to 7. Arkansas had come into the game averaging 241.2 yards rushing, but Mississippi held them to 47. The MVP was Glynn Griffing, who hit 14 of 23 passes for 242 yards, then a Sugar Bowl record.
Southern Cal vs. Mississippi
Here are the significant games for Southern Cal and Mississippi in 1962. The opponent rankings
come from my fixed AP poll for 1962
.


Southern Cal 11-0
Mississippi 10-0

Duke (8-2)
14-7
#14
at Iowa (4-5)
7-0
Unranked
Washington (7-1-2)
14-0
#18
Navy (5-5)
13-6
Unranked

Rose Bowl


Wisconsin (8-2)

42-37

#3

at Memphis (8-1)
21-7
#25
at Louisiana State (9-1-1)
15-7
#5
Mississippi State (3-6)
13-6
Unranked

Sugar Bowl


Arkansas (9-2)
17-13
#7

Southern Cal defeated their unranked opponents by an average of 24-6, and Mississippi defeated theirs by an average of 28-4.


These teams had pretty similar seasons, but as the table above shows, any edge ought to go to Mississippi. Their schedule was slightly tougher, and their performance slightly better. In the original AP poll, which only ranked 10 teams this year, Mississippi played 2 ranked opponents, USC 1. In the fixed and expanded AP poll top 25, they each played 3 ranked opponents, but Ole Miss still played 2 top 10 opponents to USC's 1. Furthermore, Mississippi played all 3 of their rated opponents on the road (one of them neutral site), while Southern Cal played all 3 of their rated opponents at home (the Rose Bowl being essentially a home game for them). Mississippi's opponents were 49-49-3, and 4 of them had winning records, while USC's opponents were 51-55-2, 3 of them winners.

Then there is performance, and as you can see, USC had 2 close wins against unrated opponents, Mississippi 1. Overall, Mississippi outscored opponents by an average of 25-5, USC by an average of 24-8, so Mississippi performed slightly better, and they did it against a slightly tougher schedule. Their offenses were very similar, USC averaging 331 yards per game and Mississippi 328, but their defenses were very far apart, USC averaging 260.2 and Mississippi 142.2.

Still, when I originally fixed the 1962 AP poll a few years ago, I let the AP poll keep USC rated alone at #1, writing "
I'd be inclined to rate Mississippi #1 and USC #2 myself. But either is a valid choice for #1, so the AP poll can keep USC #1.
"
I didn't give my reasoning at the time, but it was based on these rationalizations

:



1) As I noted at the top of this article, due to segregation and their refusal to play against integrated teams during this time period, SEC teams were often rather insular, playing few teams from outside their region, so it was difficult to know how good they really were.

2) Mississippi's big win came over 9-1-1 LSU, whose big win came over 9-1-1 Texas, but both LSU and Texas were tied this season by 2-6-2 Rice, a bad team that seriously damaged the value of both teams. And Mississippi's other big win came over 9-2 Arkansas, who lost to Texas. 6-3-1 Oregon crushed Rice 31-12, and though USC did not beat Oregon, they did beat Washington, who tied Oregon.

3) Mississippi's close win over 3-6 Mississippi State was worse than any USC performance, and took place in their regular season finale, giving it more emphasis.

However, now that I have looked at these teams much more closely for this article, and at the nation's teams as a whole, these rationalizations seem rather weak.

Rethinking Southern Cal's Claim to #1
Let's rethink those rationalizations again one by one

:



1) Mississippi beat LSU, who beat SWC champion Texas in the Cotton Bowl. Texas beat Big 8 champion Oklahoma. Florida, who lost to LSU, was victorious in the Gator Bowl over 9-2 Penn State, the best team in the East. Georgia Tech, an SEC team at the time, also lost to LSU, and they defeated ACC champion Duke. So Mississippi stood atop a victory chain that claimed much more than the Southeast, and in fact covered every region but the Big Ten region and the West Coast. The SEC was the top conference this season at 24-13-3 against nonconference opponents, and they were 4-1 in bowl games, including victories over 3 regional champions (Texas, Oklahoma, and Penn State). There was nothing "insular" about the SEC's power level this particular season.

2) Regardless of the ties with Rice, LSU and Texas were unquestionably top 10 teams, as even the AP poll agrees, so how much do those upsets really matter as far as Mississippi is concerned? USC's big win came over Wisconsin, who took an upset loss to #15 Ohio State. Does that mean that Wisconsin wasn't really a top 5 team? No, it doesn't.

3) Mississippi State is a rivalry game for Mississippi, and really, the fact that they had a close win over an unrated team in game 9 and USC had a close win over an unrated team in game 8 just isn't much of a difference. And while Mississippi State is a worse team than any team that gave USC a tough time, USC had 2 close wins over unrated teams, while Mississippi had just the one.

In the end, none of those rationalizations hold enough water, while Mississippi definitely played a slightly tougher schedule and performed slightly better against it, based on cold hard numbers. Frankly, I cannot now see

any

good reason for Southern Cal to be ranked higher than Ole Miss.

These 2 teams were far more similar than different, so placing them into a tie for #1 would make sense, but if you were to choose only one team to be #1, that team should be Mississippi. Needless to say, regardless of how you rank them, both deserve to share the MNC for 1962.
Awards Ceremony
1962 #1:

10-0 Mississippi, or Mississippi in a tie with 11-0 Southern Cal


National Co-champion:

Southern Cal if Mississippi is alone at #1


Contender:

None

These are the awards I have been handing out for each season, except seasons when there are no contenders. For this purpose, what I mean by a contender is a team that I think is very close to being worthy of sharing the national championship. A team that you could make an argument for, even if that argument is weak. But the contenders are teams that I myself do not see as national champions.
Grading the Selectors
I have been grading the NCAA Records Book's selectors for each season, and keeping a grade point average, so we can see who is relatively good at selecting national champions and who is not. And although I do not consider computer ratings to be legitimate national championship selectors, I have been including them in this section as well, just for comparison's sake.
I am grading on a scale of 0-5 (5 being the best).


The Berryman math system came up with 9-1-1 LSU and 11-0 Southern Cal in a tie for #1. Grade

:

0.0



The Billingsley, Litkenhous, and both Sagarin systems tabbed 10-0 Mississippi #1. Grade

: 5.0



Everyone else went with 11-0 Southern Cal. Grade

: 4.2


Given that Mississippi defeated LSU on the road, and that LSU also took a tie against 2-6-2 Rice, one has to wonder just how bad Berryman's formula is to come up with LSU at #1. He already had the worst grade point average of any MNC selector for this time period (in table below) coming into this article, and now he has only fallen further behind. Worst power rating system of all time? Perhaps. But this one is so bad that you have to think it's a misprint in the NCAA Records Book, and that it should be Ole Miss and USC sharing #1.

Grade point averages 1936-1962 (the UPI coaches' poll and the Football Writers Association of America will not be added until they have selected at least half as many champions as the others)

:




1) National Championship Foundation
4.67

2) Billingsley (math system)

4.64

3) DeVold (math)




4.60

4)

Houlgate (math)

4.53

5)

College Football Researchers Association




4.44

6) Sagarin-ELO (math)
4.42
7) Litkenhous (math)

4.34

8)

Poling (math)


4.33

9) Helms Foundation

4.30

10) Boand (math)
4.27
11) AP Poll
4.20
12) Sagarin (math)
4.18

13)

Dunkel (math)

4.17

14) Williamson (math)
3.82
15) Berryman (math)
3.23

Grade point averages 1919-1935
:
| | |
| --- | --- |
| 1) Boand (math system) | 4.26 |
| 2) College Football Researchers Association | 4.22 |
| 3) Poling (math) | 4.11 |
| 4) Helms | 4.09 |
| 5) Sagarin-ELO (math) | 4.06 |
| 6) National Championship Foundation | 3.96 |
| 7) Dickinson (math) | 3.49 |
| 8) Houlgate (math) | 3.35 |
| 9) Billingsley (math) | 3.34 |
| 10) Sagarin (math) | 3.28 |
| 11) Parke Davis | 2.77 |

How the systems that selected champions for 1901-1918 did

:



| | |
| --- | --- |
| 1) Houlgate (math system) | 4.5 |
| 2) Helms | 4.3 |
| 3) Parke Davis | 4.2 |
| 4) National Championship Foundation | 3.7 |
| 5) Billingsley (math) | 3.6 |