Home
1959 College Football National Championship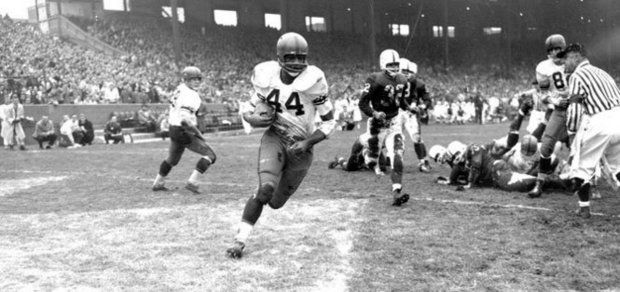 Pictured above is Syracuse running back Ernie Davis scoring a touchdown in a 46-0 win at Boston University. Syracuse went 11-0 this season, winning the only mythical national championship in their history. And this MNC is unanimous, at least among human selectors

:

3 math-based systems rate 10-1 Mississippi #1 for 1959.

Mississippi was very powerful, but they took a tough 7-3 loss at 9-2 Louisiana State on Halloween night, snuffing their MNC hopes. 10-1 Georgia took an early upset loss at 6-4 South Carolina, but at least they won the SEC outright. 10-1 Washington took a loss to 8-2 Southern Cal, but they won the Rose Bowl, stopping the Big 10's winning streak there at 6. Wyoming was 9-1, but would not have been an MNC contender even if they'd won them all. Bowling Green was 9-0, but doesn't even make the top 25 for 1959, though they did finish #1 in the UPI "small college" poll.


With no legitimate contenders to Syracuse's MNC claim, they're the only team I'll be summarizing this time. Which is a nice break for me.
All rankings in this article, except as noted, come from my 1959 fixed AP poll.
Syracuse 1959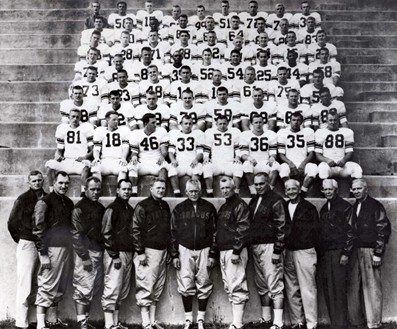 Kansas (5-5)
35-21
Maryland (5-5)
29-0
(neutral site) Navy (5-4-1)
32-6
Holy Cross (6-4)
42-6


West Virginia (3-7)
44-0


at Pittsburgh (6-4)
35-0
#13

at Penn State (9-2)
20-18
#10
Colgate (2-7)
71-0
at Boston (4-5)
46-0
at UCLA (5-4-1)
36-8
#17

Cotton Bowl


Texas (9-2)

23-14

#4
Syracuse's longest sustained period of football success was early in the 20th century, 1906-1926. Thanks primarily to coaches Buck O'Neill and Chick Meehan, Syracuse was 131-54-17 during this time. They were top 25 caliber for 15 of those 21 years, but they were rarely top 10, more like a #15-20 kind of team, and of course they did not win an MNC. After 1926, Syracuse declined quite a bit, and from 1935 to 1951 they made no top 25 appearances at all.

Hall of Fame coach Ben Schwartzwalder (pictured below at left) woke them out of their slumber, but he wasn't an overnight success. 1949-1955, his teams were mediocre, going 35-27-1. The heart of his career was 1956-1967, when they went 89-31-1, winning the school's lone MNC in 1959. Syracuse makes the fixed AP poll top 25 for 10 of those 12 years. But like a lot of great coaches, Schwartzwalder didn't know when to hang up his clipboard and whistle, and 1968-1973 he went a dismal 29-33-1. In all, he was 153-91-3 in 25 years at Syracuse, and 178-96-3 for his career.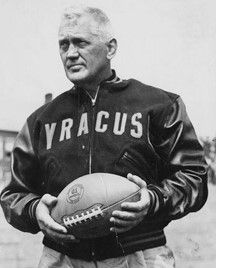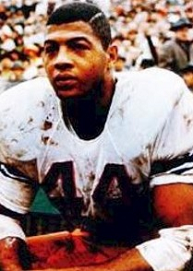 The player everyone remembers from this team now (they made a movie about him a few years back) is Hall of Fame running back Ernie Davis (pictured above at right). He led the team with 686 rushing yards and 10 touchdowns this year, and in the Cotton Bowl he scored 2 touchdowns and was the game's MVP. The next season he rushed for 877 yards, scored 10 touchdowns, and was a consensus All American. In 1961 he rushed for 823 yards, scored 15 touchdowns, and became the first black player to win the Heisman Trophy. For his career he totaled 2386 rushing yards and 35 touchdowns. Sadly, he died of leukemia in 1963, only 23 years old.


Guard Roger Davis was a consensus AA this season, and end Fred Mautino and tackle Bob Yates were nonconsensus AA. The other tackle, John Brown, went on to a 10 year NFL career.
Syracuse's Season
Syracuse was so dominating this season that there isn't going to be much to write about here. They led the nation in total offense at 451.5 yards per game,

and

in total defense with 96.2 yards per game. They totaled 3136 rushing yards, and their opponents totaled just 193! They outscored their opposition 413-73 for the season, and only one team came within a touchdown of them.

Syracuse opened the season hosting Kansas (5-5), and this game was close until the 4th quarter, which is odd because Syracuse outgained them 493 yards to 67. The Orangemen, as they were known then, pulled away to win 35-21. The next week they held Maryland (5-5) to 29 yards of offense and 2 first downs in a 29-0 win. Syracuse rolled over their next 4 opponents by an average score of 38-3, including a 35-0 win at Pittsburgh (6-4, #13), whom they held to minus-6 yards rushing.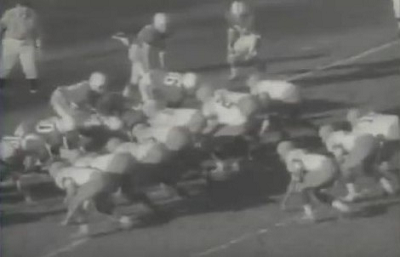 Syracuse's one close game was their next one, at Penn State. Syracuse was ranked #4 coming into this game, and Penn State was 7-0 and ranked #7. PSU scored first for a 6-0 lead, but Syracuse completely dominated the line of scrimmage the rest of the way, scoring a touchdown in the 2nd, 3rd, and 4th quarters to lead 20-6 (they're lining up for the last touchdown in the above picture). They held Penn State to just 2 yards of offense in the 2nd half, and yet, amazingly, PSU still found ways to manufacture the 2 touchdowns they needed in the final quarter. After Ernie Davis scored the 4th quarter touchdown that put Syracuse ahead 20-6, Penn State returned the ensuing kickoff 100 yards for a touchdown to close within 20-12. Later, they blocked a Syracuse punt and recovered the ball at the Syracuse 1 yard line to set up another touchdown. But they failed on the 2-point try, leaving them down 20-18, and Syracuse ran the clock out from there.

This same weekend, #1 LSU was upset by Tennessee, #2 Northwestern was upset by Wisconsin, and #3 Texas won by only 1 point at home over Baylor, who had a losing record, and so Syracuse rose to #1 in the next AP poll. Penn State lost 22-7 in their finale at 6-4 Pittsburgh (#13), then won 7-0 over 7-2-2 Alabama (#11) in the Liberty Bowl, finishing them at 9-2 and #10.

Syracuse routed a pair of cupcakes 71-0 and 46-0, then traveled across the country to play UCLA, who was 5-3-1 and ranked #17 (note that all 4 of Syracuse's games against top 25 opponents this season were road games). Syracuse racked up 456 yards of offense in this one, and they held UCLA to minus-13 yards rushing. They stormed to a 21-0 lead, then UCLA scored on a touchdown pass and 2-point conversion just before half to close the gap to 21-8. The 3rd quarter was scoreless, but the roof caved in on UCLA in the final quarter, and Syracuse won 36-8. UCLA was finished at 5-4-1, but they remain ranked #17 for 1959.
The Cotton Bowl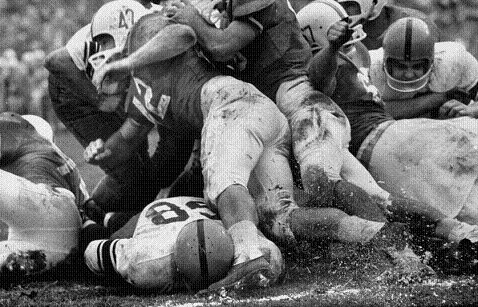 Ben Schwartzwalder had led Syracuse to 3 bowl games before this season, and they had lost all 3. After going 7-2 in 1952, they went to the Orange Bowl and were humiliated 61-6 by Alabama. In 1956 they were 7-1 before heading to the Cotton Bowl and losing 28-27 to 7-3 Texas Christian. And in 1958, they were 8-1 when they went to the Orange Bowl to be drubbed 21-6 by Oklahoma. So when the Cotton Bowl matchup was announced as #1 Syracuse taking on #4 Texas (9-1), and Syracuse was a 2-touchdown favorite, there were plenty of skeptics who expected Syracuse to fold again. As for Texas, the Football Writers Association of America handed out its Grantland Rice Trophy to their "national champion" after the bowls, so the Longhorns hoped that a win over #1 Syracuse in the Cotton would secure for them a share of the national championship.

There was an underlying racial tension to this game because Syracuse had 3 African American starters (Ernie Davis, fullback Art Baker, and tackle John Brown), and Texas was an all-white team, and the game was played in a Southern, segregated city. Syracuse's black players had to stay in a separated suite in the team hotel, with its own back entrance that they had to use. A "brawl" broke out just before halftime (pictured below), and after the game Syracuse players said it was because Texas players were hurling racial slurs at John Brown, which Texas players denied. Ernie Davis was the game's MVP, but he could only appear at the post-bowl banquet long enough to accept his award, after which he had to leave, because it was for white people only.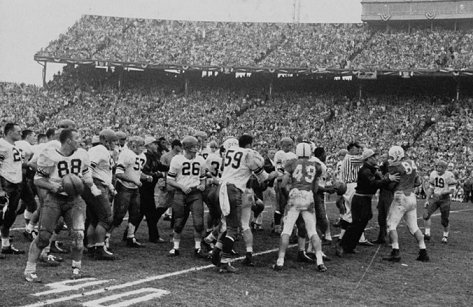 As for the game itself, it was dominated from the start by Syracuse. Ernie Davis caught a pass on the 2nd play of the game and took it 87 yards for a touchdown. In the 2nd quarter, Syracuse marched 80 yards, and after Texas heroically stopped 3 plays from inside their 1, Ernie Davis scored on 4th down, then caught a pass for the 2-point conversion and a 15-0 halftime lead.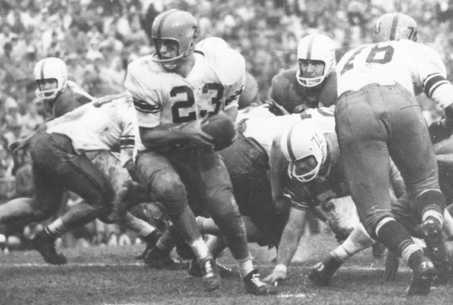 Texas hit a 69 yard touchdown pass in the 3rd quarter to close within 15-6, but Ernie Davis struck again, intercepting a pass and returning it to the Texas 24. He popped a 21 yard run to set up a touchdown, then caught a pass for the 2-point conversion again to put the score at 23-6. Late in the 3rd quarter, Texas recovered a fumble at the Syracuse 34, but the ensuing drive was stopped at the Syracuse 1 yard line. Texas blew another chance in the 4th quarter by fumbling the ball away at the Syracuse 22, before finally driving 54 yards for a touchdown to make the final score 23-14.

But reporters found no joy, no celebrating in the Syracuse locker room afterward, only a black cloud. Players complained about the racist insults and claimed that Texas played "dirty," but mostly, everyone affiliated with Syracuse groused about the referees. Ben Schwartzwalder, still fuming the next day, told reporters, "It was a nightmare. One of the most frustrating afternoons I've ever experienced." Most of his anger was directed at umpire Julius Truelson, a Fort Worth resident and SWC official who was responsible for most of the calls against Syracuse. Schwartzwalder said that Truelson "never will go to heaven," and he called for a change to neutral officials, such as from the Big 10, for future Cotton Bowl games.

Syracuse was penalized 100 yards in the game, their offense particularly hampered, and Texas was flagged for 55 (Texas declined another 45 yards in penalties against Syracuse). But Syracuse outgained them in total offense 314 yards to 244, and Texas suffered 4 turnovers to 2 for Syracuse. Texas was finished at 9-2 and ranked #4, and Syracuse's regular season national championship was legitimized.
Awards Ceremony
1959 #1:

11-0 Syracuse


National Co-champion:

None


Contender:

None

These are the awards I have been handing out for each season, except seasons when there are no contenders. For this purpose, what I mean by a contender is a team that I think is very close to being worthy of sharing the national championship. A team that you could make an argument for, even if that argument is weak. But the contenders are teams that I myself do not see as national champions.
Grading the Selectors
I have been grading the NCAA Records Book's selectors for each season, and keeping a grade point average, so we can see who is relatively good at selecting national champions and who is not. And although I do not consider computer ratings to be legitimate national championship selectors, I have been including them in this section as well, just for comparison's sake.
I am grading on a scale of 0-5 (5 being the best).


The Berryman, Dunkel, and Sagarin (original recipe formula) math systems ranked Mississippi #1. Grade

: 0.0



Everyone else went with 11-0 Syracuse. Grade

: 5.0


Grade point averages 1936-1959 (the UPI coaches' poll and the Football Writers Association of America will not be added until they have selected at least half as many champions as the others)

:




1) National Championship Foundation
4.85

2) DeVold (math system)




4.80

3) Billingsley (math)

4.79

4)

Poling (math)


4.60

5)

College Football Researchers Association




4.59

6)

Houlgate (math)

4.53

7) Sagarin-ELO (math)
4.35
8) AP Poll
4.34

9)

Dunkel (math)

4.28

10) Litkenhous (math)

4.26

11) Helms Foundation

4.25

12) Boand (math)
4.24
13) Sagarin (math)
4.08
14) Williamson (math)
3.89
15) Berryman (math)
3.21

Grade point averages 1919-1935
:
| | |
| --- | --- |
| 1) Boand (math system) | 4.26 |
| 2) College Football Researchers Association | 4.22 |
| 3) Poling (math) | 4.11 |
| 4) Helms | 4.09 |
| 5) Sagarin-ELO (math) | 4.06 |
| 6) National Championship Foundation | 3.96 |
| 7) Dickinson (math) | 3.49 |
| 8) Houlgate (math) | 3.35 |
| 9) Billingsley (math) | 3.34 |
| 10) Sagarin (math) | 3.28 |
| 11) Parke Davis | 2.77 |

How the systems that selected champions for 1901-1918 did

:



| | |
| --- | --- |
| 1) Houlgate (math system) | 4.5 |
| 2) Helms | 4.3 |
| 3) Parke Davis | 4.2 |
| 4) National Championship Foundation | 3.7 |
| 5) Billingsley (math) | 3.6 |