Top 25 Rankings 1901-1935
1934 National Championship
Home
1934 College Football Top 25
1) Minnesota 6-0 (8-0)




2) Stanford 7-0-1 (9-1-1)




3) Alabama 7-0 (10-0)




4) Pittsburgh 6-1 (8-1)




5) Princeton 6-0 (7-1)




6) Illinois 6-0 (7-1)




7)

Navy 7-0 (8-1)




8)

Colgate 4-1 (7-1)




9) Ohio State 5-1 (7-1)




10) Syracuse 6-0 (6-2)




11) Santa Clara 5-0-1 (7-2-1)




12) Rice 7-0-1 (9-1-1)




13) Louisiana State 5-0-2 (7-2-2)




14) Army 6-1 (7-3)




15) Temple 6-0-1 (7-1-2)




16) Southern Methodist 5-1-2 (8-2-2)




17) Purdue 4-2 (5-3)




18) St. Mary's (California) 4-2 (7-2)


19) Washington State 4-2 (4-3-1)
20) Washington 4-1 (6-1-1)
21) Columbia 5-1 (7-1)
Trinity (Connecticut) 7-0 (7-0)

To the left are the rankings from an AP sportswriter poll conducted in mid-November of 1934. The records in parentheses are the teams' records at season's end.

I am not going to be fixing this poll the way I fixed all the final AP weekly polls that started in 1936, since it was conducted in mid-season and was not intended to be the final say on the season as a whole. Still, this poll is a good place to start, because it gives us an idea which teams sportswriters would have voted for at the end of the season.

Two of these teams were "upset" in bowl games, #2 Stanford losing to #3 Alabama in the Rose and #15 Temple losing to unranked Tulane in the Sugar. But there were far more "upsets" in the last weeks of the regular season, when these teams took a total of 12 losses and 2 ties to lower-rated opponents, 11 of those opponents not rated at all. So these mid-November rankings were, as one would expect, not particularly close to correct by season's end.

Our post-bowl top 3 are #1 Minnesota, #2 Alabama, and #3 Pittsburgh. Detailed information on why, along with full summaries of Minnesota and Alabama, can be found in my article on the 1934 national championship. On to #4...




Minnesota's consensus All American halfback Pug Lund

carrying the ball in 1934's game of the year, Minnesota at Pittsburgh. This was one of the best games of the 1930s. Minnesota scored 2 touchdowns in the 4th quarter to rally for a 13-7 win. No other team came close to either Minnesota or Pittsburgh this season.
#4: Ohio State vs. Stanford vs. Princeton vs. Navy
Judging by the mid-November poll, I'm thinking a post-bowl AP poll would have had 7-1 Colgate #4, 7-1 Ohio State #5, 9-1-1 Stanford #6, 7-1 Princeton #7, and 8-1 Navy #8. So why isn't Colgate in the subheading above? Well, they lost 10-7 at Ohio State, and shouldn't be rated ahead of the Buckeyes. So they are not a candidate for #4.

7-1 Ohio State took their loss 14-13 at 7-1 Illinois. So why isn't Illinois a candidate for #4? Because their performance was consistently awful. They edged Washington-Missouri 12-7, 1-7 Michigan 7-6, and 4-4 Chicago 6-0. Their loss came to 4-4 Wisconsin. Ohio State performed far better, beating Chicago 33-0 and Michigan 34-0-- no unrated team came within 22 points of them. And Illinois only beat the Buckeyes by 1 point at home.

Stanford had a better relevant record than Ohio State did
, since they took an upset tie and Ohio State took an upset loss. But Stanford's tie came at home to 7-2-1 Santa Clara, a #21-25 team at best (unrated in this top 25), whereas Ohio State lost by 1 point at 7-1 Illinois, a #10-type team, so Stanford had no real advantage there. OSU defeated a top 10 team (Colgate) and Stanford didn't, and OSU had no other close wins, while Stanford beat 2 unrated teams by 3 points or less.

As for Princeton, their loss came to 5-3 Yale, and they beat no rated team-- in fact, there is little reason to rank Princeton ahead of Yale in the first place. As such, I'll cease discussing Princeton until I have Yale put in place, which will be much further down this list. So we're now down to Ohio State vs. Navy for #4.

Navy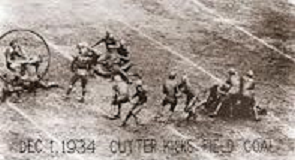 8-1 Navy, unlike Ohio State, Stanford, and Princeton, did not take an upset loss or tie. Their loss came 31-7 to #3 Pittsburgh. That was an ugly score, but

no one

other than #1 Minnesota gave Pittsburgh a close game this year. Navy won 18-7 at 7-1 Columbia, and they defeated 6-3 Notre Dame 10-6 and 6-3 Army 3-0 on neutral fields. That's 1 win over a top 10 team, just like Ohio State had, but more impressively and on the road, and a total of 3 wins over top 25 teams, 2 more than Ohio State recorded. Navy also defeated 5 winning teams, OSU 2. Ohio State stomped on their 6 unranked opponents by an average score of 41-2, far more impressive than Navy in that regard, but rolling up gigantic scores on unranked teams shouldn't outweigh the fact that OSU took an upset loss and defeated fewer rated and winning opponents. Navy is our #4 team.

Navy featured a pair of All Americans who are both now in the Hall of Fame

:

halfback Fred "Buzz" Borries and tackle Slade Cutter. Borries lugged the ball 36 times in the finale against Army, and Cutter kicked the field goal to beat them 3-0, Navy's first win over Army since 1921 (the winning kick is pictured above). Cutter was the collegiate heavyweight boxing champion. The coach was Tom Hamilton, star and Hall of Fame halfback for Navy's 1926 mythical national championship (MNC) team. He accomplished little as a coach outside of this season, going 28-32-1 in 7 years at 2 schools, but he became athletic director at Navy, and then at Pittsburgh 1949-1959, and then he was the first commissioner of the PAC 8 1959-1971.

Ohio State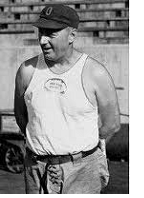 Ohio State will have to settle for #5. They featured a pair of nonconsensus All Americans, end Merle Wendt and guard and captain Regis Monahan, whose face graced Wheaties boxes the following Spring. Monahan played for the 1935 NFL champion Detroit Lions the next year. The coach was Hall of Famer Francis Schmidt (pictured), a Nebraska graduate who had previously gone 24-3-2 at Tulsa 1919-1921, 41-21-3 at Arkansas 1922-1928, and 45-6-5 at Texas Christian 1929-1933. Four of those teams were unbeaten with 1 tie.

Schmidt attained immortality thanks to Michigan. 1934 was his first season at Ohio State, and when asked about OSU's chances of beating 2-time defending MNC Michigan, he said, "Those fellows put their pants on one leg at a time, the same as everyone else." He did not actually coin this phrase, but apparently it was the first time most Americans had heard it, because it became very popular in subsequent years, especially at Ohio State. Schmidt oversaw the transition from Illinois to Michigan as OSU's main rival, and the tradition of ending each season against Michigan began in 1935. Schmidt beat Michigan in each of his first 4 years at OSU, and he's the reason every Buckeye player that beats Michigan gets a gold lapel pin shaped like tiny pants.

Of course, beating Michigan those 4 years wasn't any great feat

:

they went 1-7, 4-4, 1-7, and 4-4 those seasons. Then they hired Fritz Crisler, and the gold pants gravy train was done. Schmidt lost his last 3 Michigan games, went 4-4 in 1940, and was then sent off to Idaho, where he finished his career. He was 39-16-1 at Ohio State 1934-1940, winning 2 Big 10 titles, and he was 156-58-11 for his career. All of Schmidt's OSU teams finished in a top 25, even the weaker ones making the fixed AP polls in 1936 at 5-3, 1938 at 4-3-1, and 1940 at 4-4.

Colgate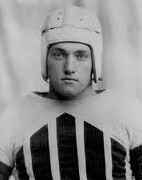 Colgate, whose only loss came 10-7 at Ohio State, is #6. They defeated 8-2 Holy Cross 20-7, 10-1 Tulane 20-6, and 6-2 Syracuse 13-2, an impressive array of victories, and they performed nearly as well as Ohio State did, though they struggled to beat 3-6 Brown 20-13 in their finale. This team had several notable players on the line. Nonconsensus AA end Joseph Bogdanski later served as Chief Justice on the Connecticut State Supreme Court. Tackle/guard Charles Wasicek would be a nonconsensus AA in 1935. Guard Dan Fortmann (pictured above) was not AA, but he is in the college and pro Halls of Fame. He won 3 NFL titles with the Chicago Bears 1936-1943, and was All-Pro 6 times. He attended medical school at the University of Chicago as he played in the NFL, ultimately becoming a surgeon. He was the team physician for the Los Angeles Rams 1947-1963.

I covered Colgate's Hall of Fame coach, Andy Kerr, in the Colgate section of my 1932 national championship article (they finished 9-0 that season). Kerr took no more than 1 loss in each of his first 6 seasons at Colgate 1929-1934, and they were top 25 caliber in all of those seasons, but this year was the end of the line for Colgate. After 1934, they never fielded a top 25 team again.

#7: Stanford vs. Illinois vs. Columbia vs. Tulane
A post-bowl AP poll would have rated 9-1-1 Stanford higher than 7-1 Illinois, and that'll work fine. Illinois had a better relevant record, since their upset loss was balanced out with their upset win over #5 Ohio State, while Stanford's upset tie was not thusly balanced out, but Illinois' performance was awful, as detailed above, and anyway, a loss to a #40-ish opponent only really balances out a win over a #5 opponent for a team that's rated around #20.

But 7-1 Columbia and 10-1 Tulane both look more worthy than either Stanford or Illinois. And it's possible that either or both Columbia and Tulane would have shot up past Stanford and Illinois in a post-bowl poll anyway, since they both finished their seasons by "upsetting" teams the AP poll had rated in mid-November
.

Columbia's only loss came to #4 Navy. Their performance was not impressive, as they won close games over 4-4 Penn State and 4-4 Pennsylvania, but Stanford also had 2 close wins over unrated opponents, and Illinois had 3. On the plus side, Columbia defeated 5-3 Yale and 6-2 Syracuse, both of whom will be ranked in this top 25. They had a better relevant record than Stanford did, and they had 1 less weak performance than Illinois did, so let's bring Columbia in ahead of both in the rankings. However, #7 will go to a team that was even more impressive...
Tulane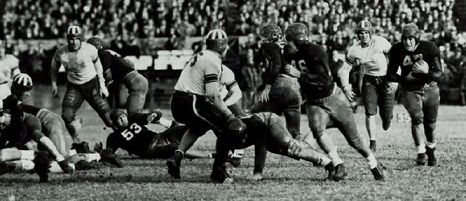 10-1 Tulane, who shared the SEC title with #2 Alabama this year, was not ranked in that mid-November AP poll, but in their last 2 games they defeated 2 teams that had been ranked

:

13-12 at 7-2-2 Louisiana State and 20-14 over 7-1-2 Temple in the Sugar Bowl. Earlier in the season they also defeated 7-3 Georgia 7-6, and Georgia will be ranked in this top 25. That's 3 quality wins, and their only loss came at #6 Colgate. They defeated all the rest of their opponents by more than a touchdown, so they performed much better than did Stanford, Illinois, and Columbia in that regard. Tulane would have skyrocketed up the list in a post-bowl AP poll, and might have finished ranked as high as #7 anyway. Regardless, they should be ranked there, so that's where we'll put them.

The period between the World Wars was Tulane's golden age. 1919-1939, Tulane was 136-53-13, won 7 conference titles, and went to 3 major bowls (Rose once and Sugar twice). But as I write this in the middle of the 2012 season, Tulane is 349-506-25, with 2 conference titles and no major bowl games, in the other 99 years of their history. Their golden age started with back-to-back Hall of Fame coaches, Clark Shaughnessy through 1926 and Bernie Bierman (coach of this year's #1 team, Minnesota) through 1931. Ted Cox, a Minnesota graduate, was coach for this 1934 season. He was 20-10-2 at Tulane in 4 seasons.

The star player this season was Hall of Fame halfback Claude "Monk" Simons, who made the AP's 3rd team AA list. He led Tulane in rushing, passing, and scoring, and he took a lateral on a kickoff return 85 yards for a touchdown in the Sugar Bowl. This was the first-ever Sugar Bowl, and the opponent was Pop Warner's Temple Owls (this is the game shown above, Monk Simons carrying the ball for Tulane). The game was held at Tulane Stadium, as it would be every year until moving to the Superdome in 1975. Temple jumped out to a 14-0 lead in the game, and then Monk Simons' touchdown turned the momentum around. Tulane connected on 2 touchdown passes in the 2nd half, the last with just 3 minutes left, to give them the 20-14 win.

Closing Out the 1934 Top 10
So to sum up, we have 10-1 Tulane #7, 7-1 Columbia #8, 9-1-1 Stanford #9, and 7-1 Illinois #10.

#11: Notre Dame vs. Tennessee vs. Rice
Due primarily to head-to-head chains, lining up next for our consideration are 6-3 Notre Dame, 8-2 Tennessee, and 9-1-1 Rice. Notre Dame and Tennessee each took an upset loss, while Rice took an upset loss and a tie, so Rice was effectively half a game worse on the season than Notre Dame and Tennessee were. So it's down to Notre Dame vs. Tennessee.

These teams look to be about the same. I'd go with Tennessee because they defeated 4 strong teams (7-1-1 North Carolina, 7-2 Duke, 6-3 Vanderbilt, and 7-2-2 LSU), while Notre Dame defeated 2 (5-3 Purdue and 7-3 Army). Neither team was rated in the mid-November AP poll, but I think a post-bowl poll would have ranked Notre Dame higher than Tennessee, despite Tennessee's better straight record. That's because Notre Dame defeated the AP's #14 team, Army, in New York City. Then they went out West and beat Southern Cal 14-0, and while USC wasn't good this year (4-6-1), it was another high-profile game in a high-profile venue that increased Notre Dame's exposure intersectionally. Tennessee's one venture outside the South, on the other hand, was their upset loss to Fordham. Notre Dame also had the far greater name value.

Either team could be rated ahead of the other, but I'll go with the team I think an AP poll would have voted for, putting Notre Dame at #11 and Tennessee at #12.
Army
With Notre Dame in place, 7-3 Army comes in next, ahead of 9-1-1 Rice, because Army took no upset loss or tie. Their 3 losses came to #4 Navy by 3 points, #10 Illinois by 7, and Notre Dame by 6. They also defeated 5-3 Yale, which matters because Yale defeated 7-1 Princeton, #7 in the mid-November poll.

Army could be rated ahead of Tennessee as well, but I think an AP poll would have gone with Tennessee, and that's fair due to those 4 strong wins Tennessee put together

:

Army had just the one big win at Yale.

Put Army in at #13.

North Carolina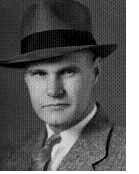 9-1-1 Rice, again, took an upset loss and a tie, while 7-1-1 North Carolina took just 1 upset tie, so UNC had the better relevant record, and we'll therefore bring them in next at #14.

North Carolina's loss came to Tennessee. They defeated 7-3 Georgia and 7-2 Duke. Though they'd had some 1-loss seasons in the past, this is the first season North Carolina would have been likely to finish ranked in a national top 25, and it was the start of a strong 6-year period for UNC football. The new coach this year was Hall of Famer Carl Snavely (pictured), who had gone 42-16-8 at Bucknell 1927-1933. He was only at UNC for 2 years initially, going 8-1 in 1935 before moving on to Cornell, where he went 46-26-3 1936-1944. Then he returned to North Carolina in 1945 to restore a program that had crumbled during the war. He was successful at first, and UNC was rated in the AP poll 4 straight years 1946-1949 (though they fell out of the fixed 1949 AP poll), but things tailed off after that. Snavely finished 59-35-5 in his 2 stints at UNC, and 180-96-16 overall at 4 schools.

North Carolina went 45-8-4 1934-1939, and they are ranked in the fixed 1935 UPI poll as well as all the fixed AP polls 1936-1939. This year's team featured nonconsensus AA guard George Barclay, for whom a street is now named in Chapel Hill. He later coached at Washington & Lee, getting them ranked in the final 1950 AP poll for the only time in school history. They lost to 10-0 Wyoming in the Gator Bowl that year.
Rice
7-3 Georgia could come in next, as they took no upset losses, while 9-1-1 Rice had an upset loss and a tie. However, Georgia had just 1 big win (14-7 at 5-3 Yale), and they performed poorly, barely getting by Furman and 1-9 Georgia Tech, so the one win could be seen as an anomaly. The AP poll would certainly have ranked Rice higher than Georgia, and I think it's just doable, so let's do it. Rice #15.

For most of its history, Rice had been the punching bag of the Southwest Conference, and that's how most of us remember them, but for roughly 3 decades beginning with this season, Rice was actually competitive in the SWC. This season was their first SWC title. The coach, in his first year at the wheel, was Southern Methodist graduate Jimmy Kitts. He didn't coach long, but he went 33-29-4 1934-1939 and won 2 SWC titles. His successor, Hall of Famer Jess Neely, stayed on quite a bit longer, going 144-124-10 1940-1966 and winning 4 SWC titles. Other than Todd Graham's one-year 7-6 stint in 2006, Rice has not had a winning coach among the 11 that have followed Neely.

The star player this season was nonconsensus AA halfback William Wallace. As you may know, he went on to defeat the British army at the Battle of Stirling Bridge, and Mel Gibson made a movie about it. All kidding aside, Wallace is in the Texas Sports Hall of Fame, and many years later Sammy Baugh remembered Wallace as the greatest back he ever played against

The Southwest in 1934
The Southwest had been slowly gaining respect in recent years, but 1934 was a breakthrough year for the region in the national press. Rice won 14-0 at 5-3 Purdue, 8-2-2 SMU won 26-14 at 5-3 Fordham, 7-2-1 Texas won 7-6 at 6-3 Notre Dame, and 8-4 TCU won 9-7 at 7-2-1 Santa Clara. That's 4 different teams winning big intersectional games on both coasts and in Big 10 country. The SWC also took some intersectional hits that diluted the good gained from those wins, but the high-profile wins are the ones that stuck with national writers. And this was just the beginning. In 1935, SMU and TCU would field top 5 teams, and SWC teams would win national championships in 1938 and 1939.
Georgia, Yale, and Princeton
Next we have a head-to-head chain. 7-3 Georgia won 14-7 at 5-3 Yale, who won 7-0 at 7-1 Princeton. Georgia and Yale each took all of their 3 losses to higher-rated teams. Princeton did not defeat a rated or near-rated team.

Georgia #16, Yale #17, Princeton #18. But I'm not actually quite done with Princeton...
Syracuse vs. Princeton
Like 7-1 Princeton, 6-2 Syracuse took no upset losses (they were beaten by #6 Colgate and #8 Columbia). Princeton rolled up some huge scores, but they did have one close game, 14-12 over 7-3 Washington & Lee (who was not close to rated). Syracuse, on the other hand, did not have a close win amongst their 6 victories, and that included a 10-0 win over 8-1 Michigan State. That's about the only relevant difference between the 2 teams, and as such, I see no reason for Princeton to be rated higher than Syracuse.

Princeton is a tough case because they put up impressive scores in most of their games (average score 40-4 in their 7 wins), and they posted perfect records in MNC runs the year before and the year after this. Moreover, this was basically the same set of players as in those 2 years-- they were sophomores in 1933, juniors this year, and seniors in 1935. And since we "know" they were at least top 5 in those bookending years, doesn't it follow that they were a top 5 team this year? Well, actually Princeton played weak schedules all 3 years, so we don't really know how good they were in even 1933 and 1935. The problem with playing a schedule that includes just 1 top 25 team is that you'd better win that game, or you can and often should be rated behind that team, regardless of how badly you whip the maroons on the rest of your schedule.

Princeton may well have been better than #19, but we'll never really know, and that's their fault for the schedule they chose to play. Yale, who beat Princeton, played Georgia and Army. Princeton might not be rated this low if they had scheduled like that. Or maybe they would be.

Syracuse #18, Princeton #19.
Louisiana State, Texas, and Southern Methodist
7-2-2 Louisiana State and 7-2-1 Texas both tied 8-2-2 Southern Methodist. LSU also tied #15 Rice, who defeated Texas 20-9, and LSU therefore had a relevant record that was effectively half a game better than that of Texas. LSU's losses came to #7 Tulane and #12 Tennessee, both in close games. Texas did defeat #11 Notre Dame 7-6, but that win was balanced out by a 9-6 upset loss to 10-2 Centenary. So why shouldn't Centenary be rated higher than Texas? Because they took upset losses to 3-4-2 Oklahoma (whom Texas beat 19-0) and 5-2-1 Tulsa.

As for Southern Methodist, they belong behind LSU and Texas because they took an upset loss to 3-7 Baylor, whom Texas beat 25-6.

7-2-2 Louisiana State #20, 7-2-1 Texas #21, 8-2-2 Southern Methodist #22.
Temple, Purdue, and Fordham
The last 3 slots were difficult to fill out, because there was a morass of teams that all seemed about the same. I went through lots of combinations of teams for #23-25, but none of them looked right until I hit upon the 3 teams listed in the subheading above. Suddenly, it felt right. And I ended up with those teams by going back and looking at that mid-November AP poll again.

I was originally looking at 10-2 Centenary, 8-4 Texas Christian, and 7-2-1 Santa Clara for the last 3 slots, mostly because Santa Clara was the highest-rated team in the midseason AP poll that I hadn't rated yet (they had been #11). They lost their finale 9-7 at home to TCU, who lost 13-0 at Centenary. So Santa Clara must be ranked behind TCU, who must be ranked behind Centenary. Of course, the problem is that the AP had not rated Centenary and TCU at all. But they had rated Temple #15 and Purdue #17.

Centenary is a viable option to be rated ahead of Temple or Purdue (all 3 had the same relevant record), and they would be my choice, but clearly the AP preferred Temple and Purdue, so that is why I went with those teams. As for Fordham, they lost to Purdue, and once Purdue is rated at #24, Fordham has a better relevant record than Centenary. Centenary defeated 1 rated team (#21 Texas), and they took 2 upset losses. Fordham also defeated 1 rated team (#12 Tennessee), but they took just 1 upset loss.

Then there is St. Mary's (California). They had been rated #18 in the midseason AP poll, they finished 7-2, and they won 14-9 at 5-3 Fordham. So why shouldn't St. Mary's be rated ahead of Fordham
? This is a good example of straight records being misleading, and why you can't just say that a team with an equal or better straight record should always be rated ahead of a team that it defeated. Fordham took their other 2 losses to rated opponents. St. Mary's took their 2 losses to unrated opponents (1-7-1 Nevada and 7-3 UCLA). So St. Mary's did not actually have a better record than Fordham-- they just played a far weaker schedule. In addition, Fordham defeated #12 Tennessee, while St. Mary's did not defeat a currently rated team other than Fordham. So 7-2 St. Mary's was effectively 2 games worse than 5-3 Fordham on the season even with the head-to-head win.

The mid-season AP poll overrated the West Coast quite a bit, putting 5 of the region's teams in its top 20. But while this season saw a great deal of parity amongst 4 of its other regions (East, Great Lakes, South, Southwest), the West Coast had a terrible year. In games between major teams, the West Coast went 3-7 against other regions, and that includes 1-1 against the lousy Rocky Mountain region.

7-1-2 Temple #23, 5-3 Purdue #24, 5-3 Fordham #25.
Others Receiving Votes
As I said, there was a morass of teams that seemed good enough to be rated in the bottom 3. I ultimately went the way AP poll voters were pointing in November. But here are the teams that were close, and what they did right and wrong this season.

Duke 7-2
In terms of ability, I suspect that Duke was a top 25 team this season, but the AP voters ignored them, and they did not defeat any team that held any value at all (5-4 Clemson the only winning team they beat), so there was no reason to rate them. Their losses came 14-6 at #12 Tennessee and 7-0 at #14 North Carolina. Their one weak performance was a 13-6 win over 2-8 Auburn in Birmingham.
Hawaii 6-0
Hawaii played just 2 college teams, and only 1 of them was a major team

:

6-6 California, whom Hawaii beat 14-0. All of their games were at home. They did win every game by more than a touchdown, so maybe they were a top 25 team, but their schedule was just too thin to merit a top 25 ranking. Speaking of which...
Trinity (Connecticut) 7-0
Trinity was ranked #21 in that mid-November AP poll, thanks to one vote from one writer. Like Hawaii, Trinity won every game by more than a touchdown, but unlike Hawaii, they played no major teams at all. Their schedule

:

Hartwick, Rensselaer Tech, Worcester Tech, Coast Guard, Connecticut, Wesleyan, and Vermont. That's lower-division play. It is light years away from the competitiveness of the schedule played by #25 Fordham
.
Centenary 10-2
Centenary defeated #21 Texas and 8-4 Texas Christian, but they also lost to 3-4-2 Oklahoma and 5-2-1 Tulsa, and they struggled down the stretch to beat bad teams, winning 8-0 over Ouachita, 7-0 over 3-7 Baylor, and 13-6 over 4-5-1 Mississippi.
Texas Christian 8-4
TCU defeated #15 Rice, and they won 9-7 at 7-2-1 Santa Clara in their finale, but in addition to losing 13-0 at Centenary, they lost 24-10 to 4-4-2 Arkansas
. They struggled to beat 5-2-1 Tulsa 14-12 and Loyola-New Orleans 7-0.
Santa Clara 7-2-1
Santa Clara opened the season with a huge tie at #9 Stanford, but they accomplished nothing else the rest of the season, unless you count a win over 7-2-1 minor team Loyola-California. They lost to St. Mary's (covered next) and TCU, and they posted weak close wins over Olympic Athletic Club (whom Stanford beat 40-0), 3-3-1 San Francisco, and worst of all, 1-6-1 Portland University (whom St. Mary's beat 61-0).

St. Mary's (California) 7-2
St. Mary's beat #25 Fordham and 7-2-1 Santa Clara, but they lost to 1-7-1 Nevada and 7-3 UCLA (UCLA lost to 6-4 Oregon and 6-6 California). Their performances were consistently weak

:

6 of their 7 wins were by a touchdown or less, 5 of them against unranked opponents.

Washington 6-1-1
Washington lost 24-0 to #9 Stanford, and they were tied by 4-3-1 Washington State. Their performances were weak in all of their last 5 games

:

in addition to the loss and tie, they beat 6-6 Cal 13-7, 3-6-2 Oregon State 14-7, and 4-6-1 Southern Cal 14-7. Their best win was 16-6 at 6-4 Oregon, meaning that they accomplished very little.

Michigan State 8-1
Michigan State's loss came 10-0 at #18 Syracuse. They took no upsets, but their schedule was weak, as were their performances

:

13-7 over 4-5 Marquette, 7-6 over 5-3-1 Detroit, and 6-0 at 3-4-3 Kansas.

Holy Cross 8-2
Holy Cross' losses came to #6 Colgate and #23 Temple. Like Michigan State, they took no upsets and played a weak schedule, but they at least had one less close win

:

12-6 at 3-5-1 Manhattan and 7-2 at 5-4 Boston College.
1934 Top 25
1) Minnesota 8-0
2) Alabama 10-0
3) Pittsburgh 8-1
4) Navy 8-1
5) Ohio State 7-1
6) Colgate 7-1
7) Tulane 10-1
8) Columbia 7-1
9) Stanford 9-1-1
10) Illinois 7-1
11) Notre Dame 6-3
12) Tennessee 8-2
13) Army 7-3
14) North Carolina 7-1-1
15) Rice 9-1-1
16) Georgia 7-3
17) Yale 5-3
18) Syracuse 6-2
19) Princeton 7-1
20) Louisiana State 7-2-2
21) Texas 7-2-1
22) Southern Methodist 8-2-2
23) Temple 7-1-2
24) Purdue 5-3
25) Fordham 5-3
Others Receiving Votes
:
Duke 7-2
Hawaii 6-0
Trinity (Connecticut) 7-0
Centenary 10-2
Texas Christian 8-4
Santa Clara 7-2-1

St. Mary's (California) 7-2
Washington 6-1-1
Michigan State 8-1
Holy Cross 8-2