Home
1969 College Football National Championship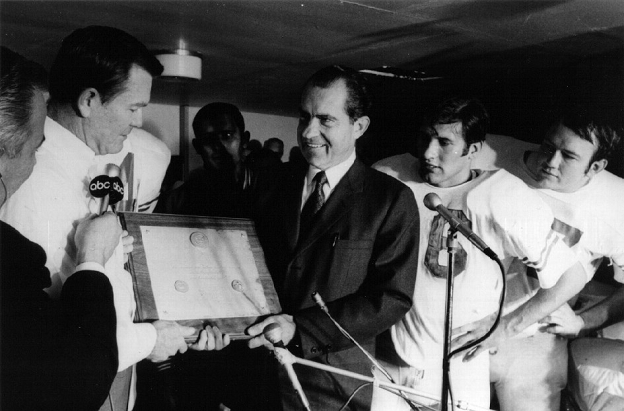 Pictured above is President Richard Nixon handing Texas coach Darrell Royal a plaque proclaiming his team the national champion following the Longhorns' 15-14 win over previously-unbeaten Arkansas in the latest "Game of the Century." For the
second year in a row
, 11-0 Penn State was left unbeaten, untied, and uncrowned. A few years later, Penn State coach Joe Paterno famously quipped, "I don't know how Richard Nixon could know so much about college football in 1969 and so little about Watergate in 1973."

But Nixon was far from alone

:

11-0 Texas is a unanimous choice as mythical national champion (MNC) of 1969 among human selectors, just as Ohio State had been in 1968. In my article on the 1968 MNC, I agreed that Penn State fell just shy of meriting a share of that mythical title. However, in 1969 Penn State had a much better case for sharing an MNC than they had in 1968, and unlike 1968, a couple of computer systems do have PSU ranked #1 for 1969. Needless to say, we'll be taking a look at their case in the article that follows.

This all would have been much simpler had Penn State decided to play in the Cotton Bowl, where they would have faced #1 Texas for a clean national championship, rather than in the Orange Bowl, where they faced #6 Missouri (#5 in fixed poll). Texas fans today like to say that PSU coach Joe Paterno was ducking Texas, but this is not the case. Unfortunately, in those days, teams were forced by the bowls to make their decisions in mid-November, before the regular season was finished. And in mid-November 1969, Ohio State was the defending national champion, they were ranked #1 by a large margin, and they were playing like an unbeatable juggernaut. Their average score through 8 games was 46 to 9, and the closest anyone had gotten to them was 27 points. They beat 8-2 Purdue (#7 in the fixed poll) 42-14. It was inconceivable that they could lose, so when Penn State chose the Orange Bowl, which was decided by a vote of the players, not by Joe Paterno, they were really choosing Miami over Dallas. A no-brainer, really. But then the inconceivable happened, as #12 Michigan upset #1 Ohio State in their finale 24-12. I have Michigan ranked #6 for 1969, Ohio State #4.


8-1 Ohio State may well have been the best team in 1969 (Woody Hayes later asserted that this was the best team he ever coached), but their big upset took them out of the MNC race. Another team that was knocked out of the MNC race by one upset was 10-0-1 Southern Cal (#3), who was tied 14-14 at Notre Dame (#8). Given that Texas barely edged Notre Dame in the last minute in the Cotton Bowl, which was essentially a home game for the Longhorns, and that Southern Cal's tie came in South Bend, it is easy to see Texas and USC as equal based on those results. USC also beat more rated teams than Texas did, and twice as many winning teams. Nevertheless, a tie is a tie, and USC is out of the race.

9-1 LSU (#12) was taken out of the race by a 26-23 loss at 8-3 Mississippi (#11), and 10-1 West Virginia (#20) took their loss 20-0 at #2 Penn State. 11-0 San Diego State (#21) and 11-0 Toledo (#22) played schedules too far removed from big-time football for MNC contention, and neither was ranked in the final AP poll's top 20.


College football was celebrating its 100th year this season, and many teams, including Texas, commemorated the centennial by placing stickers on their helmets that had the number 100 inside a football-shaped design.

All rankings in the following article, except as specified, come from my 1969 fixed AP poll.
Texas 1969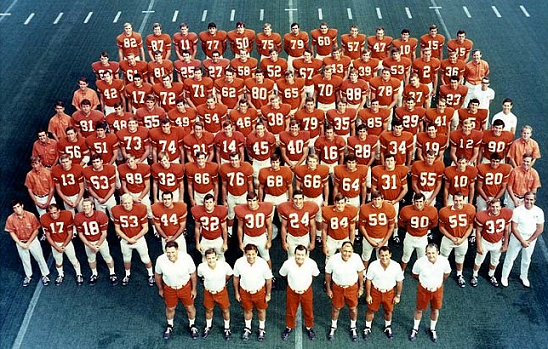 at California (5-5)
17-0
Texas Tech (5-5)
49-7
Navy (1-9)
56-17
(Dallas) Oklahoma (6-4)
27-17
#23

Rice (3-7)
31-0


at Southern Methodist (3-7)
45-14


Baylor (0-10)
56-14
Texas Christian (4-6)
69-7
at Texas A&M (3-7)
49-12
at Arkansas (9-2)
15-14
#9

Cotton Bowl


Notre Dame (8-2-1)

21-17

#8
Texas had previously won an MNC in 1963, and I covered their Hall of Fame coach, Darrell Royal, in the linked article. In 1964, Texas came 1 point away from repeating, losing 14-13 to national champion Arkansas, but then the Longhorns sank back to 6-4, 7-4, and 6-4 over the next 3 seasons. Royal brought Texas back to the top with the wishbone formation, which would go on to dominate college football in the next decade
.
The wishbone was just a T-formation with the fullback moved up closer to the line of scrimmage. More importantly, the offense that was run out of it was triple-option

:

depending on the defense, the quarterback could hand off to the fullback, keep the ball, or pitch to a halfback. This made the offense difficult to defend, and after Texas installed it, they went from 18.6 points per game in 1967 to 34.5 points per game in 1968. They opened 1968 with a tie and a loss, then won 9 straight games, punctuated by a 36-13 rout of 8-2-1 Tennessee in the Cotton Bowl. That winning streak would go for 30 straight games before it was halted.

Texas finished 1968 ranked #3 behind 10-0 Ohio State and 11-0 Penn State, and they were expected to contend for a national championship this season. Contend they did, and they brought that title home by further increasing their scoring output, from 34.5 points per game in 1968 to 39.5 points per game this season. Texas would not top that scoring mark until 2001.

The Players
None of the players on this team are in the Hall of Fame, and none had a big impact in the NFL, which compares poorly to this year's Penn State team, which featured 5 Hall of Famers, all of whom went on to become stars in the NFL. But on the other hand, Texas had more All Americans

:

while Penn State fielded just 5 starters who made a first-team All American list during their careers, Texas fielded 8 such starters.

The one consensus All American this season for Texas was OT Bob McKay, who went on to an 8 year pro career. The other tackle, and the other Bob, Bobby Wuensch, was a nonconsensus AA this season, consensus AA the next.

Three other players were nonconsensus AA this season

:

fullback Steve Worster, receiver Cotton Speyrer, and linebacker Glen Halsell. Worster, known as "Big Woo," rushed for 649 yards and 9 touchdowns this season, and in 1970 he would be a consensus AA and finish 4th in the Heisman vote. For his career he totaled 2353 yards and 36 touchdowns. Speyrer caught 30 passes for 492 yards and 3 touchdowns this season.

The other 3 members of the backfield never made a first-team AA list, and perhaps had the wishbone itself to thank for their success, but all put up decent numbers. Senior quarterback James Street rushed for 412 yards and 5 touchdowns, and he threw for 699 and 3 touchdowns, albeit against 10 interceptions. Halfback Jim Bertelsen led the team in rushing with 740 yards, in yards per carry with 7.1, and in touchdowns with 13. He totaled 2510 yards and 33 touchdowns for his career, and went on to the NFL for 5 seasons. The other halfback, Ted Koy, chipped in just what his quarterback did on the ground, 412 yards and 5 touchdowns, and he played in the pros as a tight end for 5 years.

DE Bill Atessis and kicker Happy Feller would both be consensus AA in 1970, while linebacker Scott Henderson would be a nonconsensus AA the same season.
DT Leo Brooks never made a first-team AA list, but he went on to a 7 year pro career, and is the only starter on this team that made a Pro Bowl in the NFL.

All of these players were white, and Texas is the last all-white team to win a national championship.
Texas's Season
Texas had the top scoring offense this season (33.8 points per game, which does not count their bowl game), and of course they had the top rushing offense with an enormous 363 yards per game. They piled up 611 rushing yards in a 45-14 win over Southern Methodist. But the Longhorns played an extremely shallow schedule

:

only 3 of their 11 opponents finished with winning records. Those 3 opponents were the only teams that came close to Texas this season, and that points to the real value, and limitation, of the wishbone offense. The wishbone was great at smashing down lesser opponents, but the triple-option was not enough against good teams, so Texas needed their meager passing game to come through and bring home victories in all 3 of their big games this season.

In 1968, Texas had given 10-1 Arkansas their only loss, and looking at their schedules this year, it was easy to see that neither team was likely to lose in the regular season aside from their game against each other. Roone Arledge of ABC Sports convinced Texas and Arkansas to move their October 18th game back to December 6th, when it could be nationally televised as a big event. Texas and Arkansas then did their parts, each coming into the game at 9-0, and moreover, winning all of their games by more than a touchdown. When #1 Ohio State was upset in their season finale, Texas was #1 and Arkansas was #2 (Penn State #3), and the bout was promoted as another "Game of the Century."

We'll come back to that in a moment, as Texas actually had one previous challenge during the regular season

:

archrival Oklahoma, who came into this year's Red River Rivalry 2-0 and ranked #8. The Sooners were on fire early in this game, halfback Steve Owens, this season's Heisman winner, leading the charge to a 14-0 first-quarter lead. Owens rushed for 53 yards and a touchdown in the quarter, and 123 yards for the game. Texas' triple-option was stymied, so they went to the air, and Cotton Speyrer caught a 24 yard touchdown pass to cut the lead to 14-7 late in the opening quarter. He caught 8 passes in this game for 160 yards, more than Texas totaled on the ground as a team. In the next quarter, James Street hit Jim Bertelsen with a pass that went for 55 yards, and Bertelsen capped the drive with a touchdown run to make it 14-14 at the half.

Both teams kicked field goals in the 3rd quarter, and Texas kicked another following a 49 yard Speyrer catch in the final quarter to lead 20-17. Oklahoma muffed a punt at their own 23 yard line, Texas tackle Bob McKay fell on it, and Texas drove the short field to a touchdown to ice the game and make the final score 27-17. Oklahoma outrushed Texas 198 yards to 158, but Texas overwhelmed the Sooners 215 yards to 84 through the air. Oklahoma went on to finish the season a disappointing 6-4, but I still have them ranked #23.

Texas was otherwise completely unchallenged until their regular season finale at Arkansas.
1969's "Game of the Century"
So Texas was #1, 9-0, and riding an 18 game winning streak. Arkansas was #2, also 9-0, and winners of 15 straight. President Richard Nixon was on hand to present a "national championship" plaque to the winner, and half the nation's television sets were tuned into this game. Texas and Arkansas rewarded all those viewers with an instant classic.


Texas fumbled the ball away at their own 22 yard line in the game's opening drive, and Arkansas cashed that opportunity for a 7-0 lead. In the 3rd quarter, Texas fumbled the ball away again, and Arkansas drove 53 yards, most of that on a 29 yard touchdown pass, to lead 14-0 going into the final quarter. Razorback fans were delirious, but you know what they say

:

don't count your mythical national championships before they're hatched.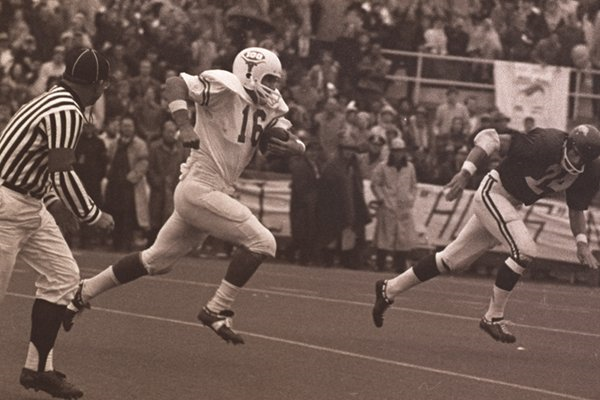 On the first play of the 4th quarter, Texas QB James Street dropped back to pass, then scrambled into an open field and ran for a 42 yard touchdown (pictured above). The Longhorns went for 2, and Street scored again on an option run, closing the gap to 14-8. The play of the game came on 4th and 2 from the Texas 43, with 4:47 remaining. Darrell Royal gambled, calling for a long pass, and Street hit tight end Randy Peschel for a 44 yard gain. From there Texas drove to a Jim Bertelsen touchdown run (pictured below), and Happy Feller's extra point made the final score 15-14. After the game, President Nixon handed Darrell Royal the "national championship" plaque. But Texas still had a Cotton Bowl date with Notre Dame.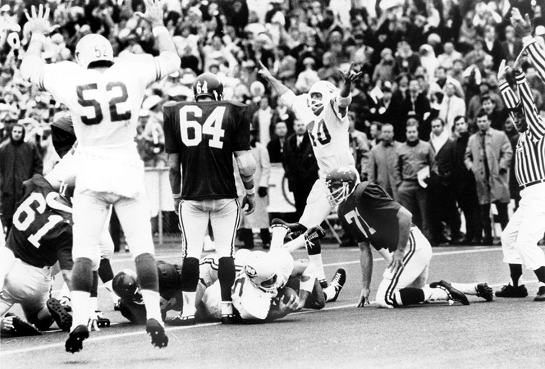 Arkansas, meanwhile, went on to the Sugar Bowl, where they were "upset" 27-22 by 8-3 Mississippi (#11). Of course, other than Texas, Ole Miss was the best team Arkansas faced this year, so it may not have been much of an upset. In any case, I have Arkansas ranked #9 for 1969, so that bowl loss seriously diminishes Arkansas as an opponent, and thus also diminishes what was supposed to have been Texas' greatest accomplishment this season.

Cotton Bowl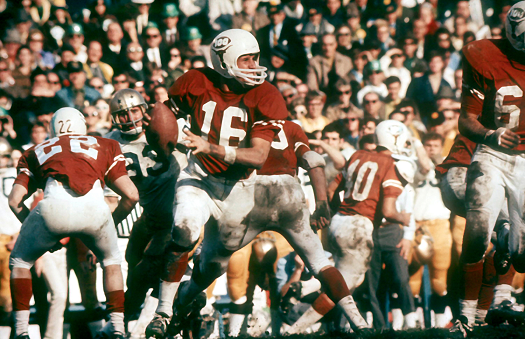 The Cotton Bowl featured #1 Texas against #9 Notre Dame, who was 8-1-1 and had not beaten a rated opponent, though they had tied 10-0-1 Southern Cal. Not the best matchup for a national championship contender in a bowl game, but it was a major event nonetheless, because this was Notre Dame's first bowl game since the Four Horsemen led them to the Rose Bowl to cap their 1924 national championship season
. The three surviving members of the Four Horsemen backfield of 1924 were on hand to see Notre Dame's first bowl game in 45 years. Also in attendance was former president Lyndon Johnson, so this was Texas' 2nd straight game played in front of a president (Johnson is pictured at the bottom of this section congratulating Texas after the game).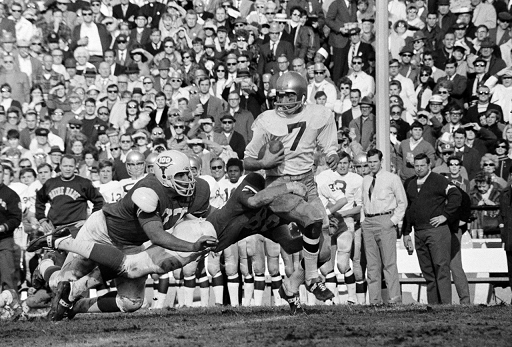 This game ran a lot like Texas' other big games, Oklahoma and Arkansas, with their opponent forging a big advantage and Texas rallying for victory in the 4th quarter. Notre Dame took the opening kickoff and drove 82 yards to a field goal, and Fighting Irish quarterback Joe Theismann threw a 54 yard touchdown pass in the 2nd quarter to make it 10-0. Texas put together a 74 yard touchdown drive to make it 10-7 at the half, and that's where the score remained until the 4th quarter.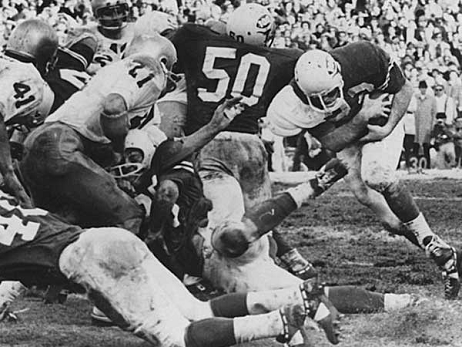 The Irish defense was tiring in the final quarter, and Texas started churning out nice gains play after play, marching 79 yards to a touchdown that gave them a 14-10 lead. Notre Dame responded with an 80 yard drive, Theismann finishing it with a 24 yard touchdown pass, and the Irish led again, 17-14. But Texas went right back to work, driving 76 yards in 17 plays to make the final tally 21-17, scoring the touchdown with just a minute left in the game. It was a classic drive, requiring a pair of 4th down conversions. The big one came on 4th and 2 from the Notre Dame 10, when James Street threw a low pass for which Cotton Speyrer had to dive to make the catch and save the game at the 2 yard line.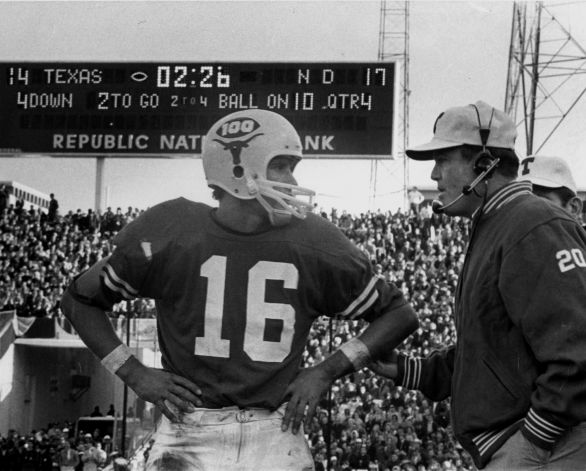 This was a great battle of pretty equitable teams. Texas outgained Notre Dame just 448 yards to 420, and that was a lot of offense for the time. Steve Worster was the star for Texas, rushing for 155 yards on 20 carries, and Joe Theismann set Cotton Bowl records for passing yards (231) and total offense (279). That finished Notre Dame at 8-2-1, and I have them ranked #8 for 1969.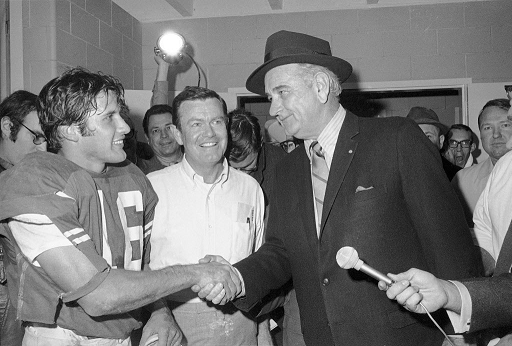 Penn State 1969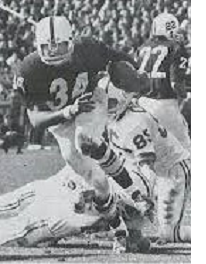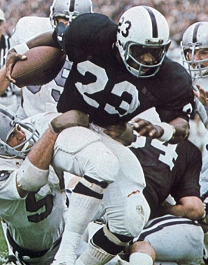 at Navy (1-9)
45-22
Colorado (8-3)
27-3
#19
at Kansas State (5-5)
17-14
#25
West Virginia (10-1)
20-0
#20

at Syracuse (5-5)
15-14


Ohio (5-4-1)
42-3


Boston College (5-4)
38-16
Maryland (3-7)
48-0
at Pittsburgh (4-6)
27-7
at North Carolina State (3-6-1)
33-8

Orange Bowl


Missouri (9-2)

10-3

#5
This was Penn State's 2nd straight 11-0 season, and I covered Hall of Fame coach Joe Paterno and most of this year's significant players in my 1968 national championship article. The only significant player gone from that team was Hall of Fame tight end Ted Kwalik, but Penn State added 2 new players this season who are now Hall of Famers. Among the returning players, LB Jack Ham, LB Dennis Onkotz, and DT Mike Reid were all consensus All Americans this season, and safety Neal Smith and RB Charlie Pittman were nonconsensus AA. Ham, Onkotz, and Reid are Hall of Famers
.

That's a pretty impressive lineup, particularly on defense, but check out these new guys

:

running backs Franco Harris (pictured above at left) and Lydell Mitchell (pictured above at right)! Obviously Penn State already had an All American running back in Charlie Pittman, but he struggled with injuries this season, so the new guys came in very handy. Pittman totaled 706 yards rushing and 10 touchdowns, Franco Harris added 643 rushing and 10 touchdowns, and Mitchell chipped in 616 and 6. In addition, Pittman had 127 yards receiving, Harris 189, and Mitchell 206.

Franco Harris would spend much of his collegiate career blocking for Lydell Mitchell, but he still totaled 2002 rushing and 24 touchdowns over his 3 years. Where he really made his fame, though, was winning 4 Super Bowls with the Pittsburgh Steelers. He made 9 Pro Bowls in 13 seasons, and he piled up 12,120 rushing yards and 100 touchdowns in the NFL. He is in the Pro Hall of Fame.

Lydell Mitchell exploded in 1971, rushing for 1567 yards and 26 touchdowns, and scoring 3 more touchdowns receiving. His 174 points set a record that wasn't broken until Barry Sanders' transcendent 1988 season at Oklahoma State. For his career, Mitchell totaled 2934 rushing and 34 touchdowns. He was no slouch as a pro either

:

in 9 seasons he made 3 Pro Bowls and twice led the NFL in receptions. He is in the college football Hall of Fame.

So. Quite the defense, and quite the backfield here.
Penn State's Season
As in 1968, Penn State's schedule was lightly regarded this season, but in 1968 they had played just 1 rated opponent in the regular season, and this year they played 3, and they played them all in consecutive games early in the season. The first of these was Colorado, whom Penn State demolished 27-3 at home. Unfortunately, this impressed few football writers at the time, because Colorado had been 4-6 the previous season, and this result made it look like they were no better in 1969. However, Colorado went on to finish 8-3, including a win over Big 8 champion Missouri (9-2, #5), and finishing the season with a 47-33 win over 6-5 Alabama in the Liberty Bowl. I have Colorado ranked #19 for 1969.

Next up was a road trip to another Big 8 team, Kansas State, who had also gone 4-6 the previous season. KSU was fired up early, and they repeatedly threatened to score in the opening quarter, but they were thwarted by 4 turnovers and a failed 4th down attempt. Lydell Mitchell scored on a 58 yard run in the 2nd quarter, and Franco Harris finished up a long drive with a short touchdown run in the 3rd, and Penn State led 17-0 with 5 minutes left in the game. KSU then recovered some pride with 2 touchdowns, the last a 63 yard pass from Lynn Dickey with 15 seconds left, and that made the final score a deceptively close 17-14. Penn State was punished for it, dropping from #2 to #5 in the next AP poll, but aside from the fact that the final score was misleading, Kansas State ended up being a decent team this season. They only finished 5-5, but the Big 8 was very tough this year. KSU beat 6-4 Oklahoma (#23) 59-21, and I have the Wildcats ranked #25 for 1969. That makes them the first KSU team to ever merit a finish in a top 25.

The following week, Penn State returned home to face #17 West Virginia. This one played out more like the Colorado game, as PSU stifled the Mountaineers 20-0, picking off 4 passes. It ended up being West Virginia's only loss, as they parlayed an easy schedule to a 10-1 finish, and I have them ranked #20 for the season.

Penn State's toughest game by far came the next week at mediocre Syracuse. The Orangemen fared no better against PSU's ferocious defense than other opponents had, but they rode their own defense and tremendous punt returns to a surprising 14-0 halftime lead. The first touchdown was set up by an interception return, and the second by a 65 yard punt return from Syracuse halfback Greg Allen. Allen also had a 61 yard punt return in the opening quarter that led to no points, and he had a 46 yard punt return to set up a very serious threat late in the first half. But Penn State safety Neal Smith stopped Allen on 4th and 2 at the PSU 3 yard line, a critical play that kept the score at a reasonable 14-0. The score remained as such until the 4th quarter.

Early in the final period, PSU LB Jack Ham recovered a fumble at the Syracuse 32 yard line. On 4th down at the 15, pass interference was called on Syracuse to keep the drive alive, enabling Lydell Mitchell to score a touchdown from the 4. PSU went for 2, initially failing on a pass attempt, but the refs came to their rescue again, penalizing Syracuse for holding, and Franco Harris then scored the 2 points on a short plunge that cut the lead to 14-8. Syracuse went nowhere on their next drive, then handed PSU a short field via a poor punt, and soon thereafter Franco Harris scored on a 36 yard run. The extra point made the score 15-14, which would hold up as the final. Penn State dropped again in the next AP poll, down to #8. Syracuse went on to finish 5-5. They were not even close to being a top 25 team this year.

PSU then routed their last 5 opponents in the regular season.
Orange Bowl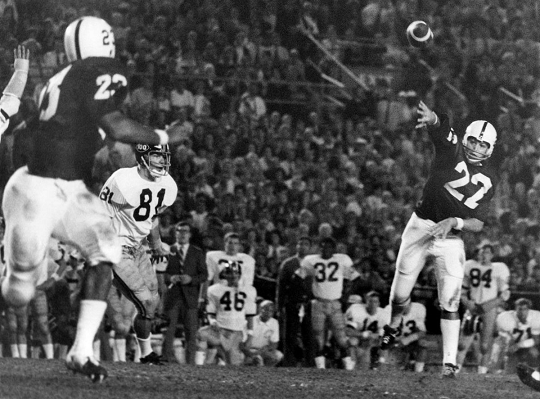 For the second year in a row, Penn State was 10-0, ranked #2, and headed to the Orange Bowl to play a Big 8 champion that was 9-1 and ranked #6. But in 1968, their Orange Bowl opponent had been Kansas, who had only beaten 1 rated opponent (#13 Missouri). This time it was Missouri, who had beaten 5 ranked opponents, including a 17-7 win over 9-2 Nebraska (#10) and a 40-17 embarrassment of 8-3 Michigan (#6) in Ann Arbor. Michigan, of course, gave 10-1 Ohio State (#4) their only loss, and they fell to 10-0-1 Southern Cal (#3) by just 7 points in the Rose Bowl. In other words, despite this game looking on the surface like a practical repeat of the previous year's Orange Bowl matchup, this time Penn State was facing a much more formidable foe.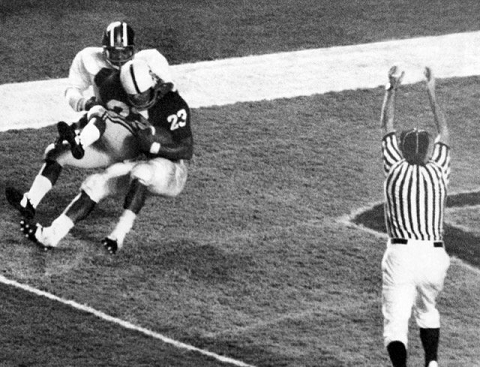 The Nittany Lions scored all the points they would need in the opening quarter. They went to the air to set up a field goal late in the period, recovered a fumble on the ensuing kickoff, then went to the air again for a 28 yard touchdown pass to Lydell Mitchell (shown in the 2 pictures above). That made it 10-0, and Penn State's defense did the rest. Missouri kicked a field goal in the 2nd quarter, but that was it, so the final score was 10-3.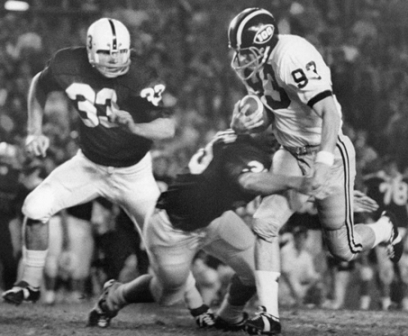 Missouri outgained Penn State 306 yards to 242, but PSU picked off 7 passes, an Orange Bowl record, and in all Missouri suffered a dismal 9 turnovers to only 1 for PSU. That finished Missouri at 9-2, and I have them ranked #5 for 1969.
Texas vs. Penn State
Here are the significant games for Texas and Penn State in 1969. The opponent rankings
come from my fixed AP poll for 1969
.


Texas 11-0
Penn State 11-0

(Dallas) Oklahoma (6-4)
27-17
#23
at Arkansas (9-2)
15-14
#9

Cotton Bowl


Notre Dame (8-2-1)

21-17

#8

Colorado (8-3)
27-3
#19
at Kansas State (5-5)
17-14
#25
West Virginia (10-1)
20-0
#20
at Syracuse (5-5)
15-14
Unranked

Orange Bowl


Missouri (9-2)



10-3


#5

Texas defeated their unranked opponents by an average of 47-9, and Penn State defeated theirs by an average of 35-10.


As you can see, despite what people thought of these teams' schedules at the time, Penn State actually played more rated teams, in both the original and fixed AP polls, and moreover, Penn State's opponents were 58-52-2, while Texas' opponents were a putrid 47-64-1. Not only that, but due to Arkansas' upset loss in the Sugar Bowl, Missouri is a better team than any that Texas played. I mentioned earlier that Missouri beat #6 Michigan 40-17 and #10 Nebraska 17-7. Well, they also stomped on #23 Oklahoma 44-10, much better than Texas did against the Sooners. Given all of this, it seems to me a no-brainer that Penn State should be considered co-champion of 1969, and furthermore, I think they would be a valid choice as the #1 team in a ranking list.

The Kansas State game was rendered artificially close by late touchdowns, so Penn State's 15-14 win at unranked Syracuse is the one big thing in Texas' favor here. The only Texas games that were decided by a touchdown or less came against top 10 opponents, and the Longhorns properly crushed all of their unranked foes. Based on their better performance, Texas is also a valid choice as #1.

So I see a split title for 1969
.
It's too bad these teams didn't play each other, because it would have been interesting to see what would have happened if Texas' nation-leading wishbone offense collided with Penn State's tremendous Hall-of-Famer-studded defense.
Awards Ceremony
1969 #1:

11-0 Texas and/or 11-0 Penn State


National Co-champion:

Texas or Penn State if the other one is alone at #1


Contender:

None

These are the awards I have been handing out for each season, except seasons when there are no contenders. For this purpose, what I mean by a contender is a team that I think is very close to being worthy of sharing the national championship. A team that you could make an argument for, even if that argument is weak. But the contenders are teams that I myself do not see as national champions.
Grading the Selectors
I have been grading the NCAA Records Book's selectors for each season, and keeping a grade point average, so we can see who is relatively good at selecting national champions and who is not. And although I do not consider computer ratings to be legitimate national championship selectors, I have been including them in this section as well, just for comparison's sake.
I am grading on a scale of 0-5 (5 being the best).


The Matthews system rated 8-1 Ohio State #1. Grade

: 0.0



Sagarin's ELO-Chess system rated 11-0 Penn State #1. Grade

: 5.0



The FACT math-based system rated 11-0 Texas and 11-0 Penn State #1 in a tie. Grade

: 5.0



Everyone else went with 11-0 Texas. Grade

:

5.0


The Matthews system was already near the bottom in grade point average (listed below) before this selection. Now it is starting to look like the worst system of all time for selecting national championships. Still, as I indicated at the beginning of this article, Ohio State may well have been the best team this season, so as a power rating, Ohio State at #1 is not so crazy. The NCAA just never should have listed math-based systems as "national championship selectors" to begin with. Because they definitely aren't.

Grade point averages 1965-1969

:




1) Helms
Billingsley (math system)
Coaches Poll
FWAA
Football News
NFF
5.0
7) National Championship Foundation
AP Poll
4.8
9) College Football Researchers
4.6
10) Sagarin ELO-Chess (math)
Berryman (math)
4.4
12) Poling (math)
4.3
13) Dunkel (math)
Sagarin (math)
DeVold (math)

4.0
16) Litkenhous (math)
3.0
17) Matthews (math)
2.5

How the selectors did in previous grading periods

:



Grade point averages 1936-1964

:




1) National Championship Foundation
4.69

2) Billingsley (math system)

4.67

3)

Houlgate (math)

4.53

4)

College Football Researchers Association




4.48

5) Sagarin-ELO (math)
4.46

6) DeVold (math)




4.44

7)

Poling (math)


4.38

8) Helms Foundation

4.35

9) Boand (math)
4.27
10) Sagarin (math)
4.24
11) Litkenhous (math)

4.22
12) AP Poll
4.08

13)

Dunkel (math)

4.05

14) Williamson (math)
3.86
15) Berryman (math)
3.17
16) Coaches Poll
3.05

Grade point averages 1919-1935
:
| | |
| --- | --- |
| 1) Boand (math system) | 4.26 |
| 2) College Football Researchers Association | 4.22 |
| 3) Poling (math) | 4.11 |
| 4) Helms | 4.09 |
| 5) Sagarin-ELO (math) | 4.06 |
| 6) National Championship Foundation | 3.96 |
| 7) Dickinson (math) | 3.49 |
| 8) Houlgate (math) | 3.35 |
| 9) Billingsley (math) | 3.34 |
| 10) Sagarin (math) | 3.28 |
| 11) Parke Davis | 2.77 |

How the systems that selected champions for 1901-1918 did

:



| | |
| --- | --- |
| 1) Houlgate (math system) | 4.5 |
| 2) Helms | 4.3 |
| 3) Parke Davis | 4.2 |
| 4) National Championship Foundation | 3.7 |
| 5) Billingsley (math) | 3.6 |