Home
1963 College Football National Championship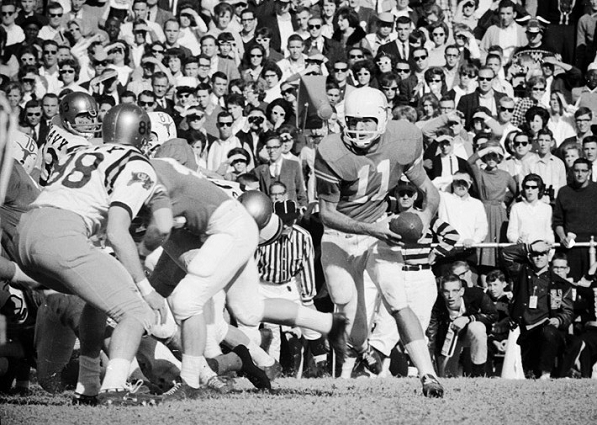 Pictured above is the 1964 Cotton Bowl, where #1 Texas crushed #2 Navy 28-6 to finish 11-0 and take home its first national championship. This was the second time Texas was involved in a #1 vs. #2 matchup this season, and the first was as anticlimactic as the Cotton Bowl, a 28-7 pummeling of Oklahoma in October.


Texas is a unanimous choice as national champion of 1963 among all selectors and math-based ratings listed in the NCAA Records Book, the first unanimous choice since Michigan in 1948. Not that Texas was historically powerful. Despite the spectacular performances in their 2 biggest games, Texas struggled repeatedly in SWC play, and survived 5 close games, mostly against unranked, mediocre opponents. Still, once they dispatched Navy in the Cotton Bowl, there was no one else left to challenge them for #1 this season
.


9-1 Pittsburgh (#3) took their loss to Navy, and 10-1 Nebraska (#5) was upset by unrated Air Force early in the season. 9-0-1 Memphis (#8) was tied by 7-1-2 Mississippi (#9). Every other major team took more than one loss.


All rankings in this article, except as specified, come from my 1963 fixed AP poll.
Texas 1963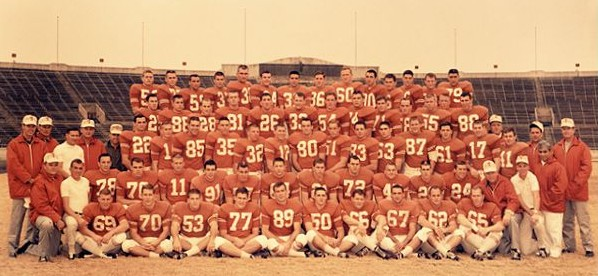 at Tulane (1-8-1)
21-0
Texas Tech (5-5)
49-7
Oklahoma State (1-8)
34-7
(Dallas) Oklahoma (8-2)
28-7
#11

at Arkansas (5-5)
17-13


Rice (6-4)
10-6


at Southern Methodist (4-7)
17-12
Baylor (8-3)
7-0
#19
Texas Christian (4-5-1)
17-0
at Texas A&M (2-7-1)
15-13

Cotton Bowl


Navy (9-2)

28-6

#2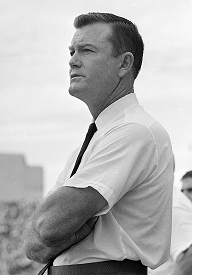 Texas had been ruling the Southwest from the beginning, and by 1963 they owned a winning all-time record against all of their conference mates, as well as against archrival Oklahoma, but Texas had never won a mythical national championship, while one organization or another had awarded MNCs to Texas A&M, Texas Christian, Southern Methodist, and Oklahoma over the years. So this was a breakthrough season for Texas in that regard.


The Southwest had been a weak football region in the early part of the 20th century, and Texas was top 25 caliber just 6 times through 1939, but in the 1940s they became a national power, finishing ranked in my fixed AP polls for 14 of 15 seasons 1940-1954. Hall of Fame coach Dana X. Bible built them to this level first, going 63-31-3 and winning 3 SWC titles 1937-1946. Blair Cherry kept it going 1947-1950, posting a terrific 32-10-1 record and finishing ranked each season, but his health couldn't take the pressure, so he retired from coaching early. Ed Price took the reins next, and he started out okay, going 7-3, 9-2, and 7-3, and finishing ranked for each of those seasons, but then he went 4-5-1, 5-5, and 1-9, and it was time for him to go.

Enter Hall of Fame coach Darrell Royal (pictured at left), for whom the Longhorns' stadium is now named
. Royal had played quarterback for archnemesis Oklahoma 1946-1949, and I credit the 1949 team with an MNC. He was head coach at Mississippi State 1954-1955 and at Washington 1956, going 17-13 over those 3 years, but he was saving his best for Texas. They had been 1-9 the year before he was hired, and in his first season he went 6-4-1, and I have Texas ranked #19 for that season. 1957-1976, he went 167-47-5 and won 11 SWC titles and 3 school-claimed MNCs (I count 2). Overall he was 184-60-5.

Tackle Scott Appleton was Texas' one consensus All American this year, and he also won the Outland Trophy and finished 5th in Heisman voting. Running back Tommy Ford was a nonconsensus AA, and he led the team on the ground with 738 yards.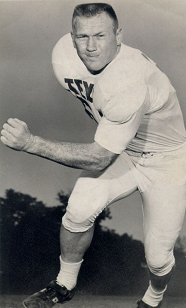 Hall of Fame guard/linebacker Tommy Nobis (pictured above) was the only sophomore starter on this team, and he would be a nonconsensus AA in 1964 and a consensus AA in 1965. He also won the Outland and Maxwell awards in 1965. College football was shifting back to 2-platoon football for good during his years at Texas, but Nobis was equally great on offense and defense, and played both ways for his entire college career. After graduation, he became the first player ever drafted by the Atlanta Falcons. He played there 11 years, making 5 Pro Bowls.
Texas' Season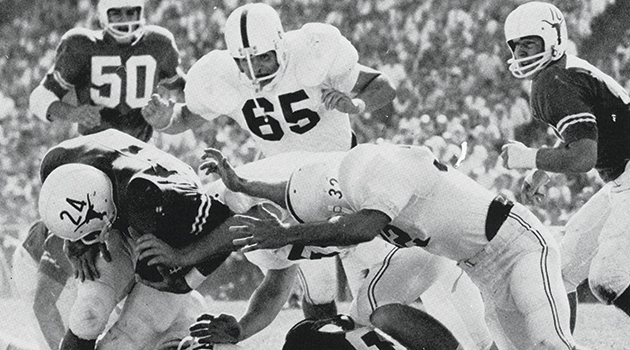 Texas was far from a surprise this season. They'd gone 10-1 in 1961 (#3) and 9-1-1 in 1962 (#6), they had a veteran lineup returning this year, and they opened this season ranked #5
. They gobbled up 3 cupcakes, and were ranked #2 heading into their big game with #1 Oklahoma, who had beaten preseason #1 and defending national champion Southern Cal in their previous game. Oklahoma was helpless against the Texas defense, however, and the Longhorns routed them 28-7 (the game pictured above). Oklahoma finished 8-2, and I have them ranked #11 for 1963. The next 4 games featured weaker opponents, but they all proved to be much more difficult contests for Texas.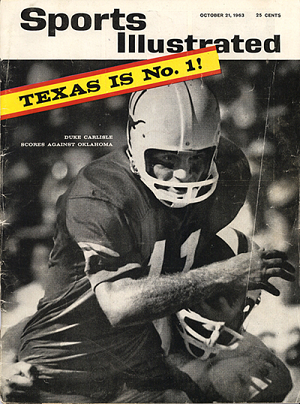 The Longhorns traveled to Arkansas (5-5) the week after their big win over Oklahoma, and at first they seemed to be suffering no hangover, cruising to a 17-0 lead by the 2nd quarter, running back Tommy Ford scoring both touchdowns (this game is pictured below). But then they fell asleep, and Arkansas came back with touchdowns late in the 2nd quarter and early in the 4th to make the final score 17-13. That margin of victory came from barefoot kicker Tony Crosby's field goal and pair of extra points, a theme in 4 of Texas' wins this season.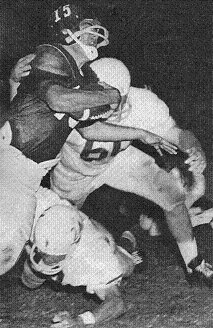 Next up was a home date with Rice (6-4), and Texas scored on their first possession for the 5th straight game, Tommy Ford taking it in from 33 yards out. Rice answered in the same quarter, but they missed the extra point and still trailed 7-6. Tony Crosby kicked a short field goal in the 2nd quarter, and that made the halftime score 10-6, which held up as the final score as well. Crosby's points were again the difference.

Texas then headed for Dallas to play SMU (4-7), a weak team that had nevertheless upset Navy (9-2, #2) at home earlier in the season. The Longhorns again scored on their first possession, and Crosby's points were again the difference in the final score. Texas built a 17-6 halftime lead, and SMU scored in the 4th quarter to make the final score 17-12 (this game pictured below).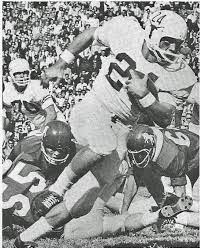 That brought Texas to a home date with Baylor, who was unbeaten in conference play, so this was for the SWC championship. But it was also a big week in Austin because the school voted this week to integrate their athletic program, the first SWC school to do so (the school itself had been integrated since 1950). Baylor featured a pair of All Americans who are now in the Hall of Fame, end Larry Elkins and quarterback Don Trull. Texas did not score on their first possession in this game, or at all in the first half, and the game remained scoreless at the break.

The Longhorns drove 45 yards for a touchdown in the 3rd quarter to lead 7-0, but with 29 seconds left in the game, Baylor at the Texas 19, Larry Elkins got behind defensive back Joe Dixon and was wide open headed for the end zone. Don Trull lofted a pass to him, but Texas quarterback Duke Carlisle closed almost 15 yards from the time the ball left Trull's hand and made a spectacular, game-saving interception from behind (the play pictured below). Baylor finished 8-3 and ranked #19.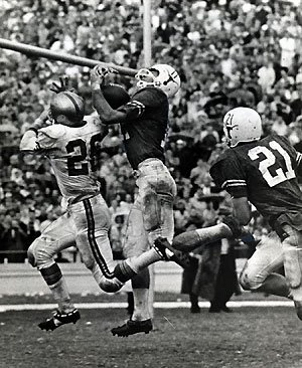 Texas finally won handily the next week, 17-0 over TCU, but then they faced their toughest challenge yet at rival Texas A&M (2-7-1) on Thanksgiving Day. A&M led this one 13-3 going into the 4th quarter on a pair of touchdown passes, but Texas rallied for a pair of touchdowns of their own, the last with just over a minute left, prevailing 15-13.

Cotton Bowl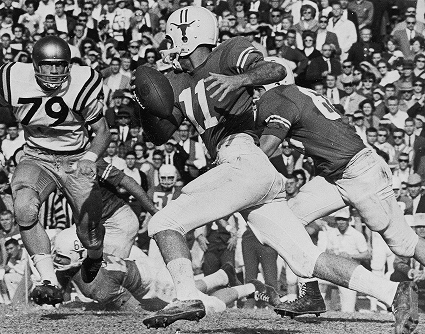 Like the previous year, the nation got a #1 vs. #2 bowl game, Texas facing 9-1 Navy, who had been upset at SMU early in the season. Navy featured Heisman winner Roger Staubach at quarterback. But it was Texas quarterback Duke Carlisle (pictured above with the ball) who surprised everyone by throwing the touchdowns this day. On the game's opening drive, after 5 straight runs, Carlisle faked into the line, then hit wingback Phil Harris for a 58 yard touchdown pass. In the 2nd quarter, they ran the same play, Carlisle to Harris, and that one went for a 63 yard touchdown. Those were Duke Carlisle's only touchdown passes of the season. He scored a touchdown on a run just before half, making it 21-0, and his day was pretty much done with 213 yards passing (on only 7 completions) and 54 rushing.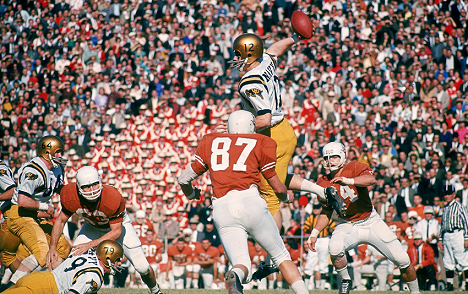 Both teams scored in the 2nd half, making the final score 28-6. Roger Staubach (pictured above with the ball) was mercilessly smacked around and harassed all day, but he still managed to set Cotton Bowl records for completions (21 of 31) and yards (228, just edging Carlisle), most of that against backups in the 2nd half. But his team rushed for an abysmal -14 yards against the ferocious Texas defense. Navy was finished at 9-2, but I still have them at #2 for 1963.

Awards Ceremony
1963 #1:

11-0 Texas


National Co-champion:

None


Contender:

None

These are the awards I have been handing out for each season, except seasons when there are no contenders. For this purpose, what I mean by a contender is a team that I think is very close to being worthy of sharing the national championship. A team that you could make an argument for, even if that argument is weak. But the contenders are teams that I myself do not see as national champions.
Grading the Selectors
I have been grading the NCAA Records Book's selectors for each season, and keeping a grade point average, so we can see who is relatively good at selecting national champions and who is not. And although I do not consider computer ratings to be legitimate national championship selectors, I have been including them in this section as well, just for comparison's sake.
I am grading on a scale of 0-5 (5 being the best).


Everyone selected Texas, so everyone gets a grade of

5.0


Grade point averages 1936-1963

:




1) National Championship Foundation
4.68

2) Billingsley (math system)

4.66

3) DeVold (math)




4.62

4)

Houlgate (math)

4.53

5)

College Football Researchers Association




4.46

6) Sagarin-ELO (math)
4.44
7) Litkenhous (math)

4.37

8)

Poling (math)


4.36

9) Helms Foundation

4.33

10) Boand (math)
4.27
11) AP Poll
4.23
12) Sagarin (math)
4.21

13)

Dunkel (math)

4.20

14) Williamson (math)
3.86
15) Berryman (math)
3.30
16) Coaches Poll
3.27

Grade point averages 1919-1935
:
| | |
| --- | --- |
| 1) Boand (math system) | 4.26 |
| 2) College Football Researchers Association | 4.22 |
| 3) Poling (math) | 4.11 |
| 4) Helms | 4.09 |
| 5) Sagarin-ELO (math) | 4.06 |
| 6) National Championship Foundation | 3.96 |
| 7) Dickinson (math) | 3.49 |
| 8) Houlgate (math) | 3.35 |
| 9) Billingsley (math) | 3.34 |
| 10) Sagarin (math) | 3.28 |
| 11) Parke Davis | 2.77 |

How the systems that selected champions for 1901-1918 did

:



| | |
| --- | --- |
| 1) Houlgate (math system) | 4.5 |
| 2) Helms | 4.3 |
| 3) Parke Davis | 4.2 |
| 4) National Championship Foundation | 3.7 |
| 5) Billingsley (math) | 3.6 |