Home
1948 College Football National Championship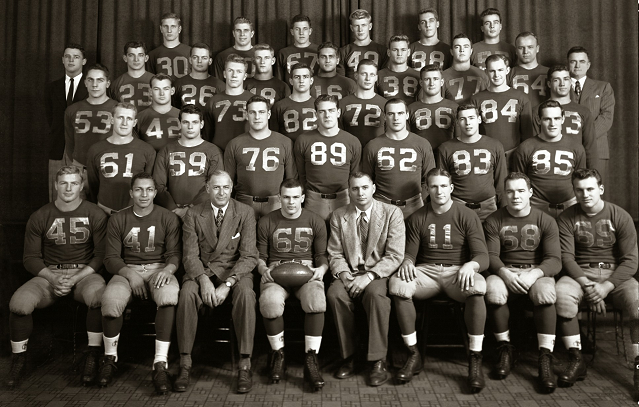 Pictured above is Michigan's 1948 football team, which went 9-0 and claimed the #1 spot in the final AP poll over 9-0 Notre Dame, making up for 1947, when Michigan had also gone 9-0, but finished #2 to 9-0 Notre Dame. Michigan had capped the 1947 season with a huge 49-0 rout of Southern Cal in the Rose Bowl, and the AP conducted a post-bowl poll that went with Michigan at #1 over Notre Dame, but the AP had declared that the post-bowl poll was not "official." This season, it was Notre Dame that played a game against Southern Cal after the final AP poll. That's because the AP poll ended before their December 4th trip to Southern Cal, where Notre Dame was tripped up by a 14-14 tie to 6
-3-1 USC, finishing the Irish at 9-0-1.

Because of that upset, there are no contenders to Michigan's crown this season, and they are a unanimous choice for 1948 mythical national champion (MNC) amongst organizations listed in the NCAA Records Book, even math-based ratings. That's nice for me, as Michigan is the only team I'll have to summarize in this article. This makes 2 MNCs in a row for Michigan.

Clemson went 11-0, but their schedule was weak and they performed rather poorly, so they are not a contender at all. They played one team that was ranked by the original AP poll, #20 Wake Forest, and Clemson finished ranked just #11 themselves. They did better in my fixed AP poll for 1948, finishing #8, and their Gator Bowl opponent, 8-3 Missouri, is ranked #10 in the fixed poll. Clemson won that game 24-23. But that's the only ranked opponent they played in the fixed poll, and they struggled to win 6-0 over 3-6-1 North Carolina State, 13-7 at 3-5 South Carolina, 26-19 at 5-2-2 Boston College, 21-14 over 6-4 Wake Forest (not ranked in my fixed and expanded AP poll top 25 for 1948), and 7-6 at 1-8-1 Auburn. Meanwhile, Michigan played 5 ranked teams and only one of their wins was close (touchdown or less), 13-7 at 6-2-2 Michigan State (#17) in their opener. They beat 8-2 Northwestern (#3) 28-0.

California went 10-0 in the regular season, but they lost 20-14 to 8-2 Northwestern in the Rose Bowl to blow a shot at a share of the MNC. This became a habit for Cal

:

they would go unbeaten during the regular season in 1949 and 1950, and then lose the Rose Bowl following each of those seasons as well. Army started this season 8-0, but they were tied by 0-8-1 Navy in their finale to finish 8-0-1, probably the biggest upset in college football history. 10-1 Oklahoma took their upset early, losing 20-17 at 7-2-1 Santa Clara in their opener. 9-1 Tulane lost 13-7 at 7-3 Georgia Tech in their 2nd game, and 8-1 Mississippi lost 20-7 at Tulane. 8-1 Cornell lost 27-6 to 8-0-1 Army at home.


All rankings in the following article, except as noted, come from my 1948 fixed AP poll.
Michigan 1948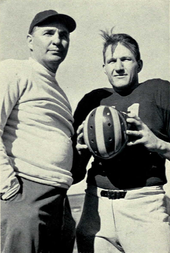 | | | |
| --- | --- | --- |
| at Michigan State (6-2-2) | 13-7 | #17 |
| Oregon (9-2) | 14-0 | #12 |
| at Purdue (3-6) | 40-0 | |
| Northwestern (8-2) | 28-0 | #3 |
| at Minnesota (7-2) | 27-14 | #20 |
| Illinois (3-6) | 28-20 | |
| Navy (0-8-1) | 35-0 | |
| Indiana (2-7) | 54-0 | |
| at Ohio State (6-3) | 13-3 | #9 |
Michigan had gone 10-0 in 1947 to share the MNC with Notre Dame, and they kept it going with a 9-0 effort and another MNC this season despite losing their coach and best players from that team. Gone were Hall of Fame halfbacks Bob Chappuis (2nd in Heisman vote in 1947) and Bump Elliott (Big 9 MVP), and ends Bob Mann and Len Ford graduated as well. Hall of Fame coach Fritz Crisler retired, and assistant coach Bennie Oosterbaan (pictured above at left) was promoted to replace him.


Bennie Oosterbaan had been a Hall of Fame end for Michigan 1925-1927, and a 3-time consensus All American. He became an assistant coach at his alma mater the year after he graduated. As head coach, he obviously started with a bang, winning the Big 9 and an MNC, and he would win a conference title in each of his first 3 seasons, but then no more. He went 63-33-4 at Michigan 1948-1958, retiring after a disappointing 2-6-1 finish in his last outing.

Among the returnees from the 1947 team, tackle Al Wistert (pictured above at right) and end Dick Rifenburg were named consensus All Americans this season, and quarterback Pete Elliott (Bump's brother) was a nonconsensus AA.

The only notable "new" face this season was tackle Al "Brick" Wahl. He had played for Michigan as a 17 year old freshman in 1945, then served in the military in 1946 and 1947. He was back at Michigan this season, and would be named a nonconsensus AA in 1949 and 1950
.

Michigan stretched their winning streak to 23 games this season, and the run would reach 25 before it was ended in 1949.
Michigan's Season
Michigan opened the season at Michigan State, whom they had beaten 55-0 the previous season. However, this year's game was not so easy, and in fact it ended up being Michigan's closest bout of the year. This was the first game played in Michigan State's new Macklin Stadium, and 51,000 attended
. Early in the game, Michigan fullback Don Peterson connected with end Dick Rifenburg for a 40 yard touchdown pass, and it would remain 7-0 through halftime. Michigan State hit their own touchdown pass in the 3rd quarter to tie the game up. Michigan recaptured the lead 13-7 on a Peterson touchdown run, but they had to fend off one more serious threat before victory was theirs. Late in the game, MSU drove to the Michigan 2 yard line, but Michigan halfback Wally Teninga intercepted a pass to quench the threat.

Michigan State also lost 26-7 at 9-0-1 Notre Dame (#2), and they tied 7-1-1 Penn State (#22) and 7-2-1 Santa Clara (#14), finishing 6-2-2 and ranked #17 in the fixed AP poll. Their 6 wins came by an average score of 52-10.

Michigan next hosted a pretty good Oregon team that was led by college and pro Hall of Fame quarterback Norm Van Brocklin. Michigan drove 93 yards for a touchdown in the 2nd quarter, most of that coming on one 60 yard touchdown pass from halfback Chuck Ortmann to end Dick Rifenburg, and once again Michigan led 7-0 at the half. In the 3rd quarter, Michigan halfback Charlie Lentz hit quarterback Pete Elliott for a 42 yard pass, then tossed a short touchdown pass to fullback Tom Peterson (Don's brother). That made the 14-0 final score, though much like Michigan State the previous week, Oregon pushed a 4th quarter drive all the way to the Michigan 2 yard line. Oregon won out to finish the regular season 9-1, splitting the PCC title with California, and then they lost 21-13 to 9-1-1 Southern Methodist in the Cotton Bowl. That left the Ducks 9-2, and I have them ranked #12 for the season.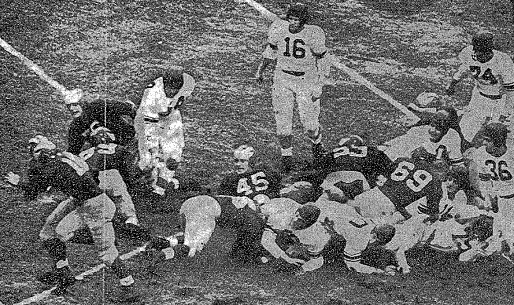 Michigan got rolling after that, romping 40-0 at Purdue (3-6), then hosting Northwestern in their biggest game of the year, in front of 85,000 fans. Northwestern was ranked #3 coming into the game, Michigan #4, but it was no contest, as Michigan crushed the Wildcats 28-0. Halfback Leo Koceski was the star this week, scoring 3 touchdowns and fumbling a ball into the end zone that was recovered for the 4th touchdown (Koceski is pictured above scoring the game's first touchdown around the left tackle). Michigan outgained Northwestern 242 yards to 129, the big difference coming in the ground game, as Michigan outrushed them 166 yards to 47. Northwestern also lost 12-7 at Notre Dame, but they beat 7-2 Minnesota (#20), 6-3 Ohio State (#9), and 10-1 California (#4) 20-14 in the Rose Bowl. They finished 8-2, and I have them ranked #3 for 1948, so this was easily Michigan's best win of the season. They passed up Notre Dame for #1 in the next AP poll.

No rest for the weary

:

Michigan traveled to Minnesota, then ranked #13, the next week. 65,000 were on hand. Minnesota opened the scoring this time, recovering a fumble at the Michigan 2 yard line in the 2nd quarter and scoring the easy touchdown from there. Michigan drove to the Minnesota 1, but fumbled the ball away. They finally got on the board with a 7 yard touchdown pass from halfback Wally Teninga to fullback Tom Peterson. Then they blocked a punt and recovered the ball at the Minnesota 1, setting up a Peterson touchdown dive and a 13-7 lead. Minnesota answered with a drive to the Michigan 1, but the clock ran out on them, leaving it 13-7 at the half.

But Minnesota kept their momentum going in the 3rd quarter, driving 69 yards for a touchdown and a 14-13 lead. Michigan answered on their next drive, marching 77 yards, the last 37 a Dick Rifenburg touchdown catch. In the 4th quarter, Michigan put the game away with a 62 yard touchdown pass from halfback Chuck Ortmann to halfback Leo Koceski, making the final score 27-14. Minnesota strangled Michigan's ground game, holding them to a mere 22 yards there, but Michigan responded with a huge game in the air, 261 yards. Minnesota finished the season 7-2, their other loss coming to Northwestern, but they did not beat any ranked or even winning opponents, and I have them ranked #20 for the season.

The Stretch Run
Michigan entered the easy part of their schedule next, but they put up their weakest performance of the season in a 28-20 homecoming win over Illinois (3-6) the next week. Still, that represented a "2-score" win, as there was no 2-point conversion at this time. 85,000 attended. Illinois drove inside the Michigan 5 yard line in the first quarter, but missed a field goal to come up empty. In the 2nd quarter, Michigan drove 98 yards, finishing with a 15 yard Pete Elliott touchdown pass. Illinois answered with a long touchdown pass, and it was 7-7 at the half.

Illinois returned the opening kickoff of the 3rd quarter 95 yards for a touchdown, but the play was negated by a penalty. Michigan took the lead instead, on a 14 yard touchdown pass. Michigan scored again to make it 21-7, and it looked like the expected rout was on. But Illinois came right back. They drove a short field to a touchdown after recovering a Michigan fumble, and in the 4th quarter they scored again, cutting Michigan's lead to 21-20. Michigan scored the clincher on a 38 yard touchdown pass, making our final score of 28-20. Illinois outgained Michigan 296 yards to 234, most of their yards coming through the air (256 yards to Michigan's 132).

Following that poor performance, Notre Dame jumped over Michigan in the next AP poll to reclaim #1. But Michigan was much better against their next weak opponents, pummeling 0-8-1 Navy 35-0 and 2-7 Indiana 54-0, and Notre Dame's stay at the top was but one week. After what had happened the previous season, AP voter sentiment was heavily in favor of Michigan. It was their "turn."

That brought Michigan to their finale at rival Ohio State, an estimated 82,000 filling the stadium beyond its supposed capacity. Ohio State drew first blood on a 26 yard field goal in the opening quarter, set up by a fumble recovery. Michigan drove 92 yards in the 2nd quarter, hitting a 44 yard touchdown pass for a 7-3 halftime lead. They drove 62 yards to a clinching touchdown in the 4th quarter, putting the final score at 13-3. Ohio State stymied Michigan's ground game, and they outgained Michigan 203 yards to 170. OSU finished 6-3, losing also to 8-2 Northwestern (#3) and 4-5 Iowa (unranked), but they beat 8-3 Missouri (#10), 6-3-1 Southern Cal (#13), and 6-3 Pittsburgh (#21), and I have the Buckeyes ranked #9 for 1948.

Michigan won the #1 slot in the final AP poll over Notre Dame by a vote of 192-97, and as though to prove the majority of writers correct, Notre Dame took an upset tie at 6-3-1 Southern Cal the next week, finishing them at 9-0-1 and ending all debate.

Awards Ceremony
1948 #1:

9-0 Michigan


National Co-champion:

None


Contender:

None

These are the awards I have been handing out for each season, except seasons when there are no contenders. For this purpose, what I mean by a contender is a team that I think is very close to being worthy of sharing the national championship. A team that you could make an argument for, even if that argument is weak. But the contenders are teams that I myself do not see as national champions.
Grading the Selectors
I have been grading the NCAA Records Book's selectors for each season, and keeping a grade point average, so we can see who is relatively good at selecting national champions and who is not. And although I do not consider computer ratings to be legitimate national championship selectors, I have been including them in this section as well, just for comparison's sake.
I am grading on a scale of 0-5 (5 being the best).
Everyone selected Michigan.

Grade: 5.0




Grade point averages 1936-1948

:




1) Boand (math system)




5.0

2) AP Poll


College Football Researchers Association




Poling (math)


4.94

5) DeVold (math)
4.92

6) Billingsley (math)

4.88

7) National Championship Foundation
4.72
8) Litkenhous (math)
4.67

9)

Houlgate (math)

4.49

10) Berryman (math)
4.36

11)

Dunkel (math)

4.32

12) Sagarin (math)
4.28

13) Helms Foundation

4.26

14) Sagarin-ELO (math)
4.18
15) Williamson (math)
3.72

Grade point averages 1919-1935
:
| | |
| --- | --- |
| 1) Boand (math system) | 4.26 |
| 2) College Football Researchers Association | 4.22 |
| 3) Poling (math) | 4.11 |
| 4) Helms | 4.09 |
| 5) Sagarin-ELO (math) | 4.06 |
| 6) National Championship Foundation | 3.96 |
| 7) Dickinson (math) | 3.49 |
| 8) Houlgate (math) | 3.35 |
| 9) Billingsley (math) | 3.34 |
| 10) Sagarin (math) | 3.28 |
| 11) Parke Davis | 2.77 |

How the systems that selected champions for 1901-1918 did

:



| | |
| --- | --- |
| 1) Houlgate (math system) | 4.5 |
| 2) Helms | 4.3 |
| 3) Parke Davis | 4.2 |
| 4) National Championship Foundation | 3.7 |
| 5) Billingsley (math) | 3.6 |