Home
2016 Preseason TipTop 25
Greetings and welcome to my second annual TipTop 25, an altogether different approach to ranking the top 25 college football teams, at least early in the season. What makes it so different? Well, for my preseason top 25, I have once again literally drawn names out of a hat

: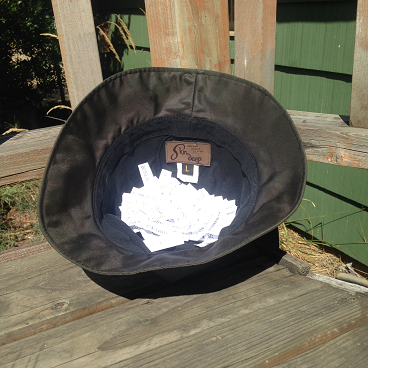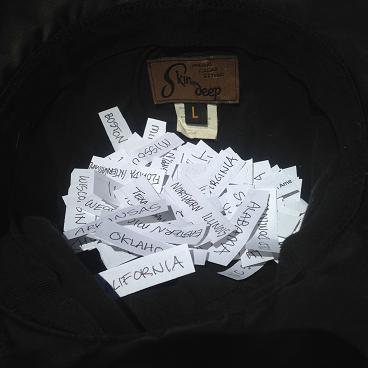 Why would I do such a thing? Because every year, there are some people who like to gripe about the silliness of preseason college football polls, the premise being that no one really knows who will be good or not before the season starts. For example, last year in the preseason AP poll, Auburn was ranked #6, Southern Cal #8, UCLA #13, and Arizona State #15, and none of those teams finished ranked in the final poll. Meanwhile, in the final poll, Utah finished #17, Navy #18, Wisconsin #21, and Northwestern #23, and none of those teams were ranked in the preseason poll.

Now, I have no problem with preseason polls myself. They're just for fun, and I enjoy looking at them. Yes, teams that are ranked highly in the preseason AP poll may have an "unfair" advantage in later polls, but that's only because many sportswriters aren't very good at rating teams. That's not the fault of the preseason poll. And while some of the preseason rankings will turn out to be wrong, for the most part preseason polls tend to be pretty close

:

an amazing

20

of last year's preseason AP poll top 25 teams finished the season ranked, which is a lot more than you're likely to get by simply picking teams out of a hat (on average, that will get you about 5 correct out of the 25).

Still, I got to thinking

:

what if we

did

simply pick teams out of a hat, and then go from there each week? And we could treat all teams with a blank slate, ignoring their histories, performances from last year, returning starters, etc. We would

only

focus on what each team does

this year

, with a completely random ranking to start the season. Now, is this what I think people

should

be doing when they rank teams early in the season? Heck no, this is just for fun.

So for the second straight year, I've written out all the 128 FBS teams on slips of paper, put them in a hat, and then drawn 25 of them out one by one. Starting with my preseason #1 team for 2016

: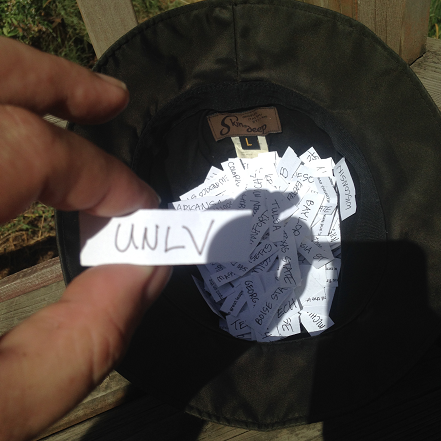 That's right, UNLV is our #1 team to start the 2016 season! See, isn't this already vastly more fun than the preseason AP poll? Here is the full preseason top 25 as designated by my magic hat (which, by the way, also designated Alabama to Slytherin House, just as it did last year)

:



#1 UNLV
#2 Northern Illinois
#3 Syracuse
#4 Colorado
#5 Georgia
#6 Stanford
#7 Texas
#8 Marshall
#9 Nevada
#10 Arkansas
#11 Middle Tennessee
#12 Louisville
#13 Southern Cal
#14 Tulsa
#15 South Alabama
#16 Baylor
#17 Oklahoma
#18 Bowling Green
#19 Georgia Tech
#20 Indiana
#21 Memphis
#22 Texas State
#23 Toledo
#24 Michigan
#25 Western Michigan

But I didn't stop there. In order to properly rank teams after the first week of games, I will also need to know which teams are close to being ranked, so I pulled out another 25 teams to give us a top 50

:

#26 Air Force
#27 Nebraska
#28 UTEP
#29 Kansas
#30 Washington
#31 Utah
#32 California
#33 Penn State
#34 San Diego State
#35 Kentucky
#36 Wyoming
#37 Ohio State
#38 Texas Tech
#39 Colorado State
#40 Connecticut
#41 Brigham Young
#42 Oregon
#43 Mississippi
#44 Kent State
#45 West Virginia
#46 Utah State
#47 Tulane
#48 Notre Dame
#49 Georgia State
#50 Arkansas State
Looking Ahead to the First Week's Games
Alas, there isn't a single game between any of our top 25 teams in the first week. The closest we have are five games between teams in the top 25 and teams ranked #26-50

:

#2 Northern Illinois at #36 Wyoming, #4 Colorado against #39 Colorado State in Denver, #7 Texas hosting #48 Notre Dame, #18 Bowling Green at #37 Ohio State, and #23 Toledo at #50 Arkansas State. In addition, we have #33 Penn State hosting #44 Kent State.
How Last Year's Preseason Top 25 Fared
So how did last year's preseason top 25 fare? Awfully! This should be a good preview for how this year's preseason top 25 teams will perform. Here is last year's preseason top 25, along with their final record at season's end and final ranking, for those few that finished ranked (fixed AP poll)

:




#1 Duke

8-5
#2 Connecticut

6-7
#3 Troy

4-8
#4 Akron

8-5
#5 Ball State

3-9
#6 Texas State

3-9
#7 Boise State

9-4
#8 California

8-5
#9 Old Dominion

5-7
#10 Nevada

7-6
#11 Army

2-10
#12 Auburn

7-6
#13 Boston College

3-9
#14 Louisiana-Monroe

2-11
#15 Michigan

10-3

#9

#16 Baylor

10-3

#11

#17 Utah

10-3

#24

#18 Syracuse

4-8
#19 Penn State

7-6
#20 Notre Dame

10-3

#8

#21 Florida State

10-3

#13

#22 Arkansas State

9-4
#23 Texas Christian

11-2

#10

#24 Colorado State

7-6

#25 Rutgers

4-8