1) Florida 13-1
2) Utah 13-0
3) Southern Cal 12-1
4) Texas 12-1
5) Oklahoma 12-2
6) Alabama 12-2
7) Texas Christian 11-2
8) Penn State 11-2
9) Ohio State 10-3
10) Oregon 10-3
11) Boise State 12-1
12) Texas Tech 11-2
13) Georgia 10-3
14) Mississippi 9-4
15) Virginia Tech 10-4
16) Oklahoma State 9-4
17) Cincinnati 11-3
18) Oregon State 9-4
19) Missouri 10-4
20) Iowa 9-4
21) Florida State 9-4
22) Georgia Tech 9-4
23) West Virginia 9-4
24) Michigan State 9-4
25) Brigham Young 10-3

Here we have the final 2008 AP college football top 25. You can access all of these teams' full schedules at the College Football Data Warehouse (amongst a number of other places). The fixed final AP top 25 follows the article below.

This was a difficult top 25 to fix, specifically #15-25, which was a logical mess. It was like undoing the knots in my kid's tennis shoes. But I got 'em all out, and it's ready to be tied up into a perfect bow.

But first, the most obvious problem with this edition of the AP top 25 is not at all difficult to unravel and fix. That would be 12-1 Boise State at #11, right behind 10-3 Oregon, whom they defeated 37-32 in Eugene. On top of that head-to-head result, Boise State's only loss came by 1 point to #7 Texas Christian, whereas Oregon lost to an unranked opponent.

This is worse by far than any error in the 2009 AP top 25, and in fact I would say that it is so bad that anyone who voted Oregon higher in 2008 should definitely not be allowed to vote anymore, as they clearly have no idea what they are doing.

So the first fix is Boise State to #10, Oregon to #11. On to the rest...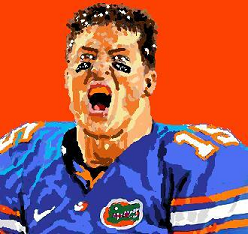 Tim Tebow did not win a second Heisman, but he did win a second national championship ring in 2008. This time, however, he was the starter. Here he is howling his approval of the proceedings at the BCS national championship game, which Florida won 24-14 over Oklahoma.