1) Ohio State 14-0
2) Miami (FL) 12-1
3) Georgia 13-1
4) Southern Cal 11-2
5) Oklahoma 12-2
6) Texas 11-2
7) Kansas State 11-2
8) Iowa 11-2
9) Michigan 10-3
10) Washington State 10-3
11) Alabama 10-3
12) North Carolina State 11-3
13) Maryland 11-3
14) Auburn 9-4
15) Boise State 12-1
16) Penn State 9-4
17) Notre Dame 10-3
18) Texas Tech 10-4
19) Pittsburgh 9-4
20) Colorado 9-5
21) Florida State 9-5
22) Virginia 9-5
23) Texas Christian 10-2
24) Marshall 11-2
25) West Virginia 9-4
To the left is the final 2002 AP college football top 25. You can access all of these teams' full schedules at the College Football Data Warehouse (amongst a number of other places). The fixed final AP top 25 follows the article below.
AP poll voters did a much better job in 2002 than they did in 2003, so there is a shorter list of fixes this time.
The first teams that stand out as I look over this top 25 are #12 North Carolina State and #13 Maryland, both 11-3. Both of them took all 3 of their losses to lower-ranked teams, and neither defeated a team in the top 11, so they are almost certainly overrated.
9-4 Auburn, for example, sits behind them despite having only 2 losses to lower-ranked teams and 1 win over a top 11 team. And 9-4 Penn State does not have a loss to a lower-ranked team at all. Then there's 10-3 Notre Dame, with the same number of losses as NC State and Maryland, but only one loss to a lower-ranked team, and one win over a top 11 team. Plus they beat Maryland 22-0!
So should NC State and Maryland drop behind Notre Dame? Maryland definitely should, and NC State has a worse relevant record than Notre Dame, but there is one problem here
:
NC State defeated Notre Dame in the Gator Bowl by the decisive score of 28-6.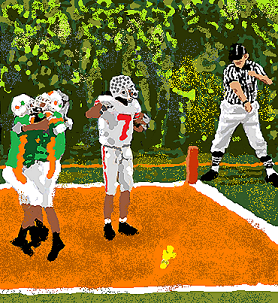 The 2002 season's play of the year. As Miami players celebrated winning the national championship, referee Terry Porter reviewed the last play in his mind's eye, then threw the late and controversial flag for pass interference that gave Ohio State another shot, which they used to win the national championship themselves.