1) Nebraska 11-0-1
2)
Notre Dame 10-1
3) Texas 10-1
4) Tennessee 11-1
5)
Ohio State 9-1
6) Arizona State 11-0
7) Louisiana State 9-3
8) Stanford 9-3
9) Michigan 9-1
10) Auburn 9-2
11) Arkansas 9-2
12) Toledo 12-0
13) Georgia Tech 9-3
14) Dartmouth 9-0
15) Southern Cal 6-4-1
16) Air Force 9-3
17) Tulane 8-4
18) Penn State 7-3
19) Houston 8-3
20) Oklahoma 7-4-1
Mississippi 7-4

To the left is the final 1970 AP college football top 20 (or 21 in this year's case). The fixed final AP poll, expanded to 25 teams, follows the article below.


The 1970 AP top 20 (or 21) featured 3 "little big teams" that went unbeaten, untied, and played no rated opponents

:

#6 Arizona State, #12 Toledo, and #14 Dartmouth. I would rate all 3 much lower, but Toledo and Dartmouth, at least, have a case for staying where they are. WAC champion Arizona State, on the other hand, makes for a rather ridiculous #6 team, especially since Toledo and Dartmouth are rated so much lower.

It is difficult to compare ASU to #7 Louisiana State and #8 Stanford. Both of those teams lost to bad, unrated opponents, but both also played far tougher schedules and defeated at least 3 rated opponents. The real issue, however, is #9 Michigan, #10 Auburn, and #11 Arkansas, because it is easy to compare ASU to those teams, and the comparison does not favor the Sun Devils.

Let's take a closer look.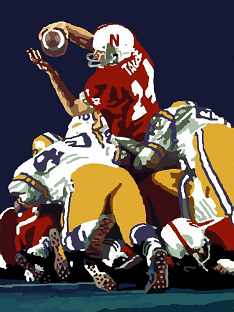 #1 Texas and #2 Ohio State were both upset, opening the door for #3 Nebraska to vault to its first MNC later that evening. Quarterback Jerry Tagge thrust the ball over the goal line in the closing minutes of the Orange Bowl for a 17-12 win over LSU.